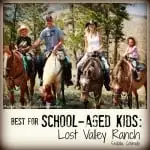 Lost Valley Ranch has been voted Trekaroo's 2013 Best Ranch for School Aged Kids. Want to know about other ranches that made the cut? Check out our 2013 Family Dude Ranch Vacation Roundup.
As our shuttle turned on to the 9 mile dirt road which leads to Lost Valley Ranch, the 10-year-old boy sitting in front of me couldn't take the excitement any longer. "Have you ever been to Lost Valley?" he asked me as he turned around with an excited bounce. "No, this is our first time," I explained to him. A huge grin spread across his face. "It's awesome." His grandmother had already told me about how she had brought her children several times throughout their childhood and that they were now continuing their vacation tradition with her three grandkids. These were well traveled people. I knew Lost Valley had to be special. After a week at the ranch my well-traveled children asked if they could move to the ranch. They have never asked to move anywhere. Lost Valley is that special.
The overwhelming warmth that beamed from every member of the staff was evident from the moment Caroline first greeted my family in the lobby with a "Welcome y'all". It was felt again when Heidi left cheerful little notes on the chalkboard for us after cleaning our cabin; while watching Beau cause my son, Ben, to bust up into fits of giggles before lifting him up onto his horse; as I listened to Spencer patiently go over the finer points of loping with me for the tenth time because he knew I was nervous about kicking my horse up into a new gear; and as my husband and I enjoyed an ice cream cone with Jake, one of the maintenance guys who just stopped by during his down time to say hello. Where else do employees spend their leisure time on trail rides with guests or playing games with the kids in the pool? Looking at pictures on the Lost Valley Facebook page makes my heart ache with homesickness for a place that I miss dearly and a family that I adore. I see that Becca, the ranch owner's daughter, started school. Ben's "new best friend" Becca. A tear escapes but the lump in my throat is still there.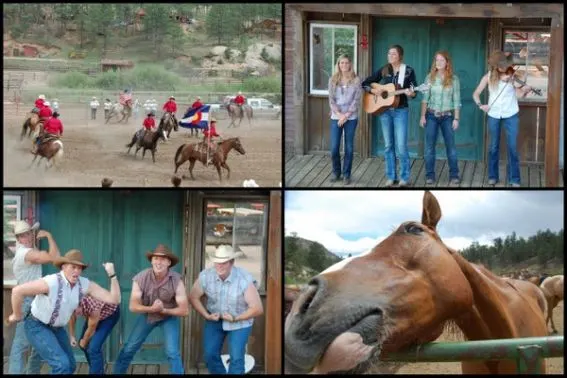 Lost Valley is paradise for kids
The people of Lost Valley may ultimately be what make it so magical but the horses, the Rocky Mountain setting, and the days filled with a variety of fun activities certainly help! I honestly can't think of a better way for a kid to spend a vacation than getting dirty while riding horses, exploring caves, playing in the creek, and covering themselves in sticky ice cream shakes from The Fountain, the ranch's snack shop. There is no television at Lost Valley Ranch but my kids were too busy having fun outdoors to even remember that television existed. Most days the children went on a morning and afternoon trail ride with their new-found friends–there were about 85 people staying at the ranch the same week as us, including dozens of children of all ages- gaining confidence as they learned to ride and control their own horses. In between rides the kids had a blast swimming in the pool, competing in the egg toss competition, enjoying hay rides, participating in scavenger hunts, listening to cowboy tales, and playing with each other on the big grassy lawn. Every morning they were eager to leave our cabin and get a jump on the day and every night we had to drag them back up the hill to bed.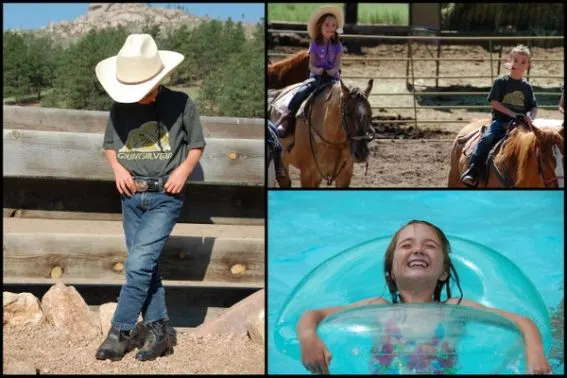 Adults adore Lost Valley
Adults will find themselves falling in love with Lost Valley Ranch as much as the kids, but for different reasons. Though the ranch is surrounded by thousands of acres of Pike National Forest, you are most definitely not roughing it. Our clean, comfortable AAA four diamond cabin was especially appreciated when I needed to rest my newly discovered "horse muscles" after a couple hours out on the trail and after the incredible 9 mile hike (lead by one of the fellas from the machine shop) I chose to join one perfect Rocky Mountain morning. Our group of invigorated but exhausted hikers returned just in time for lunch where we feasted on a fiesta of grilled fajitas with all the fixings. Every meal at Lost Valley was one to write home about but watching the afternoon clouds pass as we sat on picnic benches with plates filled to the brim with fajita buffet goodness and mason jar mugs filled with the punch du jour was especially satisfying. We earned every single calorie in that meal!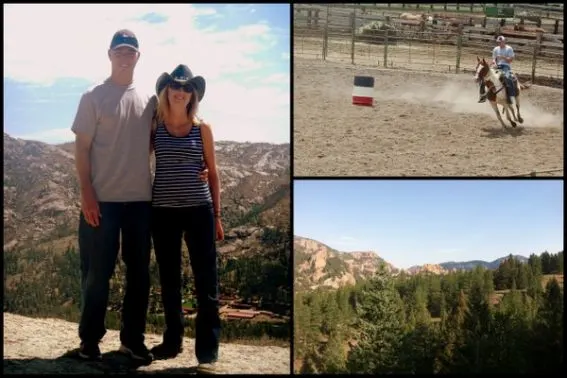 After lunch the children headed off on their next supervised adventure, my husband went out an afternoon ride on his horse Dash, and I made my way up to Leadville, our charming cabin at the top of the hill. I Rocked peacefully on our porch swing with a cold beer in hand, listening to the clanking of the swing rungs, birds cheerfully calling out to one another, thunder rumbling through the valley from a distant storm, the occasional winnie from a horse in the stable, and the joyful shouts of children down below having the time of their lives. It was just the sort of symphony I craved.
Fun fact: Walt Disney himself was once a guest of Lost Valley Ranch. Rumor has it that he found some inspiration for Frontierland during his visit. Ask the staff to show you his brand on the dining room wall during your stay!
All good things must come to an end
Our last full day at Lost Valley Ranch began with a morning ride out to "The Jail" for a hearty creekside breakfast lit by the morning sun. Breakfast was followed by the guest rodeo which gave everyone a chance to show off the skills they had learned through out the week. The kids were fierce competitors in the egg and spoon balance and proud to take their moment in the spotlight during the barrel races. My husband turned cowboy, galloped around those barrels on Dash like a man who had been wearing a ten gallon hat since he was knee high to a grasshopper. At lunch we all watched as our family brands-everyone gets to design their own- were burnt permanently onto the dining room ceilings and walls. Some spent the afternoon fly fishing, other skeet shooting, and most of the kids opted for one last swim in the pool. After a final steak and seafood dinner (oh, how I miss the food!) we watched as the ranch staff handed out awards for the week and sang us a goodbye song. We had to head out so a new group of families could make their own precious memories. Saying goodbye to Lost Valley was no easy task so we decided to say instead, until next time.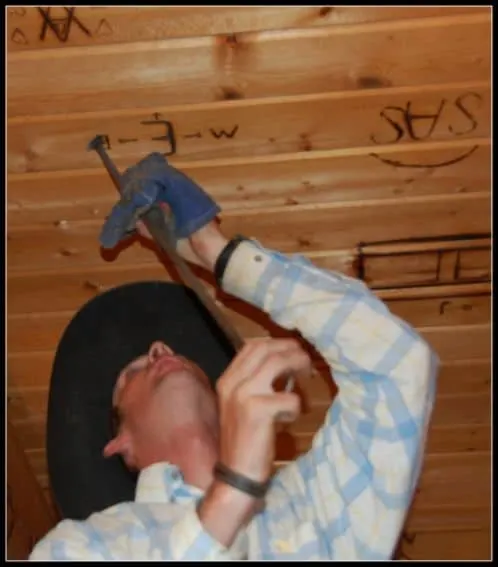 Want more information on Lost Valley Ranch? Check out my full review of Lost Valley Ranch for all the details so you can start planning your own dude ranch vacation. It will be one of the greatest weeks you will ever spend as a family.
Travel with kids to: CA |CO | DC| FL | HI | IL |MA | NC | NJ | NY | OR| PA| TN | TX | UT | VA | WA