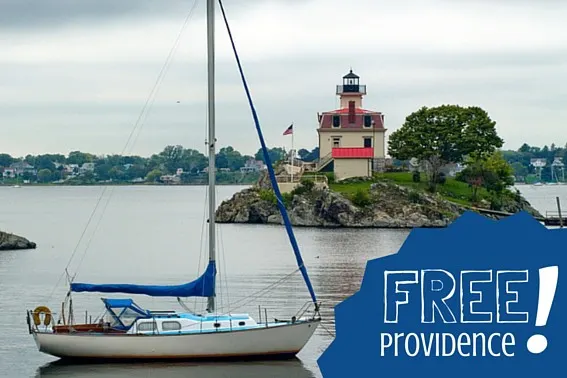 Image used with permission; Shutterstock/Allan Wood Photography
Providence is the capital city of the small but beautiful state of Rhode Island, a state known for its sweeping beaches and oceanfront attractions. While Providence lies north of the beaches, it has experienced a rebirth in the last decade. This third largest New England city has been revitalized with a strong emphasis in the arts and attention to its natural and historic attributes that families can enjoy for free.
Families visiting Providence will find much to occupy their time: drive to the beach, shop, take an historic tour of remnants of bygone forts on the shore line. Providence opens its door to family travelers with a host of activities that won't break the bank.
Look for current hotel deals in Providence
Here are 10 FREE things to do in Providence:
1. Waterfire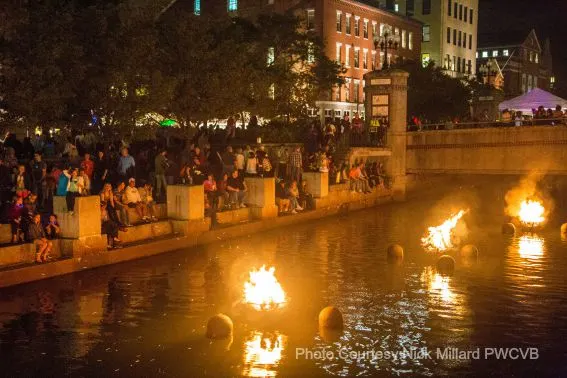 Waterfire is a stunning show combining flame, music, sculpture, and water in the center of Providence where the Providence, Woonasquatucket, and Moshassuck Rivers meet. Visitors flock to this spectacle both on warm summer nights and on cool fall or winter evenings on scheduled days throughout May to December. As Waterfire has grown since its inauguration in 1994, many visitors have been rapt by its beauty. Today about 100 bonfires are lit on special braziers along the promenades of Waterplace Park. Staff and volunteers alike have created this display that has fostered the renaissance of Providence, helped create a sense of community, enlivened the streets of Providence, and created a brilliant environment that titillates the senses. Be a part of this moving spectacle that celebrates art, the city, and its people as you explore cultural delights, street vendors, music, and perhaps even a ride on the gondolas!
2. Historic Buildings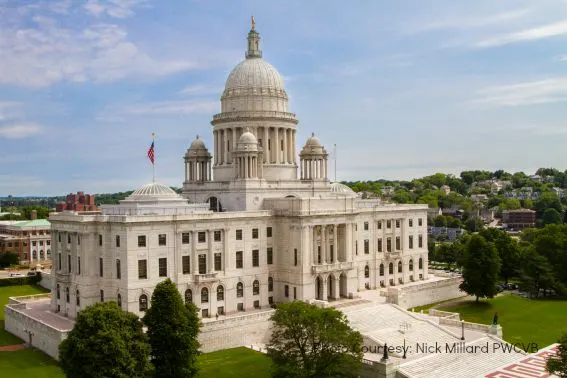 Families with history buffs will be happy to tour the Rhode Island State House. Constructed in 1894, this fabulous building is currently still in use by the government. The State House tour stops include a re-creation of the Philadelphia Liberty Bell, Gilbert Struts's famous rendition of George Washington, and one of the largest marble domes constructed. Tours are free and offered on non-holiday weekdays on the hour. Tours must be requested at least five days in advance.
Governor Stephen Hopkins, a signer of the Declaration of Independence, never got to wander the current State House halls. Although he was elected as governor of Rhode Island more than ten times, it was before Rhode Island became a state in 1790. His historical home was built in 1707 and is also available for free tour in the center of Providence; it is open usually on Waterfire nights and Saturdays. Historians giving the tour will tell the stories of Governor Hopkins and his fellow statesmen, including George Washington, as they walk you through its beautiful outdoor garden.
3. Historic Walks and Tours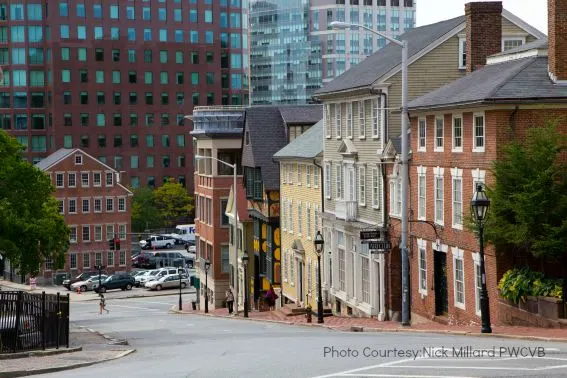 Continue your family's study of historic Providence on Benefit Street. This one-mile long self-guided walk will showcase many restored colonial buildings. Known for the largest concentration of Colonial homes still in use, this hilly section is nearby to the equally beautiful campus at Brown University which will complete your history walk; it's never too early to scope out colleges! The Benefit Street walk passes the historic John Brown house which offers docent-led walking tours for a fee, but children under 8 are free! Extend your walk with a small hike up to Prospect Terrace. Here a statue of Roger Williams, the founder of Providence, stands guard over the city with amazing views.
Finally, the Arcade Providence houses America's oldest indoor mall built in 1828. While you might not find typical mall staples here, this revived building with massive Greek columns might just pique your interest. Step in and take a look at the shops and restaurants designed by the inspired minds of the new entrepreneurs graduating from the prestigious Rhode Island School of Design (RISD).
4. Learning Adventures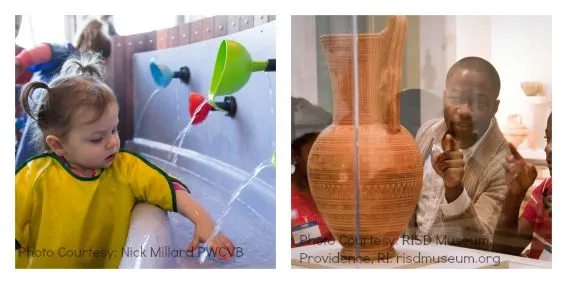 The Providence Children Museum is a hands on creative center intended for kids 10 and under with exhibits including water, art, stories, history, and more. Kids will revel in water play, outdoor climb arounds, a giant Lite Brite, and big blocks. Mom and Dad might even get in on the action. Met Life sponsors Family Fridays which are free from 5-8pm.
Step up the arts a bit with a tour of RISD. The Rhode Island School of Design is renowned for its cutting edge design students, classes, and art. The city of Providence is alive with many installations of art from this dynamic group of students and professors housed right here in Providence. The RISD Museum houses over 90,000 pieces of art from ancient to modern and contemporary artists. The museum is free to explore on Sundays and every third Thursday evening.
Check for hotel availabilities in Providence
Families can tour The Providence Athenaeum daily. This library and cultural center was built in 1838. Take part in their children's program and borrow some books for free.
5. Bike Colt State Park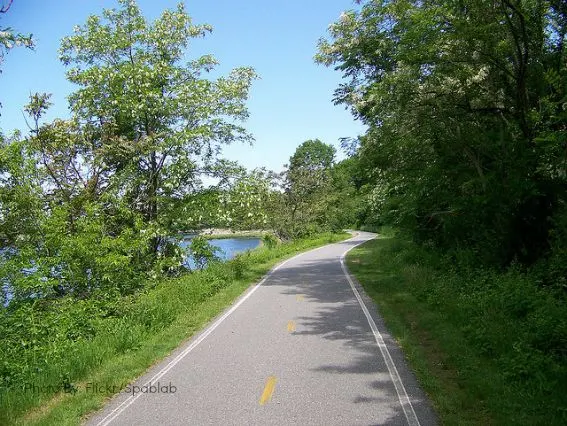 Families can get active at the East Bay Bike Path in Providence. Bring your bike on your visit to Providence or rent when you're there. Enjoy a 14-mile one-way ride from Providence center to the shores of Bristol, R.I. at Colt State Park. The mostly flat path installed upon a defunct railway will pass historic marker points, restrooms, shoreline views, other parks, a carousel at Crescent Park, as well as shops and restaurants in neighboring towns. You can spend the day checking out all of the stops or stay a while at Colt State Park which has playgrounds, a beach, shoreline, and picnic grounds. When you are done turn around and head on back into Providence and catch Waterfire! Remember to stop by a Del's Lemonade cart for an authentic experience.
6. Check out the Food Offerings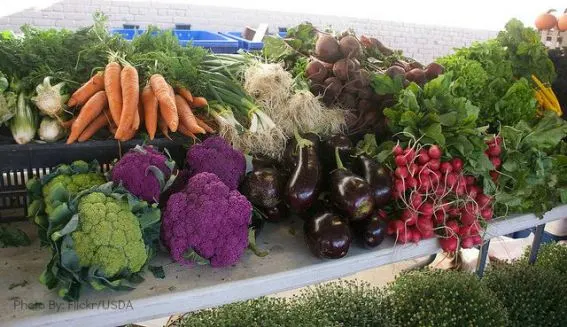 Providence does have a love affair with food. From Seafood to Del's Lemonade to ethnic sections of the city where you can find terrific Italian food, Providence knows food. Use that bike or walk on over to Hope Street at Lippitt Park for the Providence Hope Street Farmers market on Saturday mornings and Wednesday evenings. Music fills the air as local vendors, farmers, and food will line the area as locals search for the freshest of vegetables, fruits, and goods. Through October, the Artisans market runs at the same time in the park. Local artists of every kind showcase their work at Lippitt Park.
7. Look for the Stars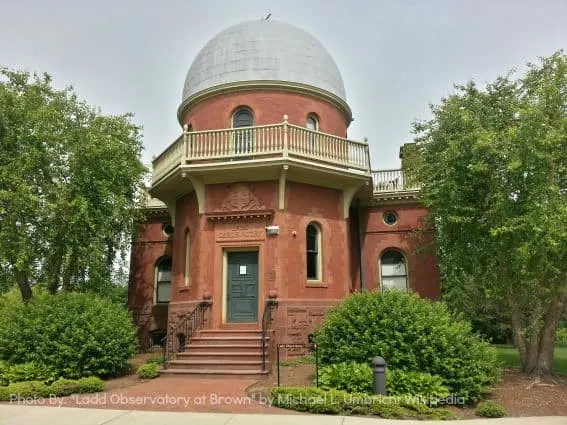 Providence is the location of Brown University, one of the most prestigious learning institutions in the country. On site at Brown is the Ladd Observatory which opened in 1891. As part of the department of Physics at Brown, the Ladd Observatory is located on one of the highest points in this Providence neighborhood. The Observatory opens on Tuesday nights for free viewing of the stars, weather permitting. Astronomers from Brown will point out stars, constellations, and if you are lucky, the ringed planet of Saturn from this incredible telescope.
8. Roger Williams Park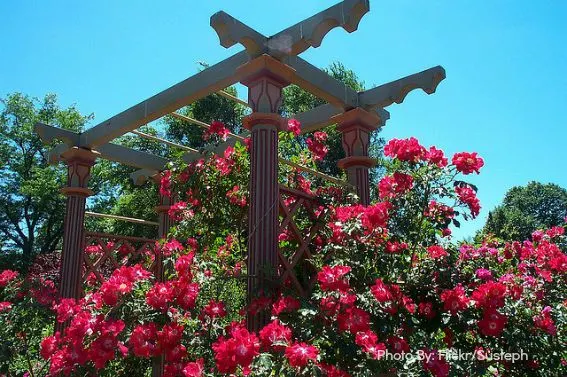 The Roger Williams Park is a well-known and well-loved in Providence. There are so many ways to enjoy the park including walking paths, a phenomenal, nationally recognized zoo, a carousel, and more.
Admission to the Roger Williams Botanical Center is free to residents each Saturday and always free to children under 6. During school vacation times, there are programs such as the lady bug release and creative activities. Visiting the Botanical Center is a great way to see the largest indoor garden in New England. Walk outdoors to enjoy the sunshine and bask in the smell of the free rose garden as you wander through the two-acre Japanese gardens complete with ponds and bridges.
Look for the Temple to Music at Roger Williams Park adorned with Vermont Marble Ionic columns where many concerts and festivals take place.
9. Big Nazo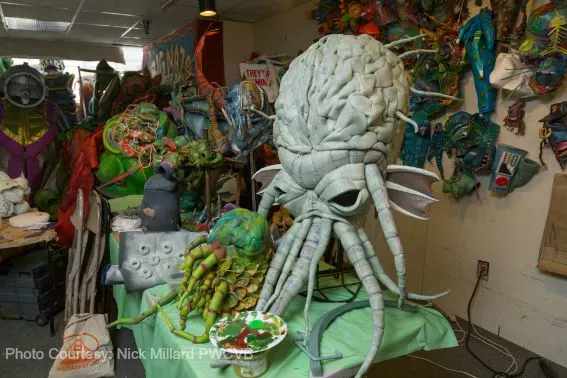 Big Nazo Performance Artists are based in downtown Providence. Well-known for work on intricate and detailed puppetry, costuming, music, and performance, Big Nazo is situated just across the street from City Hall. A gander at their store front window will tell you that something special is going on behind the closed doors. But, if you happen to notice those doors are open, pop in to take a peek at what they are currently working on. The artists will be happy to share their latest creations with 'visitors of all shapes and sizes!'
Look for the best hotel prices in Providence
10. Take a River Cruise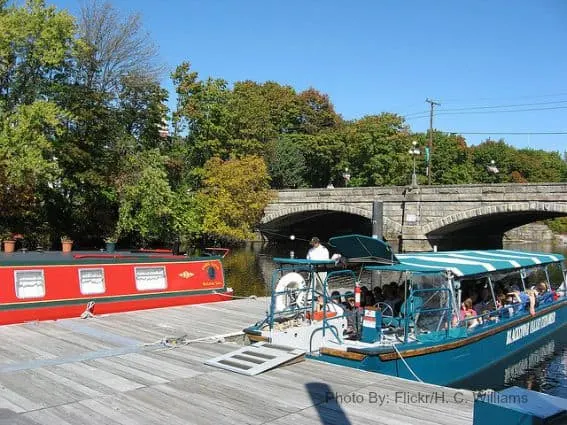 The Blackstone Valley Explorer riverboat sets off for sail on free trips the last Sunday of each month. Call in advance for reservations. Just six miles from the border of Providence to Central Falls, it's worth the ride to head up and catch a cruise on the Explorer. The 45-minute long cruise is led by a historian that will share the history of our nation's hardest working riverboat while you keep an eye out for the area wildlife. Don't be surprised to see a heron silently gliding overhead or a long-necked swan swimming in the distance. People are always left in awe that such a pastoral place can be so close to the city.
Take your families to enjoy the myriad of free things to do in Providence!