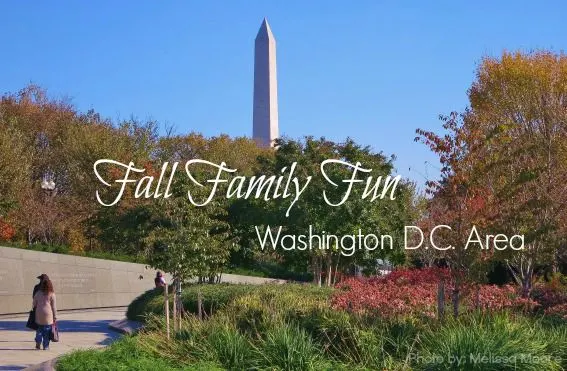 In the Capital Region, autumn may be one of the best seasons to explore the outdoors and enjoy nature. With farms, fall festivals, playgrounds, trails, and Halloween events stretching from the Appalachian Mountains to the Chesapeake Bay, this region provides countless opportunities for making fun, family memories during the fall season.
Pick Apples off the Tree & Pumpkins off the Vine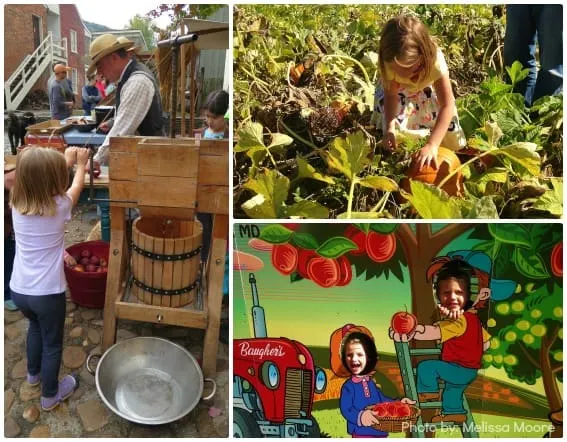 Late summer and fall is the perfect time to get outdoors and visit a farm with the family. There is no better way for young children to understand where their food comes from than going out to a farm during harvest season. In Maryland, Butler's Orchard grows a variety of berries throughout the summer and even into the fall, but in October it is all about the apples and pumpkins. In Virginia, Great Country Farms seems to grow just about everything, even potatoes and of course, they have a variety of apples and pumpkins ripe for picking in the fall. Sharp's at Waterford Farm even had pick-your-own popcorn alongside their huge pumpkin patch last year.
Along with fresh apples, comes apple cider and apple cider donuts –yum. Many historic sites in the region have programs that show how apple cider is made and how vegetables were stored away for the winters before refrigeration and supermarkets were widely available. At Harper's Ferry National Historic Park, our family enjoyed seeing demonstrations on making ginger beer, crushing apples for cider, and drying vegetables all in a beautiful historic town.
Here's a list of places to go apple picking in Northern Virginia and Maryland.
Hop on a Hayride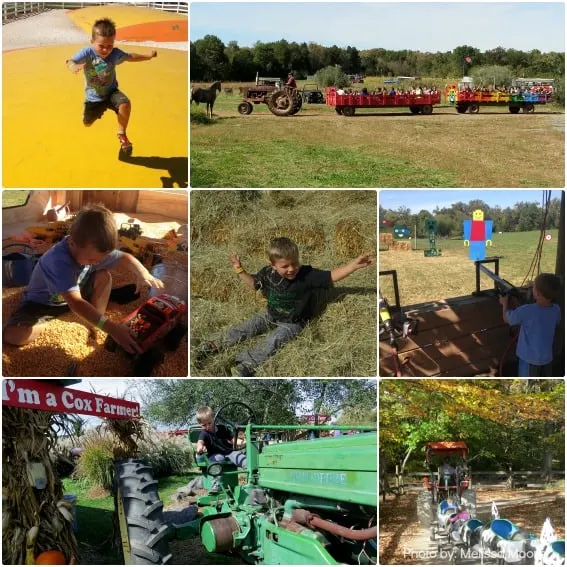 Our family has enjoyed Fall Festivals across Northern Virginia and Maryland. So when I asked my four-year-old about his favorite part, he listed, "cow trains, corn cob shooters, hayrides through puddles, jumping pillows, tractors, and tall slides." Now either he's got a great memory or he really digs fall activities. For the best slides around and a great hay ride, head out to Cox Farms. If your family loves to get lost in huge corn mazes, check out Temple Hall Farm Regional Park. For toddlers who love petting barnyard animals, consider Clark's Elioak Farm.
Don't forget to browse through the list of Fall Festivals near Washington D.C. to see what Trekaroo families like about each farm.
Dress it up for Halloween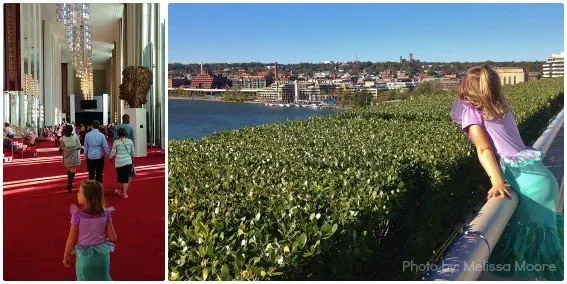 Last year at the National Symphony Orchestra's (NSO) annual Halloween Family Concert, trombonists were dressed as Tetris blocks, the bass player became an alien, Merida played the harp, and Elsa fluted around with her piccolo. All these characters came alive on stage with the sound of music. Part of an amazing family concert series, the NSO treats children in Washington DC to a concert where they can wear their favorite costume to the Kennedy Center and listen to familiar Halloween music played by some of the nation's best musicians -all in costume. My little girl enjoyed her first visit to the Kennedy Center dressed up as Ariel and smiled from ear to ear as she listened to the NSO play "Let it Go" .
From trick-or-treating dressed up as George Washington at Mount Vernon, to spooky train rides through forests haunted only in October in Montgomery County, the Nation's Capital has Halloween activities available at countless venues for every possible age group.
Wondering which museums have special Halloween events? Here's a list of the most popular Halloween events near Washington D.C.
Get Outdoors!
Spectacular fall foliage can be found just about anywhere in the region. As early fall approaches, go west up into the Appalachian Mountains to enjoy hillsides blanketed in red and gold. Catoctin Mountain Park in Maryland offers forest trails and mountain vistas for visiting families to explore. Nearby Cunningham Falls State Park is home to a small waterfall and lakefront area with a playground. The drive to both of these parks along Highway 77 parallels Big Hunting Creek reflecting the burnt colors of fall as it flows down the mountain.
Continue south down the Appalachian Mountains through Harper's Ferry, WV and Shenandoah National Park in VA to experience the amazing display of fall foliage. There are numerous family-friendly portions of the Appalachian Trail that families can enjoy in this region such as the Stony Man Trail, just steps away from the National Park's Skyland Resort.
One of my four-year-old boy's favorite place to enjoy fall color is at the playground. Fortunately for him, we stumbled upon Seneca Creek State Park with its recycled tire playground and an actual zip line. The shimmering lake perfectly mirrors the nearby trees ripened with color, and it's a real winner for our entire family when we want to be outside to enjoy the perfect autumn day. There's much to do for fall family fun near Washington D.C.
Where should you go to find colorful fall leaves in Washington DC, Maryland, and Virginia? Check out the list here.