When the sun rises over Mica Mountain's ridge just east of Tucson, Arizona, the desert sky comes alive in brilliant color interrupted only by puffy, soft clouds. Small peaks and valleys that form the distant skyline change in color and depth as the sun slowly rises touching every portion of the valley below. Saguaro cactus reach to touch the welcome sun, animals and insects scurry about searching for a tasty treat, and the slow-paced, western life begins another day.
I don't normally wax poetic about sunrises while on a family vacation. Typically far too pleased with any amount of time my three little girls will sleep in, I will shut the blinds, hold all alarms, and tiptoe through a dark, unfamiliar hotel room to keep the light of day from creeping in and around our curtains. And although our early morning trail ride came bright and early on our first day of arrival at Tanque Verde Ranch, the return on my investment was well worth it. Mornings at Tanque Verde Ranch are stunning.
Watch a YouTube video of my trip:
[youtube https://www.youtube.com/watch?v=uWN0ZA-8Kug]
Wildlife at Tanque Verde
Although I had never ridden a horse before my arrival at Tanque Verde, I soon learned to love taking a morning stroll through the desert with an easy-going steed that gave me the perfect perch for spotting the best of desert flora and fauna. A wide variety of trails surround the ranch boasting impressively diverse plant and animal life. With its close proximity to Saguaro National Park, Tanque Verde's skyline features a substantial amount of these unusual, large cactus as well as other varieties including barrel, prickly pear, claret cup, cholla, jumping cholla, and teddy bear cactus (not for hugging!). But it isn't just cactus at Tanque Verde; mesquite and cottonwood groves, paloverde, desert broom, ocotillo, lavender, and literally hundreds of species of plant life can be spotted on the trail (all of which were greened up and lovely thanks to a small rainfall just prior to my arrival). With our eyes peeled for animals, we spotted many you would expect to find in the desert (lizards, horny toads, snakes, jackrabbits, tarantulas, road runners, desert tortoises, and condors) coupled with animals that surprised us by their desert life (like the numerous deer, bunnies, ground squirrels, and dozens of varieties of birds, and the Javelina, an adorable desert-dwelling relative of the pig.)
Tip: Don't miss the Nature Center, nature tours, and nature classes offered at Tanque Verde. Learning everything from plant life to the reasons we didn't need to fear rattlesnakes (so much!) rounded out our family's experience.
Southwestern Hospitality
After a morning ride, one thing remained: the gnawing pangs of hunger that brought everyone back to the ranch for a hearty, country breakfast. Meals served as a unique opportunity for families at the ranch. Although family members chose to do a variety of activities throughout the day, including horseback riding, lessons, kids club, fitness and yoga classes, mountain biking, swimming, fishing, and more, meals brought everyone back together to share stories of their pursuits. Meals at Tanque Verde were on par with fine dining establishments found in the world's biggest cities: fresh ingredients, unique flavor combinations, and an artistic flare, coupled with a heavy focus on food of the southwest, provided meals fit for kings and queens, let alone folks who've just hobbled off their first horse ride. My husband was happy to start his mornings off with a hearty portion of biscuits and gravy, served with crisp maple bacon, but enjoyed finishing off the day trying new, inventive selections that he couldn't try elsewhere. Meals at Tanque Verde were his favorite part of our vacation, and truly, the food was something to write home about.
The hospitality at the ranch certainly hearkened back to a different era. The all-inclusive dining package allowed plenty of choices for everyone, including my family's struggle with severe food allergies, and even more annoying at times, my incredibly picky children. Bonus: I learned that you burn calories while riding horses so I didn't feel too bad about eating half my body weight in tasty goodies all day.
Tip: Don't miss western hospitality at its finest offered on the breakfast ride, the twice weekly outdoor BBQ, and picnic ride.
Read my full review of Tanque Verde Ranch!
A Host Family-Friendly Activities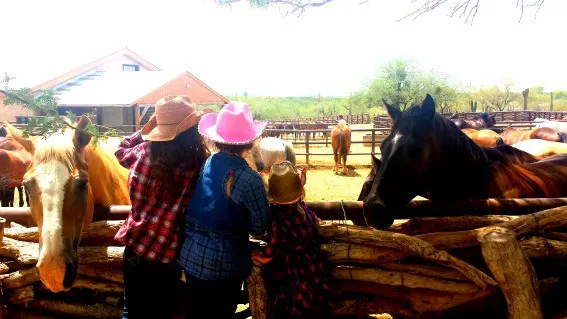 Morning rides aren't the only amazing activities on the ranch. Tanque Verde hosts a weekly calendar chock-full of family friendly entertainment, educational activities, lessons, and good old fashioned fun.
Horseback Riding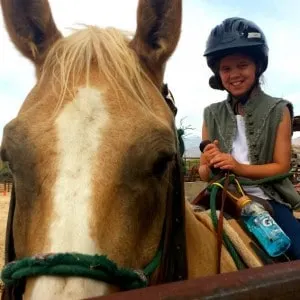 Horseback riding is one of the main focuses at Tanque Verde, and riders with various levels, including beginner, can be easily accommodated. True cowboys, wranglers who have worked the land for nearly three decades, and friendly faces at each session helped to remind you of a time seemingly lost in our current culture. My husband and kids were quite content with their daily lessons and walking trail rides that meandered through the desert, but I pushed myself to do a bit more. Although this trip was my first ever experience on a horse, I took advantage of every single daily lesson to make the most of my time. By the end of three days of training and riding, I was successfully and easily loping with my horse, a word that I had never heard of before arriving at the ranch. (I'll pause if you need to Google it.) Loping rides, sunset and sunrise rides, and longer mountain adventure rides are offered daily.
Before leaving, you must try your hand at Team Penning, the fun and frustrating team sport of trying to herd unruly cattle while on horseback. I took home a 2nd place ribbon for my excellent penning skills, which were put to shame quite easily by the actual wranglers manning the event. Nonetheless, I consider myself an expert now.
Daily Kid's Club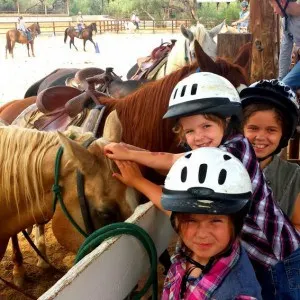 Included with the price of your stay at Tanque Verde is the stellar kids' club. Daily activities for various age groups and riding abilities (from four-years and up) are available to families staying at the ranch. City slickers like my girls were taught essential care and handling of horses, including grooming, and given daily riding lessons to learn the basics. I was surprised at how quickly my girls could somewhat confidently maneuver their horses, and it was exciting to share with them in their successes. In addition to horse time, kids enjoy themed arts and crafts, nature presentations, afternoon swimming, movie nights, and more. Kids can dine with other children or with mom and dad, making it completely flexible to each family's wishes.
Hiking, Biking & Fishing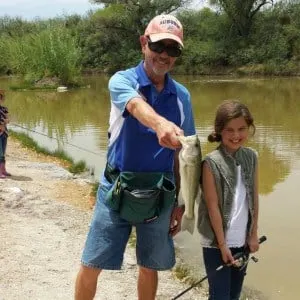 There are plenty of ways to get out and explore the beauty and wonder of the Rincon Mountains, even if you don't want to constantly ride a horse. My husband jumped at the chance to try his hand at mountain biking, led by a seasoned guide. After quickly mastering the beginner's course, he moved on to the intermediate course and might still have a few bruises lingering as souvenirs from our trip. In true manly fashion, he said he had a fabulous time and is now browsing the internet for mountain bikes.
For a slower-paced view of the desert, join one of the many guided hikes that are offered daily. Expert guides share their knowledge of the history of the valley and offer insight into the plant and animal life of the area.
Another first for my family on this trip: fishing. Two of my three girls caught numerous fish in Gambusi Lake, a short three-minute walk from the main ranch. The catch and release lake is supervised by an expert fisherman who not only helped with lines, bait, casting, and fish facts, but also helped dry the tears of an emotional middle child who didn't catch a single fish (any middle children out there relate to this?). Not only did he help our girls to have fun, his presence eased the burden from mom and dad having to handle the worries and whims of three small fisherman.
Swimming, Fitness & Pampering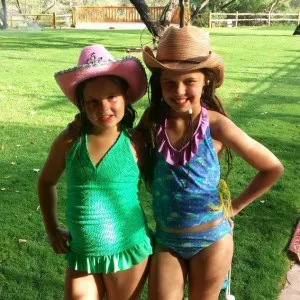 If the regimen of scheduled activities isn't quite your style, there are still plenty of activities on the ranch to fill your downtime. These activities, done at your leisure, are the perfect complement to your dude ranch getaway.
La Sonora Spa. Pamper yourself after a riding day well done with the soothing touch of massage. You will have time to do this because your kids can be in the kids' club. Genius.
Doghouse Saloon. Mosey up to the saloon (kids are allowed with parents before 7pm) to grab a cold one and share stories of the day with fellow travelers.
Swim. Two onsite pools (one indoor and one out) will tempt you with cooling waters that are the perfect refreshment from the Arizona heat. A small and shallow kids pool and Jacuzzi are also available.
The Family Room. One of only two places boasting a TV on the property, the Living Room is the perfect place to spend an afternoon of family time. A variety of games are available to play in addition to the lure of the colorful screen.
Tennis & Basketball. In addition to scheduled fitness classes (such as yoga and pilates), 24-hour basketball and tennis courts are on property for the must-stay-active family.
Day Trips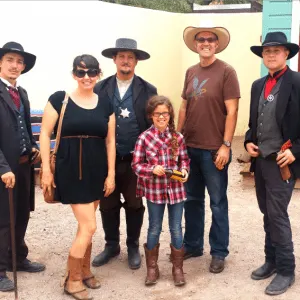 Although your stay at the Ranch is all-inclusive and you most likely won't want to leave, do yourself a favor and explore the Sonoran Desert that surrounds Tanque Verde Ranch and the city of Tucson before or after your visit to the ranch. Tanque Verde can set up a variety of Tucson area tours including hot-air ballooning over the desert below, numerous golf excursions, local shopping, a tour through Saguaro National Park, and even a trip to nearby Tombstone, the wild west town where Wyatt Earp and his posse were made famous.
---
Read my full review of Tanque Verde Ranch!
Dreaming of your own dude ranch vacation? Visit our friends at the Dude Rancher Association for a curated list of the best dude ranches in the country, including Tanque Verde!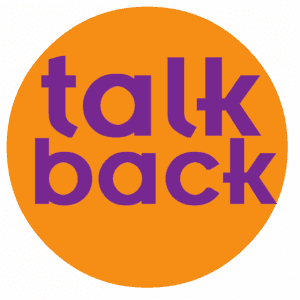 We'd love to hear from you. Have you been on a dude ranch vacation? Tell us your favorite part. Never been? We'd love to hear if you are interested in this type of family getaway. Tell us in the comments.
Disclosure: My family received a complimentary stay at Tanque Verde Ranch for the purpose of this review. I was not required to state any particular view; all opinions are my own.