"Go Mom!" "You can do it, Mommy!" Those were the encouraging cheers coming from my 4- and 5-year olds as I got on a bike and wobbled through the plaza of Whistler's Upper Village, managing (fortunately) to avoid running over any passersby. This mom hadn't been on a bike in almost twenty years, but if I was going to break my non-biking streak, Whistler, BC was pretty much the ideal place to do it.
Things to do in Whistler Summer Fun!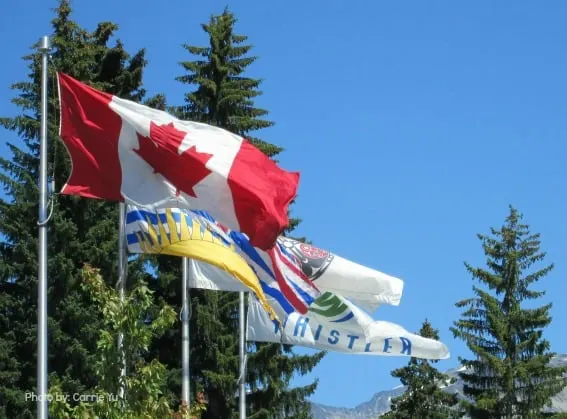 Whistler is often thought of as a winter destination. Yes, it was home to part of the 2010 Olympic and Paralympic Games and is a world-class ski town with slopes open from late November to mid-May. But, Whistler offers so much more than just snow and skiing. There are tons of family friendly activities year round! Want to ride in a canoe or kayak? How about zip lining, fishing, camping, or dirt bike riding? Hiking or wildflower photography? Relaxing by the pool and basking in the sunshine? Whistler has it all.
We visited Whistler during July, when the sun was shining brightly overhead. Our trip started out great, with the drive from Vancouver, BC offering us amazing views of snow-capped mountains, ocean inlets, lakes, and forests. When we pulled into Whistler itself, my first reaction was a squeal of joy- the town is simply darling! We loved wandering through the streets of the village, checking out the shops, enjoying the mountain air, and hearing languages from all over the world being spoken by fellow tourists.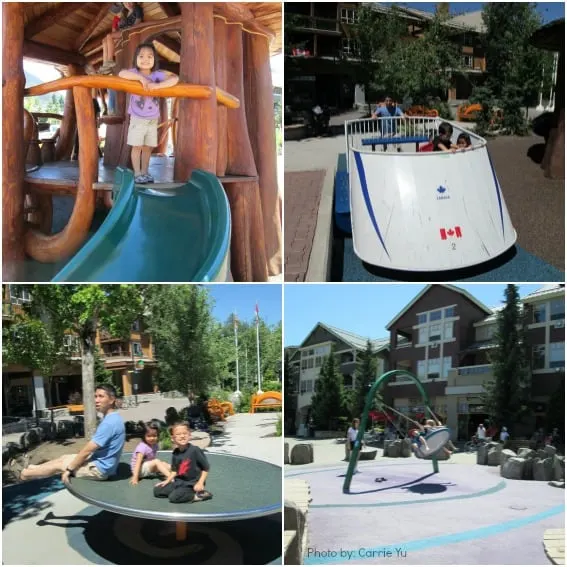 One of our first stops in Whistler was the Whistler Inclusive Playground, located right on Olympic Plaza. It's designed so that kids and parents of all ability levels can climb, swing, slide, and have a great time playing together. It was a hit with my kids! There are a number of other playgrounds around Whistler as well and there's even a free water park!
Whistler has a reputation for being expensive, but we found that there were easy ways to save money. Here are some of our favorite tips:
The playgrounds and hiking trails around Whistler are always free,
On the weekends from mid-May to September, your family can check out one of the acts (including jugglers, circus performers, and acrobats) performing for free on the sidewalks in Whistler Village.
Try eating at the quirky El Furniture Warehouse, where all the tasty food is just $4.95.
Head over to the always yummy and budget friendly Old Spaghetti Factory where the meals come with salad or soup, bread, entrée, and even ice cream.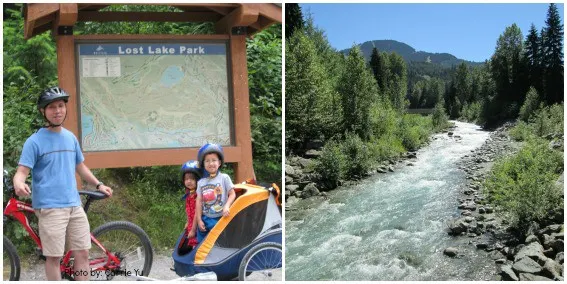 When we weren't playing on a playground, my family could generally be found walking or biking on one of the many, many trails located all around Whistler. In Whistler you can pretty much head out in any direction and find a trail to hike, walk, or bike. The trails are all surrounded with amazing scenery from views of Whistler and Blackcomb Mountains to forests with huge trees, quickly moving streams, and beautiful mountain lakes. We rented bikes from Arbutus Routes, a great outfitter, which provided us with bikes, helmets, and maps, and also suggested an easy route for us to follow. Even this non-bike rider had a great time pedaling along the well-marked trails. I only fell off once (into a bush, thankfully)!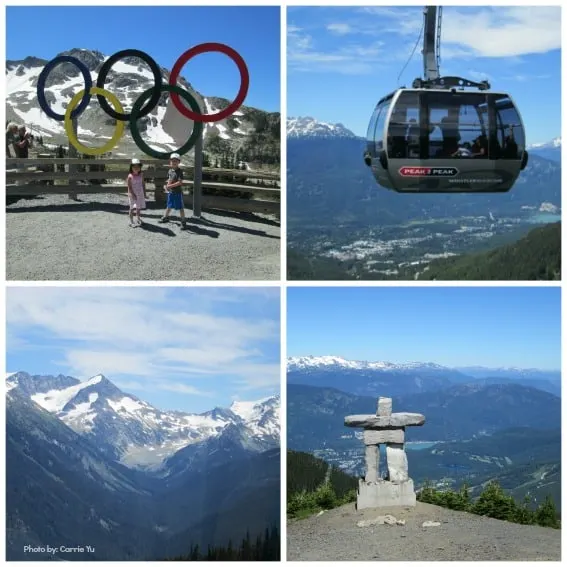 One of the highlights of our time in Whistler was definitely our trip up Whistler Mountain to ride the Peak 2 Peak gondola. This gondola system is amazing both for the views it offers and for the engineering marvel it represents. Be sure to stop off in the small theater located at the top of Whistler Mountain and watch the short video explaining how the Peak 2 Peak was built. It's pretty incredible! While you're at the top of the mountains, your family can enjoy hiking and walking on one of the 12 trails on Whistler Mountain or the six trails on Blackcomb Mountain. You can access the Peak 2 Peak from the base of either mountain. Travel up to and back down from the Peak 2 Peak on either a smaller gondola or by chair lift. It was my first time on a chair lift and once I got over being nervous about it, I loved the feeling of gliding through the fresh mountain air.
Our home base during our time in Whistler was the beautiful Fairmont Chateau Whistler. I love Fairmont hotels. They are always beautiful buildings with friendly staff and comfortable rooms. This Fairmont hotel was no exception. It is located in the Upper Village, out of the hustle and bustle of Whistler Village, offered great views of the mountains, and boasted a fantastic indoor/outdoor pool (definitely my kids' favorite thing!), top-notch service, and beautiful rooms. I spent most of the time during our visit trying to come up with a way to live in the Fairmont Chateau Whistler forever.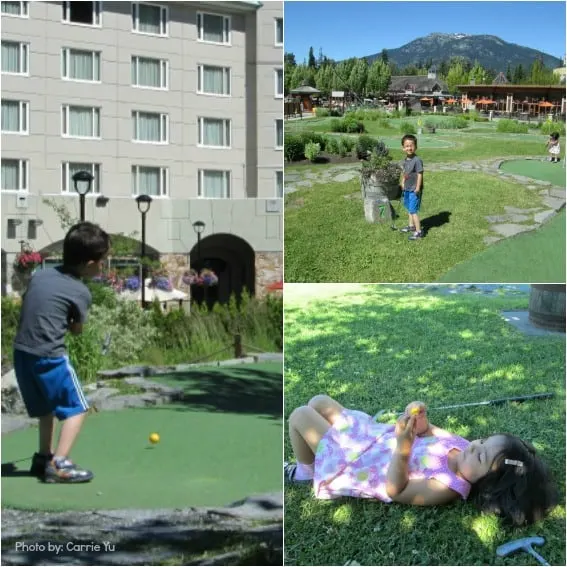 Also located in the Upper Village is the Family Adventure Zone. This fun zone was constantly full of kids bungee jumping, riding go karts, getting glitter tattoos, riding horses, or taking part in one of the other activities offered. My husband and son had a great time on the luge ride; going up the side of the mountain and whizzing back down on their little cart. The Family Adventure Zone was also where my son discovered his new passion: mini golf! My 4-year-old daughter lost interest midway through the course and wandered off to search for dandelions. But, my son and husband had a great time playing a rousing game.
We spent three days in Whistler and barely scratched the surface of all there is to do and see. This is definitely the type of place your family can return to again and again, and always have a new and fun experience!
Disclaimer: I was hosted by Tourism Whistler and the Fairmont Chateau Whistler on this stay, but all opinions are mine and mine alone.
Featured photo by: Shutterstock