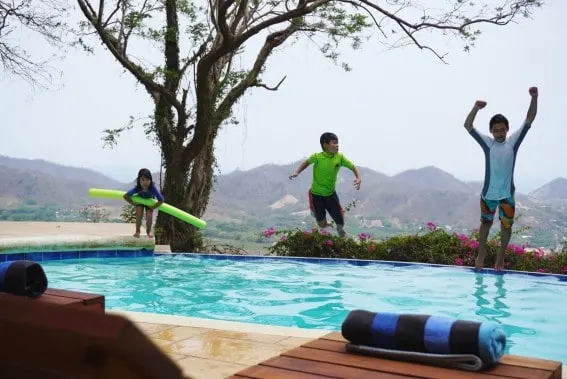 After reading that Nicaragua was sixth in the Rough Guide's places to visit in 2017, we wondered how to ideally explore Nicaragua with kids. Could families experience Nicaragua comfortably and safely, or was Nicaragua a budget destination only the most adventurous got to enjoy? The Robertson family of Finca Las Nubes invited our family to spend a few days as their guests to discover first hand what they love about Nicaragua. During our time there, we experienced Nicaragua's stunning coastline, rich and intriguing history, and abundant wildlife.
Over the course of four and a half months, our family will have traversed over 2000 miles across Central America. We've been in search of adventure and hidden gems. We've visited ancient ruins, swam in crystal clear swimming holes, and explored picturesque inlets lined with lush rainforests. Sometimes the road we've chosen has been quite challenging, especially with kids in tow, but the week we landed in Finca Las Nubes in Southern Nicaragua we rested and felt pampered. Is Nicaragua a destination for families? Well, if you stay at Finca Las Nubes, absolutely!
A Farm Stay Family Vacation Custom Built For Families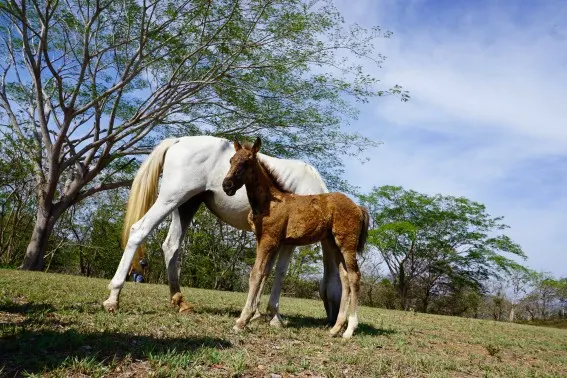 Photo by: Trekaroo/Brennan Pang
Located in the hills right above San Juan Del Sur on the southernmost part of Nicaragua's Pacific Coast, this 240-acre farm began sixteen years ago as a remarkable ecological and social experiment. Today, it is home to about 40 local and foreign families living side-by-side in community, a private day school, a certified organic farm, and a sustainable hardwood furniture business. Their permaculture farming practices seek to maintain the farm as a nature reserve of dry tropical forest where sloths, monkeys, birds, and insects are an integral part of everyday life. It used to be that a stay at Finca Las Nubes was earned by invitation or learned about by word of mouth.
Fortunately, the farm is throwing open its doors to welcome those looking for a family vacation that's all about connecting with nature and family. While allowing your Nicaraguan hosts to take care of all the logistical details, visitors are pampered with three farm fresh meals a day and a chance to have a guided tour by hosts who know the country best. We couldn't have been more thrilled! Finally, families have a way to experience the wonder and beauty of Nicaragua without having to rough it.
Spacious Villas and Private Pool with Ocean Views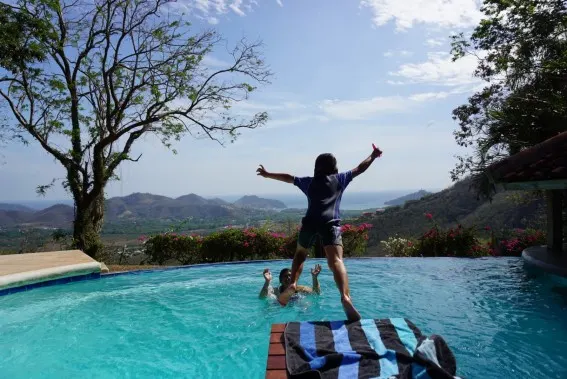 Photo by: Trekaroo/Brennan Pang
"This whole place is for us?" our children exclaimed one by one as we pulled up to our villa, Casa Buena Vista. I was still taking in the sweeping views of the Pacific Ocean stretched out before me while they raced into their swimsuits to be the first to cannonball into our private pool.
Photo by: Trekaroo/LiLing Pang
Each villa at Finca Las Nubes, including all the windows and furniture, was built using sustainable hardwoods by a team of carpenters trained by the Robertson's when they purchased the farm. The villas are situated to take advantage of the gorgeous views (hello, what can beat a sunset over the Pacific Ocean?), while fully embracing indoor-outdoor living. The floor to ceiling sliding doors in every room harness the ocean breeze rising from the valley to flow through every room of the house. "These villas are designed to harness the strong ocean breezes that blow most of the year to keep the homes comfortable. We really don't need air-conditioning." Natalie Robertson shared with me. This philosophy of harnessing the natural benefits that the land presents with minimal impact to nature and the local community guides all aspects of farm life. With doors thrown open, we fell asleep listening to the night song of crickets, and woke up to the wake-up calls of howler monkeys and birds.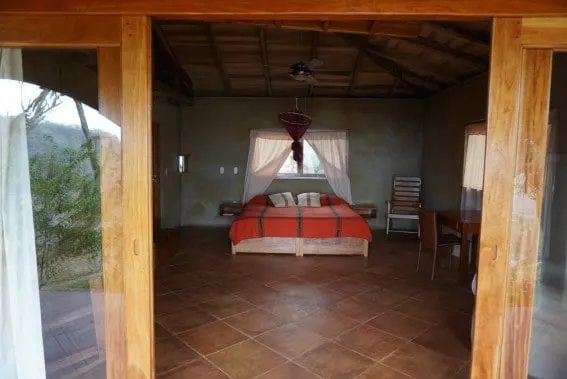 Photo by: Trekaroo/LiLing Pang
Currently, five farm villas sleeping 4-8 guests each are available for reservation. With a large living room, full kitchen, and lots of outdoor living space, the villas are ideal for a multigenerational family vacation or two small families traveling together.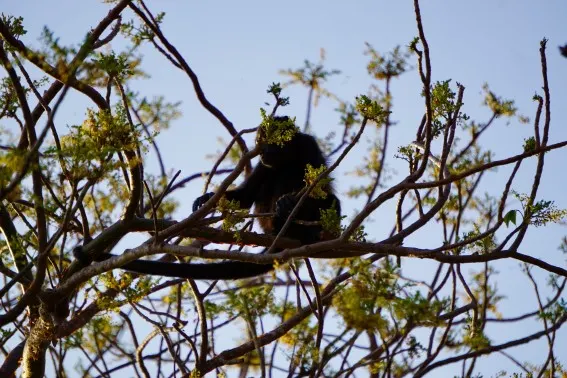 Photo by: Trekaroo/Brennan Pang
While the kids plunged into the pool five times a day we always kept our eyes peeled for visiting sloths, monkeys, and bugs of all shapes and sizes. I really had to pinch myself the day when a friendly pair of howler monkeys swung by for a visit as my little monkeys were splashing in the pool just as the sun's rays were turning golden over the Pacific.
Someone's Taking Care of Mom Too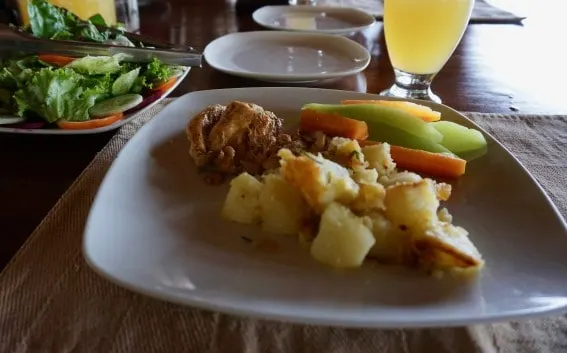 Photo by: Trekaroo/Brennan Pang
The Robertsons welcome guests to the farm like they are family. Each villa has it's own dedicated staff who live in attached quarters. To ensure that everyone, including mom, gets to relax, they prepare your farm fresh meals, do your laundry, clean up, and make sure you always have filtered clean drinking water at the ready. There is nothing pretentious about their hospitality, just genuine kindness and care.
Every meal was delicious and wholesome. I loved waking up to the smell of Finca Las Nubes coffee beans being roasted, ground, and brewed each morning. Our breakfasts were always hearty. We could pick our own eggs from the chicken coop if we wished and have them delivered. Our kids were happy to see old favorites like bacon and eggs, pancakes and fruit, omelet and grilled potatoes and a daily tropical fruit smoothie at breakfast. We had a mixture of lunches in and out, but your cook will gladly pack you a picnic lunch if you wish. Dinners were delicious with huge portions and a nice variety of chicken, steak, and fresh seafood, including local lobster when it's in season. One of the biggest concerns for families with severe allergies when traveling overseas is whether they can stay safe when eating in different restaurants. Just let them know before you arrive of your dietary preferences or restrictions, and they are happy to cater accordingly.
All-inclusive Custom Adventures (it's not an oxymoron)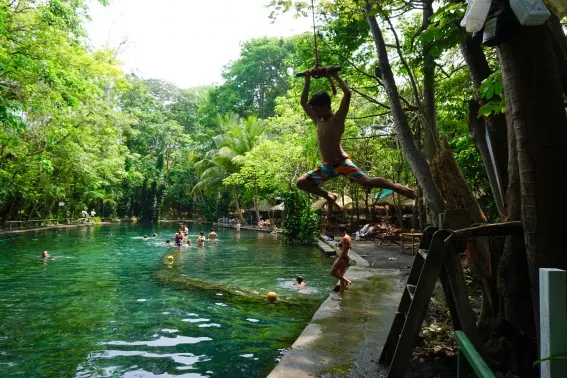 Photo by: Trekaroo/Brennan Pang
Natalie Robertson spent much of her teenage years on the farm and is now raising her two children here. She has explored Nicaragua with her kids in search of places and experiences that delight families. Your custom all-inclusive vacation begins even before you arrive. Natalie and her team works with each family to understand their interests and desired level of activity. Youngsters want to surf all day, but grandma's not up for getting sunburnt? She'll arrange for grandma to get a massage back at the villa so she's having a great day as well.
Adventures in San Juan Del Sur and Beyond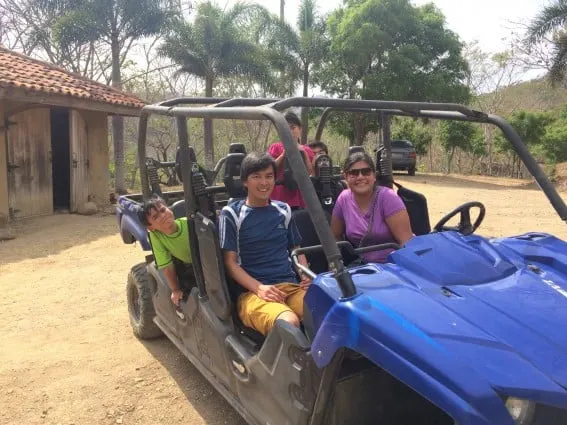 Photo by: Trekaroo/LiLing Pang
Our family likes excitement, so the Robertsons arranged for us to kick off our stay with a UTV ride up the dirt roads behind the farm to the neighboring property of Parque de Adventura Las Nubes. On the way into the transitional cloud forest, our guide/driver was scouting out wildlife to show us.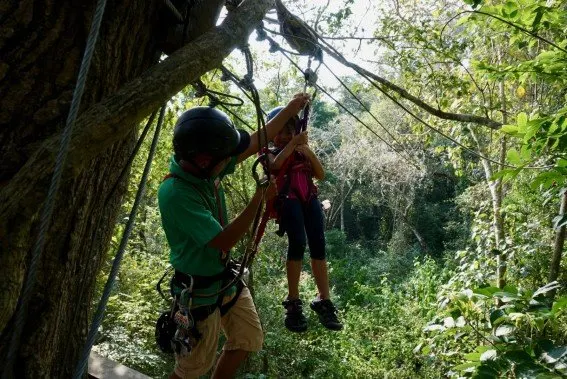 Photo by: Trekaroo/Brennan Pang
Then we got harnessed up for an epic canopy zipline. Boasting views of the Pacific Ocean on one side, and Lake Nicaragua with Ometepe Island on the other, this canopy tour is truly one of the best we've experienced. To top it all off, we caught a glimpse of a sleepy tree sloth perched high in the canopy. As we headed down from the clouds, we were greeted by the farm's friendly horses ready to ride us off into the sunset. I could feel all the stress of our long travels prior to arriving at Finca Las Nubes simply melt away as we were lulled into a peaceful trot.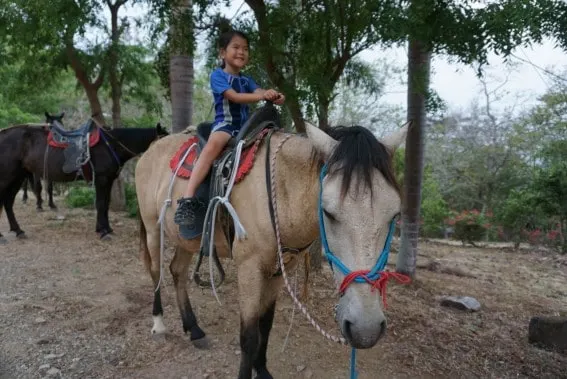 Photo by: Trekaroo/Brennan Pang
One of the most challenging and expensive parts of traveling in Central America is getting from place to place as a family. So, it's a huge bonus that an all-inclusive stay at Finca Las Nubes includes a driver and 4×4 vehicle to get you wherever you want to go. It's "numero uno" in ensuring a stress-free visit to Nicaragua. Our guide was also bilingual so he could help interpret as needed. The location of the farm makes it possible to be on a day trip seeing the cultural and historical sites of Granada one day, gazing at molten lava bubbling inside of a crater at Volcan de Masaya on another, and then surfing perfect waves and feasting on gigantic fish tacos the next. There aren't too many land-based, all-inclusive vacations that encompass this range of activities to satisfy the varying interests of a family.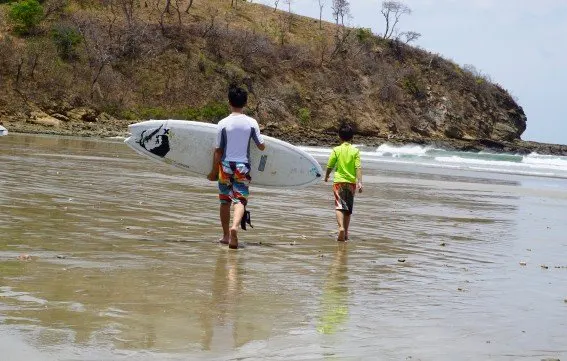 Photo by: Trekaroo/Brennan Pang
Our guide, Jose, is a man of many talents. He grew up in San Juan Del Sur and is a pro-surfer. As a dad, he knew exactly how to get our family out on the waves for the first time. He picked Playa Romanso to introduce our family to surfing for its sandy shallow beach. He also knew exactly what time we should hit the beach so that the waves would be great for beginners like us. His instructions were so simple and I was quite beside myself when we all stood up on our surf boards one by one. Kicking back under a thatched umbrella sipping tropical fruit smoothies and eating giant mahi mahi tacos simply completed our experience of Nicaragua.
Embracing Farm Life and Running Free
Photo by: Trekaroo/LiLing Pang
Although a family vacation to Finca Las Nubes can be as action packed as you'd like, I highly recommend spending a day or two just soaking in the goodness of farm life. Especially if you're coming from an urban or suburban environment, spend a morning gathering eggs from the chicken coop, or pick up a shovel and help out in the organic garden. Our kids loved picking fruits and veggies that were on our table that same day for lunch. If you can get up with the sun, visit the corral, milk a cow, and pet the newest babies.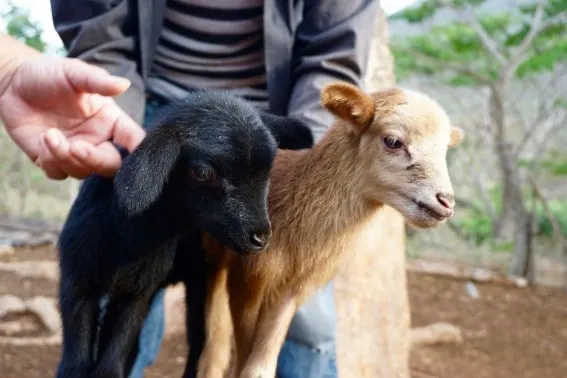 Photo by: Trekaroo/Brennan Pang
Just don't be surprised if your kids spend the rest of the trip trying to persuade you to let them bring home a baby pelibuey because they are the cutest. Most importantly, relish the safe, natural environment at Finca Las Nubes and free your kids to roam in the woods. It's good for their souls.
As our visit to Finca Las Nubes came to an end, I was already planning what we wanted to do the next time we had the opportunity to visit. We can't wait to put on bee suits and harvest honey from the farm's hives or spend a day working alongside the master carpenters who built every window, rocking chair, and cabinet using the beautiful hardwoods harvested right there on the farm. I hope we get to go fishing off shore and reel in our own dinner, and perhaps see turtles coming up to nest at La Flor Wildlife Refuge.
Tips for Your Trip to Finca Las Nubes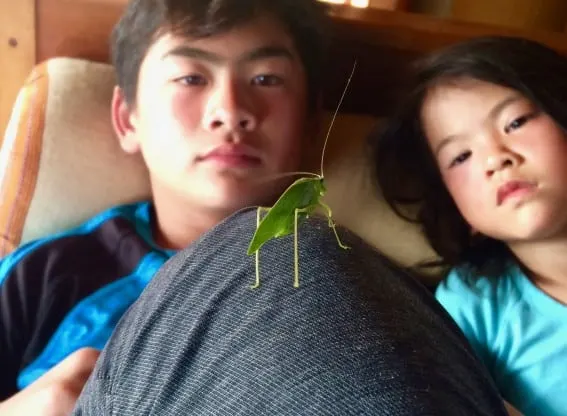 Photo by: Trekaroo/LiLing Pang
Pick the right season to visit. The best time to visit the San Juan area is October to March. April is typically the hottest month when the tradewinds still and it can be unbearably hot. With the rains from May to August come lusher greenery and big waves great for avid surfers.
Check ahead of time whether turtles are coming up to nest or baby turtles are being released at La Flor Wildlife Refuge. It is one of the largest turtle breeding beaches in Central America.
If you have a little one who is not water safe yet, be sure to bring along a life jacket or a swim suit with built-in flotation. Pools at the farm aren't fenced in like they are in the U.S.
Be ready to share your living space with wildlife. You will undoubtedly have daily home visits from cool stick bugs and delightfully green katydids. Your young etymologist will have a field day.
Why an All-Inclusive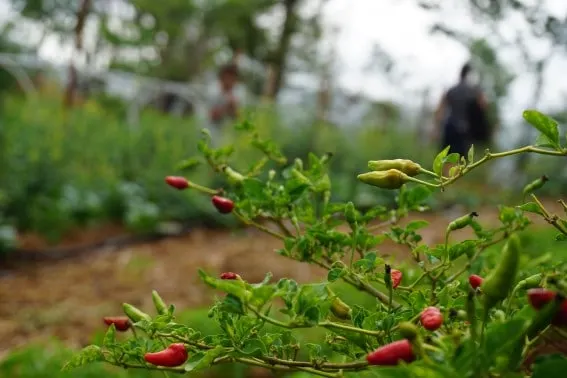 Photo by: Trekaroo/Brennan Pang
For all the reasons that I love a dude ranch vacation, I love Finca Las Nubes. Their genuine and unassuming farm hospitality is wonderful. Having all the stressful logistics of an international vacation taken care of by a team that knows the area so well makes Nicaragua with kids accessible to all families, not just the die-hards. Minimizing daily decisions about where you are going to eat, how much you are going to spend, and how to get from one activity to the next allows everyone to just take it all in without being stressed. It's hard to imagine that an all-inclusive week at Finca Las Nubes is only $999 per person (with significant discounts for larger groups), because putting all this together on your own would be more costly. More importantly, I love that this all-inclusive experience isn't like staying at a big resort. Here your meals are prepared just for you by a trained cook using the freshest farm ingredients. You also get to connect with the people in this lovely community built upon an inspirational model for sustainable and socially consciously living.
Have you been to Nicaragua? What were some of your favorite places and experiences?
Thank you to Finca Las Nubes for opening up your doors to our family and for hosting us, and giving us the opportunity to rest and build memories together as a family.
Featured photo by: Brennan Pang