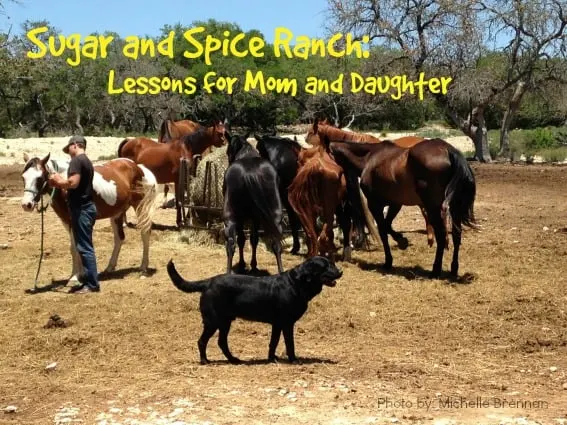 Mom and daughter alone time is important in order to strengthen a parental bond and relationship. Finding quality alone time in a family with three children can be quite difficult. In addition, as part of a twin tandem, my 12-year-old daughter has had minimal time alone with just me. I was craving time to get to know the person she is quickly becoming. You know…time to have girl talk, ride in the car Thelma and Louise style with the music blasting and the windows down, reminisce about the past, and dream about the future. An opportunity to go to a mother daughter horse camp was the perfect prospect. She loves animals and adventure, so I used that chit to convince my husband to take on a week of juggling schedules, caring for two kids, and a never-ending pile of laundry.
Our adventure took place at The Sugar and Spice Ranch, owned by Leigh McCourt, a fellow Yankee transplanted into the Texas vastness. Leigh opens her ranch home and family to mothers and daughters interested in learning about horseback riding. Along the way, mom and daughter teams learn horsemanship and so much more.
Lesson One: The Pitfalls of Overconfidence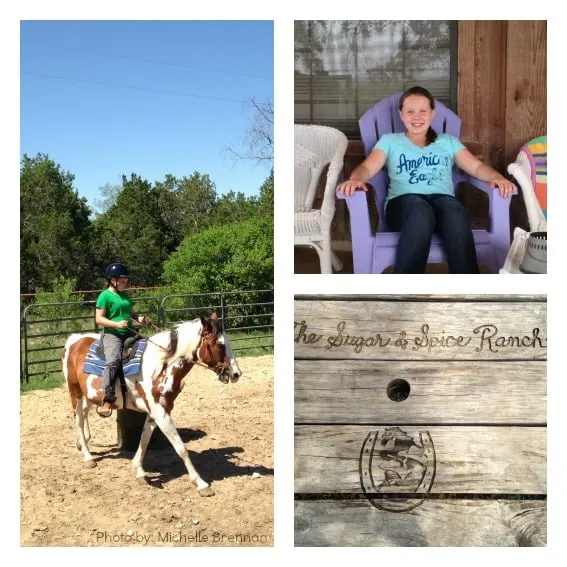 I liken my overconfidence in horseback riding to my experience nursing twins as a new mom. How hard could it be; shouldn't it just come naturally? Experienced riders can make riding horses look so easy to the overly confident novice. My daughter and I learned this on day one. We had no idea how to feed, brush, saddle, or bridle a horse. Any time we had been riding, someone had always done this for us. We thought riding was as simple as sitting on the horse and giving it a little nudge with the heels to get the horse to follow along. A trail horse is one thing, but convincing a horse to meander or even trot through an obstacle course under our command was completely different. We were not expecting this. We both learned to not be overconfident and to realize there is so much we do not know. Miss Leigh and her family took great care of us though. I am sure they have seen all types of overly confident riders. They had the opportunity to take great delight in our lack of knowledge and overconfidence, but instead gently instructed us on how to be better riders.
Lesson Two: No Retreat, No Surrender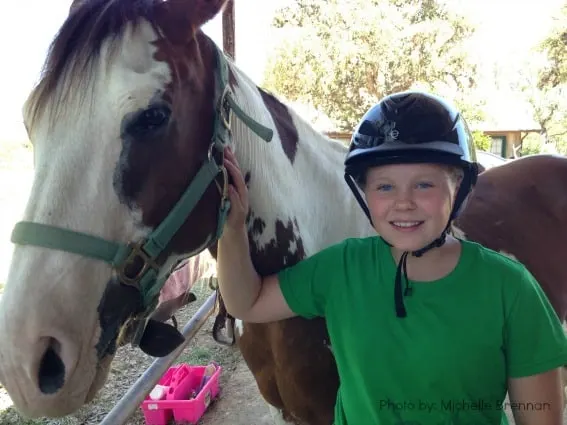 My daughter is a bit of a perfectionist to whom most things come quite easily. Give her a task or a problem and she is quick to come out on top. Unfortunately, this has worked against her a few times in the past. Usually when failure looms her first reaction is to give up and this is what happened at the ranch. Her feisty horse Splash let her know who was boss on the first day! This infuriated my daughter. Why wouldn't the horse do as commanded? Why wouldn't the horse trot through the course like the other horses were doing? She wanted to switch horses or go home. I turned to Leigh for advice, positive she had been in the presence of this problem before. She talked to me about the pros and cons of changing horses and we decided to stick with Splash. By Wednesday, as predicted by Leigh, we had a breakthrough with Splash. He reluctantly trotted around the arena much to my daughters delight. She felt accomplishment and had to work extra hard for this to happen. By the end of the week, Splash actually cantered for her and she hasn't stopped talking about it. The take away for her was to not give up on something that she wanted!
Lesson Three: Independence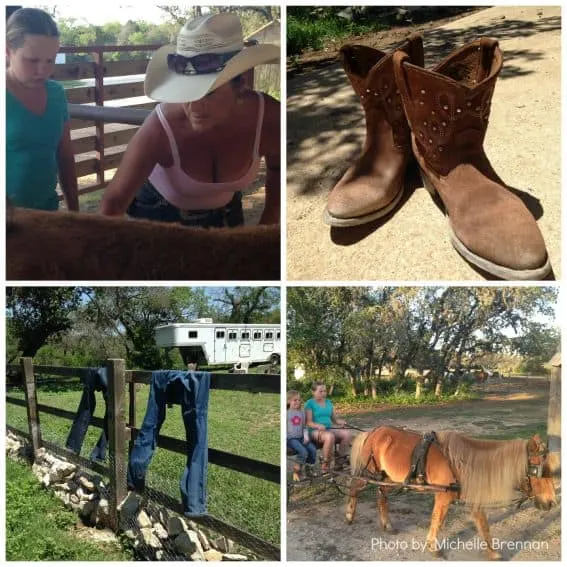 Our family has always traveled together. The five of us usually pack up the mini-van or hop aboard a plane to get to our destination together. This trip proved to my daughter that she might just be able to go off on her own soon. Having Mom nearby on a camp experience was just enough of a tether to allow her to search for that independence. She felt comfortable exploring the grounds of the ranch on her own without a sibling along to catch a lizard, drive a pony, or spy on a critter. In addition to the Mother Daughter Ranch camp, the Sugar and Spice Ranch also offers a 'kid-only' week when eight girls can spend time on the ranch riding without parental involvement. I know one 12-year-old who is keen on this idea! Time at the ranch allowed for baby steps to independence.
Lesson Four: Trust

Along with independence, we also learned about appropriate dependence and trust. My daughter learned to depend on me to be her confidant, her mentor, and her champion. She knew that I had her back regarding this new skill the whole way. She knew she could rely on me to talk to Leigh about her concerns and though she was troubled, trusted that the decision to keep the horse would work out in the end. She also learned to trust her horse as she worked to get to know him. She saw trust in action modeled by the other mother daughter couples we lived with for the week. The girls varied in age from six to 16, but each showed trust in their mother. The 16-year-old and her Mom had returned for their sixth visit to the beloved ranch. They enjoy their week together learning to ride, taking it easy in the bunk house, and exploring the area together. The youngest six-year-old could only trust in her mother, her horse Buttercup, and Miss Leigh. Imagine the gumption it took her to lead her own pony all week. Her pony Buttercup was just the right size for her, but still was a horse in need of a commanding partner. It took a while, but by the end of the week, that little girl was able to steer that horse!
Lesson Five: Acceptance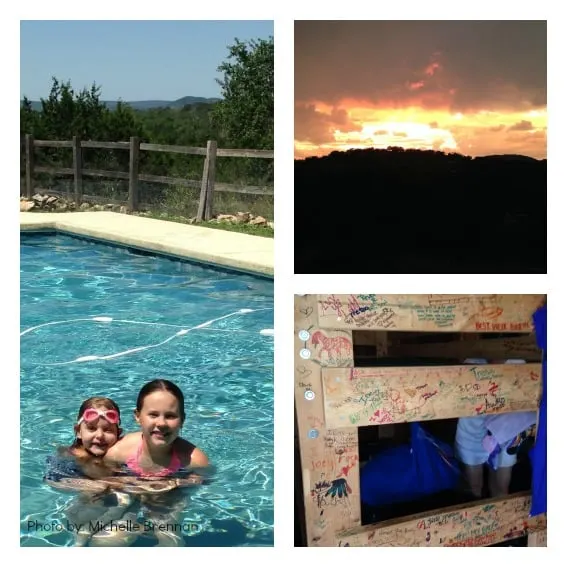 Acceptance is one of the largest lessons we continue to learn as we travel. As we were without family interruption for the week, we got to spend a big chunk of each day together without the typical daily grind calling our name; there were no meals to create, taxi rides to drive, or laundry piles to fold. It was during these times that we were able to see each other clearly for who we are and what our hopes and dreams encompass. We were also able to learn about other family styles with our truly fabulous and accepting bunkmates. Learning about other lifestyles is a hallmark of why we travel. It opens our horizons and allows us to see the world outside our own daily routine. Leigh graciously opened her home to us and allowed us to learn about life on a ranch accompanied by her own daughters to whom she has taught patience, friendliness, and a lot about horses!
Our adventure started at a stuffy airport where we were both a bit nervous about our lack of riding experience, and ended with a normally stoic, teary-eyed pre-teen wishing she could stay in Texas forever. She has been bitten by the horse bug and has big plans for a ranch in her future.
Read all the details of our visit to The Sugar and Spice Ranch.
Disclosure: We were provided a complementary stay at the Sugar and Spice Ranch, but all opinions and lessons learned are our own!