Philadelphia is packed with fun, educational, interesting, and memorable things for families to do no matter what time of the year you decide to visit. Between the historic sights, the restaurants, the shopping and the outdoor entertainment and art, activities such as the zoo, the many museums, and the aquarium right across the river, there's sure to be a little something to keep you and your brood busy for awhile. When the activities are finished and you are tired and ready to unwind a bit, however, you need a great place to stay – one that understands that kids have needs as well as their adult companions. Whether you're here for a weekend, a week or longer, there are great options sprinkled throughout the city to meet your needs. Here are a few of our recommendations for best places to stay as a family in Philadelphia.
The Logan Hotel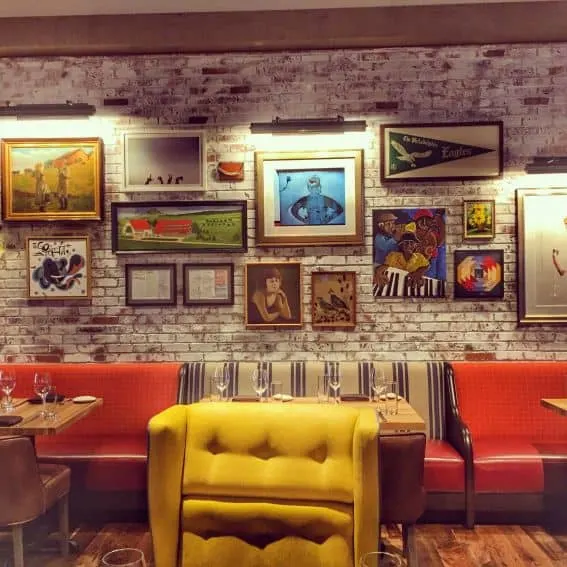 Photo credit: Sharon Rigney
If you head into the city looking for the Four Seasons, you'll be surprised to find it is no longer at Logan Square. Now occupying its spot is the fresh and funky Logan Hotel, part of the Curio Collection by Hilton. This recent newcomer to the lodging scene in Philadelphia puts a fresh and fun spin on the usual city stay. When you enter the lobby, you're greeted by soothing and contemporary colors as well as an array of eye-catching art from local craftspeople. Look for the rest of the art as you pass through the hotel during your stay – it all ties into the city or is from an artist with local connections, which lends itself to the whole experience. The restaurant, Urban Farmer, boasts delicious farm-to-table cuisine from area suppliers, and the artwork and colors are fun, welcoming, and really give you a feel for the area. Rooms at this 391-room venue offer families easy access to area museums, including award-winning choices like the Academy of Natural Sciences located right next door and the Franklin Institute, which is a terrific, not-to-miss choice for all ages. Parents can treat themselves to the luxurious spa and the chic, rooftop lounge, and bar offering 360 views of the cityscape. You're also just a short walk from those iconic steps of the art museum where you can pretend to be Rocky and run to the top! You know you want to!
Loews Philadelphia Hotel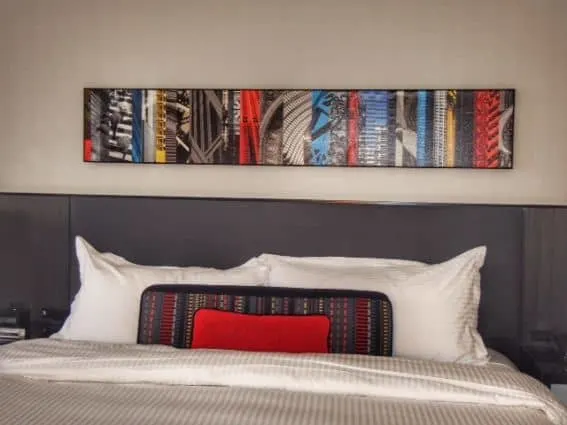 Photo credit: Sharon Rigney
The Loews has the honor of occupying the building that was Philadelphia's first skyscraper. This modern downtown lodging option delivers on family-friendly amenities (can you say free WiFi), yet also feels like a treat to parents. The decor is contemporary and rooms offer plenty of space to relax and rejuvenate. Get a room here and you'll be able to enjoy great views of the city from above, as well as have the convenience of being within walking distance of many great city destinations. It's always fun to get a bird's eye view of the city below, so if your room is up high, be sure to check out the great vantage point from the hotel windows, and try to pinpoint buildings you may have visited. Should you want to watch your waistline, the hotel offers a state-of-the-art fitness center and full-service spa, too. The hotel is luxurious as well as convenient, and just a quick walk away from Reading Terminal Market, Liberty One Observation Deck, shopping options like Liberty Place, The Gallery and Shops at The Bellevue, as well as countless dining and snack shops. The building features 581 rooms, a polished, courteous and very helpful staff, super-streamlined check-in and check-out, and parking for a fee should you need it. Fueling up is easy as well, simply hit up Bank and Bourbon, the on-site restaurant for delicious cuisine as well as drinks. Kids will love looking at the huge old bank vault door located just off the lobby – remnant of the building's days as PSFS bank.
Sonesta Hotel Philadelphia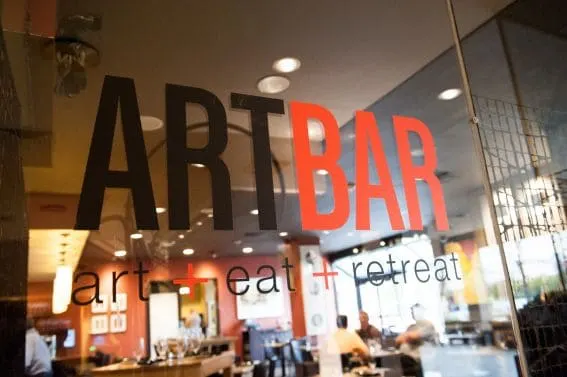 Photo credit: Mass Office of Tourism
Families looking for a little bit of a smaller hotel experience, yet still close to Center City hotspots will appreciate the newly redesigned Sonesta. This art-inspired, contemporary venue houses 439 attractively-appointed rooms with plenty of modern, complimentary amenities that appeal to families. Of course you'll be able to hook up to the free, high speed internet connection to keep up with social media or contact friends and family. Keep the kiddos happily occupied at the hotel's outdoor, rooftop pool. Located just a block from SEPTA's Suburban Station and a half-mile from 30th Street Station, the place is very easy to get to. Eat, shop, sightsee, learn, or be entertained easily and conveniently in lovely nearby Rittenhouse Square. The on-site Art Bar serves up light bites, beer, wine, and spirits for folks looking to relax a bit. Art Bar also highlights local emerging visual artists, which is a nice touch.
Hotel Palomar, a Kimpton Hotel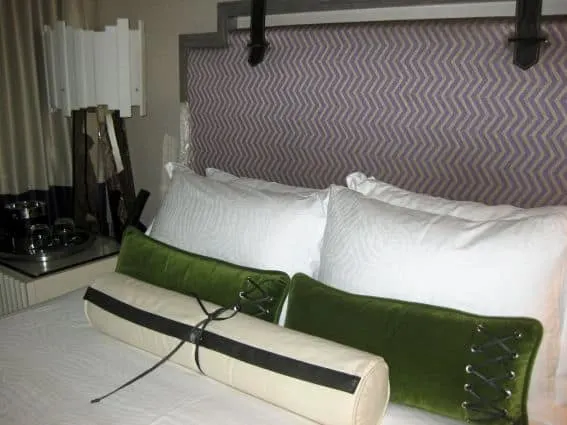 Photo credit: Bnilsen
Located in much the same area as the Sonesta and the Loews is Hotel Palomar, a Kimpton Hotel. Here, your family can be assured of luxury in a stunning atmosphere. The 230-room hotel is located in a beautiful, art-deco building, so the exterior is eye-catching. Inside, the place is outfitted with luxurious, stylish decor in soft, neutral, earthy tones broken up by pops of color and pieces of cool original art. This hotel is eco-friendly and LEED certified, meaning they take conservation and environmentally-friendly practices seriously. As far as cuisine, stop into the restaurant, Square 1682 and enjoy delicious and bold American food and a range of drinks, both alcoholic and non. Comfy beds, large, clean bathrooms, free WiFi; pet and kid-friendly amenities, fitness center, colorful and artsy design and colors, and being close to upscale shopping and eateries and nearby plenty of sightseeing options make the Palomar a terrific choice for traveling families. There is even a fun nightly wine hour for parents to enjoy, as well as free morning coffee and tea.
Hotel Monaco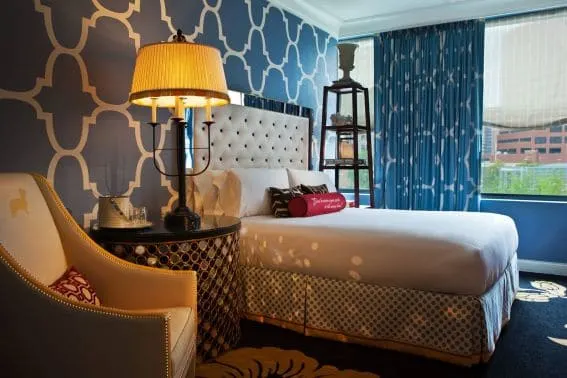 Photo credit: Hotel Monaco
Families wanting to stay more toward the historic district will want to check out Hotel Monaco. This sophisticated 268-room lodging option is located in a building from 1907, just next to Independence National Historical Park. Within a block or two of the place you'll find such iconic Philadelphia landmarks as the Liberty Bell, Independence Hall, The National Constitution Center, Benjamin Franklin's Grave, and Home and Betsy Ross' House. The airport is just 15-20 minutes away, making arrival and departure from the city easy as well. One of the best parts about staying in this lovely hotel is the ability to see many historic sites easily and without a lot of travel time. Should this be your goal, the Monaco is perfect. Be sure to check out the views from the rooftop lounge area for a lovely vision of the historic mile. Guests will feel like they've treated themselves with great perks like free bike rentals and a 24-hour fitness center, although guests do have to pay for WiFi. Enjoy a meal at the restaurant, the Red Owl Tavern, which offers some nice options for kids. Overall, this hotel combines a lot of the old and the new to make for a solid choice in hotels when staying in the city. It's also not far from Penn's Landing, which is a nice place to visit when the weather is favorable.
The Independent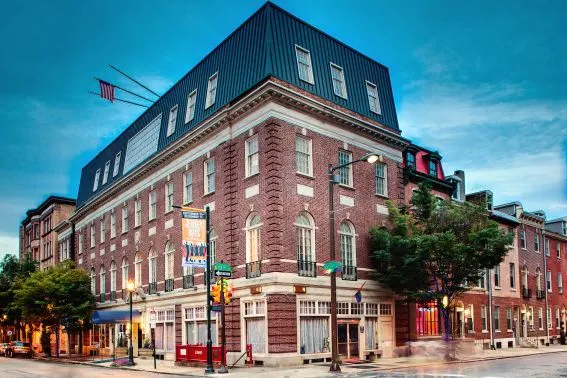 Photo credit: Paul Loftland for PHLCVB
If staying in a smaller, boutique hotel is more your family's style, look into bunking at the Independent. This hotel has just 24 rooms and is situated in Midtown Village, which puts you close to so many great things here like the Avenue of the Arts, the theaters, Rittenhouse Square, the historic district, the Convention Center, and Reading Terminal Market. Families will also appreciate the free breakfast, free coffee and tea in common area, free WiFi, refrigerator, microwave, laundry facilities, and free newspaper. Rather than melt into the fabric of a larger hotel, here guests can interact more closely with the staff and really get a feel for the place. One of the nicer features is hardwood floors in the rooms and charming furnishings equipped to make any family feel right at home. The on-site restaurant, Little Nonna's, gets terrific reviews for its Italian-American cuisine offerings, as do several of the nearby eateries. When you stay here, you get the best parts of a Bed & Breakfast with many of the amenities of a larger hotel. Many folks love the opportunity to interact directly with the staff on a more personal level and in a relaxed and intimate setting, yet have some of the advantages of the large hotel as well.
Overall, Philadelphia has a plethora of lodging options, and there are sure to be options to suit your travel needs. Take our suggestions or pick a spot that seems right for you and your crowd. Sightseeing, visiting with friends and family, enjoying museums or landmarks or outdoor activities are just that much more pleasant when you know you can retire at the end of the day to a comfortable, affordable, attractive and welcoming environment. Enjoy your trip!
Looking for family-friendly activities in Philadelphia? Enjoy the parent-approved Top 10 Things For Families To Do In Philadelphia and tips for Exploring Philadelphia With Kids.
*Disclosure: Some of the hotels mentioned herein did provide a one-night stay in order to facilitate this post. All opinions stated here, however, are my own.
Featured photo by: Shutterstock