Trekaroo generates revenue from purchases made through links to our partner brands.
In 18th century Colonial Williamsburg, there were no strings of Christmas lights. Holiday decorations were made out of sugary pastries and marzipan arranged on banquet tables of the wealthy. During a Colonial Williamsburg Christmas, families have the opportunity to experience the holiday traditions of the people that lived in Virginia over two centuries ago.
If you're a fan of huge, modern displays of holiday lights, you'll be relieved to learn that there are also plenty of places to celebrate a modern Williamsburg, VA Christmas. At Busch Gardens Christmas Town in Williamsburg, VA there are more than a thousand fresh-cut Christmas trees covered in lights for the holiday season. Updated for 2019!
We're an affiliate of Booking.com. When you book through us, you still get their lowest price guarantee and we get a few dollars. Thanks for helping to keep Trekaroo free.
Experience a Colonial Williamsburg Christmas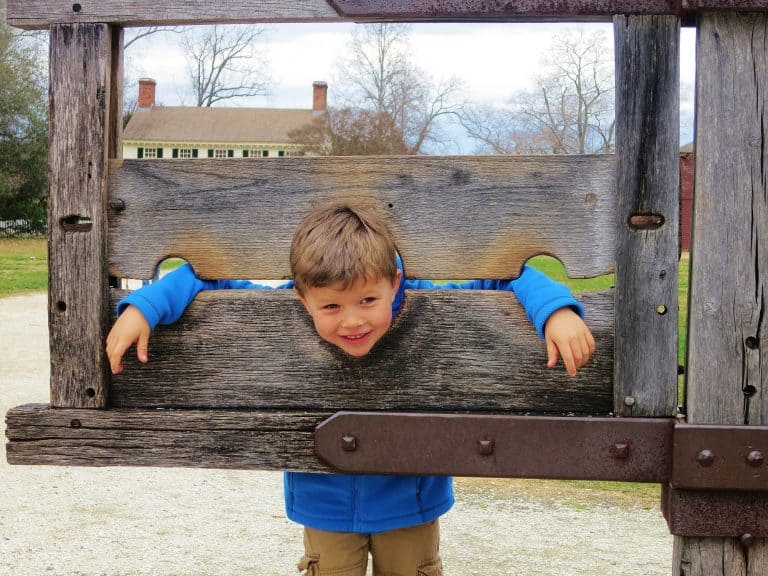 While Christmas certainly wasn't as commercialized in the late 18th Century as it is now, the historic area does have a full schedule of events for the holiday season. Visitors celebrating Christmas in Colonial Williamsburg can fully experience what the holidays might have been like in the American colonies.
From a traditional celebration of firework illuminations that light up the historic capital town to concerts of 18th-century music played on traditional instruments, there are plenty of Colonial Williamsburg Christmas events for families to choose from throughout the month of December.
When my family visited the Colonial Williamsburg during the first few days of January, the town was still decorated with intricate holiday wreaths. Relatively few tourists were out and about as we strolled down Duke of Gloucester Street sipping our hot apple cider. At the Governor's Palace, we learned of the parties that the Williamsburg elite would attend during the holiday season. In the ballroom the the house musician was practicing a minuet on the harpsichord in preparation for an upcoming ball.
Learn about Fall Harvest and Christmas Traditions at Jamestown Settlement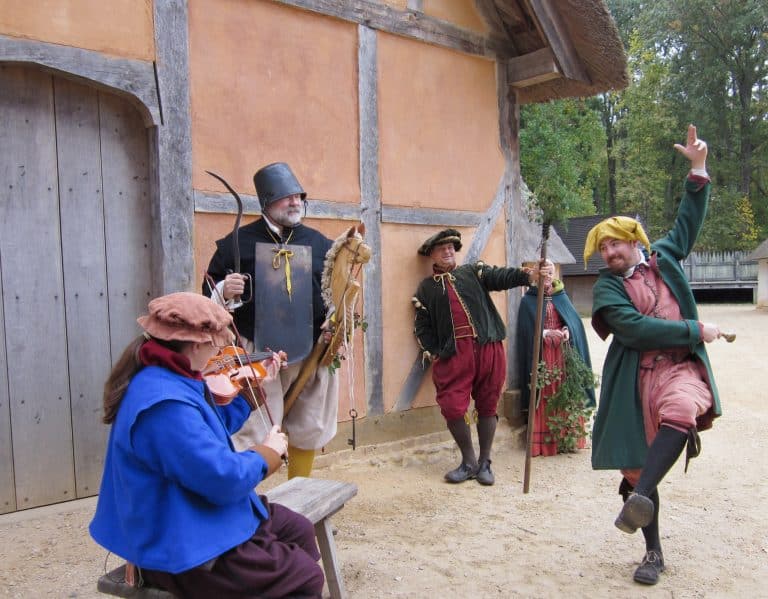 November and December are a fun time of year to learn about colonial history in Jamestown. The traditional American Thanksgiving feast reminds us of the hardships that the pilgrims in Massachusetts endured coming to a new land and their gratefulness in a successful fall harvest.
The colonists at Jamestown may have traveled to America for different reasons. However, they encountered many of the same struggles as they prepared for the winter months. The Colonial Christmas celebration at Jamestown Settlement gives families a glimpse into the festivities that were popular among the 17th century English colonists from the feasting after the fall harvest to the traditional revelry of the Lord of Misrule, "grand captain of all mischief."
Walk

Under the Lights at

Busch Gardens Christmas Town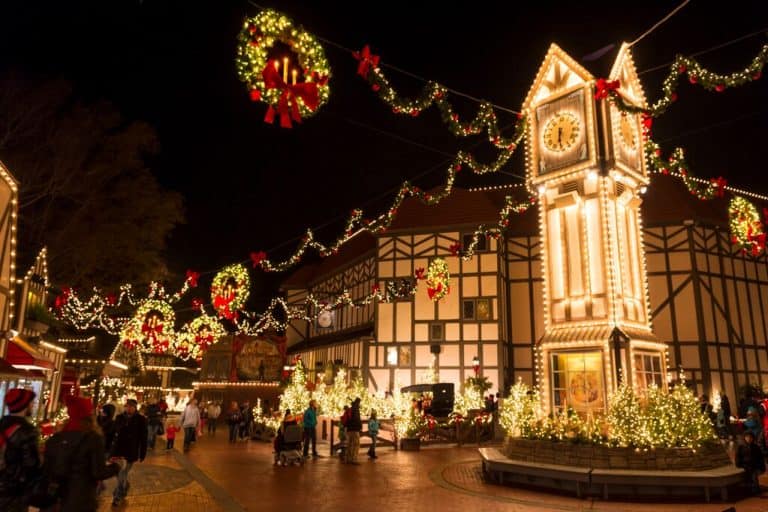 Busch Gardens, a popular warm-weather amusement park destination, also knows how to bring the holiday season to life. During the Christmas Town celebration, the park's quaint European villages are lit up with over eight million lights and decorated with more than 1300 fresh-cut Christmas trees. Families can enjoy holiday treats and peppermint hot chocolate while they experience a variety of European Christmas traditions.
If you're looking for something more low-key, the Yankee Candle Company in Williamsburg celebrates the holidays year round. In November and December village shops turn into a winter wonderland filled with beautiful decorations to enjoy with your family. We spent a rainy afternoon inside looking at all of the displays, enjoying the edible treats, and making our candles.
Check for amazing deals on family-friendly hotels in Williamsburg.
Where to Rest as you Enjoy a Colonial Williamsburg Christmas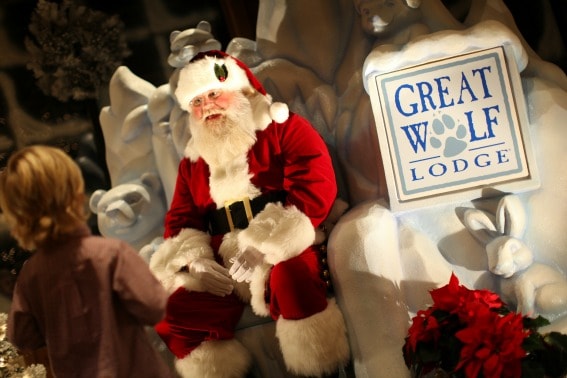 There are a variety of lodging options in the Williamsburg area. One Christmas season, we treated the kids to a visit at Great Wolf Lodge. The kids loved our bunk bed room just down the hall from Great Wolf's distinctive indoor waterpark. The waterpark can keep a family busy for hours with a lazy river, wave pool and water slides for all ages. The holiday season brings a "snowfall" to the lobby in the evenings and fun decorations.
We have a full guide dedicated to Great Wolf Lodge Christmas fun, including Snowland. We also have plenty of great Great Wolf Lodge tips.
My family has also enjoyed our Williamsburg vacations at Kingsmill Resort. Situated along the James River, this Williamsburg resort boasts breathtaking views, a prestigious golf course, delicious dining options, and a host of family-friendly amenities to keep everyone in the family happy.
See the Snow Fall in Portsmouth and Hear the Carolers in Norfolk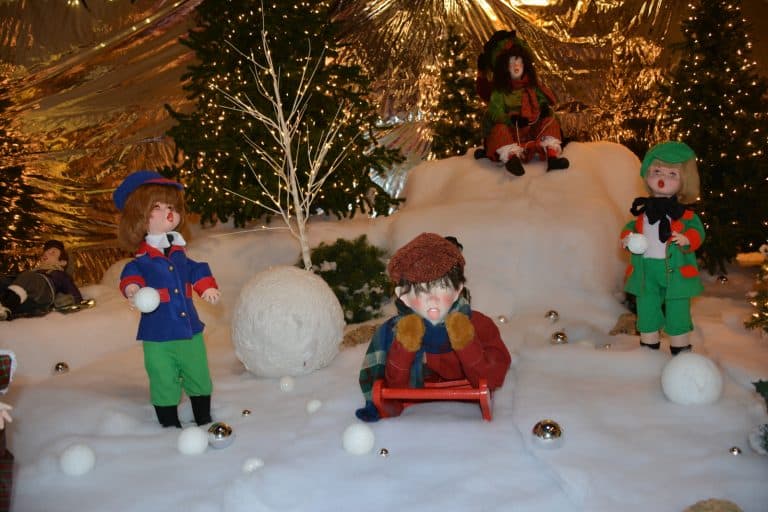 Portsmouth's celebrations center around its museums. The Portsmouth Art & Cultural Center is hosting its traditional Winter Wonderland display featuring Coleman Nursery Yuletide figures. Animated figures from Santa and his elves to polar bears and penguins have delighted generations of Hampton Roads families. For more festivities, head over to the Children's Museum of Virginia for a full schedule of holiday activities.
Across the harbor in Norfolk, the Norfolk Botanical Gardens is once again hosting its amazing winter light display, the Dominion Energy Garden of Light.
Looking for more holiday festivities in the Hampton Roads region? Here's a list of places for families to Celebrate the Holidays in Hampton Roads.
See the Holiday Lights in Newport News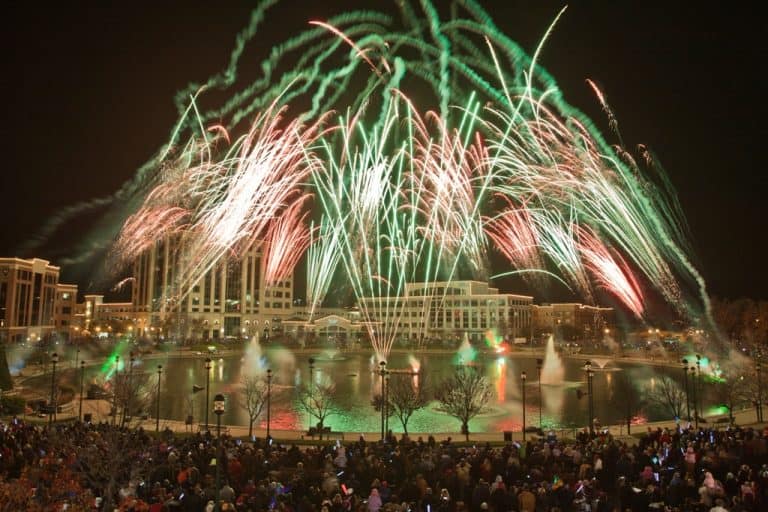 There are also plenty of family-friendly events in Newport News. The Hollydazzle event held annually in Newport News is the area's big family-friendly event of the season. In 2019, the event will include a choreographed light show.
For more than two decades, Newport News Park has been transformed into the Celebration in Lights. This drive-through display of holiday lights is the longest running event of its kind in the state of Virginia.
Look for the deals on hotels in Williamsburg.
Find more Christmas events near you! Trekaroo has guides for dozens of cities across the country.
Pin this to bookmark all the holiday fun; we update it yearly: