So there I was. Sitting at the top of a snowy hill in an inflatable rubber tire. Above me was a dark night sky filled with fluffy falling snowflakes. Near me were people laughing and playing and dancing to party music. The white snow on the ground was lit up with colorful lasers and lights flashing around us. And all of a sudden- whoosh! I was flying down the hill on an inner tube and laughing as I went. This 30-something mom was Cosmic Tubing at Mt. Hood's SkiBowl!
Cosmic Tubing was just one of the fun activities that my family participated in during a recent trip to SkiBowl at Mt. Hood in Oregon. SkiBowl is a great location for families, even if, like us, no one in your group actually plans to ski. There's so much to do!
Tubing at SkiBowl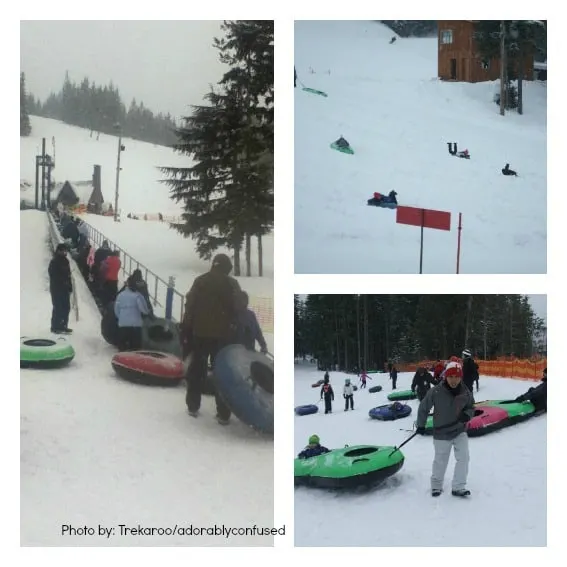 Tubing at SkiBowl is a major draw for most visitors, and we were no exception. Everyone whooshing down the hill towards us was cheering and laughing and we couldn't wait to get going too. After bundling up in our snow gear, it was time to pick out one of the tubes and get in line to head up the conveyor belt to the top of the hill (no more hiking up the hill with your tube!). When we were ready to start tubing, four out of the five people in my family were very enthusiastic. The fifth person in the group, my very stubborn, 3- ½-year -old daughter, was not. So the guys headed up the hill, while I stayed at the bottom of this hill to take pictures and try to bribe my daughter into cheerfulness with granola bars.
Tip– if you are visiting with small kids, be aware that the age for tubing is 3 and above. If you have a kid who is more timid, you may want to wait to buy his/her tubing ticket until you've had a chance to watch the tubing for a bit and make sure he/she is up for it!
Snow Play for Kids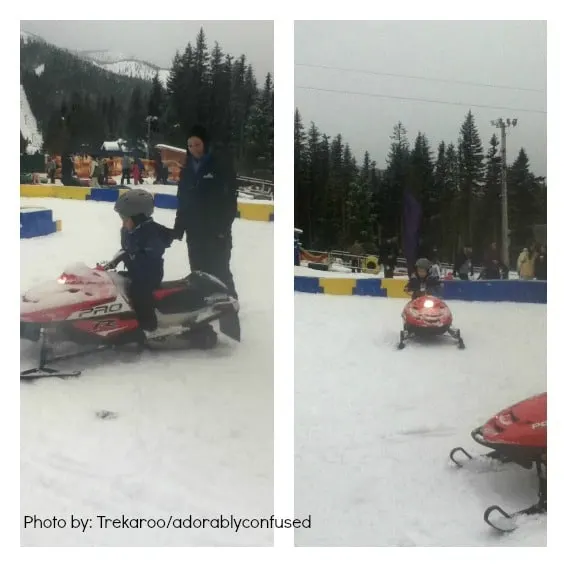 After many trips up and down the tubing hill, we decided to check out another family-friendly activity at SkiBowl- Frosty's Playland! SkiBowl actually has an entire 2400 square foot building that's filled with a giant ball pit and several obstacle courses like you'd see at a bouncy house. My son was very excited about this play area and was soon off climbing around and jumping in the ball pit. Frosty's Playland was a great place to hang out and warm up- and for the grown-ups to rest for a little bit.
In addition to the indoor play area, Frosty's Playland also features an outdoor "carousel" with snow toys that kids can sit on and ride around, and a kiddie snowmobile ride with real snowmobiles! I was skeptical of my 5-year-old's ability to operate a snowmobile, given that he has never operated any sort of motor vehicle, but he had no doubts and after donning a helmet, hopped right up onto the snowmobile. The SkiBowl employee turned the snowmobile on, and my son was off, driving around the circle… and crashing into the second snowmobile parked nearby. My son was totally unconcerned by this and opted to try again- this time making it around the circle before smashing into the barriers (which fortunately surround the snowmobile riding area). Riding the snowmobile was definitely the highlight of the day for my son, and he's still telling pretty much everyone he meets about it.
When it came time to feed my family, I was a little nervous because I'd heard horror stories about prices of food at ski resorts. That turned out not to be the case at SkiBowl and I was pleasantly surprised both by the selection and prices of the food in the café. Offering included chili, hamburgers, hot dogs and salads, all nicely sized and very reasonably priced. You're also welcome to bring food from home, of course.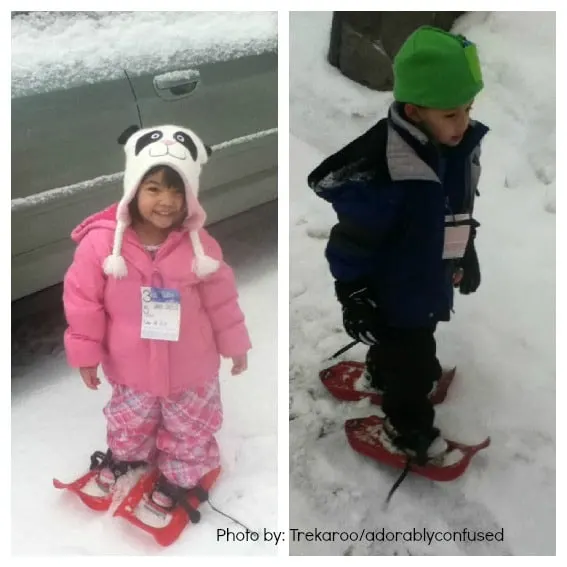 After recharging with lunch and hot chocolate, it was time for another adventure- snowshoeing! The snowshoe rental location is not at SkiBowl, but is at an outdoor outfitter called Mt. Hood Adventure, just a short walk from SkiBowl. After picking up our snowshoes and figuring out how to put them on properly, my husband and his friend headed out to one of the trails, while the kids and I had fun stomping around the snow in town in our cool snowshoes. Even my little kids, who had never worn snowshoes before, had no problem wearing and walking around in them. My only regret was that we didn't have more daylight left to explore further with our cool footwear. This is definitely a family activity that's going on our list to do again!
By the time we returned our snowshoes and wandered back to SkiBowl, stopping frequently along the way to throw snowballs and make snow angels, nighttime was coming to the mountain. We warmed up inside the lodge again, this time in the upper restaurant, near a roaring fire. We had a view of the ski slopes and a big screen TV was broadcasting a football game, so we were comfortable and entertained while we enjoyed some snacks and drinks.
Cosmic Tubing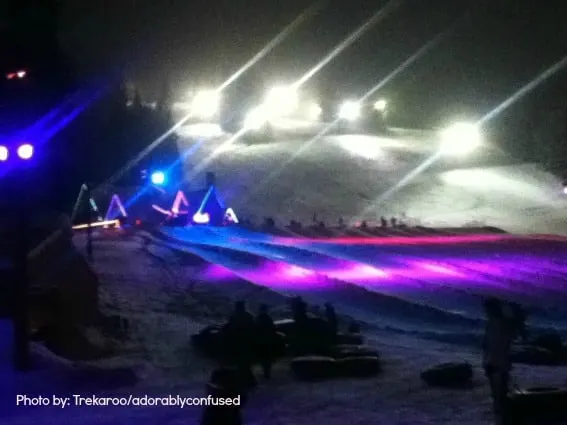 Our day wrapped up with Cosmic Tubing, an activity that none of us had participated in before. Cosmic Tubing is available Friday and Saturday nights in the winter, and it is such a blast! We'd planned to just do a few runs of Cosmic Tubing, since we'd been down the hills quite a few times during the daytime, but it turned out to be so much fun that we just kept going.
As we drove back down the mountain to Portland, everyone in our car agreed that our day at SkiBowl had been a lot of fun and that we'd love to return. Even my initially grouchy daughter decided snow was fun, and she enjoyed it as much as the rest of us. SkiBowl is located just about an hour from Portland. If you're looking for fun snow play with kids and the chance to enjoy a little winter fun, definitely check out all SkiBowl has to offer!
Disclosure: Thanks to SkiBowl for providing my family with complimentary passes so that we could try out these activities for ourselves. All opinions are my own.