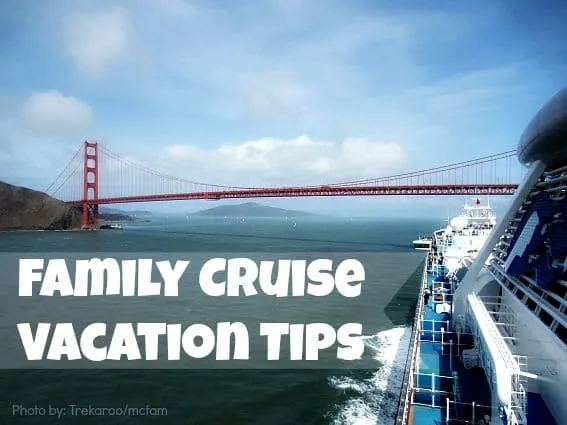 Cruise vacations are popular with families for good reason: they can be fun, relaxing, carefree, and even inexpensive…if you know what you're doing! To ensure your cruise is as magical as you expected, read on for tips from a cruise veteran and Trekaroo travel expert!
Note: If this is your first family cruise, you might consider trying a short cruise close to home to test the waters, so to speak. This is a great way to find out if your family likes cruising. If all goes well, you can graduate to a longer and maybe more exotic cruise.
Booking Advice: Plan Ahead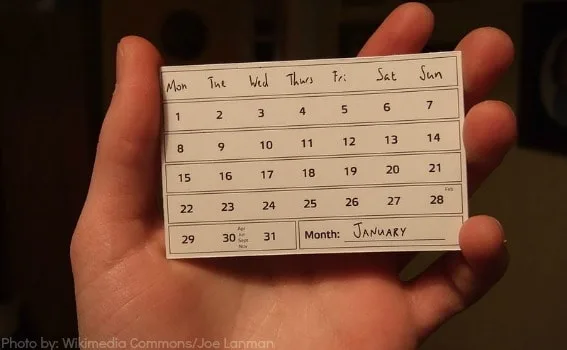 Generally the earlier you book, the cheaper the price is. For example, Disney Cruise Line usually offers their lowest prices on the first day they release their schedule, and prices climb as the cruise date approaches. If you have failed to plan early however, take heart; once the cruise is less than 90 days away, they'll sometimes offer specials if the ship isn't full.
Carnival Cruises has a program called Early Saver, where if you book three months or more prior to a five-day or shorter cruise, or five months or more before a longer cruise, you can get a refund if the price drops. This takes the guesswork out of deciding if the price you see today is the best one. Our family has benefited from this several times.
To save money when you book as a family of five or more, consider booking two cabins instead of one. Many cruise lines now have ships with cabins that sleep five people, but sometimes it's actually cheaper to get two cabins instead of one. With that extra cabin comes an additional bathroom as well, which is a definite plus for a large family.
Planning For Meals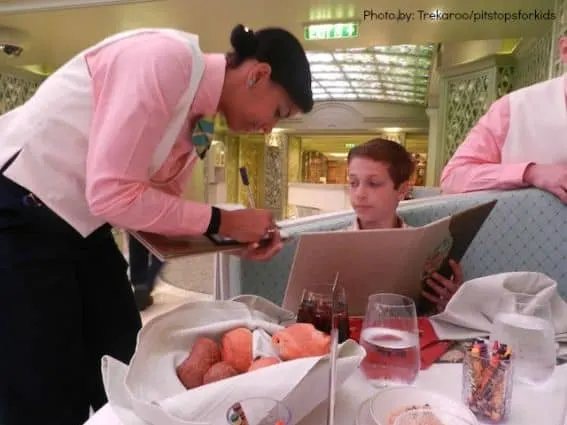 If you have young kids, choose early dining or anytime dining. Late seating usually starts at 8pm, and the dinner service can last an hour or more, which can be past bedtime for some kids. Plus, many cruise ships offer evening entertainment that can be best enjoyed after eating an earlier meal. On Disney Cruise Line, don't overlook the option of room service dining. Feeding the kids early with room service, then allowing them to enjoy kids clubs while the parents linger over a nicer meal can be win-win for everyone.
While we're talking food, remember to encourage kids to try new things! The best part of all-inclusive dining is the ability to throw a budget (and reason!) out the window. This is the time to try that exotic menu item-if the kids don't like it, you don't have to stress about the expense. Don't be shy about ordering multiple entrees or desserts to share at the table.
Utilize Kids' Clubs and Daily Activities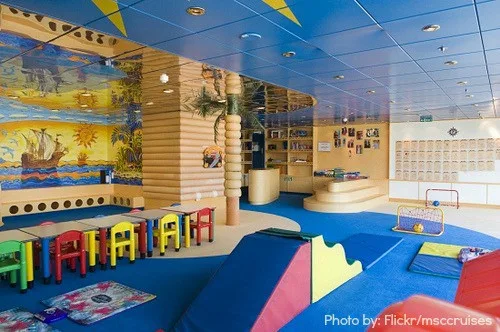 Kids' Clubs are free, supervised childcare. Many kids love them and they give parents the opportunity for some alone time. Programmed kids activities can really come in handy if there's a shore excursion you want to experience, but your kids might be too young to do (such as zip lining). On port days you can usually leave your kids on-board in the kids program, while you explore the port. The daily activities on any cruise ship are staggering, but don't try to do them all. You can't! If you let the daily schedule rule your day, it will overwhelm you. Instead, have kids identify 1-2 things they'd like to make sure to do on any given day.
Know What You'll Pay Extra For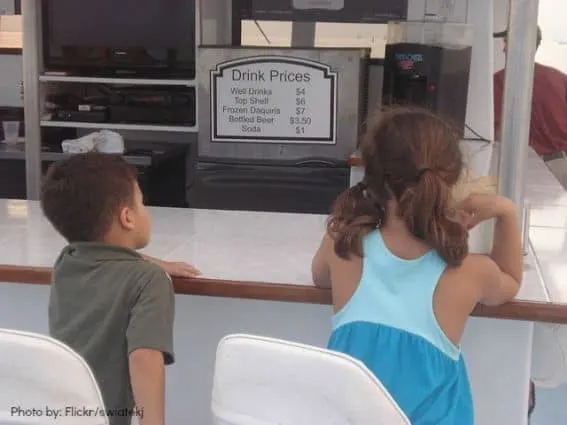 Plan ahead with tipping money, cash for cab fare, or dining during time off the ship. Budget for on-ship experiences and drinks you'll need to pay extra for as well, which vary from cruise line to cruise line. (Bring a case of bottled water to store in your cabin or opt for unlimited drink station privileges if your family will use it.) Here's a list of items you'll pay more for on Disney Cruise Line (though all soda, coffee, and tea is free). In almost all cases, on-ship purchases can be made to your ship credit, but it saves stress to know what to expect before you go.
Although cruise lines vary, common additional-cost activities include:
Alcoholic drinks, and sometimes even sodas
Shore excursions
On-board activities which can include spa treatments, after-hours babysitting, exercise classes and other premium activities
Tipping (check your cruise line's tipping policy for recommendations)
Internet access
Professional photography
Meals in specialty restaurants (which can include some specialty ice cream shops, etc…)
Shopping
What to Pack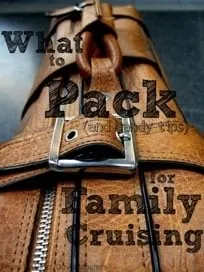 Definitely bring a day bag on your embarkation day. In it, carry swimsuits for everyone in the family, plus sunscreen and sunglasses. When you board, the kids will likely want to jump in the pools right away, but your luggage may be hours behind you, depending on when you arrive. It's possible you won't be able to access your cabin for a while, so enjoy a meal, swim, and explore the ship!
Note: Sometimes the pools are drained when you first arrive on-board and get filled up later on, so don't promise pool time to the kids without verifying.
Bring a night-light for your cabin; this is helpful for little ones trying to make their way to the bathroom at night. We've also found an over-the-door shoe organizer to be helpful. It can hold small things like sunglasses, sunscreen, medicine, etc. since there isn't a lot of storage and counter space in a cabin. Bring a message board to put on or near your door to help communicate with family and friends, as trying to use walkie-talkies or wave phones can get frustrating.
For more tips on what to pack for your cruise, including snacks, games, and umbrella strollers, check out our tips on packing for a family cruise.