Van life has become more popular than ever, but most of us don't have the means to hit the road permanently in our own decked out vans. Thankfully, there are companies like Roadsurfer, which rent awesome camper vans for a reasonable price so everyone can enjoy a slice of van life for a few days.
Recently, I had the chance head out on the road for a few days with my family to do a Roadsurfer review and share my experience with families like yours. Roadsurfer already has a strong foothold in Europe, where the company is based, and is excited bring their fleet to the United States.
This wasn't my family's first foray in the world of camper vans. We took an extended vacation in a camper van the year prior, and have big dreams of purchasing our own camper van one day. We have researched camper vans extensively and know what is out there.
Alas, high school and club sports have put a damper our van life dreams for now but thankfully, companies like Roadsurfer will allow us to still get out there for shorter trips in the meantime.
After a few days on the road in the this new camper van, I am pleased to report that Roadsurfer is a great option for for families. It is especially great for those of you who have never camped in a van before because it offers so many comforts and ammenities. Here is my full review of Roadsurfer Camper Vans.
Roadsurfer Camper Van Review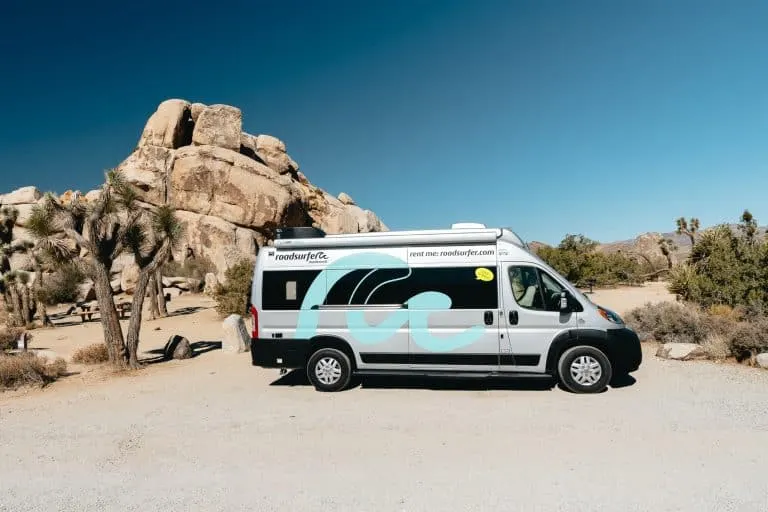 When you rent a Roadsurfer Camper Van you will be charged a daily rental rate. This rate varies based on the time of year, so be sure to check their calendar before booking. As you can imagine, busy holiday weekends are the most popular and expensive times to rent.
Looking at the price calendar, I saw rates as low as $179 per night (winter weekdays) all the way up to $385 per night (Labor Day weekend), but most of the weekends and summer dates are in the $215 to $235 range. When you consider the cost of car rentals and lodging for the average family vacation, I think this is a pretty good deal!
Unlike many other van and RV rental companies, Roadsurfer does not charge an additional fee based on the number of miles driven. That's right- unlimited miles are included in rental rate.
With those unlimited miles you can take your Roadsurfer van rental anywhere in the continental United States with one exception- Death Valley is off limits June 1st to September 30th. But trust me, you don't want to be camping in Death Valley in the summer, anyhow.
Where is Roadsurfer located?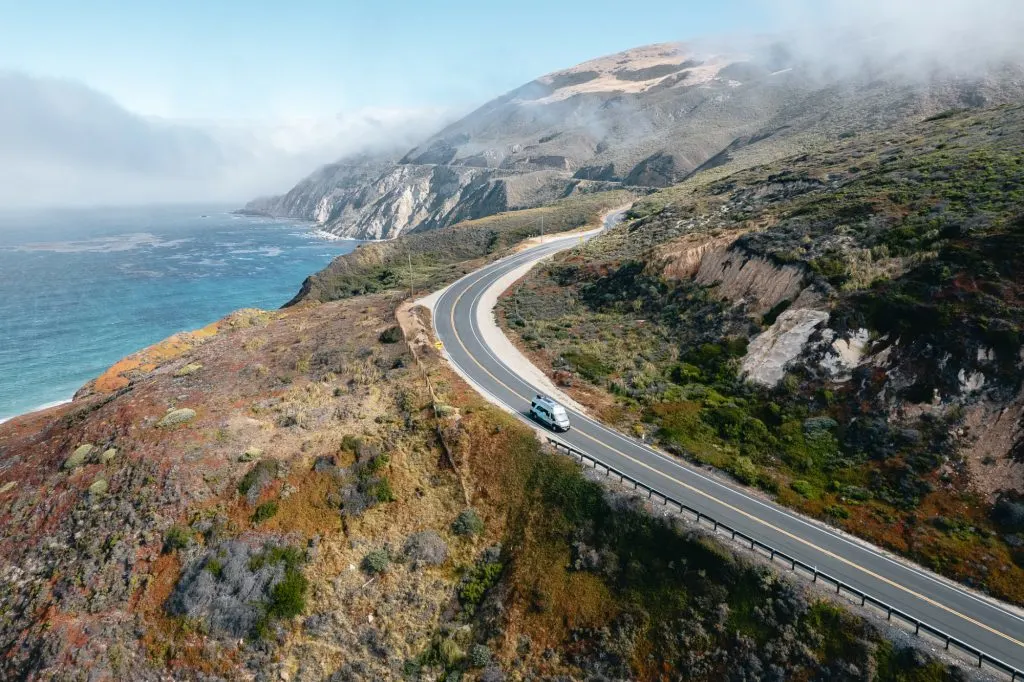 Roadsurfer is a German company. It is already wildly popular in Europe, with locations in over 10 different countries. They opened their first US location in Los Angeles in 2022. The Los Angeles location is very close to LAX ,so it is easy to fly into Southern California and embark on your road trip adventure.
California is really an ideal place to rent a camper van because there are year-round camping opportunities and plenty of great road trips to enjoy. One of my favorite road trips in California is this Central Coast road trip itinerary. You can pick up the van in Los Angeles and drop it off in San Francisco (but not vice versa).
You can also drop your Roadsurfer van off in Las Vegas, making it easier to road trip to popular destinations like the Utah national parks and the Grand Canyon without having to retrace your steps.
What type of vans does Roadsurfer offer?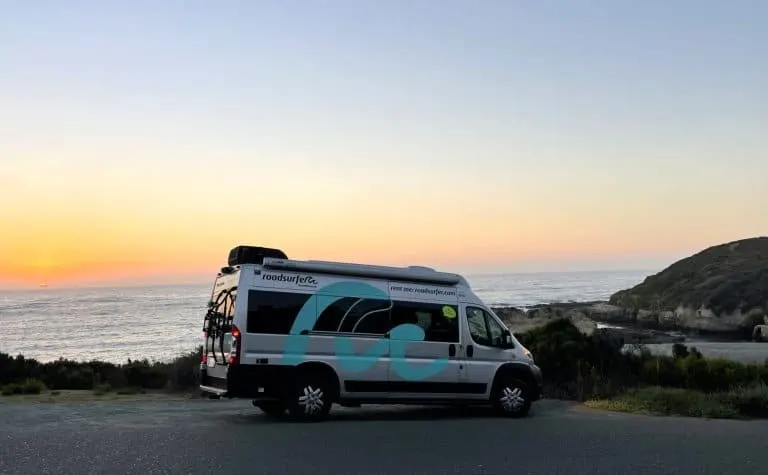 In the United States, Roadsurfer offers two models- the Couple Condo and the Roadhouse XL. Since the Couple Condo only sleeps two, it is not really a great fit for most families. The Roadhouse XL, however, sleeps four and will be the focus of our family-friendly review.
This camper van is considered to be a Class B RV. Class B RVs are the easiest to drive, more fuel efficient, and can usually handle any road that a passenger van can handle. It comes with all the perks you are used to like cruise control, a backup camera, bluetooth, and lots of electrical ports to charge your devices.
You don't need a special license to drive a Class B RV. If you have driven a full-size SUV, van, or truck, you will find driving the Roadhouse XL to be similar.
Roadsurfer XL- Lots of Space and Storage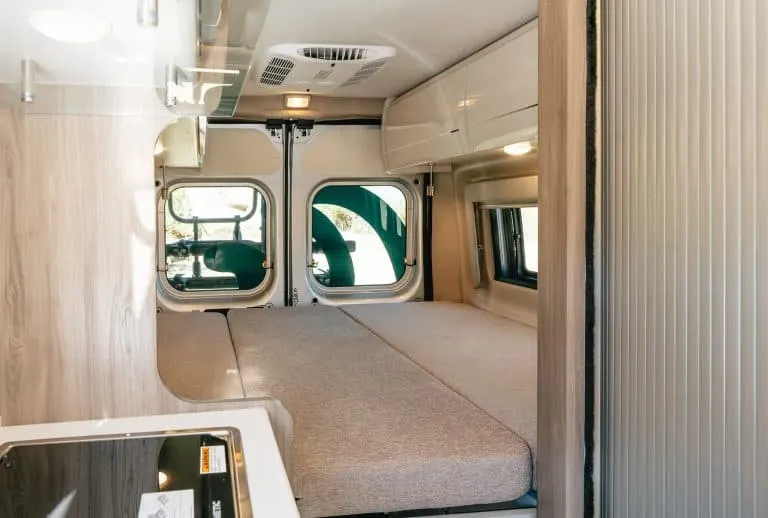 The Roadsurfer XL is 21 feet long, but it packs an awful lot of functionality into 21 feet of space. My family is tall (my husband is 6'5″!), and we appreciated that we could walk around inside the van comfortably. I also liked that I could sit up in the "downstairs" bed, something we could not do in our previous van rental.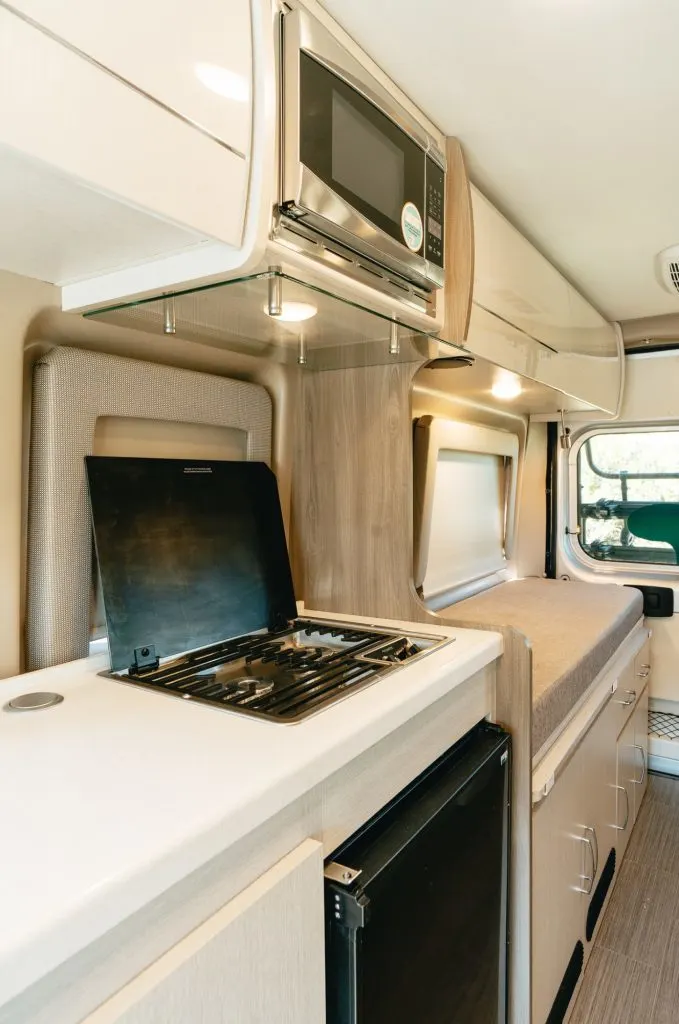 In just 21 feet of length they manage to fit a large bed; kitchen with sink, stove, microwave and fridge; tv; seating area with table (the two front seats swivel to allow table seating for four); shower; toilet and more storage drawers and cabinets than we could fill. And believe me, we tried.
There is also a pop up on top that sleeps two more people.
The van comes with a kitchen bin that has plates, bowls, silverware, cups and mugs for four. They also include a few other essentials like a large bowl, pots, and a can opener.
Two camping chairs and a table are included with your rental as well. A bike rack is just $5 more. You can even rent a car seat if you need to!
This camper van also has an awning that extends from the vehicle with a simple push of a button, something we really loved because it increased the amount of shaded space we had at our campsite.
We also appreciated that a screen can be set up on the main door to enjoy breezes without the bugs inside the van.
Electrical Perks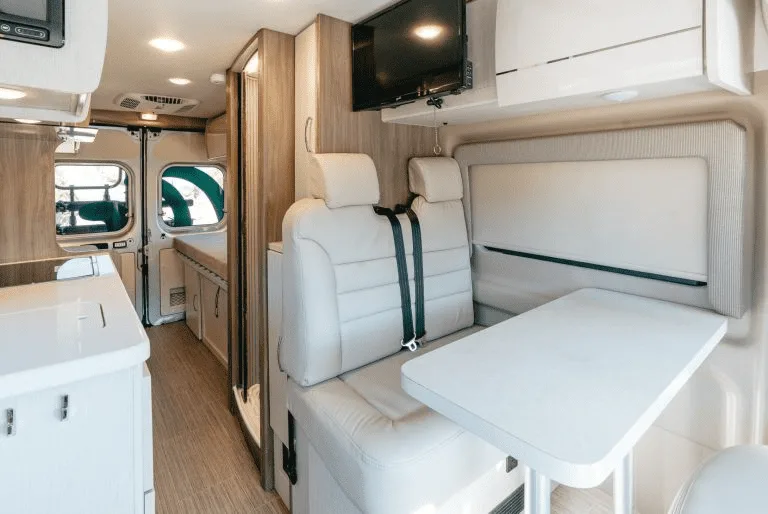 This van can easily hookup to water and electricity at any RV campsite, which was another perk that we really enjoyed, especially during a heat wave.
As long as you have an electrical hookup at your campsite, you can run the AC all night long. If you are camping someplace without hookups, the generator can keep it going for about an hour or two.
The fridge will run continuously regardless of whether you are hooked up or not, so you don't have to worry about food spoiling.
We never used the television while camping (we felt it went against the camping vibe) but I am sure there are plenty of parents who will be thrilled to pop in a Disney movie to occupy the kiddos while they make dinner.
The stove uses gas so it is not dependent on an electrical hookup.
Plumbing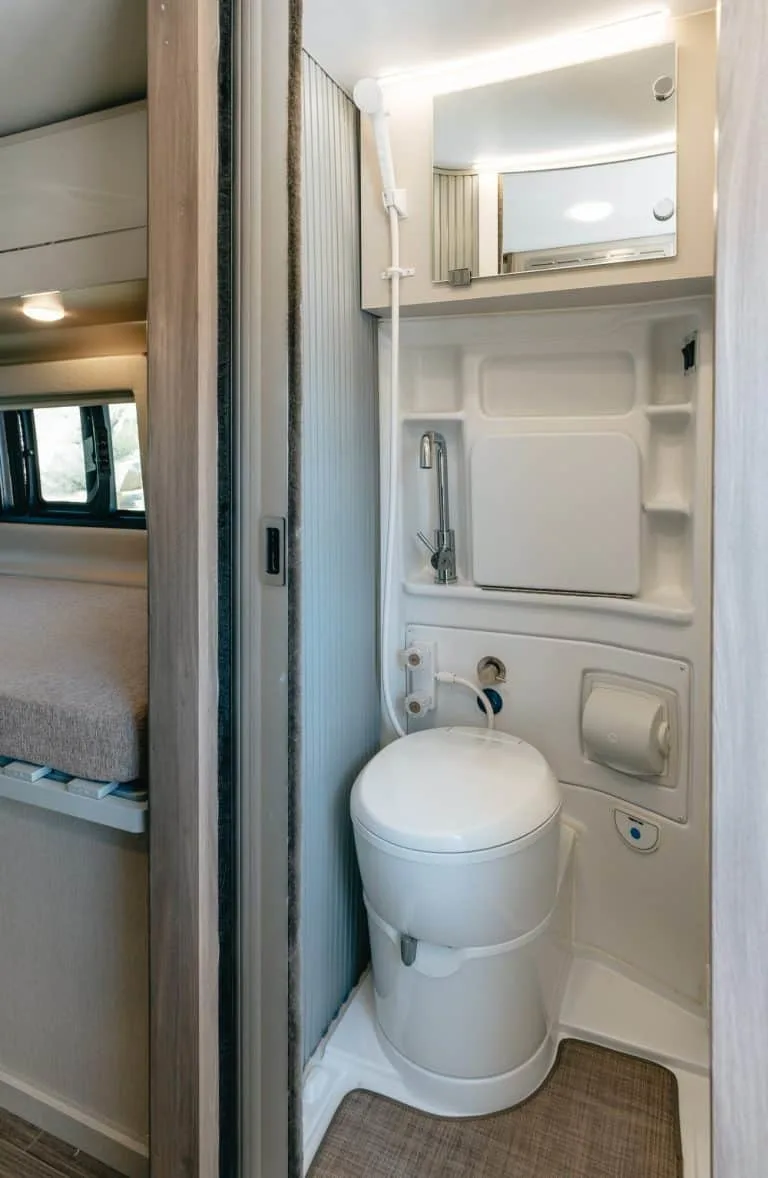 There is a toilet and shower inside of the van. I loved that there was a space above the toilet and shower to store our toiletries behind the mirror.
The shower space is really tight (it is in the same space as the toilet) for us tall folks, so we chose to use the shower at our campsite. Still, if you are planning to camp somewhere where showers aren't available, having an indoor shower is a nice option. The ceiling inside the shower/toilet is about six feet tall.
There is also an option to hookup an outdoor shower at the back of the van which we did use to rinse off after the beach.
The kitchen sink was another great plumbing perk inside the van. It certainly helped with meal prep and clean up! It is nice that there is a removable countertop on top of the sink to expand your prep surface.
The Pop Up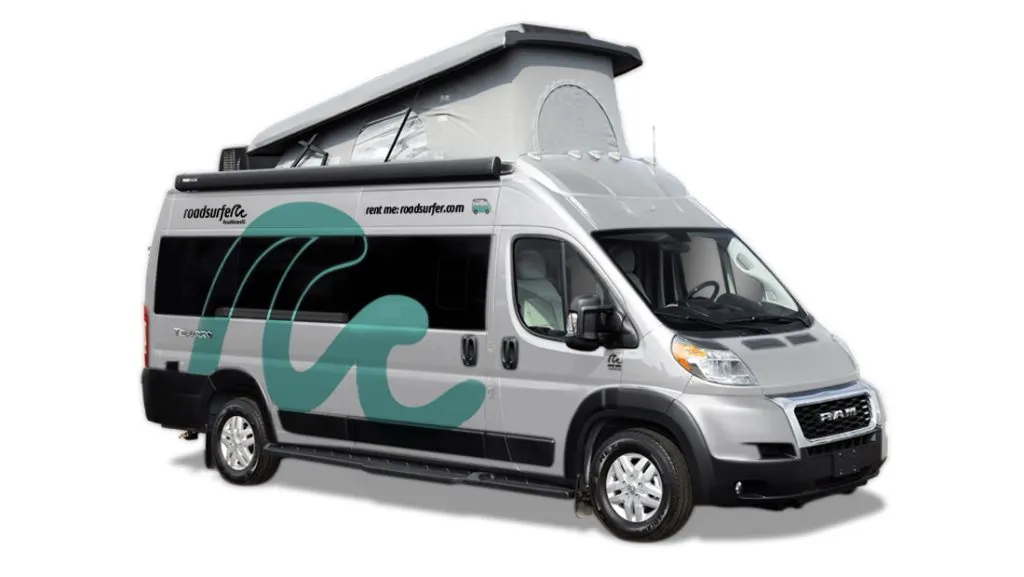 The only thing I didn't absolutely love about this van was the pop up. Our previous van rental had an automatic pop up which meant all we had to do was flip a switch to raise or lower the roof to access the bed up top.
The Roadsurfer Roadhouse XL has a manual pop up roof and it did take some elbow grease to get the roof pushed up. Since my husband is tall and much stronger than me, I let him handle this pop up. I didn't feel confident that I could have handled it easily on my own.
It is also an angled top which means that when you sleep, you want your feet at the lower end and head at the taller section near the front of the vehicle. It will comfortably sleep two adults (or kids) and has a ladder that is lightweight and easy to set up when accessing the pop up.
The manual pop up is a bit of a head scratcher since these camper vans have so many bells, whistles, and technologies intergrated throughout. I am guessing this is just how the Thor Motor Coach (the brand they use) designed the vehicle.
My advice- make sure you don't leave the Roadsurfer lot until you have practiced using the pop up a couple times and feel confident opening and closing it. Shorter people may have to use a broom handle to fully extend the pop up.
And never lock the pop up lock- it is a beast to get back open and completely unnecessary to ever do. We learned this the hard way.
I don't think the manual pop up should deture your from renting a Roadsurfer, I just want you to be prepared. My husband says that once you get the feel for it, it isn't that hard to do.
Final Thoughts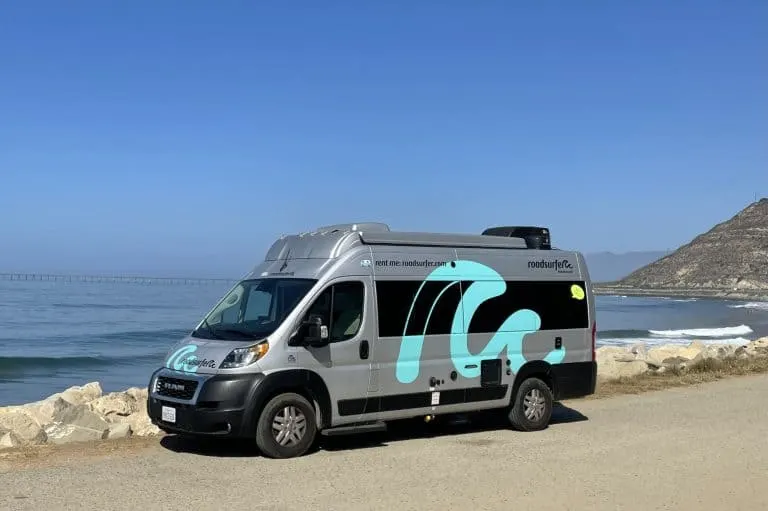 I am really excited the Roadsurfer has made its way to the United States. I think that they fit a real need in the market for affordable, easy to drive camper van rentals that sleep more than two people.
Families will feel comfortable inside these vans because they are equipped with several comvenient amenities and their size will allow them camp in a wider variety of incredible outdoor destinations than a standard RV.