Last summer my family spent some time in the rainforest. No, I am not talking about the jungles of Hawaii or the Amazon, but rather the rainy yet temperate forests of the Pacific Northwest. Washington's Olympic National Park is home to forests filled with towering spruce and fir dripping with moss as they reach up towards a sky thick with waterlogged clouds. Spending a few days in Olympic National Park with kids and exploring these natural treasures is a cool reprieve from the sweltering heat that most of the country experiences when school is out for the season.
Temperate rainforests are rare in the United States, mostly due to logging. In the centuries leading up to the 1800's, the land along the Pacific Northwest coast was covered with an impenetrable forest of old growth trees. However, as pioneers moved into the northwestern reaches of the country, timber quickly became a cash crop and the tall trees came tumbling down. Luckily, the Olympic Peninsula's remote interior was difficult to reach, and stands of old growth rainforest survived long enough to receive government protection. Olympic National Park is as large as it is diverse but no trip to the park would be complete without some times in at least one of its rainforests.
Quinault Rainforest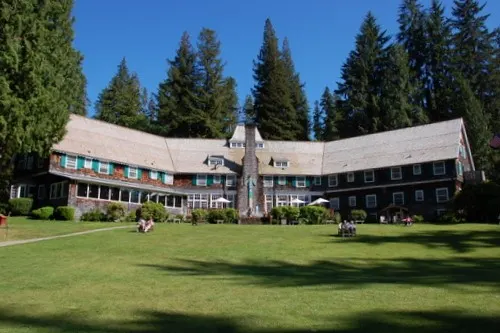 Those coming from the south will find the Quinault Rainforest the easiest to get to. Located in the southwesterly reaches of the park this rainforest surrounds Lake Quinault, a peaceful blue standout in and otherwise lush and green landscape. Families will fall in love with Lake Quinault Lodge, a grand lodge built in 1926 which exudes rustic elegance and a distinctive "Dirty Dancing" vibe. With its massive rain gauge (which measures in feet!), grand lawn sprinkled with Adirondack chairs looking out at the lake, and the evening lake tours on the lodge's patio boat, Lake Quinault Lodge is the kind place that keeps families coming back generation after generation.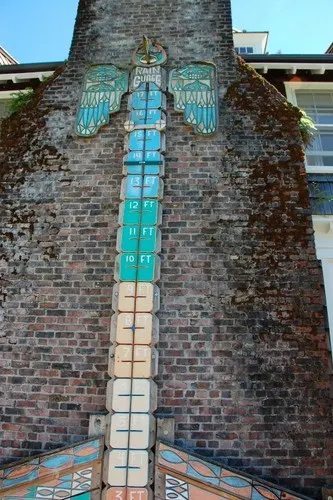 Read my full review of the Lake Quinault Lodge.
As easy as it is to spend a couple days relaxing at the resort, I highly encourage families to take a couple hikes in surrounding area. The Quinault Rain Forest Loop Drive is a 31 mile loop around Lake Quinault, and up the Quinault River with many opportunities to get out of the car and see waterfalls, wildlife, or just take a walk through the forest. Try the Falls Creek Loop (1.6 miles), Quinault Big Cedar Trail (.2 mile), Maple Glade Rain Forest Trail (.5 mile loop) or Kestner Homestead Trail (1.3 mile loop). We happened to visit the rainforest on a rare hot and sunny day so the shade of the canopy was missed in the areas blown over by a fierce windstorm a few years prior.
Read reviews of hiking in the Quinault Rainforest with kids.
Hoh Rainforest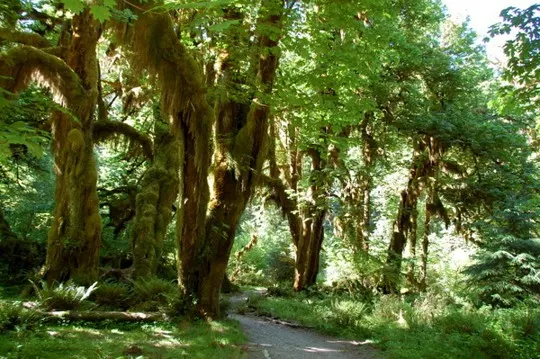 The rain forests of Olympic are impressively wet, receiving about 150 inches of rain per year. One of the best places for families to receive an introduction to this rare ecosystem is on the Hall of Mosses trail inside the Hoh Rain Forest. This 0.8 mile loop trail winds through a pristine old growth forest where families will marvel at trees growing from the logs of fallen giants, mosses hanging like forest curtains, and a stream so clear that you can see a tiny forest of water plants growing along its bottom. Those looking for a more extensive hiking adventure may want to spend a couple days hiking the Hoh River Trail, which leads 17.3 miles to Glacier Meadows, and Mount Olympus. While summer is less wet than other times of year, the forest is usually damp with either rain or moisture left by heavy clouds so be sure to bring a rain jacket and wear close-toed shoes with good soles.
Sol Duc
If you are hoping to spend a couple days in the parks forested interior but don't feel like soggy tent camping is right for your family, a stay in one of Sol Duc Hot Spring Resort's cabins may be for you. My family stayed in one of these cabins and found them to be both a convenient and comfortable place to retreat after a long day of exploring the park. I have stayed in a few different national park cabins in the past and these were quite nice. The exteriors had a rustic charm but the inside felt more like a hotel room. My kids loved eating breakfast on the picnic benches outdoors or rocking on a chair swing overlooking the Sol Duc River and watching Mother Nature do her thing. Some of the cabins do have kitchens which make for a more economical alternative than eating at the Sol Duc Hot Springs Resort Restaurant (which does have amazing cedar plank salmon) for every meal.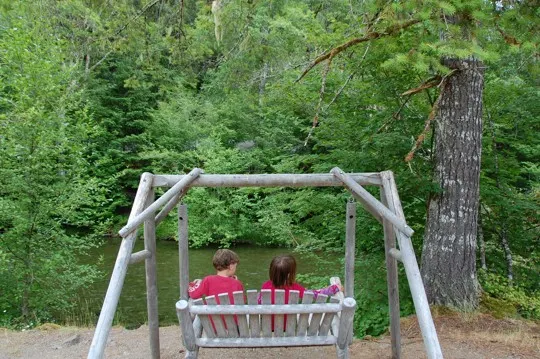 Read my full review of Sol Duc Hot Springs Resort.
The resort is located at the Sol Duc Hot Springs, a natural spring with several hot pools built to take advantage of these healing mineral waters. The pools are open to park visitors for a fee but cabin guests are given complimentary access. There is a shallow warm pool meant for all ages (kept around 95 degrees), a larger hot pool suitable for children over 4 (102 degrees), a hotter pool (106 degrees) best for older children and adults, and large pool which was heated to about 83 degrees. There have been claims made about the healing properties of this water for centuries. Both my son and I had cuts on our legs from earlier tumbles that did look considerably better after our soak, leading me to believe there might be something to it!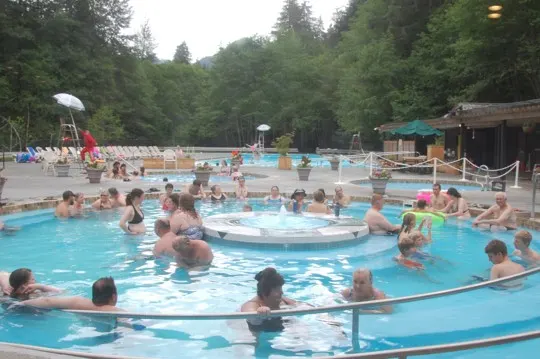 While in the Sol Duc area, it is practically mandatory that your family makes time to take the .8 mile hike down to Sol Duc Falls, the most photographed spot in the park. The hike itself is incredibly scenic with several little bridges crossing streams along the way. Instead of standing at the base of the falls, hikers view them from above as they plunge down a chute and deep into the thick forest below.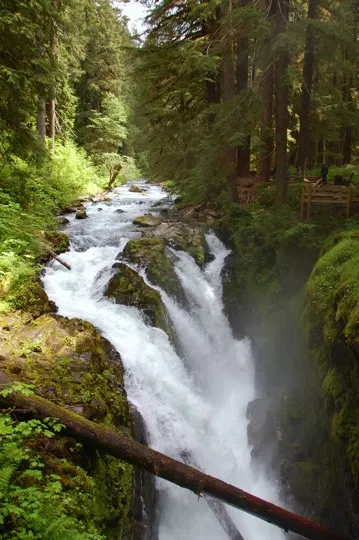 Read more about all the fun families can have on the Olympic Peninsula with kids.
Have you caught Olympic National Park fever yet? Check out the other two posts in this series.
Exploring the Olympic Coast with Kids
Port Townsend, Sequim, and Hurricane Ridge: Exploring Washington's upper Olympic Peninsula with kids
Disclosure: I received a complimentary stay at the Quileute Oceanside Resort in coordination with the Olympic Peninsula Visitor's Bureau. All opinions are unbiased and my own.
Travel with kids to: CA |CO | DC | FL | HI | IL |MA | NC | NY | OR | PA | TN | TX | UT | VA | WA