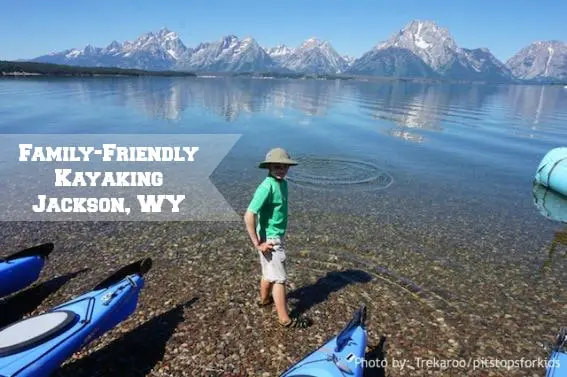 O.A.R.S. is known for their exciting, whitewater rafting trips. We loved our five-day trip through Class III and IV rapids on Oregon's Rogue River, but what if you're looking for something a little more tame? If you're craving scenic, outdoor beauty and family togetherness without the adrenaline, O.A.R.S.' 2-day Jackson Lake kayak trip is for you. Located in the heart of Grand Teton National Park, kayaking Jackson Lake WY is a perfect introduction or ending to a Wyoming national park trip with family members as young as six.
Read reviews for Grand Teton National Park.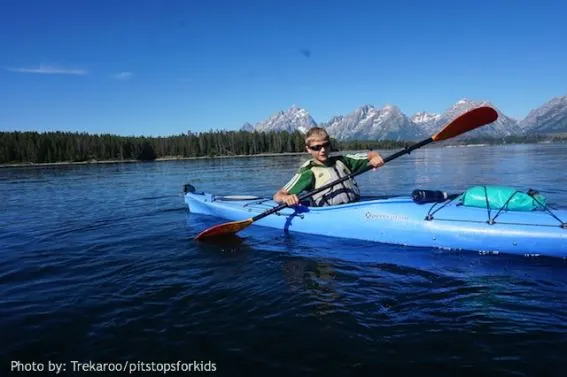 We're admittedly adrenaline junkies, but we loved our kayak trip just as much as our whitewater trip…for different reasons that somehow still felt the same. Instead of bracing for whitewater, we found ourselves challenging each other in paddle strokes, and instead of the fun of setting up camp along the river, we set up along the lakeshore (in a different location each night). Throughout our Jackson Lake trip, we were surrounded (literally!) by the majesty of the Tetons and the quiet beauty of the vast lake throughout the day and night.
We picked O.A.R.S. because I was already familiar with their amazing trips, but if you're not familiar, here's what you need to know about this company: the guides are professionals but also become friends, the service and food is phenomenal, and the overall experience ensures a stress-free, family bonding time for everyone. OARS' 2-day Jackson Lake kayak trip departs and returns to and from Signal Mountain boat dock on Jackson Lake, in the heart of Grand Teton National Park (you'll need to pay the $25 park fee to get there).
Day 1: Hitting the Lake!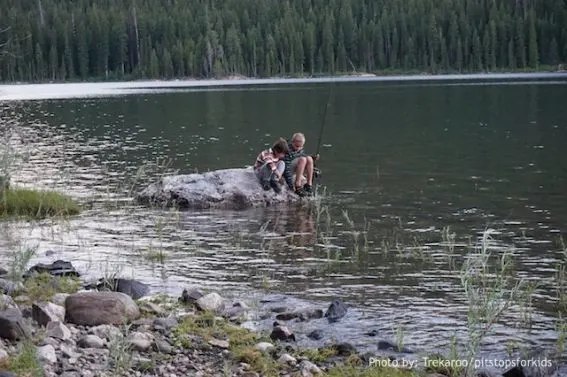 Day 1 takes families across open water to lunch at Marie Island, then approximately five more miles across to Grassy Island, in the shadow of Mount Moran. O.A.R.S. is the only concessionaire with a permit to camp on Jackson Lake, ensuring we were all alone, within a hairbreadth of the Teton range. We arrived and set up camp around 4:30 pm, leaving plenty of time to splash in the water, read a book, or play a card game before appetizers. Yes, appetizers. Dinner consisted of hearty burritos with fresh, homemade salsa (the veggies and herbs were chopped up in front of us). For dessert…birthday brownie: one of the two six-year-olds on our trip was celebrating his big day. After a campfire with our fellow kayakers, we camped under the stars (in supplied tents).
Day 2: Hiking to Leigh Lake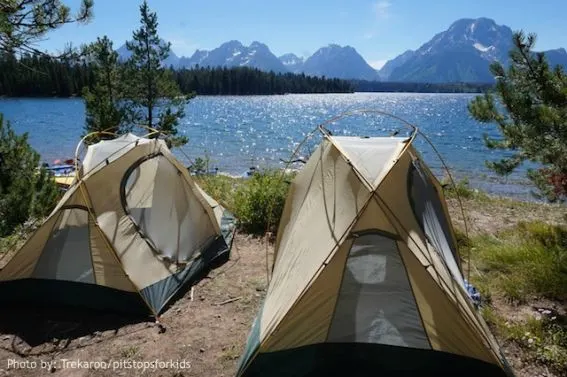 On Day 2, it's all about exploring Grand Tetons from the vantage point of the water and trails. We broke camp after a leisurely breakfast of French toast and bacon, and hit the water around 10 am. We paddled to Bearpaw Bay, where we caught the trail to Bearpaw Lake and Leigh Lake. This two-mile hike doesn't include much elevation gain, which meant even the youngest in our group could navigate it, while the rest of us still found it to be a decent length. After a swim in Leigh and a picnic lunch, we paddled on to Spalding camp, on the mainland overlooking the Tetons. Once again, our campsite was our own, thanks to OARS' exclusivity. We BBQed burgers for dinner (and when I say 'we', I mean our amazing OARS crew), and settled in for riddles and games of Uno around the campfire.
Day 3: Saying Goodbye
We broke camp on Day 3 around 9 am, and paddled at a leisurely pace back to the boat dock, none of us anxious to arrive! I asked my kids: how does the kayak trip compare with an O.A.R.S. whitewater rafting trip? Calvin (age 13), said the two simply couldn't be compared, but loved both. Before our kayak adventure, he feared the trip would be too tame, with perhaps too much downtime. We found this to be untrue. While a whitewater trip packs more adrenaline-inducing excitement, the kayak trip requires more muscle and includes just as much sightseeing. On both trips, we had stellar guides (shout out to Nate, Marcus, and Max this time around!).
Check out this video from Pit Stops for Kids on the experience:
Things to Know Before You Go
Read about the right gear to bring on any OARS trip. Specifically for Jackson Lake, guests will need many layers. We saw firsthand how fast the weather can change in this region. We were especially glad to have long underwear for night, and light gloves and hats for brisk mornings. O.A.R.S. supplied us with splash jackets (like rain jackets) for use in the kayaks and tents. When you book a trip, you have the option of bringing your own sleep kit, or renting one of theirs. Our recommendation: bring your own sleeping bag if you have one rated to 20 degrees, but opt to rent their sleeping pads. They're thick and puffy, and you'll be glad you did!
On our previous O.A.R.S. trip, beer, wine, and soda were included. On this trip, soda was available, but beer and wine were BYO. If you hand over your wine and beer to the crew, they'll keep it chilled for you! We all shared during the trip, which was a nice touch.
Bring a few small games or other entertainment for camp time. We like to bring a deck of cards and books or Kindles. Leave iPods or gaming devices at home or in the car. We had cell service for most of the trip, but without anywhere to charge phones, it was easier to leave those in the car as well. Lastly, be sure to bring a check or cash for a tip for your guides. By the end of your experience, you'll want to reward them with a token of appreciation. We recommend tipping 5-10% of your trip cost, and giving it to your trip leader, who can distribute it. Tips are optional, of course.
Read about other O.A.R.S. trips:
As I disclose whenever applicable, we experienced this OARS trip as guests of the company, for the purpose of review. All opinions are our own.