2019 is shaping up to be a huge year at Disneyland. Of course, the most anticipated event of the year is the opening of Star Wars: Galaxy's Edge this June, but there are so many other great things to see, do, and eat at the Disneyland Resort in 2019. From Lunar New Year to Get Your Ears On, here are some of the things we are particularly excited about.
Trekaroo is an affiliate of booking.com. Which means you get the same exact deals but our kangaroos get a few extra treats when you book through us.
Lunar New Year at Disney California Adventure
The celebration of the Year of the Pig began January 25, 2019, and continues through February 17th. The Paradise Gardens area is decked out with beautiful paper lanterns and banners reflecting Chinese, Korean, and Vietnamese culture. Goodies from Shanghai Disney Resort are for sale including lantern glow wands, traditional red envelopes for gifts, and special Minnie Mouse ears.
Lunar New Year Entertainment
Mulan and her dragon, Mushu, will star in Mulan's Lunar New Year Procession. This vibrant parade takes place along Pixar Pier and Paradise Gardens. Highlights include martial artists, dragon dancers, and drummers putting on a colorful and celebratory spectacle.
Disney won't celebrate an event without bringing in great entertainment! Live musicians will keep things festive during Lunar New Year. Dat Nguyen plays traditional Vietnamese music and Melody of China plays a variety of Chinese tunes.
If you have a little artist in your group you won't want to miss the arts and crafts area where local artists assist guests in activities such as paper lantern making, Chinese calligraphy, and a place to tie new year wishes to a wall. There is even complimentary face painting where children can choose from a celebratory pig, snake, dragon, or lantern.
Lunar New Year Food
Are you ready to eat? Make sure you come to Disney California Adventure hungry during the Lunar New Year celebration because there are plenty of food items to get excited about. Pick up the Sip and Savor Pass and enjoy a variety of Chinese, Vietnamese, and Korean food options from Paradise Garden Grill as well as 4 marketplace locations along the pier: Longevity Noodle Co., Lucky 8 Lantern, Prosperity Bao & Buns, and Red Dragon Spice Traders.
The Sip and Savor Pass is $36 for Annual Passholders and $39 for everyone else. This pass has 6 coupons attached to it which can each be redeemed for a food or (non-alcoholic beverage item) of your choice at each of the various locations. Here are some of the highlights from each spot.
Paradise Garden Grill
Vegan Orange Tempeh (think orange chicken without the meat) with stir-fried veggies and steamed rice. Bonus- the protein is shaped like Mickey!
Banh Mi– a Vietnamese style sandwich grilled pork belly, carrots, cucumber, jalapeno, cilantro, seasoned mayo, on a classic crispy baguette.
Korean Grilled Chicken topped with a sweet chili glaze. Served over rice with kimchi.
Mango Mousse with mango-glazed passion fruit and mango. Yep, it's mango-tastic.
Red Dragon Spice Traders
Steamed Short Rib Shumai– Don't miss this flavor bomb of a dish, Trekaroo's pick for best food at Disney Lunar New Year. These dumplings are filled with delectable short rib and then topped with two different sauces and served over a pickled cucumber salad.
Firecracker Three Cup Chicken– Back by popular demand! This flavorful chicken dish with a kick is served over rice.
Mickey-shaped Red Macaron– Cute and tasty, this macaron is sweet but not overly sweet. The purple yam filling has a nice creme fraiche center.
Raspberry Lychee Chia Tea– Refreshing and fun on a warm day, this tea has a touch of sweetness while still managing to stay delicate. The chia seeds are healthy and fun. Add a light up lotus flower for an additional cost and bring the party to your glass!
Lucky 8 Lantern
Crispy Shrimp Fried Rice– this popular dish also features bacon and edamame.
Stir-fried Vegetable & Pineapple with Soy Protein– This is a great vegan option at the festival. This dish is served with rice and crunchy chow mein noodles.
Mandarin Orange-Green Tea Tart– Another Mickey-shaped dessert that is sure to do well in your Instagram feed!
Vietnamese Iced Coffee– Local coffee experts were consulted to make this delicious drink extra tasty.
Prosperity Bao & Buns
Char Siu Pork Bao– Bao meets taco in this fun dish. It features Chinese BBQ pork, pickled red onions, and jalapeno in a bao bun soft taco shell.
Mickey Chinese Hot Dog Bun– This is a good one for picky kids to try. The flavors are simple and familiar and the shape is fun!
Mango-Pineapple Pastry– This sweet treat is filled with tropical flavors and features fun Mickey shapes on the crust.
Longevity Noodle Co.
Vegetable Egg Roll and Chilled Sesame-Garlic Noodles– Two dishes in one! This vegetarian option comes with a cilantro-cashew sauce and toasted peanuts.
Pan-fried Wheat Noodles– These warm noodles come with two chicken meatballs.
Egg Tart– Back by popular demand, the egg tart has returned. This custard is a great sweet treat.
Orchid Spritz– Love those popping pearls? Try this drink. It is made with sparkling SmartWater, orchid syrup, and rose popping pearls.
Good to know: There is also a festival food and beverage cart where you can order Gochujang chicken wings with a spiced sauce or bags of those mini almond cookies we all love. Your Sip and Savor Pass can be used at this cart as well.
New to Disneyland? Discover all you need to know about visiting Disney California Adventure for the first time.
Check for amazing deals on family-friendly hotels near Disneyland.
Valentine's Month
Leave it to the two lovebirds, Mickey and Minnie, to dedicate an entire month to Valentine's Day. From January 22nd through February 18th, there will be festive Valentine's Decor along Main Street and Small World Mall. The big highlight is the Minnie's Valentine Surprise, a special scavenger hunt in Disneyland. Guests can use purchase a special map with commemorative stickers to complete the scavenger hunt. Once complete, the map can be returned for a special Valentine's Day surprise.
Get Your Ears On Mickey and Minnie Celebration
Disney is celebrating 90 years of fun and magic with Mickey and Minnie in 2019. Here is some of the fun you won't want to miss.
Mickey's Soundsational Parade
This fun parade is back with two new floats to celebrate Mickey and Minnie. There are 9 themed floats in this energetic parade, including the new Mickey pull toy float which stands 19 feet tall! 92 Performers representing class Disney movies such as Aladdin, Tangled, Jungle Book, and Mary Poppins are sure to entertain. As a matter of fact, 30 different Disney songs play during this cheerful parade.
Mickey's Mix Magic
This new nighttime extravaganza combines lasers, projections, fireworks, and snow to create an amped up electronica spectacular starring DJ Mickey Mouse. There are several spots in Disneyland to experience this show. Projections can be watched on Main Street and It's a Small World, with water screens on Rivers of America coming in March. Projections will be on Sleeping Beauty Castle after the refurbishment is complete. The electro-swing versions of "Ev'rybody Wants to Be a Cat" (The Aristocats), "I Wanna Be Like You" (Jungle Book), "Friend Like Me" (Aladdin), "Un Poco Loco" (Coco), and "Let It Go" (Frozen) are so much fun! Fireworks are only on select days so be sure to check the Disneyland App for the updated schedule. Don't worry- the show is still fantastic without the fireworks.
Don't let it rain on your parade! Here is your guide to visiting Disneyland on a rainy day.
Get Your Ears On Food
One of the most exciting things about a special celebration at Disneyland Resort is all the new food! This year's special offerings do not disappoint. Here are some of the highlights:
Disney California Adventure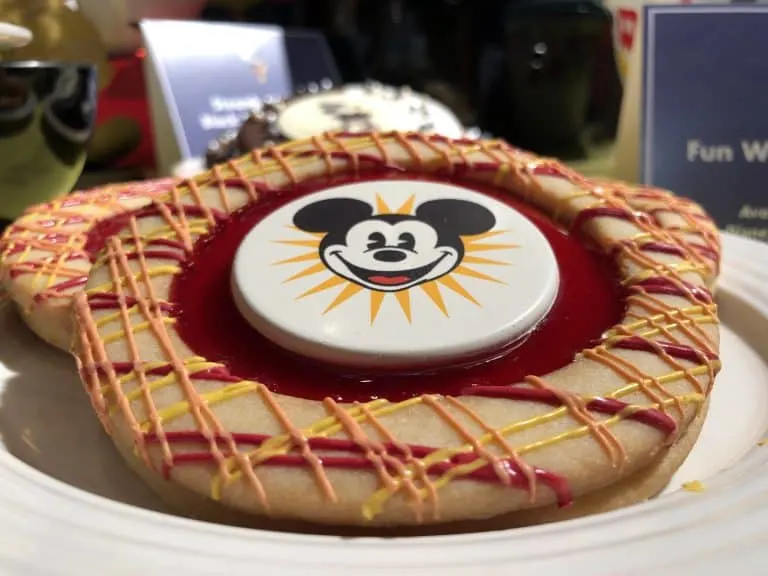 This Fun Wheel Linzer Cookie is found at the Cappo Cart, and is almost too pretty to eat.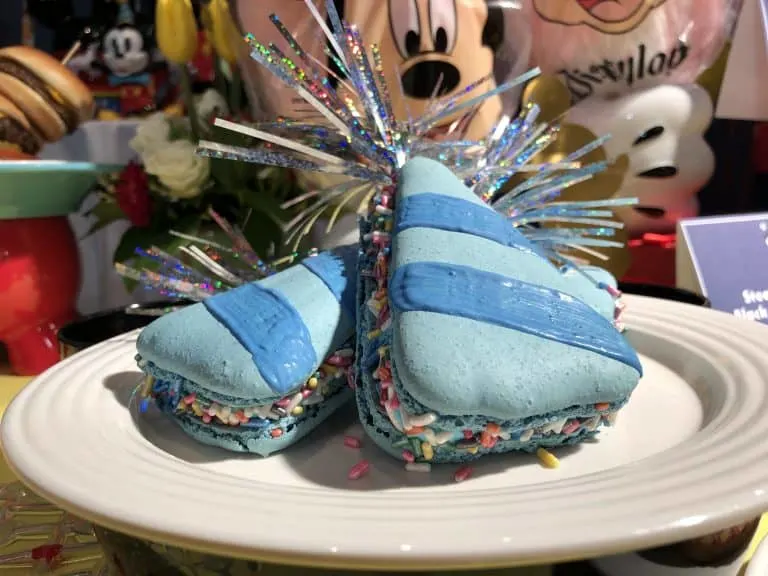 Mickey's Party Hat Macaron is a treat you definitely don't want to miss. Snap this cotton candy-flavored macaron in half and discover a sprinkle-filled surprise! Pick it up at the Cozy Cone in Cars Land.
Love cheese? Love hot dogs? The Cheesy Celebration Hot Dog from Award Weiners in Disney California Adventure is definitely your dog. This monster is topped with macaroni and cheese, cheese curl dust, cheese curds, and a Hidden Mickey made from jalapenos!
The Share Your Ears Cheeseburger at Smokejumpers Grill is perfect for, well, sharing. Mom or Dad can eat the big burger while one of the kiddos can snack on your cheeseburger's Mickey ears. If you decide to eat all three yourself we promise not to tell.
This Sourdough Mickey from Pacific Wharf Cafe is a true work of art in Boudin sourdough bread form. Where to start… the nose… the ears…
If you have a cookies and cream lover in your family, take them to the Pacific Wharf Cafe for they can try this decadent Cookies and Cream Bread Pudding. Bonus- it's shaped like Mickey!
Disneyland
You can't have a party without a cake! Try a slice of the Celebration Cake at Plaza Inn. The cake is lemon and raspberry flavored with a lemon raspberry mousse in between the layers. Tangy and sweet!
Who's the leader of the club that's made for you and me? M-I-C-K-E-Y-M-O-U-S-E! The Mickey Mouse Club Dessert is sold at the Jolly Holiday Bakery Cafe on Main Street. It is chocolate on the outside and has a creme brulee filling on the inside.
If you are looking for a healthy-yet-tasty option, try the Pad Thai Spring Roll from Bengal BBQ. It is filled with basil, shrimp, noodles, and radish (spot that Hidden Mickey!). It is served with a creamy peanut dipping sauce that has a little kick to it.
This colorful Mickey Hat Dessert can be found at Rancho Del Zocalo near Thunder Mountain Railroad. It is mango flavored on the outside and churro flavored on the inside. Ole!
The Tropical Hideaway
The newest restaurant in Disneyland fills has Dole Whip lovers rejoicing! The Tropical Hideaway is located in between the Enchanted Tiki Room and the Jungle Cruise. The theme is reflective of the Tiki Room vibe and….. drum roll please… they serve Dole Whips! Not just regular Dole Whips and Dole Whip Floats but also Orange-Pineapple Dole Whips and Raspberry-Pineapple Dole Whips. And then there is the granddaddy of them all- the loaded Orange-Pineapple Swirl Whip topped with exotic fruit and crystalized hibiscus.
The restaurant also serves chilled ramen salad, sweet lumpia, and bao buns- Bulgogi Beef Bao, Lime Chicken Bao, and Spiced Vegetable Bao. They are great to eat the go or in line. They remind us of the bao buns served in Pandora inside Disney's Animal Kingdom.
Disney California Adventure Food & Wine Festival
Foodies are celebrating the return of the Food & Wine Festival March 1 through April 23, 2019. There will be a dozen different Festival food stands that will have small plates, special wines, and craft beers. The festival is California inspired and includes celebrity chefs appearances at cooking demonstrations. Kids can participate in Junior Chef, a hands-on cooking experience.
Find family-friendly hotels near Disneyland!
New Attractions on Pixar Pier
Last summer Pixar opened with several new food stands and the new Incredicoaster. This year, Pixar Pier continues to improve with the addition of two new attractions, Inside Out Emotional Whirlwind and Jessie's Critter Carousel. Jessie's Critter Carousel replaces the old Little Mermaid themed carousel that was near Toy Story Mania. Judging by early renderings and rumors, Inside Out Emotional Whirlwind appears to be a re-themed version of Flik's Flyers from It's a Bug's Land which recently closed to make way for a new Marvel-themed land.
Star Wars: Galaxy Edge
At long last, the land that Star Wars fans have been salivating over will finally open in the summer of 2019. It seems that current plans have the new land opening sometime in June. This will be the largest single-land expansion in the history of the Disneyland Resort- bigger than Cars Land! This land is themed to look like the planet Batuu, known as a hideout for smugglers, rogue traders, and exotic creatures. We are sure that Disney will immerse visitors in a multi-sensory experience, complete with a Cantina that serves alcohol!
Two new attractions will surely be the stars of this new land. Millennium Falcon: Smugglers Run is perhaps the most anticipated because after all, who doesn't want to fly the Millennium Falcon? Star Wars: Rise of the Resistance has been gaining quite a bit of buzz in recent days after rumors of a 28-minute ride started to surface. Over 300 animatronic figures are supposed to be inside this attraction, as well as Kylo Ren himself.
Think you know everything about Disneyland? Read 20 Things You Didn't Know About Disneyland and discover something new.
Lead image by: Disneyland Resort
Disclosure: The author received complimentary admission to Disneyland Resort while attending media familiarization events in order to cover the happenings at Disneyland. All opinions are her own.