Pssst. I have 2 secrets. The first: As a seasoned bunch of travelers, my family loves an "adventure" vacation. You know: skiing, zip lining, wildlife, meandering hikes, waterfall swimming…the works. This time, I tricked them into an adventure that was really about me being able to relax. The second secret is that I have found an idyllic slice of paradise off the Florida Gulf Coast that doesn't require a passport or a long plane ride. This fabulous place is North Captiva, Florida.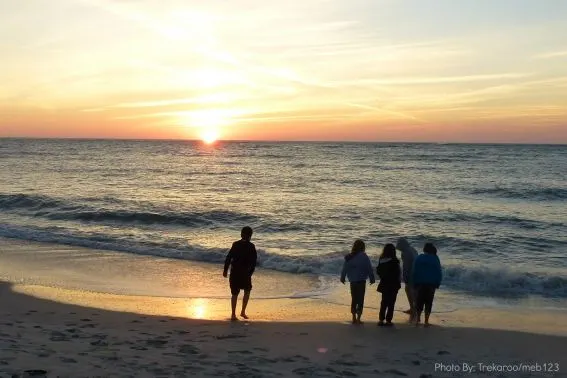 Geography of North Captiva Island

North Captiva, or Upper Captiva, as it is sometimes referred to, is a small island north of the more well-known Captiva and Sanibel islands on Florida's Gulf Coast. Actually, Captiva is a long stone's throw from North Captiva due to the island break that occurred some years ago from a hurricane. I couldn't believe it when I stumbled across the island while planning a multi-generational family getaway. As I was scouring VRBO and Flipkey for a place close to the beach with a pool and ample square footage for nine in Captiva, I found homes that fit the criteria available on North Captiva. Although I had never heard of it before, I am so thankful I found it. I want to keep what I've found a secret, but I am going to share it so you too can discover what I have found.
Look for current hotel deals in North Captiva
North Captiva is west of Pine Island on the mainland. To understand the island's tiny size, think 4 ½ miles long and a ½ mile across at its widest, 300 private residences (some being condos), and ½ of the island is the Barrier Island Geopark. We arrived here after a flight into Fort Myers and a ½ hour ferry ride over on Island Girl Charters. The ferry dropped us at the launch on North Captiva and we were in for a blissful stay. The annual average temperature is 77 degrees, so pack your swimsuit and some flip-flops and get ready for a relaxing adventure!
Passing time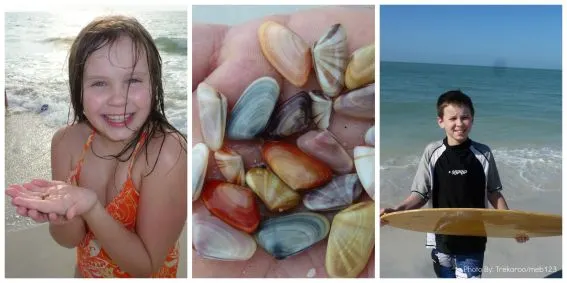 What is there to do on North Captiva? Enjoy being with family and friends on an idyllic tropical island getaway. The home we rented, Stardance, came with a pool, three levels of outdoor decks (including a phenomenal widow's peak with a view), and two golf carts. There are no cars on this island. No cars! The golf carts were delivered to us from the home owner at the boat launch upon arrival. Island Girl Charters happily unloaded all of our luggage and groceries, we packed up our luggage tote on the back of the carts, and we were on our way. We were immediately smitten. Along the sandy roads, many of the homes were decorated with twinkling lights, and sounds of children laughing and splashing in pools, filled the air. We passed the island air strip for those folks lucky enough to own their own planes and were soon at our house.
Every Home Near the Beach

The house provided views for miles, as do most of the homes on the island. Every home is near the beach. We could either take a walk to the beach or zoom over in our cart. There are several beaches to choose from, each lovelier than the next, and the sunsets visible from our house and from the beach were amazing. There are two 'clubs' on the island. Most homes are affiliated with one or the other and you may rent a home from the club or directly from the owner via VRBO or Flipkey. Our home belongs to the Safety Harbor Club. The club includes tennis courts, a pool house with plenty of reading material for all ages, and a pool if you are not lucky enough to have one at your rented home. Additionally, scattered about the Safety Harbor Club, are pavilions near the beach with chairs to soak up the sun or watch the sun set.
Check for hotel availabilities in North Captiva
The Vacation I've Been Waiting For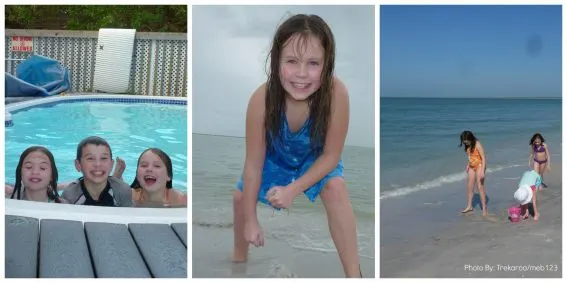 We spent our days enjoying the scenery, shelling, reveling in the sun, enjoying some inter-family football rivalry, relaxing with meals together, swimming in the pool or ocean, and tooling around in our golf cart. This was THE vacation I was waiting for.
For Adventure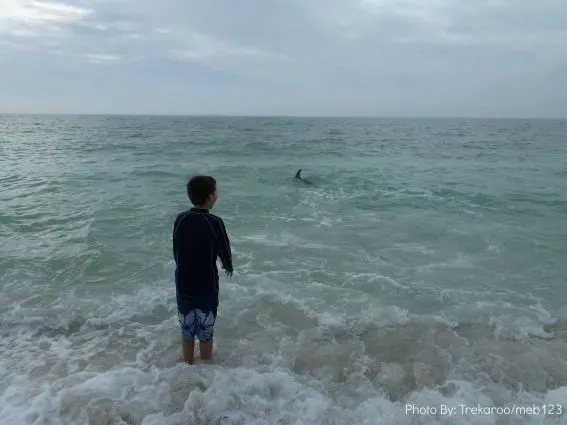 Wondering how I was going to keep the adventure beasts happy here was a concern. As I do the travel planning in our house, anything not up to par is ceremoniously blamed on me! No worries. They ate it up! Every bit of it. I was especially concerned about my husband. We were going to be stuck on this island for a week. If he wasn't happy it would have been disastrous, but fortunately, he loved it. There was plenty of hiking at the large reserve. Being an amateur wildlife photographer, he was thrilled with the wildlife we encountered, as were the kids. We spied plenty of Osprey, lizards, Gopher Tortoises, friendly dolphins, shells, and SHARKS to keep them all intrigued. If we didn't want to sit at the beach, jump in the pool or eat, there was always a hike calling us. If at anytime he had gotten stir-crazy, we could have called on Island Girl Charters to head back to the mainland.
In addition, we took the opportunity to rent a boat from a local on-island proprietor that also offers fishing tours. We packed our carts with towels, sunscreen, and food for the day and loaded it into a small motorboat to accommodate our party of nine. We were on an adventure! Having been provided a map of the many small, barrier islands on the area, we set off to find some more undisturbed islands and plenty of shells, as this area is very well-known for shelling. Let's just say that this almost turned into a three hour tour Gilligan's Island-style after just one island hop, so we decided to go back to our cozy island home instead. Maybe next time after a boating course!
Planning on the Island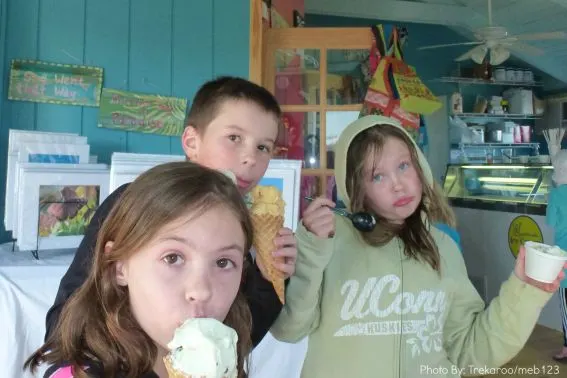 Staying on an isolated island takes some planning in terms of flight timing with boat charters. The owner of Stardance was very helpful in ensuring that we had considered all of the details to avoid any potential snafus'.
There are a couple of restaurants on the island. One choice is near a pool bar at one of the clubs. The other is Barnacle Phil's near the air strip. Here, ice cream is served at Queenie's upstairs and pub fare downstairs (both indoors or outdoors). Located near a boat dock, the 'Boat Set' crew sails over from the mainland for a sample.
There is also a couple of sundries stores that offer beach toys, beach ware, and a small selection of food that sells very quickly, as most is brought over infrequently via the boat charters. We wisely took our homeowner's advice and stopped at a mainland grocery store to stock up on a week's worth of food for our two families prior to our ferry ride. Planning the shopping list is key. Luckily, we did not run out of food and had very little waste when our week was through. There are also a couple of service runners should you require necessities during your stay.
Look for the best hotel prices in North Captiva
Our House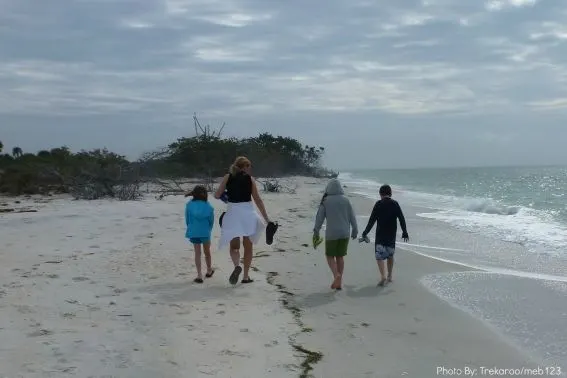 Stardance had everything we could ask for. There were great bedrooms, cable television, WI-FI, a well-equipped kitchen, grill, outdoor shower, pool, fishing poles, and more. We even had a margarita or smoothie maker. Everything was modern with island décor and meticulously clean. Of course we didn't wear half of the clothes we packed. All you need is that suit and some flip-flops. No one to dress for here! Although it sounds exclusive and expensive, divided amongst two families, it was reasonable. Our stay was amazing and the best way to describe it came from our kids. "We can't wait to bring our kids here someday." Enough said…just don't tell anyone!
Featured photo by: Shutterstock