Via Ferrata in Baie-Comeau. What, you've never heard of either? If your family loves adventure travel in gorgeous locales, it's time to get educated! Italian for "iron road", a via ferrata is essentially a mountain or rock route with fixed cables, ladders, and bridges; sort of like rock-climbing meets hiking with a safety harness. Baie-Comeau is a small city in Eastern Quebec's maritime region which lies on the vast (55km wide) and salty St. Lawrence. Here, the St. Lawrence is more sea than river and the atmosphere is decidedly (and wonderfully) French Canadian. Via ferrata, along with several other great opportunities for adventure, education, and fun can all be found at Baie-Comeau's Jardin des Glaciers.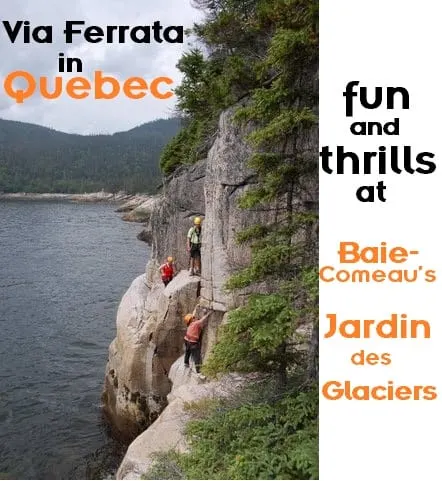 As I stood on a grassy hill sprinkled with wild flowers in shades of pink and purples and blues, and gazed out at the massive St. Lawrence, I felt like kid waiting for Christmas. My glasses fogged up with every breath but I wasn't bothered by the chill in the air. All I could think about was zip lines, rock climbs, and getting to know this glacial land. I was eager to explore Jardin des Glaciers, a complex filled with high tech multimedia presentations and various outdoor pursuits centered around the effects of glaciers on this part of Canada.
A symphony of birds filled the air, occasionally muffled by the roll of thunder in the distance. After eating dinner on a picnic bench in front of the grand old church that serves as headquarters for Jardin de Glaciers, it was time to head to our beds a few miles away. The sun had gone down and the air was growing thick. We drove a small distance and sprinkles began to hit our windshield. A porcupine toddled across the road in front of our truck, perhaps heading to its den to get out of the wet weather. It was just a little rain, right? Wrong! We pulled into a parking spot when suddenly the clouds opened up and the rain came down in a deluge. By the time we reached our accommodations my hair felt like it had been freshly washed, my jeans were sticking to my body, and my suitcase had a nice-sized puddle on top of it. No worries! I was sleeping in a yurt in maritime Québec. No amount of water could dampen my spirits.
After spending a rainy night inside a yurt and watching lightening brighten up the sky through a sunbeam framed window in the top of the canvas building, I woke up in the morning to find the atmosphere outside to be thick and grey with heavy fog. I said a little prayer for the fog to lift before we headed out to get fitted for our via ferrata gear. After a short (1/2 mile) hike on a wet and heavily forested trail, our group reached a boulder framed (and still foggy) bay where we would attempt the via ferrata course. Over the next three hours we climbed along the rocks framing the bay, slowly making our way around the edges with the help of cables, metal rungs, and all our best spider monkey skills.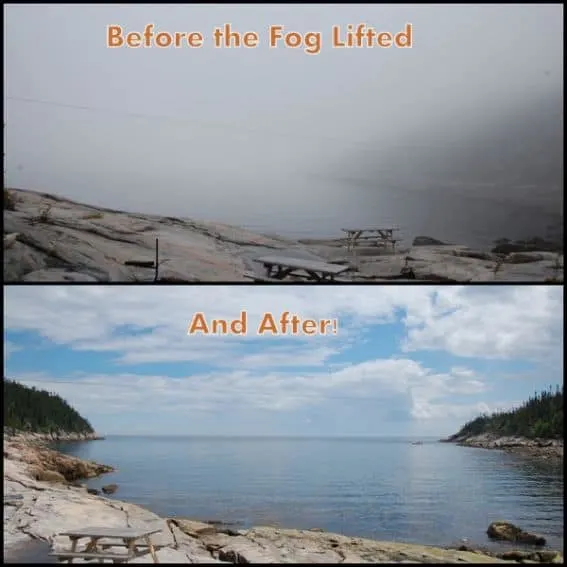 As I fell more and more in love with via ferrata, the fog lifted, revealing a dramatically beautiful coastline. Along the way, I clamped and reclamped myself to safety cables while perfecting my rock climbing grip, discovering sea urchin and crab carcasses smashed on the rocks by sea birds, and feeling liberated from my fear of falling (thank you safety harness!). Our final destination was a scenic view of the largest example of glacial cuttings in rocks that has ever been discovered. It is the sort of thing that makes geologists get down on their hands and knees and kiss rocks; at least that is what my guide, Hugo, told me. While I was impressed by the power of glaciers, I was much more excited about the dolphins frolicking in the water and the harbor seal bobbing up and down while munching on a fish. As if all of that wasn't enough, our journey back from our via ferrata excursion included an adventurous hike through the forest and two zip lines over the bay. My inner outdoor enthusiast definitely found this park to be better than Disneyland.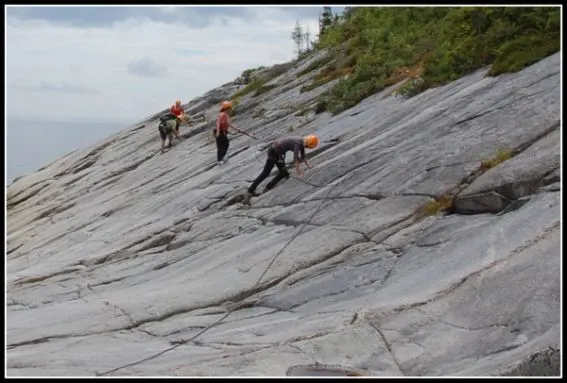 Good to know: Participants must weigh at least 75lbs to experience the via ferrata course, due to zip line weight restrictions, and should be in reasonable shape. Children as young as 10 have participated but most children are 12 and up. Those with a big fear of heights probably won't love this activity (though I don't think we were more than 25 feet above the water at any point) but the safety line does provide a good sense of security. A love for outdoor adventures is most definitely a prerequisite. If your family fits the description, definitely start planning your trip!
Beyond Via Ferrata
Beyond the via ferrata, Jardin de Glaciers offers several other wonderful experiences which are great for all ages and abilities. Young kids will love the Child Zone which features a kids zip line, a mini rock wall, and an inflatable iceberg that is perfect for bouncing off into the lake. Older kids and their parents will get a kick out of six more zip lines over the glacial lake, rappelling, or exploring the hiking trails while learning about the people of the ice age and the effects of glaciation. There is also a glacier-themed boat tour of the St. Lawrence and a state of the art multimedia presentation about glaciers that takes place in an old church and is sure to captivate even the most easily distracted child while educating them about science and nature in the process.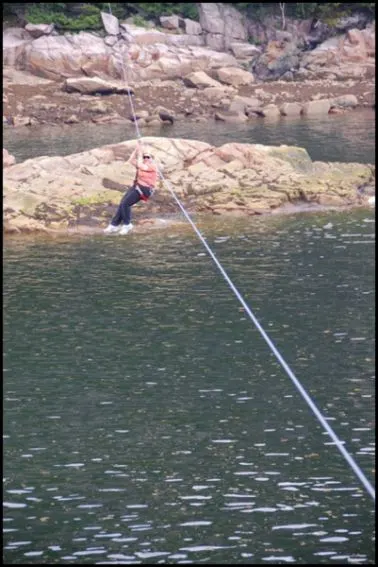 Where to stay
If you have never stayed in a yurt, I think there is no better place to experience yurt camping than Jardin des Glaciers. If the yurt is booked, there are tent and rv sites available. As of the summer of 2013, a teepee will be available to book as well. If you prefer to sleep with flush toilets nearby, there are several lodging options in town ranging from budget motels to four star properties.
How to get there
Baie-Comeau is easily reached by a 90 minute flight from Montreal or a 6 ½ drive along the gorgeous coastline from Quebec City. If you do drive (and you should), be sure to add whale watching on the St. Lawrence River to your road trip itinerary.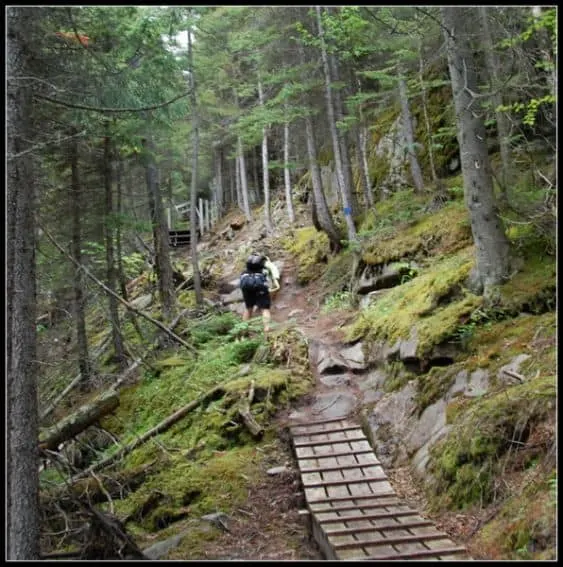 Disclosure: I visited the Québec Maritime region while on a guided press trip hosted by Québec Tourism. The Quebecer hospitality was incredible but all opinions are my own.
---
Travel with kids to: CA |CO | DC| FL | HI | IL |MA | NC | NJ | NY | OR| PA| TN | TX | UT | VA | WA