Hiking in Alaska with kids is less daunting than one might think. While the 49th state indeed possesses a large number of rugged trails far into the back country, plenty of opportunities exist for the casual family and hiking group wishing to sample a bit of outdoor recreation, northern-style. Our crew frequently throws walking sticks, bear spray, and the dog into the family truckster and rumbles off to choice trekking that only seems a world away. Visitors, too, can escape the often frenetic pace of family vacations by wandering along a stream, meadow, or mountain trail. A wonderful way to preview family-friendly hikes is via the four Alaska Public Lands Information Centers located in frequently-visited Alaskan cities. Along with park passes and maps, helpful staff will guide a family to the most appropriate hike for everyone's ability level. Here are some of our favorites.
Hiking in Alaska with Kids: Southcentral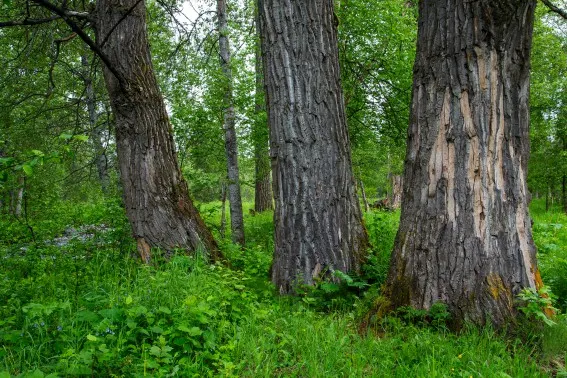 Photo by: Flicker/mypubliclands
Home to Anchorage, the state's largest city, and where a plethora of moms and dads take to the trails year round, the Southcentral region offers close-in hiking opportunities that don't require hours of driving. Try the beautiful Campbell Creek Science Center on the fringe of Anchorage for flat, well-maintained trails that support both jog strollers and small legs. Start at the Center's main parking lot near the offices and hike the Old Rondy Trail along tranquil Campbell Creek, or weave your way back to Elmore Road via Moose Track. Birds, moose, and the occasional bear are all part of the experience, as are beautiful wildflowers and dark spruce trees.
If you want to climb higher, drive up to Arctic Valley east of Anchorage along the Glenn Highway, where stunning views of town and nearby mountains provide plenty of eye candy, not to mention tranquil meadows that beg for Sound of Music moments. A favorite spot for late-summer berry picking, Arctic Valley is alpine hiking at its finest, with trails weaving around and up ski runs managed by the Anchorage Ski Club. Hike for an hour or a whole day in this mountainous marvel, but bring water and snacks as there are no nearby outlets for either. Bug spray helps, too, as black flies can appear on a warm day and make for miserable walking. Park in the lot for a $5 State Park fee or along the dusty gravel road below for free.
Hiking in Alaska with Kids: Interior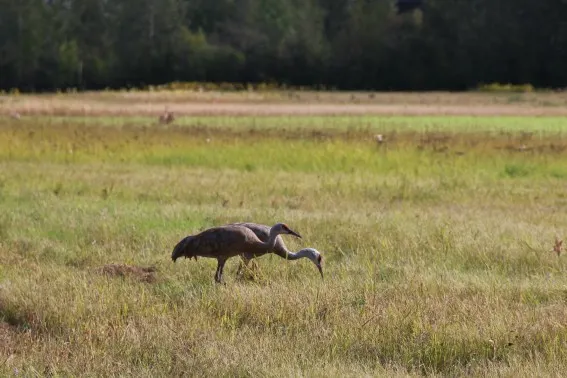 Photo by: flicker/lns1122
With dry summers (usually) and beautiful vistas upon which one can view the splendor of Alaska's north country, the Fairbanks area provides families a ton of hiking opportunities. For an easy 2-mile loop right in town, try Creamer's Field near College Road, home to a healthy population of migrating birds and local wildlife. Winding through the beautiful fields of this former dairy farm, the trail takes hikers through a pastoral scene and through a spruce and birch forest teeming with flora and fauna. Kids will enjoy the interpretive signs and honks of resident geese and squawks of visiting Sandhill Cranes in late summer, and their regular family-friendly interpretive programs.
Along the Chena Hot Springs Road lies the Angel Rocks trail, a beautiful hike leading one through dense forestland and into the massive Angel Rocks area, with plenty of interesting sights for the kiddos. At 3.5 miles round-trip, this hike is easy for most families and remains a stellar favorite among travelers for its varying viewpoints and amazing landscape. Find the trailhead at Milepost 48.9 of the Chena Hot Springs Road, and don't forget a picnic either before or after at lovely grounds along the river banks. Hiking in Alaska with kids can really be fun and easy.
Looking to spend a whole vacation in the Fairbanks area? Check out these tips on how to have family fun in Alaska's interior.
Hiking in Alaska with Kids: Southeast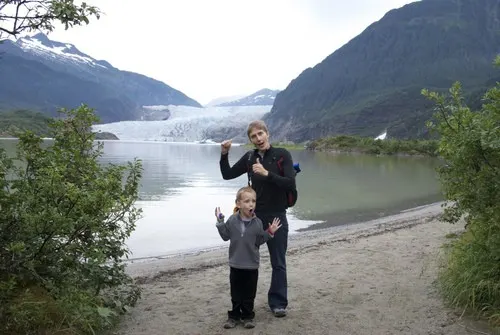 Photo by: Erin Kirkland
Way down south, but where most visitors to Alaska capture their first glimpse of the 49th state sits the capitol city of Juneau, where mountains rise almost from the sea and where locating hiking trails is as easy as stepping off the cruise ship or ferry. An easy way to get high on Juneau is via Mount Roberts where the historic tram whisks a family way up to the summit of Mount Roberts, thus saving energy for the hike down. It can be a slippery hike on a rainy day, but if one is prepared with appropriate footwear and clothing, Mount Roberts can also prove to be a highlight of any southeast Alaska visit, and well worth the ticket price to the top (kids 6 and under are free, though).
Mighty Mendenhall Glacier has its own trail system to allow for ogling of ice about 12 miles from town. Take the Moraine Ecology Trail from the north end of the parking lot and investigate the glacial effects upon the landscape. Young forest, old forest, and everything in between are visible from the 1.5 mile trail. Take time, also, to visit the Mendenhall Glacier Visitor Center for incredible views of the glacier and some great interpretive info from rangers.
Alaska is chock full of activities. For more inspiration, enjoy our Top 10 Things for Families to do in Juneau, and an incredible family vacation to Alaska!
Erin Kirkland is a freelance writer and editor of AKontheGO.com, a web site dedicated to family-friendly destinations and activities in Alaska. She lives in Anchorage with her husband and youngest son, six.
Featured photo by: Shutterstock