Travel is infectious. Once wanderlust gets into your soul, there's often no turning back. We are one of many families that have decided to ditch the suburban, 9-5, public school life, and live differently. Our new life is simple, and with simplicity has come a deeper understand of ourselves, our family relationships, and the world around us.
Imagine a life where you routinely step outside and are engulfed in the beauty that mother nature has to offer. You work an incredibly taxing nine hour day but then within a matter of minutes are hiking the Narrows of Zion with your family. You watch your children's eyes light up as they discover and identify the different types of cactus in the southwest, or explore tide pools along the coast of Oregon because your location determines the curriculum for the day. There, we were able to not only learn about crabbing, but experience it together as family.
Sound like a dream? We've turned it into reality.
How did we make the switch?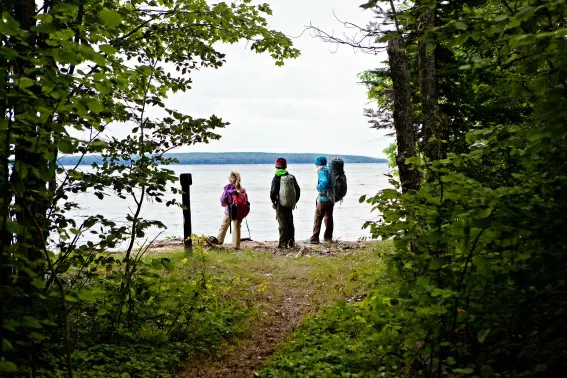 Backpacking in Apostle Islands National Lakeshore
Photo by: Jess Curren
We mostly fell into this lifestyle by accident. We were headed from Utah to Virginia to house swap with a family and fell in love with the road on our 18-day trip to get there. Needing a bit more weather protection than a minivan and a tent, we looked into Airstream trailers and within a month were driving to pick up our used 2008 27FB International from an independent seller in Illinois. Two months after that we left Virginia for a six month trek that changed our lives. We no longer wanted a house with a picket fence, soccer practice, or sidewalks. We sold our house, most of our possessions, and left Suburbia for another road-based adventure and haven't looked back. That was over two years ago.
We love that our pace of life is slower. More often than not, we take an evening walk together after dinner as there is nothing better to do. Going outside always seems to fix a grumpy mood, calm us down, and help us feel closer together. Luckily, "outside" and "wilderness" are often just outside our door. It's almost cheating because we can experience slowly the amazing places our country has to offer while mixing in school and work.
We are not wealthy, but selling our house and the trappings of a suburban environment has opened up possibilities. Sam is a web developer and works for a dispersed company loosely based out of Utah. All the employees work from home, so the fact that our home moves doesn't seem to really phase anyone. He occasionally meets with clients who are in our path, and once or twice a year flies back for a meeting. We also have family in Utah and he'll also have face to face time when we go through to see grandma and grandpa.
What about school?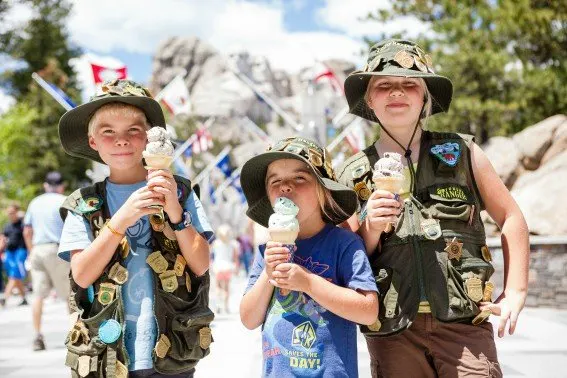 Our Junior Rangers at Mt. Rushmore
Photo by: Jess Curren
We homeschool our kids, and while I had never had interest in keeping our kids home before traveling, I'm completely addicted now. We call it "road schooling" because traveling provides many learning opportunities and it is easy to educate our kids about many practical life lessons. They've earned over 90 Jr. Ranger Badges as various National Parks, Monuments, and Historic Sites, visited countless science centers, can easily tell you exactly where to find a Saguaro cactus, and know what "Cypress Knees" are. We've swam in the Atlantic and Pacific Oceans, the Gulfs of Mexico and California, and even Lake Superior, which is big enough that it feels like an ocean. Our kids converse and interact easily with children their own ages as well a adults, read well above their grade level, and can out-backpack, out-hike, and out-bike many adults. They also love to help me cook, are master grocery shoppers, and are proficient at laundry – many skills high school graduates are lacking. Far from limiting their education, I believe homeschool has opened our eyes to the possibilities this world has to offer.
How do you prepare for a life like this?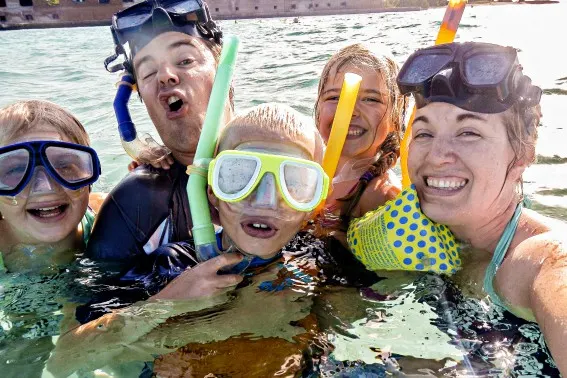 Snorkeling in Dry Tortugas National Park
Photo by: Jess Curren
Many people we meet have no idea this type of lifestyle is a possibility, but traveling full time is an epidemic. Many families are setting out for a month, a year, or even indefinitely to wander and explore the beautiful places our country and the world has to offer.
We know many families that have set a "launch" date over a year or more away. They are working hard to build an online business, learn how to homeschool their kids, or work their way into a remote position at their current job. Our number one recommendation to prepare financially for life on the road is to live below your means. Live well below your means if you can manage. Sacrificing many small good things will give you the financial flexibility to enjoy amazing adventures.
Downsizing your house and possessions can be a huge jump start. Even when we start making plans to "settle" down it will be in a modest 800-1000 sq foot house, or possibly even a Yurt. We've found that possessions tie you down and stuff accumulates to fill available space. Not being a slave to a garden, mowing the lawn, weeding, or large house projects opens up time and money that can be spent on other things.
Fulfilling and living our dream took sacrifice and planning. It hasn't been an easy road (it still isn't) but living with such freedom is better than anything we could buy in a store.
So that's our story. At least some of it anyway. We are in awe of how traveling has affected our family and our life for the better and we couldn't be happier. Will we travel forever? No. We have goals that will be hard to accomplish traveling full-time, but until then we will enjoy our wanderings and time together as a family.
Featured photo by: Bigstock/Virrage Images