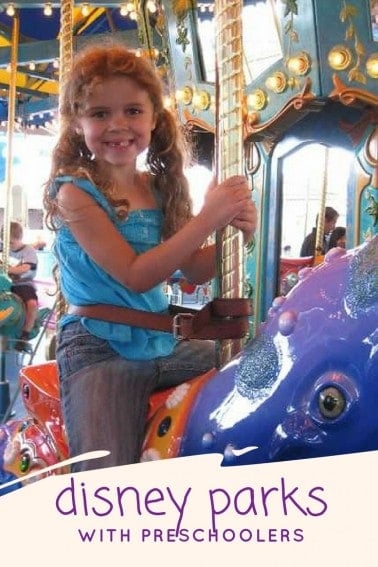 Heading to a Disney park with a preschooler in tow? Get ready for a ton of magic and adventure because this is my absolute favorite age to explore Disney parks with. I've been to Disneyland dozens of times with my preschool-aged kiddos (one of whom pictured above will hit the teen years this year — gasp!!!!), and I have learned a wealth of information that can help you plan the best Disney day with preschoolers. Explore these tips below and then please comment about your Disney with preschoolers trips & vacations; we would love to hear about your experiences.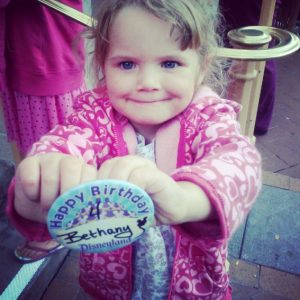 1. Disney with Preschoolers: Plan Ahead
Benjamin Franklin no doubt had a future-Disney trip with a kiddo in mind when he penned the quote, "By failing to prepare, you are preparing to fail." Okay, maybe not. But it is still really good advice for taking a preschooler to Disney. Here are some great tips you need to think about before your trip begins.
Decide on when to go. The awesome perk of having a preschooler at a Disney park is that you can visit year-round, when the 5-18 crowd is stuck behind a desk at school. Generally speaking, crowds tend to be heavy during summer and winter vacations, on weekends, and around major holidays, when the school-aged kids are on breaks. Take advantage of this and go off-season, mid-week for the best crowd-free environment.
Book a hotel room in advance, either onsite or at a hotel with complimentary shuttle. After your long day, you'll want to be as close as possible to your bed.
Book reserved dining and FASTPASS+ (latter only at Walt Disney World) as far in advance as allowed. Although it can be daunting to predict your time schedule, these reservations fill up quickly.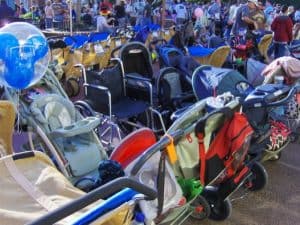 Pack your preschoolers favorite snacks. Even though there is a ton of food available (see tip #4 on food below), bring your favorite snacks from home.
Bring a stroller. Yes, your kiddo is a big kid now and doesn't need a stroller for short trips, but an all day walk-a-thon through multiple Disney parks is enough to make even big legs tired. Rentals are, of course, available, but it can be tricky to find yours in a sea of other rentals. Plus, the daily fee adds up to the cost of an inexpensive umbrella stroller in just a couple days. Many rental companies will deliver a stroller to your hotel room (hurray!) or you can buy an inexpensive one at a local superstore before entering the park. Bringing a stroller with a storage area is always recommended so you can stash your gear throughout the day. (Photo by: Flickr/JoeShlabotnik)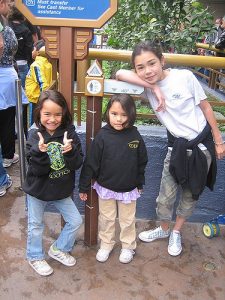 Expect a variety of temperatures. Mornings and evenings can prove extremely chilly on the west coast, and rain can come and go quickly during a Florida summer. Check the weather in advance and be sure to bring weatherproof (and comfy) walking shoes, sunscreen, and sweaters.
Measure your kiddo's height, and let them know what they can or cannot ride. I have seen so many crying kiddos sadly walking away from a sought after ride because they didn't meet the height minimum. For your child's safety, there is absolutely no budging on this, so preparing your child in advance is extremely helpful. The Disney Parks websites maintain current height requirements for all rides. (Photo by Flickr/Reyes-Chow)
Forget something while in a Disney Park? Even the best planners realize that small kiddos don't always operate by the book. This momma has had to purchase pretty much everything preschool related in a Disney park, including sunscreen, dry shoes (when the ones I brought proved terrible on a rainy day!) and clean undies & pants (accidents happen!). Parents should know that Baby Care Centers are located in every Disney park offering a quiet respite with clean and comfy changing tables, sinks, toilets for potty training, and supplies for purchase (including diapers, ointment, pull ups, wipes, and Children's Tylenol).
Research everything you need to know. Explore our Ultimate Guide to Disney Vacations on Trekaroo to learn the ins and outs of Disney Parks before you visit.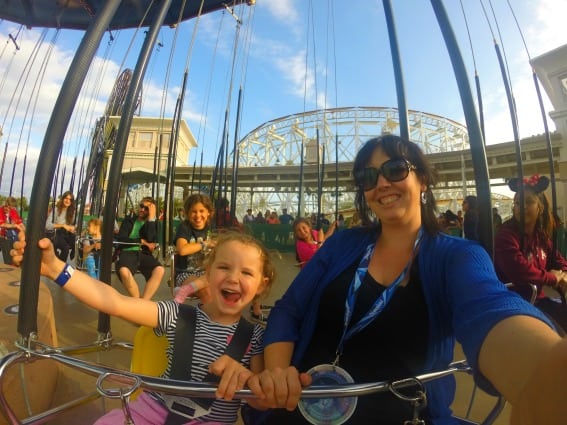 2. Disney with Preschoolers: Arrive Early
One of the absolute best perks of having an early-rising wee one in the family is that you can get to the parks before the "bigger kids" and their parents even hit snooze on their alarm clocks. Although the majority of thrill rides within Disney Parks feature FASTPASS and FASTPASS+ systems to get you on rides faster, most of the preschool-friendly rides do not. The absolute best way to tackle these long-line rides is to visit in the early morning, taking advantage of Extra Magic Hours if available (by staying onsite or with other special partners).
Allow at least 30 minutes to get through transportation & security and get to the gate.
You can enter the parks before open time, exploring shops, using restrooms, and looking at souvenirs.
At Disneyland Park and The Magic Kingdom, tackle Fantasyland at opening. Lines get long and stay long until late at night when kids are too tired to ride (they also often close early for fireworks).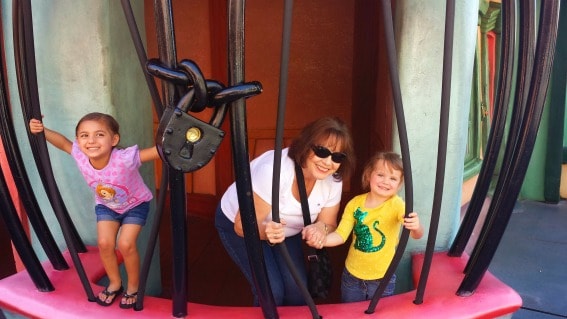 3. Disney with Preschoolers: Take Breaks
The afternoon is hard for preschoolers, even at home. If you are staying onsite, take time out during the middle of the day for a brief nap or even rest time in the quiet of your hotel room. This "recharge" (paired with a post-naptime coffee for mom or dad) will give your kiddo the energy needed to get through the early evening with the least amount of stress. Staying on property at Disney Resort hotels offer the following perks for resting up:
In-room opportunities to draw the curtains and take a nap.
TV-veg time: all the Disney channels are offered in room and rooms often feature a rotation of classic Disney movies & shows.
Pool time. This might not scream relaxation to many, but an afternoon swim is often a sure-fire way to get a cranky one to calm down and then rest afterward.
In-room dining. If your kiddo falls asleep, you can order a bite to eat without having to wait in line!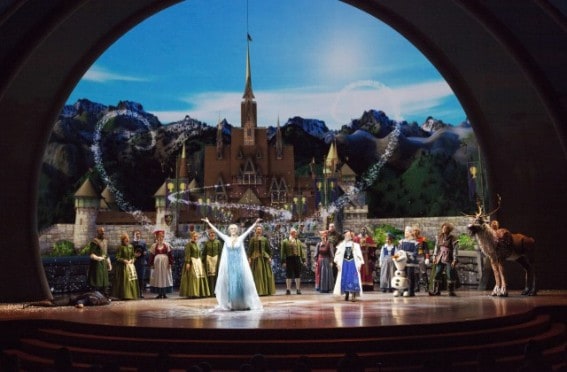 Not leaving the park? Consider some great "winding down" options inside the parks:
Ride the loop. The Disneyland Railroad & Walt Disney Railroad will score you 18 & 20 minutes (respectively) of gently-rocking, relaxing time off your feet. If your kids fall asleep- and they just might – you can stay on-board an keep looping the park 'til your rest time is done. The same holds true for the Monorail between Disneyland and Downtown Disney; ride the loop to keep resting!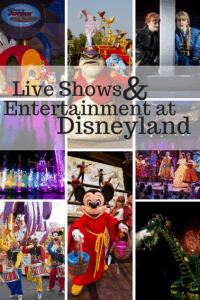 Stay-in-your-seat shows are just mesmerizing enough to keep littles still (and resting) for a length of time.
– Frozen –Live at the Hyperion (Disney California Adventure), 1 hour
– Beauty and The Beast –Live on Stage (Disney's Hollywood Studios), 25 minutes
– Festival of the Lion King (Disney's Animal Kingdom) a bit more upbeat, but 30 minutes
– Finding Nemo –The Musical (Disney's Animal Kingdom) 40 minutes
– Great Moments with Mr. Lincoln (Disneyland and The Magic Kingdom), 15 minutes
– Voyage of the Little Mermaid (Disney's Hollywood Studios), 17 minutes
– Mickey and the Magical Map (Disneyland), 22 minutes.
Take a cruise on a slow-moving boat (or tram!). Slow-moving boats help to wind the pace of the day down a notch. Some of the best include:
– Mark Twain Riverboat (Disneyland Park-we've fallen asleep on here!), 14 minutes
– Sailing Ship Columbia (Disneyland Park), 15 minutes
– Liberty Square Riverboat (Magic Kingdom Park), 17 minutes
– it's a small world (Disneyland and The Magic Kingdom), 15 minutes
– Living with the Land (Epcot), 20 minutes
– Pirates of the Caribbean (Disneyland and The Magic Kingdom), 16 minutes
– Not technically a boat, Kilimanjaro Safari is a slow-moving and restful 22-minute tram ride through Disney's Animal Kingdom Park.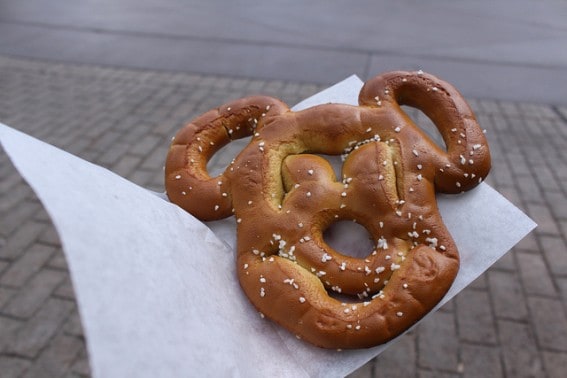 Photo by: Flickr/Julia Lu
4. Plan Your Meals
A hungry toddler, paired with hangry parents, is a recipe for a Disneyland meltdown. In addition to packing your own snacks for those breaking down moments, here are a few other great tips on dining at Disney Parks.
Mix up the sweet/healthy snack rotation throughout the day. A Disney day calls for a churro, Dole Whip, or cotton candy, but thankfully the parks also feature a variety of healthy snack options including fresh fruit, veggies, grilled corn, milk, juice boxes, water, and more. Look for menu items with the "Mickey Check" icon to know that a meal/snack is beneficial for health.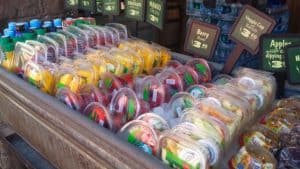 Bring or buy a re-usable water bottle. Not only are they environmentally friendly, you can get ice and water refills throughout the parks (for free!) at nearly every table-service restaurant. Don't forget to hydrate!
Healthy toddler and preschool sized meals are available at almost every restaurant. If your kiddo frequently doesn't clean their plate, consider these smaller portions to save on some cash.
Stop for meals before or after mealtime. On busy days, lines for food can get long. Try changing up the food routine by snacking during mealtime and dining on meals in between.
Splurge on a Character Meal. Booking a character meal is pricey, there is no doubt about that. But the benefits are amazing. 1. Instead of waiting in a long, outdoor line, your table time is frequently reserved in advance. 2. The characters come to your table during your meal, saving you time in a line to meet and greet, and also distracting your little one so you can enjoy the meal at leisure.
Skip the formal dining options. Although these can be a luxurious splurge, you don't want to spend your meal hushing your preschooler and begging them to sit still until the first course is served.
Saddle up the bar. Some of the fine dining restaurants in the parks do boast bars serving appetizers. Kids are allowed in the lounge area, which is often quiet and free of crowded lines. Moms and dads can get a respite from the weather, a cold drink, and extraordinary kid-friendly apps including cheese plates, crudite, chips and guacamole, and so much more.
Not all restaurants are created equal. Some, like the Hungry Bear Restaurant in Disneyland, overlook quiet rivers, scampering ducks, and feel a world away from the crowds, even on the busiest days. Others feel crowded and full, with little to no seating, even when crowds are light. Look for shaded seats with a few empty tables around them.
Looking for more Disney Dining Tips? Check out our Disney Dining Guide and additional details on Disney and food allergies.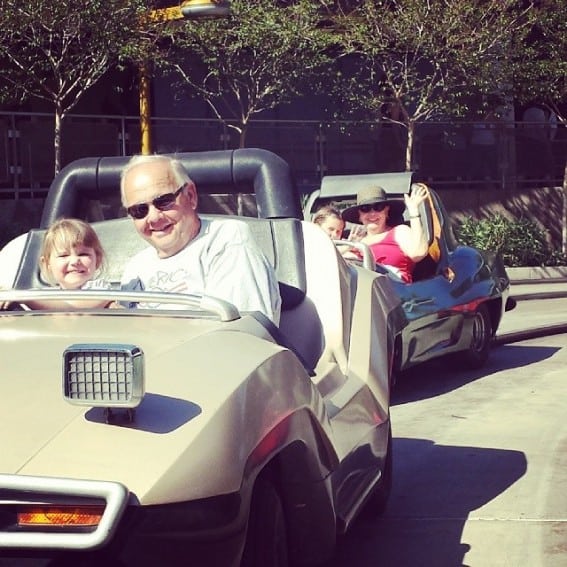 5. Go Like a Preschool Pro
Even if it is your first time going to a Disney Park, you can know the ins and outs before you get there, giving you an edge on your day. Here are some tips that will help you navigate your day like a Disney pro!
Know what rides you want to ride. There are a few Disney classic rides (I'm looking at you, Snow White's Scary Adventures!) that tend to frighten young children. Check out these great rides that won't scare skittish children. If you are in doubt about a ride while in the park, ask any Cast Member for assistance. Check out our favorite rides for toddlers & preschoolers at: Disneyland & Walt Disney World
Be in-the-know about Rider Switch. If your group wants to ride an attraction that your preschooler can't ride, take advantage of Rider Switch. Caretakers can take turns watching the little ones and only wait in line one time. Learn more in this guide to saving time at Disney Parks.
See the shows & parades. Preschoolers are amazed at the shows and parades at Disney parks, and honestly, you will be too. Must-see shows for littles include Disney Jr. Live on Stage (available at parks on both coasts, kiddos will love this show!), any parade, and the fireworks shows (if you can keep them up past bedtime). Explore these must-see shows at the Disneyland Resort.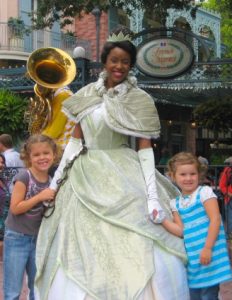 Meet your favorite characters. This is the magical age to visit Disneyland, when your kids are brave enough to meet and greet with all the characters and just young enough to still fully believe in all the wondrous magic. Wondering where the characters are? We've got you covered in Disneyland. Tip: If you purchase a makeover package at Bibbidi Bobbidi Boutique, you'll also score a line-free VIP meet and greet with the princesses afterward.
Purchase the best souvenirs. Yes, there are literally thousands of things you could purchase for your little ones during their Disney trip, but here are a few that I recommend for preschoolers: bubbles! (there is something magical about them in the park & they work well to keep kiddos busy in lines- they are expensive but last a long time), mickey ears (kids will love wearing their personalized ears all over the park- choose from the classic style to a variety of unique modifications), lollipops (these last a LONG time), autograph books & pens (to keep those memories from your character meet and greets), and anything that spins or glows. A surprisingly economical option in the parks are the stuffed animals, which start around $10.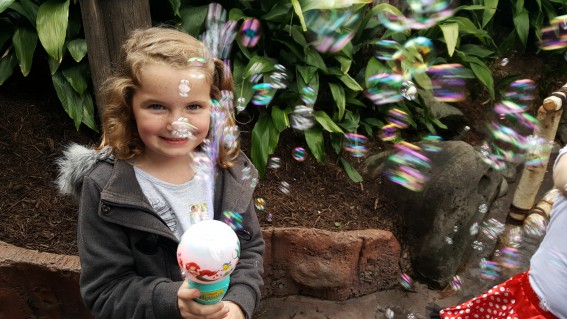 When the park is crazy crowded, know what to do. Even with the best planning, you can still wind up navigating Disneyland or Walt Disney World when it is crazy crowded. There is still plenty to do, even some things that pretty much never have lines. Explore this article covering Disney activities that often don't have lines to make the most of the parks on crowded days.
Photos not attributed by Katie Bodell. The author received admission to Disney parks for the purpose of researching this article. She was not required to state any particular view; all opinions are her own.