Provo, Utah is home to Brigham Young University (BYU), a private university well-known for its top ranked business and law programs, reasonably priced tuition, and a student body that adheres to a traditional code of conduct. Family life and community are significant to BYU – so much so that these values are addressed in the university's mission statement. BYU yields a family-friendly college town rich in family values, and conventional family fun. Here is Trekaroo's list of fun things to do in Provo with kids.
Kid Friendly BYU Campus
Meticulous landscaping, botanical gardens, fountains, statues, and duck ponds beckon families to stroll the campus grounds. Tucked within campus sanctums and research labs, kids will love the science museums, art galleries, planetarium, and cultural exhibits.
Trekaroo parents rate BYU's Monte L. Bean Life Science Museum 5-stars, suggesting that this museum is like visiting an indoor zoo. If dinosaurs delight your kids, look no further than the BYU Museum of Paleontology where future paleontologists can witness a working research lab and a world renowned collection of Jurassic-era bones. It's never too early to expose kids to art appreciation at the BYU Museum of Art. This museum caters to families offering events from Family Art Festival, Family Film Series, Van Gogh to Play Doh preschool educational experience, and open studio art-making.
Candy counters and kids go together like cinnamon bears and chocolate – at least that's true at the BYU bookstore where the chocolate covered cinnamon bears are a kid-friendly favorite treat. If you choose to forgo these strangely addicting treats, opt for the delectable fudge.
What is your favorite on-campus activity with kids? Share your scoop with Trekaroo.
Around the Town of Provo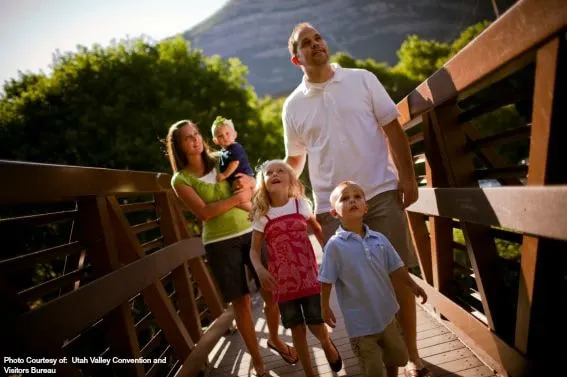 In 2012, Provo's revitalized historical downtown district was recognized as one of the Top 10 downtown districts by Livability.com. Farmers markets, live entertainment, and art gallery strolls beckon visitors to rediscover this quaint college town. Likewise, Provo's proximity to the stunning Wasatch Mountains summons nature loving families to get out and explore. Trekaroo parents are singing the praises for kid-friendly Provo. Check out these highly rated kid-friendly activities in Provo:
Kid-Friendly Festivals in Provo

Hundreds of thousands of spectators flock to Provo each year to enjoy one of America's biggest patriotic celebrations, America's Freedom Festival. Activities range from parades, a balloon festival, art shows, and sports tournaments, to the festival's signature event, Stadium of Fire. The name Stadium of Fire speaks for itself, an astounding firework production that draws major performers and local talent each year.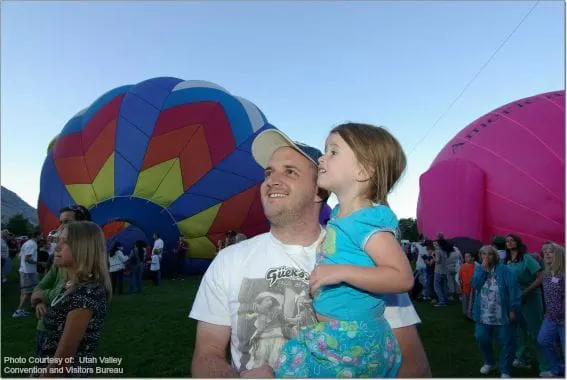 Summer isn't the only season offering a kid-friendly festival in Provo. Winter brings Winterfest and transforms Provo into a holiday winter wonderland. Center Street is renamed Christmas Street and is aptly decorated with twinkling lights, garlands, and holiday window displays. Winterfest events continue throughout the season as Santa hosts a Candy Land parade, fun run, and fair. The festival culminates with the annual First Night event, a kid-friendly New Year's Celebration complete with entertainment, games, and firework displays.
Need a place to stay during the festivals?

What is your favorite college town activity with kids? Share your scoop with Trekaroo.