Funny thing about vacations- sometimes they don't always go as planned. Take for instance my family's recent pilgrimage across the desert to combine our love for baseball with our affinity for warm weather getaways at Spring Training in Arizona. We were going to eat snowcones in the sunshine while Pablo Sandoval smacked a home run clear out to our seats in the grass. Then we were going to head back to the Pointe Hilton Squaw Peak Resort, throw on our bathing suits, and race to see who could get the fastest time down the water slide. Instead, we dodged pelting hail that eventually turned into a deluge of freezing rain. Game over.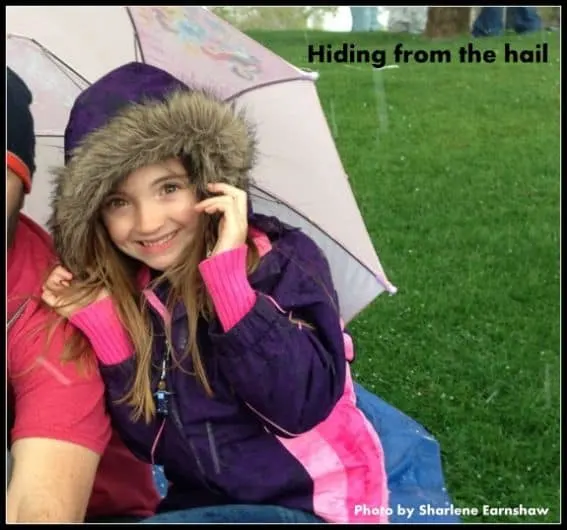 You don't really except a Spring Training game rain out in Scottsdale. You expect to perhaps swelter a bit in the sunshine during an early spring heat wave, to have to yell at your kids about fourteen different times to stop climbing the tree behind left-center field, and to spend far too much money on a couple of hot dogs. But hail, not so much. In fact, the number of Arizona Spring Training games that were ever cancelled due to hail could easily be counted on one hand (and probably add up to exactly ONE). Luckily, the sunshine quickly returned to the Valley of the Sun and visitors have been enjoying beautiful Spring Training weather ever since.
Looking for a fun place to stay while in Phoenix? Check out my review of the Pointe Hilton Squaw Peak. This all-suite resort has its own water park complete with a water slide and lazy river! Your kids will be in heaven. Summer rates begin at about $100 per night which is an incredible deal considering you are essentially staying at a water park!

Caught in the rain? Find plenty of indoor fun around Phoenix.
Enjoying baseball with kids is a great bonding experience and spring training is a great place to introduce kids to America's pastime. Arizona's Cactus League is made up of 15 different Major League Baseball teams, including the World Series champion San Francisco Giants. On the other side of the country, 20 teams belong to Florida's Grapefruit League, including the Atlanta Braves which play at Walt Disney World. Families who head to Spring Training will find the atmosphere to be similar to that of a Minor League game but the caliber of play is 100% Major League. Pre-season tickets usually cost far less than regular season games, making the outing more economical for families. Spring Training games are also great opportunities to snag autographs and balls from the players. Due to the relaxed environment, players are much more likely to interact with the crowd both before and after the games and scoring a signature from a real life big leaguer will be a quite the treasure for your little leaguer.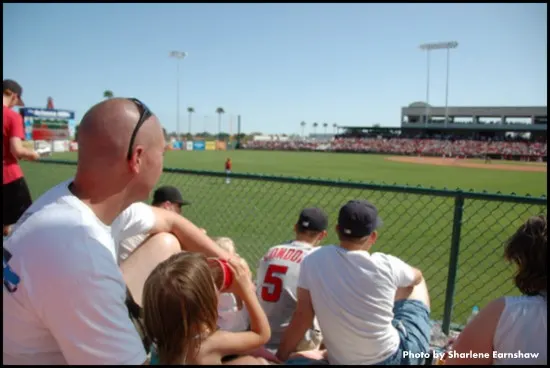 If your family can't make it out to Spring Training, you can still find plenty of relaxed and inexpensive baseball fun at Minor League stadiums across the country. 240 different minor league teams play across the US, Canada, and Latin America with names like the Memphis Redbirds and the Greensboro Grasshoppers. The stadiums are small (most seat between 4,000-14,000 people) and feature all sorts of fan appreciation days, kid zones, and plenty of crowd interaction.
Of course, there is nothing quite like walking through the tunnel and catching a glimpse of the inside of a major league stadium for the very first time. Last summer I took our then five-year-olds to the very first Major League game and found so much joy in watching them clap to the tune of the pipe organ, scarf down chocolate malts with those tiny wooden spoons, and cheer enthusiastically for their home team. They made it through eight long innings in the sun before calling it quits. This year, we are heading backto the ballpark with the goal of enjoying the experience through the bottom of the ninth. I have no doubt we will be enjoying nine innings in stadiums across the country in no time.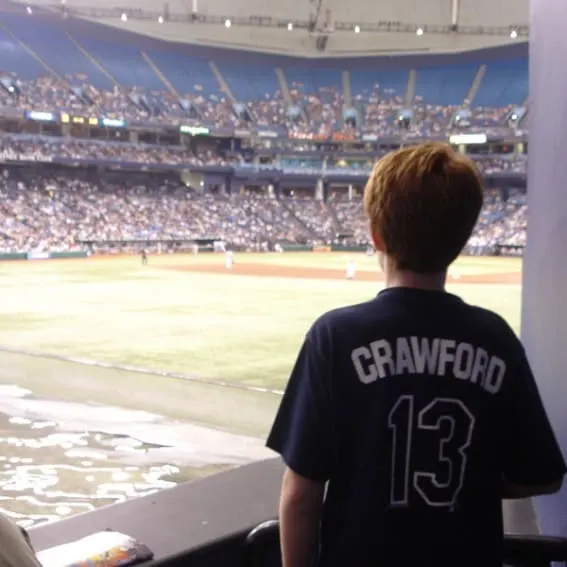 Best Baseball Fun with Kids
Illinois | Indiana | Iowa | New England | New Jersey |Seattle/Tacoma, WA | Southern California | Wisconsin
Great Baseball Stadiums for Families
Disclosure: The author received a 2-night stay at Pointe Hilton Squaw Peak in order to complete an unbiased review. All opinions are her own.