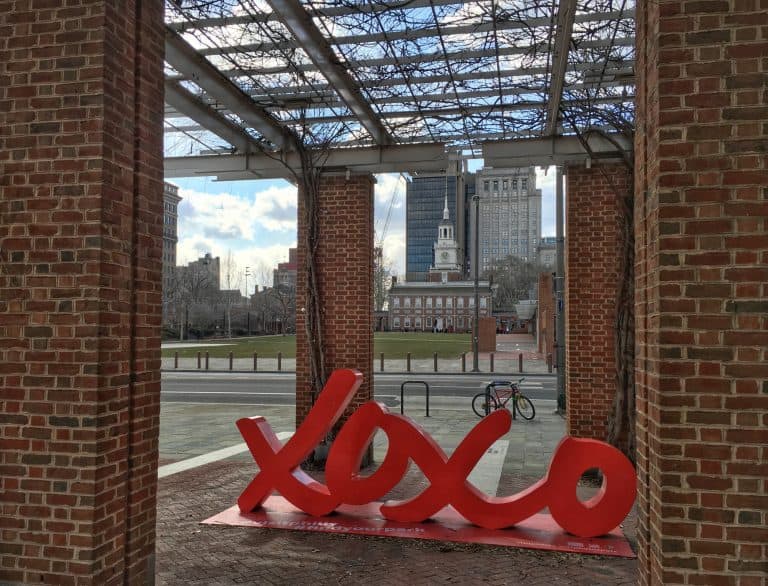 Visiting the city of Philadelphia can be a fun and educational experience at any age. Families will find there's an especially large amount of things to do, and not all of them will break the bank. Free Philadelphia activities abound in this historic gem of a city, and many of them are wonderfully enriching experiences with the opportunity to learn a little something about the many sights this area has to offer.
What kinds of free activities in Philadelphia would families enjoy seeing, touring, visiting, and experiencing? Here are some terrific options for kids, those who are kids-at-heart, and their families. Locals and those who are just in town for a quick stopover will also appreciate the option to enjoy the city without spending a fortune.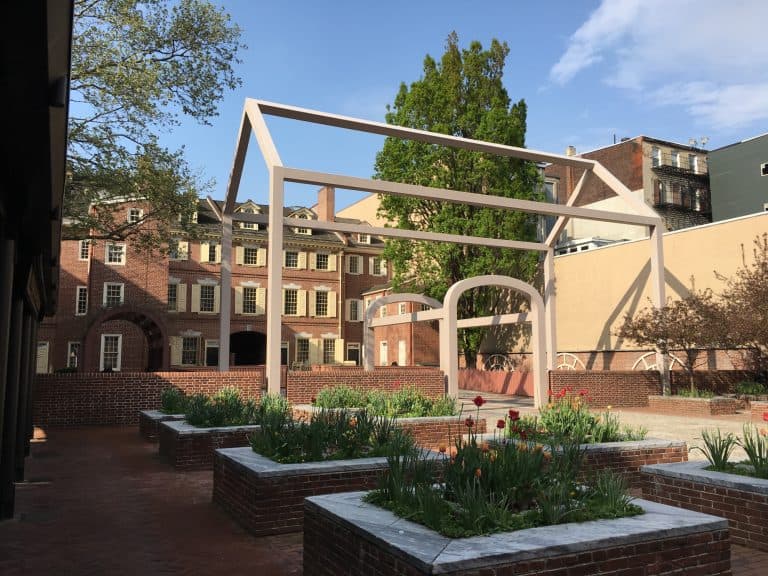 Free Things To Do In Philadelphia: Historic Sites
Philadelphia has no shortage of historic sites. Not all of them, however, are free to visit. When visiting with a larger group or when you'd like to see a lot but don't have an unlimited budget (and really, who does?), it can be challenging to fit in everything you'd like to see. Fortunately, there are sites that are both historic as well as free of charge. Take the time to fit in some of these gems in addition to the other sites on your list:
Liberty Bell – Yes, this incredible Philadelphia site is free to see and snap a photo of with the family. Since it's one of the city's not-to-miss activities, be sure to include it.
Benjamin Franklin's Grave – The famous Philadelphian's grave is available for viewing without entering the graveyard it is contained in. You can even toss a penny onto it like other tourist's do. Although not much to see in and of itself, it is amazing to be able to see some remnant of the incredible man whose name it bears.
Christ Church and Burial Grounds – Some of the oldest residents (and most famous) are buried here. It is humbling and serene to walk through and see their grave markers, a pleasant walk that's still historical in nature.
Independence Hall – It is wonderfully informative and quite moving to be at the site where our forefathers fought so passionately for our nation. Although free, be sure to head to the Visitor's Center to obtain a ticket to tour here. Independence Hall has guides and quite a bit to see, including an original copy of the Declaration of Independence and the Bill of Rights.
Elfreth's Alley – Quaint and poetic, this lovely little avenue is America's oldest continuously inhabited residential street and worth a stroll down to easily place yourself back in time to when the colonists lived here.
Edgar Allan Poe National Historic Site – Edgar's time in Philadelphia was some of his most prolific. Stop by his former home and see where the famous author lived for a time with his wife and mother-in-law while he published some of his most well-known works.
Wanamaker Organ – This famous instrument is the world's largest functional pipe organ. It is located in Macy's department store, which is also home to the famous holiday light show during late November and December. Be sure to see both if you're able.
For other great ideas, check out Exploring Philadelphia With Kids – Historical Sites and Great Museums.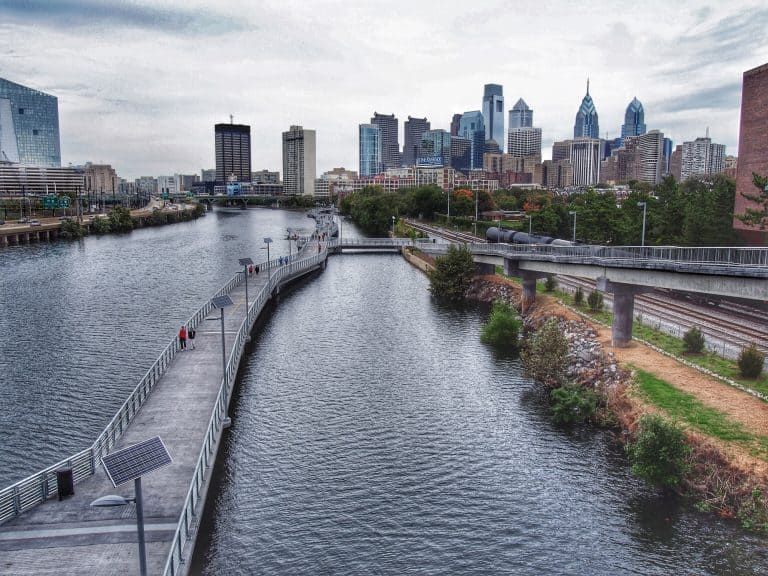 Free Things To Do In Philadelphia: Outdoor Sites

Seeing a city should certainly not be all an inside job. There are many wonderful sites that lie in the great outdoors. Especially when the weather is willing to cooperate, these may be some of the best sites you'll see. Stop by some of these iconic Philadelphia hotspots and be sure to bring your camera:
Boathouse Row – See it best from across the Schuylkill River while lit up at night. It's quite a sight to behold with the twinkling lights reflecting off of the water.
Schuylkill River Trail – Bikers, walkers, hikers, joggers, runners and more will love the fantastic scenery along this trail, where it's hard to believe you're still in the city, as you (happily) feel miles and miles away.
Great Plaza at Penn's Landing – Walk about by the water, watch boats sailing by, see the Battleship New Jersey, relish the sunshine, and enjoy the seasonal pop-up parks where you may catch musicians playing or special events going on.
Fairmount Park – There's so much to do in this great expanse of land. Play a game of frisbee, let the pup run around, stop by some of the mansions in the area, or visit the famous whispering bench by Memorial Hall.
LOVE statue – For a fantastic Philadelphia keepsake, grab a picture in front of Robert Indiana's famous art structure.
Rocky Statue and Art Museum Steps – From the famous movie by the same name, many people's visit to the city is not complete without a run up the steps and a picture by the statue. Since they're in the same location, it's easy to do both!
Smith Memorial Playground – Little ones will love the chance to run and play at this wonderful, huge, free city playground.
Historic Bartram's Garden – This is the oldest botanical garden in the US. It also features wonderful views of the city skyline.
Philadelphia's Boardwalk (Schuylkill River Banks) – This is the newest addition to the city's landscape and offers travelers on it a wonderful skyline view, and the ability to walk, jog, run, bike, or simply sit and enjoy the views. It connects the Schuylkill River Trail from Locust Street to the South Street Bridge and beyond.
Explore other options for Philadelphia fun: Top 10 Things for Families to do in Philadelphia.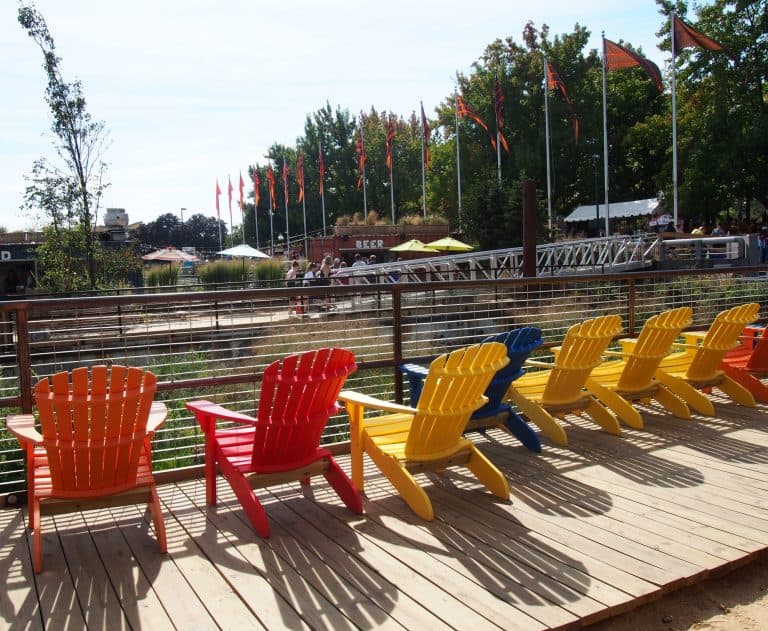 Free Things To Do In Philadelphia: Indoor Sites and Offbeat Ideas
Looking for something a bit different to do? If you've visited the city before, you may be in the mood for something a bit unique. All of these sites offer an experience that's a little different, yet interesting at the same time. See if of any of them would be perfect for your group:
United States Mint – Ever wonder how money is made? Here's where you can find out! Kids will love the chance to see that money doesn't grow on trees; it's made here.
Kimmel Center – Take a tour of this fantastic acoustical wonder where many great concerts, shows, and performances are held annually to truly appreciate its function and beauty.
Dream Garden glass mural at the Curtis Center – Hidden in the Curtis Center, this amazing glass mural is worth a visit as it is unrivaled in its splendor.
Fireman's Hall Museum – Got a firefighter in your group or know someone who appreciates them? This museum offers an opportunity to trace the profession through the years and has firefighting equipment from days gone by.
TUSPM Shoe Museum – A shoe museum? Yep. This place contains shoes from all walks of life and from countries far and wide, even featuring some awesome celebrity footwear from the likes of Ella Fitzgerald, Joan Rivers, and Sally Struthers. Visits are free, although they must be scheduled.
Reading Terminal Market – One of the most interesting and delicious places to stop in to in the entire city, this culinary center looks, smells, sounds, and tastes like nothing you've had before. A must-see on a visit to Philadelphia, even if you purchase nothing.
Cathedral of St. Peter & Paul – What's a visit to a city without a stop into a church? This one doesn't wow upon first glance, but step inside or take the free audio tour on their website and you're in for a true treat.
See reviews by Trekaroo families on free Philadelphia sights to see.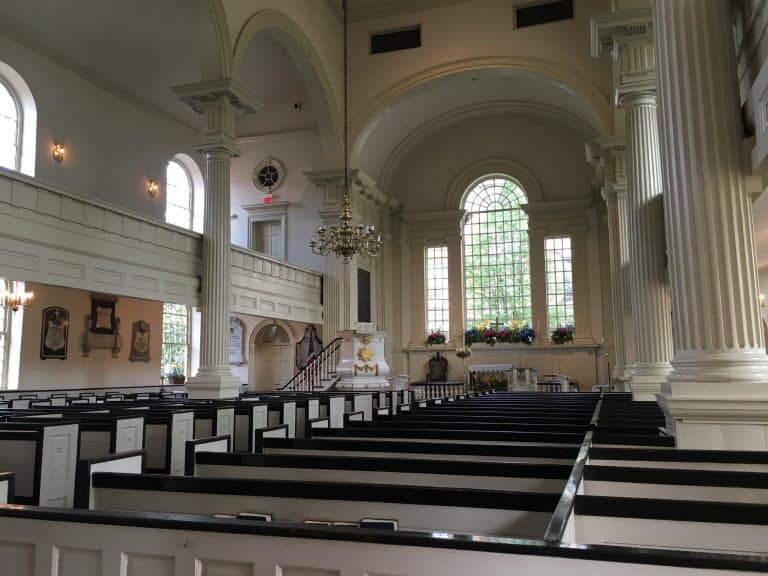 With all of these awesome places available to visitors to the city, it's truly possible to see and experience this amazing place while also respecting your budget. Enjoy all of these free things to do in Philadelphia – there's bound to be something to interest the varied personalities in your group, and even a few that wow the unsuspecting and create memories to last long after your visit.
All photos by Sharon Rigney