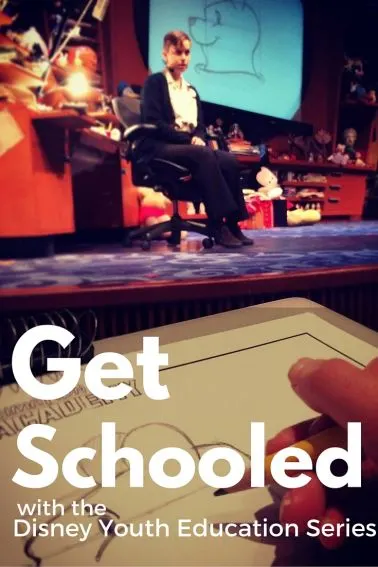 I don't normally advocate skipping school. I never did it as a kid (feel free to comment with goody-goody remarks if you must), and I certainly don't keep my kids home from school unless they are sick- they are thankfully too young to have seen Ferris Bueller yet! But for one day last week, I pulled all three of my girls out of school to head to Disneyland. Not just for a fun family day (which it was), not just for the rides (which we enjoyed), but also and very specifically, to learn from Disney Education School courtesy of the Disney Youth Education Series (Disney YES).
What is Disney Youth Education Series?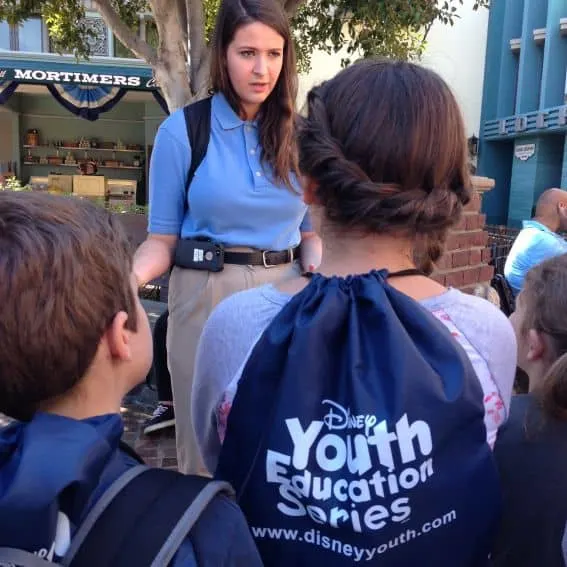 Photo by Michelle McCoy
As a full-on Disneyland nerd, I was surprised to discover a program within the parks that I knew absolutely nothing about. And it isn't a small program. The Disney YES teaches up to 400 students a day at Disneyland (and up to 1200/day at Walt Disney World). This program, which has been part of Disney for over 20 years, has taught hundreds of thousands of students in North America on subjects ranging from science to animation to theater and dance.
Classes are taught in a variety of subject genres, meet national standards for grade levels (classes are taught for grades 1-college), and are offered nearly every day of the year in parks on both coasts. Homeschooling parents and teachers will receive detailed information on each program prior to arrival with links to national standards, learning goals, curriculum, video resources, and much more.

Did you know we are giving away two Disney vacations? Enter now through April 10!
What types of classes are offered with Disney YES?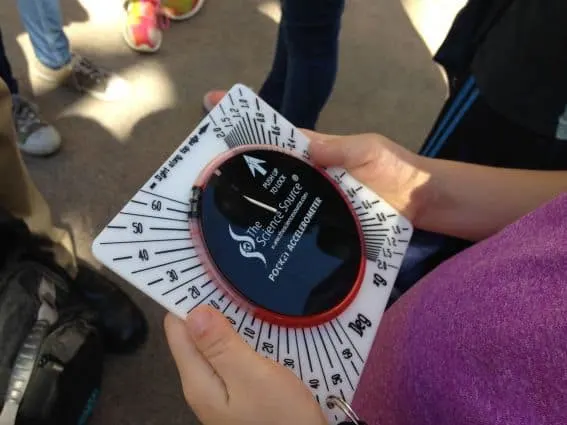 Photos by Michelle McCoy & Katie Bodell
Applied Sciences
For our visit, we enjoyed learning about Physics through hands-on activities within the parks. The class explored Newton's laws as they learned how much force was needed for a safe (and enjoyable) roller coaster by building one of their own with the coolest roller-coaster building blocks I've ever seen. The kids learned about electromagnetism and the difference between permanent and temporary magnets (with the help of some hands-on magnetized LEGOS) while discovering the science behind the roller coaster, California Screamin' (which they then got to ride). They also discovered inertia and acceleration while using pocket accelerometers on board various attractions within the park.
Applied Science class offerings include:
Energy & Waves: Applied Physics 101 (upper elementary-high school, Walt Disney World & Disneyland California)
Properties of Motion Physics Lab (elementary- high school, Walt Disney World & Disneyland California)
Other current class offerings: The Evolution of Technology, The Science of Disney Imagineering, How Things Move, Experiencing Synergy in Science, and Everyday Chemistry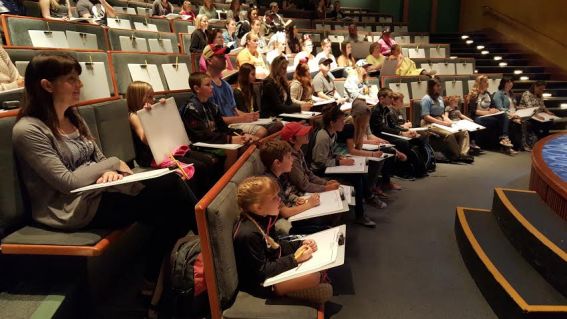 Photos by Michelle McCoy & Katie Bodell
Liberal Arts
My girls loved learning about the design behind a Disney story at Disney California Adventure. The class taught the animation pipeline, history of animation, and actual animation techniques through various hands on methods including collaborative games, crafts, and sketching instruction from a Disney animator.
Liberal Arts class offerings include:
Designing a Disney Story (elementary-high school, Disneyland California)
Discovering the American Spirit (elementary-high school, Walt Disney World)
Other current class offerings: Techniques of Teamwork through Improvisation; Introduction to Global Citizenship; Fundamentals of Photo Storytelling; and Exploring the Golden State.
Additional Classes & Subjects
In addition to the two classes we attended during our Disney Education field trip, classes are also offered in:
Environmental Studies
Leadership Development
Voice & Music
Dance
Musical Theater
Acting
What does a typical day with Disney YES look like?
Morning meet & greet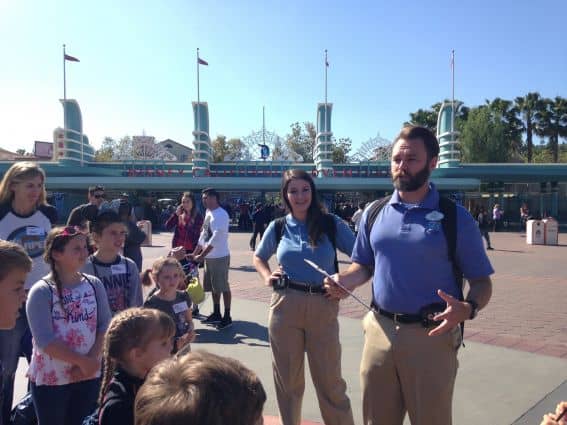 Photo by Michelle McCoy
The morning begins with a meet and greet from your Disney YES facilitators, the signing of releases, and ticket handouts. The facilitators are highly trained, extremely knowledgeable in their fields of study, exceptional communicators, and work well with children, making it a truly magical experience for kids no matter their personality.
"School" begins
Photo by Michelle McCoy
Once inside the parks, instruction begins and takes various shapes and forms. We walked a lot during the program and stopped at small alcoves to work on activities at tables, on the floor, and in various environments. The education is interactive, age-appropriate based on academic level, and extremely upbeat. I was so impressed with how the facilitators worked with the kids to bring learning and knowledge into the conversation with ease; I honestly don't think my kids ever really recognized when instruction began or ended because it felt so natural. In addition to learning directly from the facilitators, students worked on a variety of hands-on activities throughout the entire program.
Enjoy the parks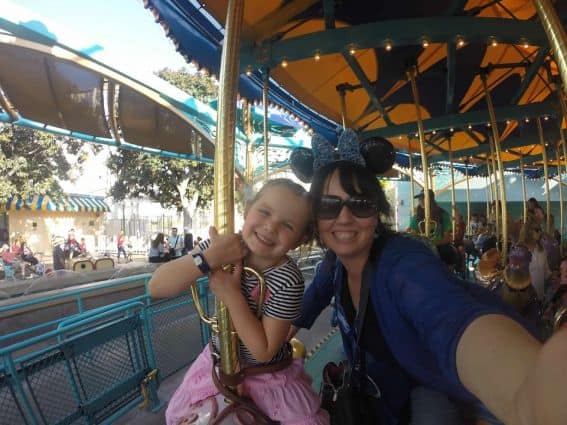 Photo by Katie Bodell
After your class is over (which typically lasts 2-3 hours depending on the program), you are free to explore the park on your own. My kids were so sad to see their Disney YES facilitators go, but getting to run and play through the park on our own through the afternoon and evening helped to relieve their sadness.
How do you register for Disney Youth Education Series?
Advance registration is required for Disney YES. There are no at-the-gate ticket options for these experiences as facilitators and programs are filled in advance.
Both groups (10 or more students) and individuals can start their enrollment on the Disney Youth Education Series website. Specific days are offered throughout the year for individuals (typically seven-10 days/year), although a great cost savings is available for groups, so grab some friends, a homeschooling group, a club, a classroom, or even your large family, to put a group together for this program. In fact, groups receive complimentary chaperone tickets (number based on number of registered students) for an even greater savings. Extended family and friends not wanting to experience the class can purchase additional tickets, also at a discounted rate that you won't find anywhere else.
Can't-Miss Disney Education Programs & Events
Girls Scouts. Weekends in May and June are all about the Girl Scouts at Disney Parks as they offer special CELEBRATE Girl Scouts YES programs. Troops can register in advance for a variety of classes offered just for Girl Scout Troops. Learn more at Disney Youth Education Series' Girl Scout website.
Homeschooling Days 2016. Bring your homeschooling group to Homeschooling Days 2016, the prime time for homeschooling moms and dads to visit the parks. Groups can take advantage of a variety of individual enrollment classes, offered singularly or in bundles. "All-inclusive" packages are also available where kids can hit up every single class offered during the event. Learn more at Disney Youth Education Series' website.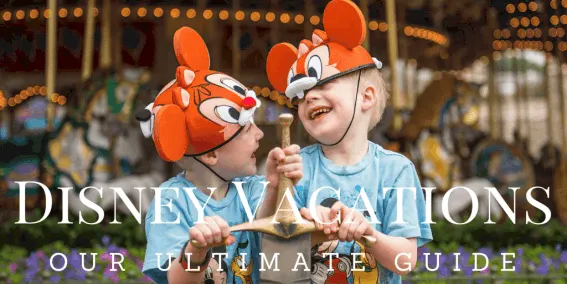 Check out all our favorite Disney resources with our Ultimate Guide to Disney Vacations.
Pin this to save for later: