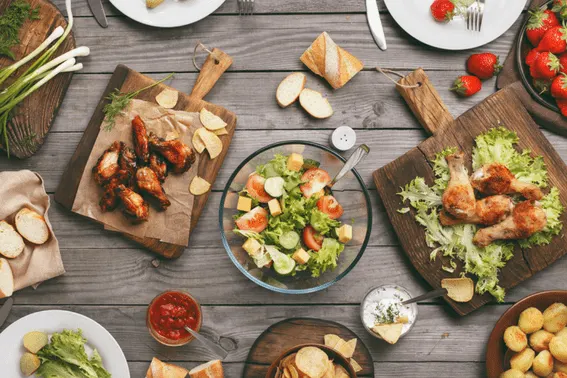 Being selective about when and where you choose to splurge on a meal while on vacation can make a big difference in your budget travel. Even if you stick to $40/day per adult and $25/day per child for meals, you're still spending about $520 in just 4 days for a family of 4. By thinking differently about meals while on vacation, you'll be saving money on food that allows you to use your budget on fun experiences and activities that you won't forget.
Lead Photo Courtesy of BigStock/KutcherAV
Tips to Saving Money on Food while on Vacation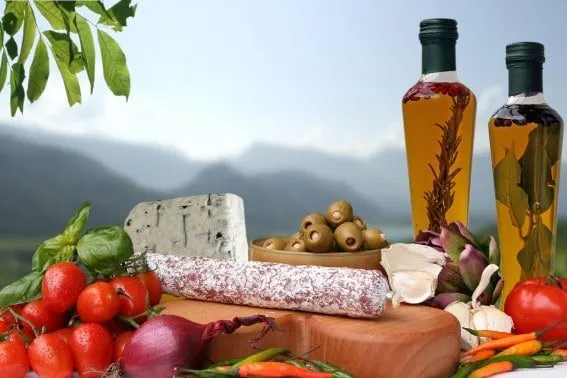 Photo Courtesy of BigStock/yamix
During our trip to Paris with our 2 and 4-year-old boys, we were eager to enjoy some wonderful French cuisine, but needed to keep within a tight budget. Instead of splurging on 3-hour dinners with kids in tow, we decided to visit local farmer's markets and specialty food stores to purchase fresh produce and local delicacies to whip up some deliciously French flavored meals in our little vacation rental. It worked out beautifully! The children were able to try some local cuisine without mom and dad stressing out about offending sophisticated Parisians with our sometimes rowdy brood. Best of all, we were able to cater to the culinary quirks of our boys, get those much-needed veggies into their diet, and experience new foods at a fraction of the cost of eating at restaurants.
Book Accommodations that have Kitchen Facilities
Let's face it, most of our kids would rather be eating old favorites rather than trying out new dishes at strange restaurants while on vacation. While mom and dad might differ, making the most of those kitchen facilities in your hotel, suite, home, or condo rental can save you a bundle. If you're smart about it, you can be cooking on vacation without feeling exhausted by it.
Read more about Budget Travel Tips: A Guide to Home Exchange for Families.
Eating IN While on Vacation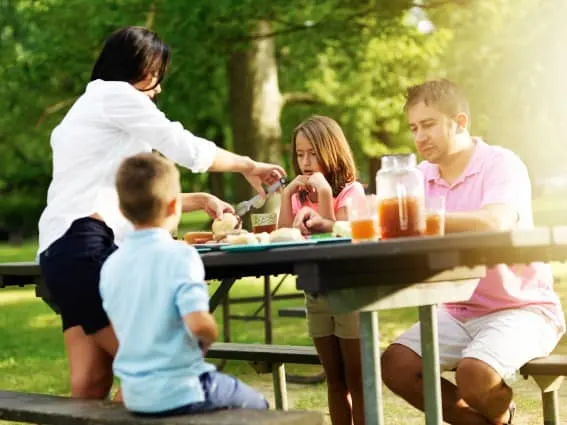 Photo Courtesy of BigStock/evrenphotos
With renting vacation homes or house swaps becoming a more popular choice for lodging options, eating in while on vacation is becoming more accessible. But, how do you plan a menu that minimizes your time in the kitchen and maximizes fun for everyone? Here are some of our best tips for planning and packing vacation meals. The key: keep the menu simple and partially prepare meals before embarking on your journey.
In or Out – Decide How Many Meals You'll Be Cooking
After you've figured out a rough itinerary for your trip, decide which meals you'll want to eat out, which you want to have delivered, and which ones you'd like to "cook." With young kids, consider eating out for lunch instead of dinner. Lunch meals are less expensive and the kids aren't as tired so they'll be better able to handle sitting in a restaurant.
Do an Inventory Check on Your Vacation Rental
Before planning your menu, it's very helpful to know what kind of kitchen equipment is available at your vacation rental. You don't want to plan a menu with BBQ ribs and arrive only to discover that there is no outdoor grill. Here are some questions to start off with.
Is there a gas grill and when was the last time the propane tank was filled up?
Is there enough place settings for your party and any guests you might have over for dinner?
What basic spices will be at the house? You can do a lot with a few seasonings. Olive oil, kosher salt, black pepper, soy sauce, and honey are my staples.
Are there sharp knives in the house? This is almost a guaranteed, "No." So, if you're serious about cooking at the house, you'll want to bring at least one sharp knife from your kitchen or a knife sharpener.
What size is the largest pot in the house? It's hard to cook pasta for 12 people in a 9-quart pot.
Do they have a high chair? If not, you might want to bring one along, or use your stroller as a high chair. We like the compact MeToo! Travel High Chair by Phil & Ted and the Fisher Price Healthy Seat.
Do they have a blender or food processor if you're making baby's food? Otherwise, you can bring a compact hand blender or food mill.
Check if they have a steamer. If not, a simple stainless steel basket steamer is inexpensive and compact to bring along. Consider baking in a covered dish with ½ inch of water instead of steaming. This can enhance the sweetness of many foods.
Do they have special items you might want to use like a slow cooker? What about a roasting pan or the right kind of baking pans for your recipe?
Plan the Menu
After many hours of traveling, arriving at your vacation rental is a moment of great excitement. Everyone is busy unpacking and settling in. Once the excitement dies down, you can be sure that your family will be looking to fill their tummies. To avoid starting off your vacation with hunger-induced meltdowns (yes, yourself included), plan a quick and easy first meal. My favorite arrival meals are grilled salmon or mac & cheese with salad. If prepared ahead of time, these meals can be ready in a snap.
Familiar recipes make for happy cooks and kids. Children are notoriously conservative with their food when they are experiencing disruptions in other routines. Use recipes that are familiar to you and your kids. You'll also be able to whiz through the recipes. If you need to cook from a recipe, don't forget to pack a copy along with your groceries or have it pinned on a Pinterest Board.
Start Out the Day Right
Vacations are times when you can afford the luxury of a leisurely breakfast. A well-rounded breakfast allows you to feel more relaxed if lunch on the go isn't as complete. However, a well-rounded breakfast doesn't mean you need to do anything complicated. A few boxes of whole grain cereal, bagels, and even frozen waffles with a nice selection of fresh fruit are easy to prepare. Add some protein with eggs, baked sausages, or yogurt. Oatmeal with some maple syrup is perfect for warming the kids up before a day of snow play.
Lunches on the Go
Lunch is a great meal to dine out since you're already out sightseeing. But you can definitely save some money and time by bringing along a picnic lunch. Sandwiches and finger foods with some baby carrots, cucumber slices, and cherry tomatoes are easy to pack and serve. Our family loves to pack picnic lunches especially when we are heading to a place with scenic views.
Coming Home to a Quick But Satisfying Dinner
Gas grills and slow cookers are your best friends. Grilling is flavorful, quick to clean up, and easy to cook in large quantities. Grilling meats in small chunks like kabobs or fish and veggies in aluminum foil are some good options for fast and tasty meals. Slow cookers allow you to prepare hearty meals that require minimal prep time and are magically ready when you return from a fun day of sightseeing. If you've got a little one to cater to, most slow cooked meals are really easy to mash-up for baby. In the winter, chili and soups can be started in the morning in a slow cooker or prepared the night before and heated up quickly after returning from a long day on the slopes. It'll warm everyone down to their toes.
Catering for Babies and Toddlers
Lisa Barnes, the author of the popular Petit Appetit Cookbook says, "My philosophy is to use whole foods and cook for the whole family – without having to make an entirely separate meal and menu for each age. By using the same ingredients (but changes to cooking methods or prep) you can feed everyone."
Other foods that travel well for babies and toddlers are bananas, sweet potato, squash, yogurt, and spilt peas. Barnes suggests bringing along homemade puree that can also be used to make soups for everyone.
Touring with Your Palette
If you're passing local farms while traveling, or visiting a place that has interesting local specialties, you might want to consider leaving space in the menu for fresh local produce or interesting treats you find along the way.
Shopping and Preparing Ahead of Time
Partially preparing your meals at home before heading out is the secret to minimizing your time in the kitchen while on vacation. There are the added benefits of being able to shop in a familiar grocery store, and you'll minimize the number of spices and seasonings you need to pack. If you plan on shopping at your destination, it is always helpful to have done some research on what kind of grocery stores are available.
"If you're looking for ski food items I would suggest chili, spaghetti, macaroni and cheese, lasagna. These are all hearty, usually will have left-overs, can be prepared or prepped (cut veggies, grate cheese) at home (if traveling with cooler) or made easily with few pots and pans." suggests Barnes. Her Petit Appetite Cookbook has easy and healthy recipes that would be a sure hit with your kids.
If you're driving to your destination, cutting, marinating, and freezing the meat before putting them in the cooler for your road trip make your vacation meals a breeze.
Packing the Car
Now you're all set to go. Don't forget a bag of healthy snacks for the journey that's easy to access. "It's easier and healthier than stopping for fast food along the road." says Barnes. She recommends packing items like "water, cheese sticks, yogurt sticks, steamed veggies, and hummus in a cooler along with staples like whole wheat crackers, bread, fresh and dried fruit, and granola bars."
A great way to keep baby's food warm for the trip is by packing it in a thermos. Just heat the food up before heading out the door and three hours later, the food is still warm and ready to eat.
Roadtripping on a budget? Find out how our CEO did just that!
Find Restaurant Deals with Group Deal Sites
You may already be following Groupon, Living Social, or Mamapedia for the city you're living in, but you can start accumulating some awesome coupon deals for the cities you're planning to visit.
Many tourist towns also have local papers or monthly magazines that contain coupons along with their advertising.
Featured photo by: Shutterstock