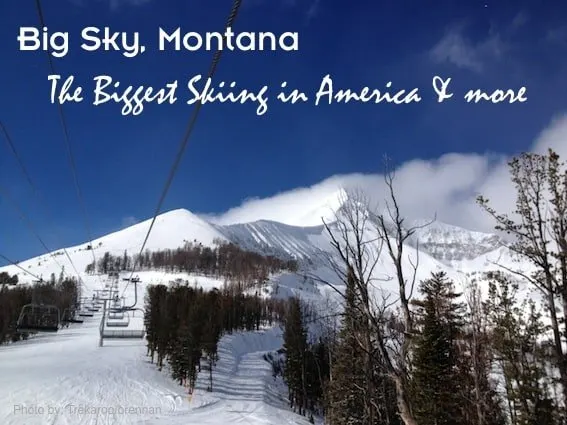 Last winter, my family was completely blown away by our experience snowboarding in Big Sky, Montana. My family has snowboarded in most major ski areas across the country and I always thought that we had it pretty good living close to Lake Tahoe. After all, what could beat spring skiing in Lake Tahoe? Little did I know that the small mountain town of Big Sky, Montana would totally redefine a family ski vacation for us.
Imagine a ski resort where there are never any lift lines, where the snow feels like baby powder, and where the runs are wide open and flanked with fun tree runs. And I'm just getting started! Big Sky, Montana is also a ski town with plenty to do off the slopes, making it a great place for a multi-generational ski trip.
The Biggest Skiing in America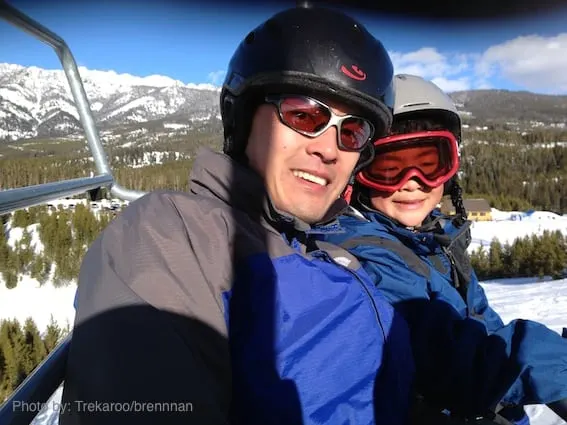 There are two main ski resorts in Big Sky: Big Sky Resort and Moonlight Basin. Combined, these two resorts offer the most skiable terrain in the entire country. This year, both resorts have come under the same ownership which means that one lift pass gives you access to both resorts. Groovy! Perfectly groomed ski runs and only a quarter of the people you'd typically find at a popular Colorado or California resort equates to wide open slopes and no lift lines. There's no feeling like your child might get bulldozed by an out of control snowboarder at Big Sky resorts, even during the busiest ski weekends of the year. Yes, we were there on President's Day weekend and we can attest to this fact. Despite the lack of crowds, we were thoroughly impressed that Big Sky Resort and Moonlight Basin had some of the nicest and fastest lifts we've ever experienced. The service all around was impeccable. You would expect nothing less from Montana's gracious folk.
Great Family-Friendly Accommodation and Services
Most people who come to Big Sky for a ski vacation stay for at least a week. Regardless of the size of your group, you'll be thrilled to find fantastic family-friendly accommodations with ski- in ski-out access. Most units have at least a small kitchen so you can save money on dining. Or if you're looking for more exclusive properties, Moonlight Basin offers luxurious mountain homes and a fabulous grand lodge. Best of all, when you book your lodging through the Big Sky reservations desk, your kids get to ski for free. That's a huge savings!
The Basecamp area is the heart of Big Sky and all of the ski runs basically lead back to here. Therefore, if your kids are old enough to hit the slopes on their own, it's easy to rendezvous for lunch. Both resorts also offer excellent ski school programs and on mountain childcare services for little ones. For those who aren't skiing, the base camp area also offers a plethora of fun activities like zip-lining, ropes courses, and bungee trampoline. Our boys were particularly delighted by the snow playground at Moonlight Basin. The boys begged and pleaded to be left to tunnel through huge pipes and dodge snowballs at the snow fort. If you prefer great ski lodge amenities, you will love the full service spas and heated pools located throughout the various lodges. One of our boys' favorite vacation memories was having a snowball fight in one of the outdoor heated pools.
You might not expect to find gourmet dining in rural Montana, but you'll be surprised to discover many excellent restaurants throughout Big Sky. You have the exclusive Yellowstone Club and Spanish Peaks communities to thank for that. These private clubs draw the rich and famous who expect only the best dining experience. One of our favorite meals was at Moonlight Basin's Jack Creek Grille where you can dine by a blazing towering fireplace while your kids kick back at the Kid's Movie Night.
Exquisite Beauty Beyond the Slopes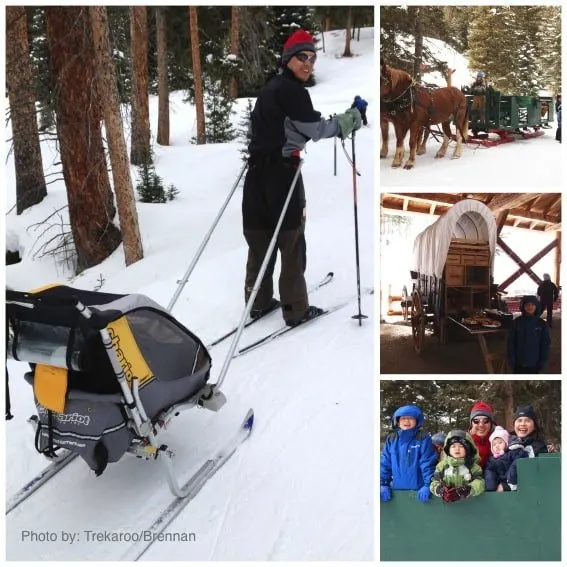 For any ski destination to be considered an ideal location for a multi-generational ski trip, the youngest, the oldest, the skier, and the non-skier must be well catered for. Besides the enjoyable activities offered at Big Sky and Moonlight Basin, a day at Lone Mountain Ranch provides plenty of multi-generational fun. Lone Mountain Ranch, an all-inclusive guest ranch, transforms its summer horse riding trails in to an extensive network of snow-covered groomed trails for a truly magical cross-country skiing experience. Coupled with Lone Mountain's warm hospitality and great ranch style dining, every age group will have a wonderful experience. My family spent the day at Lone Mountain Ranch where we started off with a horse-drawn sleigh ride followed by lunch. Then we set out for some sledding coupled with hours of cross-country skiing through the woods. Even our one year old daughter got in to the skiing action while being pulled in a gliding chariot equipped with skis.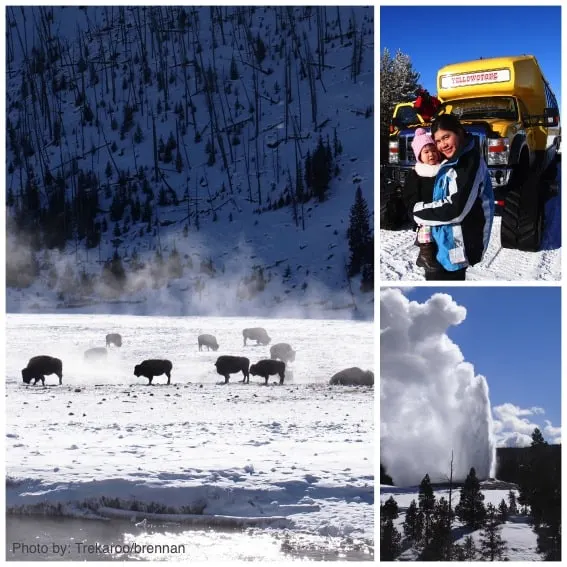 Yellowstone National Park is a mere 45-minute drive from Big Sky and makes for an ideal day trip. While Yellowstone National Park is positively amazing in the summer, a visit in the winter is much more tranquil. The only way to enter the park is on a snow coach tour or on cross-country skis. My family opted for the snow coach tour where we discovered that the juxtaposition of steaming and hissing thermal features against their snowy landscape was movingly poetic. Animals that are usually camouflaged by trees and shrubs in the summer pop in the stark white meadows. Road-tested tip: if you're travelling with young kids, book a private snow coach tour for greater flexibility. Outside of the park, acres and acres of beautiful forests and pristine rivers beckon visitors to discover Big Sky's natural beauty. Consider booking a snowmobile tour and explore the winter forest without having to work too hard. Or if you're up for more of a thrill, jump on a dog sled for a yelping good time.
Where is Big Sky anyway?
So, how is it that such a fabulous ski destination could have remained so relatively undiscovered? It is probably because most people think Montana is too far out of the way. However, allow me to let you in on the big secret: Big Sky, Montana is only 50 minutes from Bozeman International Airport with direct flights from 14 major cities including San Francisco, Phoenix, Chicago, Atlanta, Los Angeles, Minneapolis, Detroit, and New York City. For us bay area folks, getting to Big Sky, Montana actually takes the same amount of time as driving to Lake Tahoe! Considering that you'll find significant savings on lodging, lift tickets, ski lessons, and just about everything else during Big Sky ski vacations, you'll likely cover the cost of your flight to Montana.