I can remember my family's first ski vacation perfectly. Standing at the base of the mountain at age 5, unfamiliar rental skis in hand, I looked up to the top of the distant peak, and thought, "Are my parents crazy?"
Over thirty years later, after countless ski trips with both my parents and my own children, I realize that on that first day, my mom and dad felt every bit as unsure about this new experience as I did. For new-to-skiing parents everywhere (but too late for my mom and dad), Trekaroo is dedicated this week to helping your family get #ReadytoSki. If you're a family new to skiing or snowboarding, this #ReadytoSki guide is your one-stop resource to get all your first-timer ski trip questions answered. We know it can feel overwhelming so our ski experts and experience ski families are here to help smooth out the bumps.
Beginning to Ski for the First Time Q & A
Here you'll find Q&As with questions asked by new-to-skiing families and answered by experts at four distinct family-friendly ski resorts. You'll find ski vacation reviews, tips, and vacation hacks compiled by Trekaroo, and you'll get a chance to win a ski trip for your whole family.
So what do you think? Will this winter mark your family's first ski vacation?
This guide is made possible through the support of our amazing sponsors: Visit Idaho, Smuggler's Notch, and Deer Valley.
---
Stories from Real Families Beginning to Ski for the First Time
Ski Tips for New and Nervous Skiers
" It's been a few years since I braved the slopes and I have some trepidation about skiing again. Idaho's ski resorts and Visit Idaho answered my ski questions below and now I can't wait to embark on another family ski vacation." -Colleen Lanin, TravelMamas.com
Read more on TravelMamas.com
---
How to Get Past Any Worries and Just Hit the Slopes
"We are not aspiring to Olympic greatness, but we would like to ski together as a family with confidence and have fun!We are going to make our attempt again this winter, but before we do, I wanted to ask the family ski experts at Smugglers' Notch a few questions to help our family, and others like us, be more prepared. " – Tamara Gruber, We3Travel.com
Read more on We3Travel.com.
---
Ski School, Ski Gear and Safety… Oh My!
"I have lived in Utah all my life and somehow I have never been skiing! I know it's crazy. We have some fantastic ski resorts, like the Deer Valley Resort, that have some of the best ski slopes around. I like to do research before trying anything for the first time and I always have a ton of questions I need answered before heading off on our next adventure. " -Heather Krapsicher, Mamas-Spot.com
Read more on Mamas-Spot.com.
---
How to Stick to Your Budget While Trying a New Sport
"We now have three kids that are both old and independent enough to make the most of a ski trip. Sure, we've dabbled in day trips up to the gentle slopes of the Midwest, but a multi-day road trip to mountainside ski village is unfamiliar territory. " -Julie Henning, RoadTripsForFamilies.com
Read more on RoadTripsForFamilies.com
---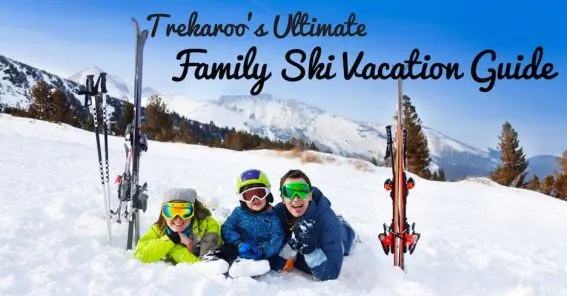 Check out Trekaroo's
Ultimate Ski Vacation Guide
where families will find a tips and tricks for planning the best ski vacation possible.
---
Plan a Ski Vacation like a Pro not like a Newbie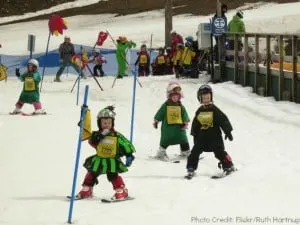 Ski School: What to Look for in a Ski Resort when Traveling with Kids
"We have tips to get you from the bunny hills to the black diamonds—at least figuratively speaking. Here's what to look for in a ski resort for families with young kids." – Amanda Williams
Learn more about what makes a great ski school or read our Q&A with Mammoth Ski School Director
---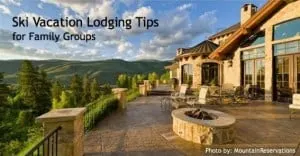 Lodging Tips for Multiple Family Ski Trips
"Ready for lodging tips for multiple family ski trips? At nearly every large ski resort, families have three lodging choices: 1. hotel rooms 2. ski condos or village suites 3. ski vacation rental homes." -Amy Whitley
Find out which ski vacation lodging option is best for your trip.
---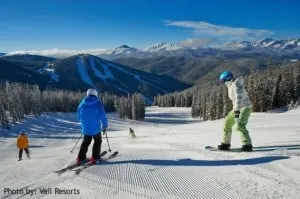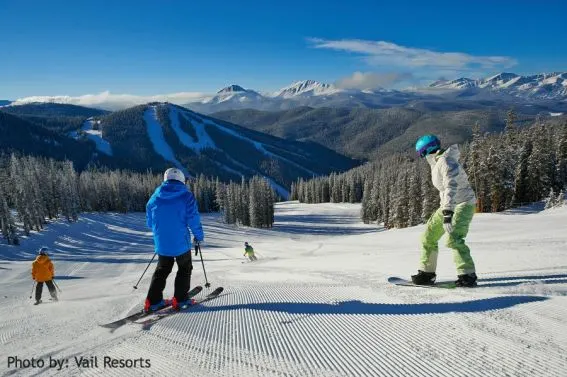 Family Friendly Ski Resort Amenities and Programming

"You've read about when to book your winter ski vacation (that would be now!) and you've decided what type of lodging is right for your family. But where to go? Pick a destination with a wide range of family friendly ski resort programming." – Amy Whitley
Read about what to look for in Family Friendly Ski Amenities and Programming.
---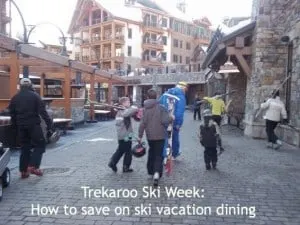 Top Dining Tips for Family Ski Trips
"On-site ski lodge dining does not come cheap. How to offset dining costs while skiing." – Amy Whitley
Read on to learn how to save on meals while on a ski vacation.
---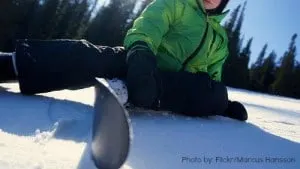 Introducing Kids on the Autism Spectrum to Skiing

"Adaptive Skiing programs are tailored to the individual; while one skier may require special equipment to enjoy the sport, another, like my son, might depend on behavioral supports." – Kristine Dworkin
Read more about tips for skiing with kids with autism.
---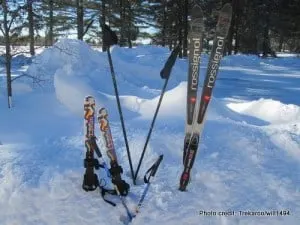 Family Cross-Country Skiing: Learn to Ski like an Olympian
"We love that cross-country skiing is a sport that is accessible to all ages—literally from infancy to the golden years!" – Amanda Williams
Learn more about what families need to have a great cross-country ski trip.
---
Sponsors Spotlights & Family Ski Vacation Deals
Smugglers' Notch Resort
Visit Idaho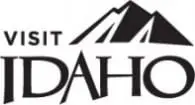 Idaho is the soul of skiing. With 28,000 vertical feet of terrain on over 18,000 acres, Idaho's spectacular scenery is only outmatched by its 18 resorts, epic steeps and legendary backcountry. This hidden little gem is about to become your new favorite powder playground. Learn more:
SkiIdaho
.
---
Follow the Ski Vacation Fun with #ReadytoSki