In Costa Rica, there are plenty of ways for families to travel and places to explore. A unique way to see this beautiful country is to stay at a Costa Rica ecolodge. These unique hotels are primarily designed to not harm the fragile ecosystems on which they are built.
Most Costa Rica ecolodges are located in remote locations. Your stay usually comes with room and board. Most also offer recreational activities onsite or some led by naturalist guides.
Read on to find the best Costa Rica ecolodges for families as well as some incredible Costa Rica families tours that will elevate your Costa Rica vacation to the next level.
Best Costa Rica Ecolodges for Families
Playa Nicuesa Rainforest Lodge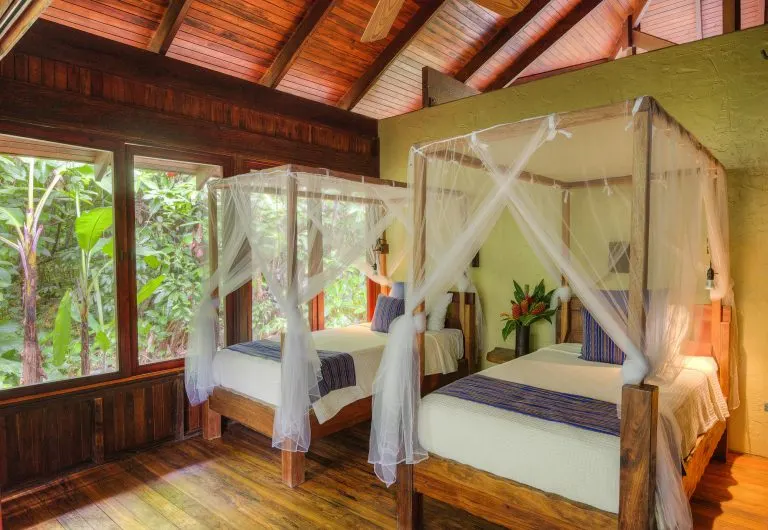 Playa Nicuesa Rainforest Lodge is located on the banks of Golfo Dulce. Here, you're fully immersed in a rainforest environment day and night. Families will love the comfortable four-poster beds complete with mosquito netting. Meals served showcase locally harvested foods cooked by private chefs.
A unique feature of this ecolodge is that it is accessible only by boat. Guests head to Puerto Jiménez or Golfito and are then picked up by a boat that transfers you to the ecolodge. Often whales and dolphins can be spotted during the transfer.
The basic room rate at Playa Nicuesa Rainforest Lodge includes your transportation to the lodge, lodging, three gourmet meals a day, and self-guided hikes, kayaking, fishing, and snorkeling. Families can also book a family-adventure package which includes one guided activity each day. The activity choices include guided rainforest waterfall hikes and fishing tours.
Ready to head to a Costa Rica ecolodge? Make sure to check out these 20 epic things to do in Costa Rica with kids before you go!
Blue River Resort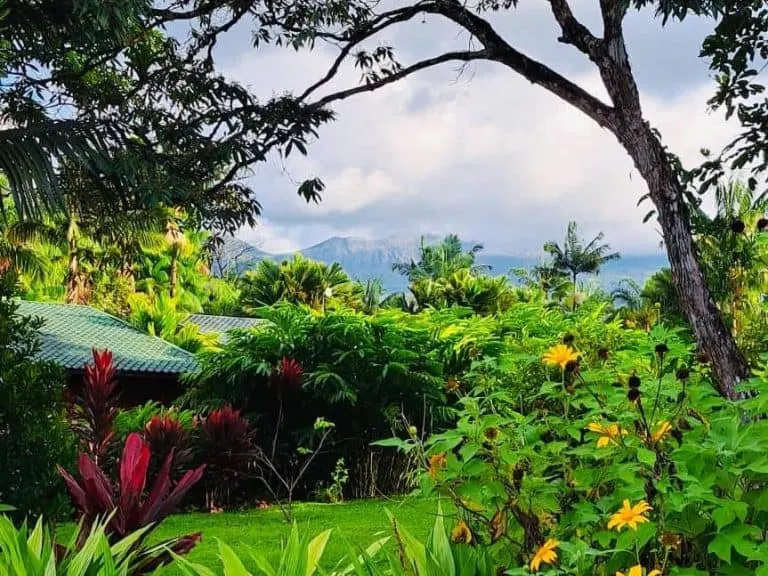 Families love the secluded paradise of Blue River Resort & Hot Springs. This budget-friendly Costa Rica ecolodge lies along the side of the Rincon de la Vieja volcano. Here, waterfalls, hot springs, lush rainforest and blue rivers surround you.
Blue River Resort offers some unique amenites that families will love including a freshwater pool and waterslide along with natural mud baths and hot springs. Kids will also love visiting the butterfly gardens and saying hello to the miniature horses and donkeys that call Blue River Resort home.
Blue River Resort is also home to an onsite Dino Park that features 26 life-sized moving dinosaurs that lie hidden throughout the rainforest.
Resort activities offered at an additional cost include ziplining and horseback riding, and are open to kids as young as four. The resort also provides onsite babysitting for younger family members.
Dining options are limited to one restaurant on property that serves meals throughout the day and features many kid-friendly choices.
Traveling on a budget? Find the best deals available at the Blue River Resort Costa Rica.
El Silencio Lodge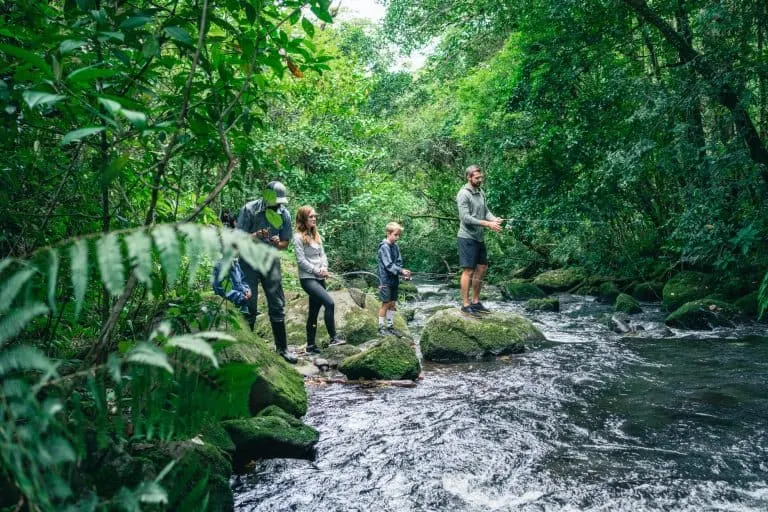 Families looking for the vacation of a lifetime will want to check out El Silencio Lodge located in Bajos del Toro, a UNESCO culture heritage site. This luxury Costa Rica ecolodge features family suites made of locally sourced woods with floor to ceiling glass doors giving you incredible views of the surrounding mountains, river and forest.
Meals at El Silencio lodge showcase the flavors and culture of Costa Rica and are prepared by some of Costa Ricas best chefs. The seasonal menu is based on food grown in the resort's organic farm and greenhouse.
On-site activites include access to private mountain biking trails on the resort as well as waterfall hikes, river fishing, bird watching, horseback riding and cooking classes.
Ready to book this incredible Costa Rica ecolodge? Check for availability at El Silencio Lodge.
Best Tour Alternatives to All-Inclusive Resorts in Costa Rica
Costa Rico is made up of 12 climate zones which include tropical wet rainforests, mangroves, and active volcanoes. To truly experience Costa Rica, you will want to visit more than one zone.
The best way visit more of Costa Rica is to embark on a family tour of Costa Rica. Most tour operators include everything from airport pick up and drop off to everything in between making your Costa Rica family vacation a literal breeze.
Costa Rica Family Holidays – All-inclusive Custom Guided Family Tours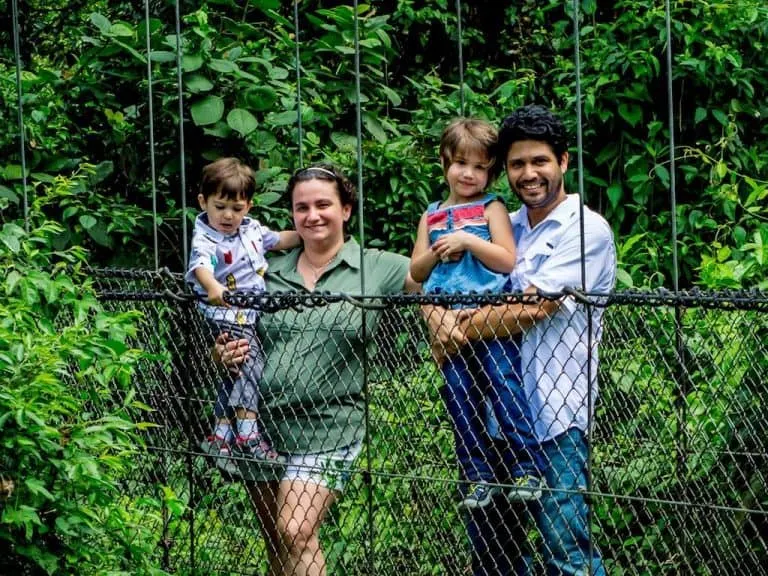 Costa Rica Family Vacations is Trekaroo's trusted Costa Rica expert. They offer families a unique all-inclusive "Costa Rica Treasure Hunt" experience.
From the moment your guide picks you up from the airport, they become the captain of your trip. Parents and kids sit back and simply enjoy this adventure together. Your mission, to find as many treasured memories in Costa Rica as you can in cities like San Jose and across the country.
While Costa Rica Family Vacations has some suggested itineraries, they will also work with you to customize your tour of Costa Rica to your family's interests. All pre-trip planning services are included as part of your package. Your final family vacation package will include all your transportation, driver, guide, lodging, activities, and most of your meals.
UnCruise Costa Rica & Panama Cruise – All-Inclusive Costa Rica Cruise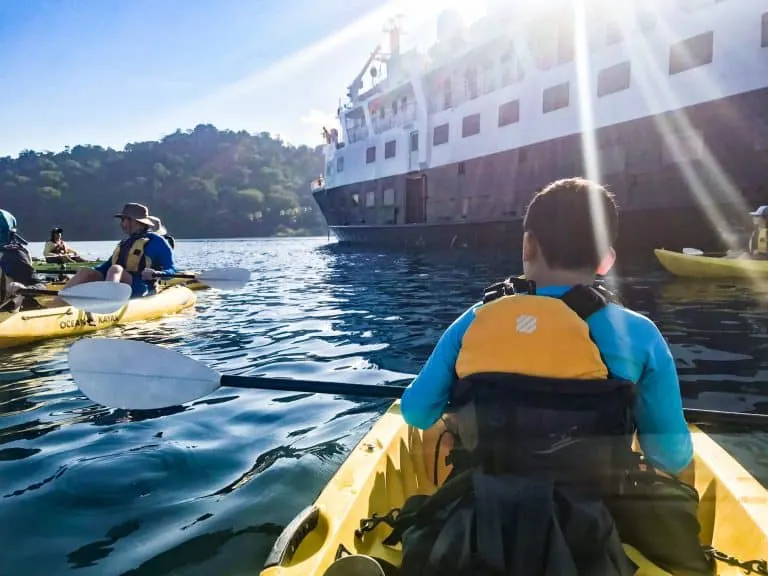 Trekaroo families love UnCruise Adventures and it is not hard to see why. The small ship cruises welcome kids ages eightand above with an emphasis on combining travel and play.
Don't expect adult-free spaces or babysitting on these adventures. Instead, kids explore Costa Rica by your side with activities designed for families.
UnCruise offers 8, 10, or 12-night itineraries for exploring Costa Rica and Panama. All your meals, drinks, activities and excursions are included in the cost of your cruise.
Trekaroo founder Liling Pang shares that Uncruise's all-inclusive nature-based cruise makes big adventure feel remarkably easy! Pang traveled for seven days on the Uncruise Costa Rica itinerary. The trip began in the Nicoya Peninsula and was capped off at the end with an epic sail through the Panama Canal.
"We were in the most remote national parks and wildlife preserves on Costa Rica's Pacific coast, kayaking through mangroves and hiking in the rainforest. But we could always return easily to the refuge of the Safari Voyager where an amazing meal, cocktails, air-conditioned cabins, and massages awaited us. This is a truly an all-inclusive vacation, I didn't pull out my credit card once except to leave a tip for the amazing crew."
– LiLing Pang, CEO and Co-founder of Trekaroo
Adventures By Disney Costa Rica Tour – Luxury All-Inclusive Tour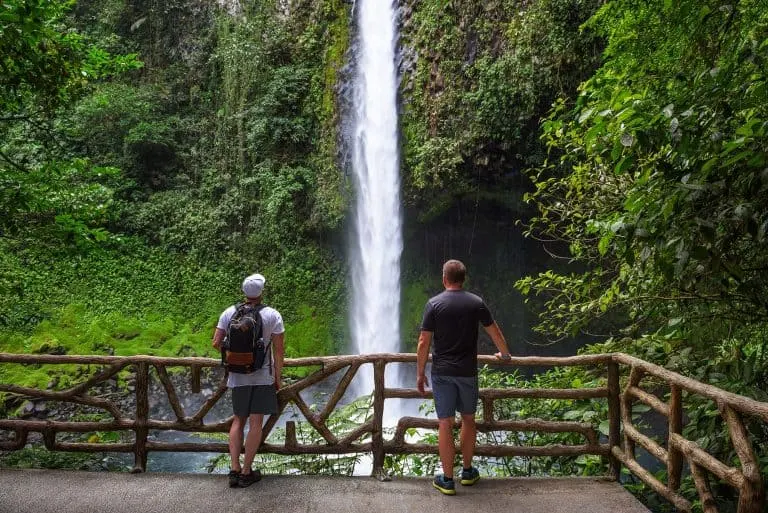 Having traveled to Costa Rica with Adventures by Disney, Kirsten Maxwell of Kids Are a Trip shares that an Adventures by Disney trip to Costa Rica is a vacation unlike any other. The tour company is not overly "Disney", but it does come with the level of service, experiences, and expertise families have come to expect from The Walt Disney Company.
Every detail is thought out, from the highly trained Adventures by Disney (ABD) tour guides to the destinations and meals.
Currently, Disney is running a seven-day vacation to Costa Rica, covering San Jose, Arenal National Park, Caño Negro and Guanacaste. Meals and activities are included in the cost of the tour. The Costa Rica vacation covers everything from white water rafting on the Sarapiquí River to a chocolate rainforest experience.
Disney recommends that children be ages eight and up for this vacation since the rafting and zip lining are very active and have height and weight requirements.
Food on this trip does not disappoint, as there is always plenty to eat with a large variety of local fruit and dishes at each meal. Disney makes note of food allergies so everyone can feel safe. Accommodations are quite comfortable and spacious for families, and each property has a swimming pool so the kids (and parents) can relax at the end of the day.
-Kirsten Maxwell of Kids Are a Trip.