If you are dreaming of a luxurious tropical getaway, Baha Mar Resort Bahamas should be your family's next vacation.
A stay at the Baha Mar Resort, located on beautiful Cable Beach, offers guests three world-class hotels under one roof with a total of 2,200 rooms, 284 private residences, a 100,000-square-foot casino, world-class spa, racquet club, and an 18-hole tournament golf course, all close to downtown Nassau.
Choose the hotel that best suits your needs: The Grand Hyatt delivers on amenities that are great for families with connecting rooms available, rainfall showers (and bathtubs in the East Tower's rooms), and offers the most budget-friendly price point.
The Rosewood envelopes you in luxury and serenity and is the most private of the hotels. This is a wonderful choice for those looking to splurge and pamper themselves, couples or honeymooners.
The SLS at Baha Mar is aimed at groups looking to up their party game a bit, let loose, enjoy the DJ by the pool, and have fun. It would be terrific for bachelor and bachelorette parties or girlfriend getaways.
All of the hotels deliver on comfort, convenience, wonderful amenities and well-appointed rooms, so you won't go wrong here.
Baha Mar is only a 10-minute ride from the airport, making it an especially easy getaway. Paid transport via Baha Mar Resort Bahamas is available, or you can just grab a taxi at the airport. Here are six additional reasons why Baha Mar should be your next family vacation destination.
Book your stay at the Baha Mar Resort at either the Grand Hyatt Baha Mar, SLS at Baha Mar, or Rosewood Baha Mar.
Baha Mar Resort Bahamas Review – 6 Reasons to Visit
1. The Fantastic New Waterpark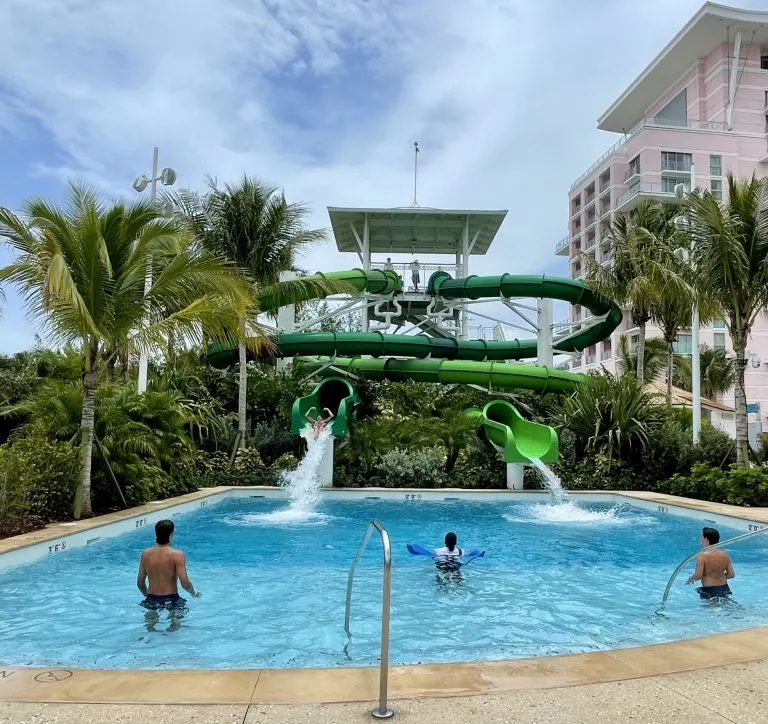 As if Baha Mar didn't already have a ton to offer families, the recent (July 7, 2021) opening of their fantastic new waterpark most certainly adds to the kid-friendly appeal.
This amazing addition features over 30 attractions including a 500,000 gallon wave pool, 7,400 square foot infinity pools, 24 amazing slides, FlowCurl Surf Simulator, an action river, Kids' Island for younger guests, Tipping Bucket & Water Battle Zone for older kids, a 26,000-square-foot beachfront lounge area to relax in, and 30 private VIP cabanas.
The waterpark is for Baha Mar guests and a small number of day visitors, which makes it easy to enjoy the attractions without encountering crowds.
No matter what the ages of your family members, they'll find more than enough to do at this fantastic new addition, as there's a space for everyone here. It's an amenity your family can use every day you're at the resort and have a different experience each time.
Note: Many people fly through Miami to get to the Bahamas. Here are the best things to do in Miami with kids if you have a few hours between flights.
What more Caribbean fun? Here are articles highlighting amazing destinations in Mexico and the Caribbean!
2. The Incredible Array Of Sports Activities Available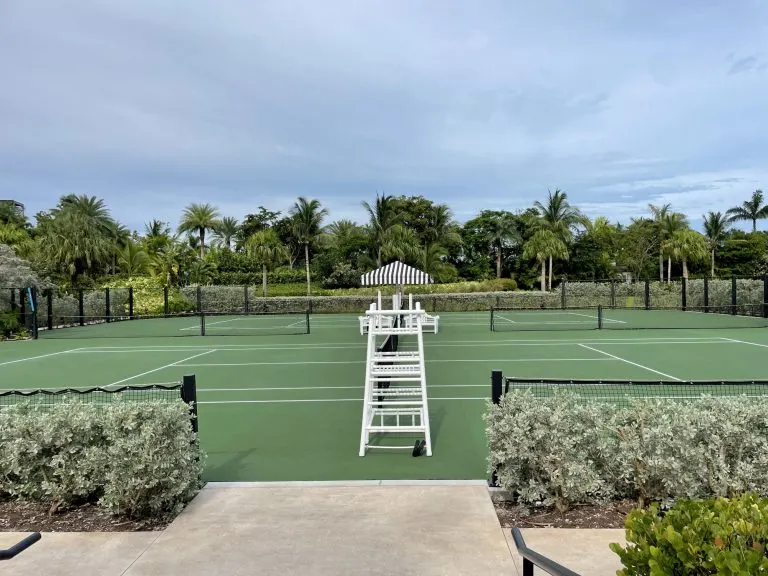 In the event the waterpark doesn't provide enough entertainment, there's the opportunity here to indulge in all kinds of sports activities, either as a team or as an individual.
Your crowd like tennis? They've got that, as well as lessons from a pro. Golf? Yes ma'am, on a tournament course designed by Jack Nicklaus.
Basketball, mini golf, bocce ball, croquet, an open gym with plenty of equipment, and fitness classes, (yoga with the flamingos anyone)? All of these are available to guests and are perfect for retaining your summer body or just great ways to make memories together on and off the court.
3. The Astounding Water Options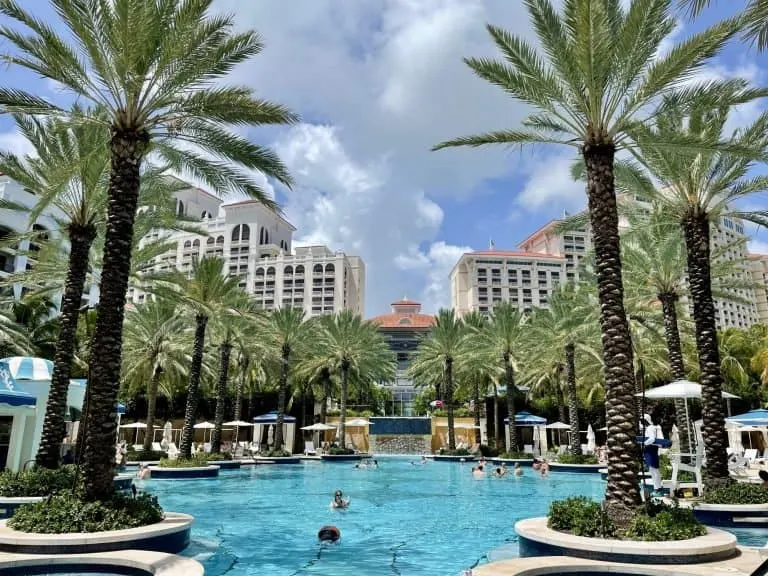 As you would expect, Baha Mar has many beautiful tropical pools, and tons of beachfront options on the white sands of Cable Beach. They also offer complimentary watersport rentals and aquatic activities as well as plenty of space to float, swim, splash, dive, and play.
Whether your ideal afternoon is sunning by the pool, building sand castles on the beach, paddle boarding, kayaking, snorkeling, or swimming laps around your kids, you'll find places here to do what you love.
Mix things up and spend time doing all of them, or pick your favorite and dedicate the entire day to enjoying it to the fullest. Baha Mar Resort Bahamas makes it easy to cater your vacation to the exact way you want to spend it.
4. The Delectable Dining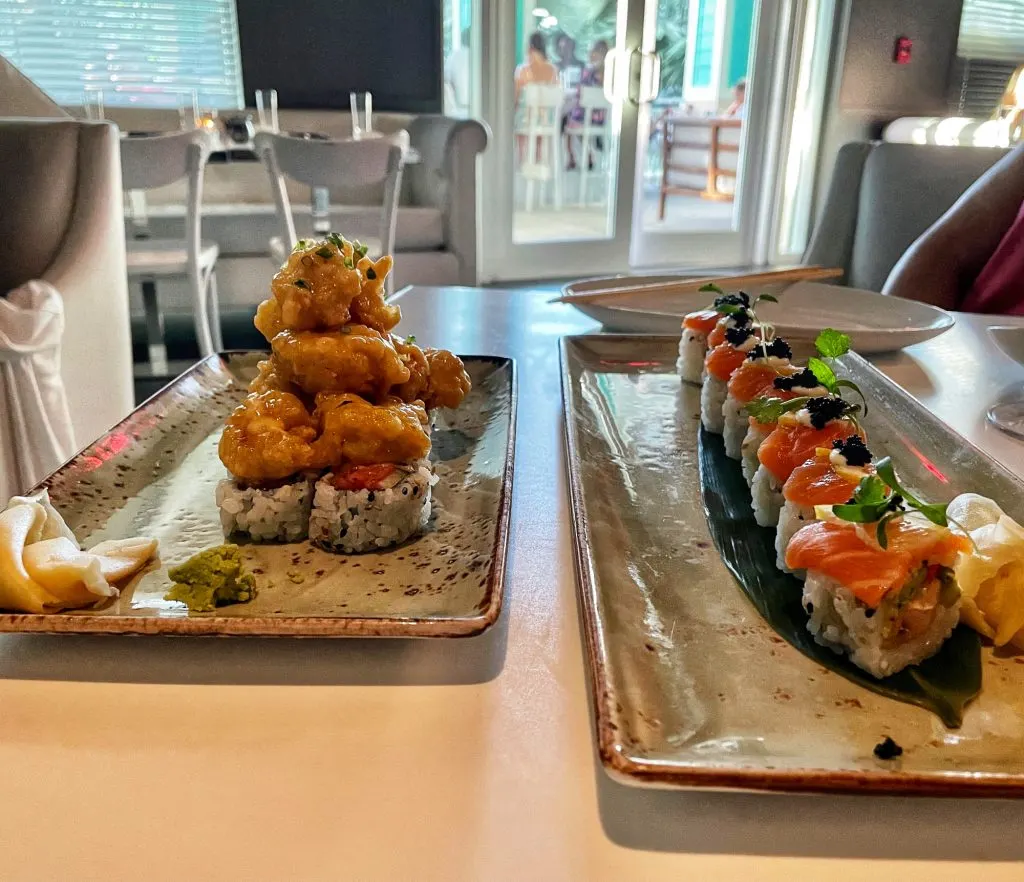 Baha Mar is no stranger to dining. There are restaurants here to suit every palate and every dining style.
There is a casual pizza place, a cute breakfast and brunch cafe, a friendly gastropub, plenty of bars and lounges, food truck experiences, ice cream shops, a hot dog venue, gourmet burgers, authentic bbq, poke bowls, beachside Mexican options and more.
There are also quite a few fine dining options for when you're feeling upscale and want an amazing meal together. Choose from a steakhouse, a seafood restaurant, as well as venues dedicated to Italian cuisine, Japanese, Mexican, French, American or a combination of some of these.
All take their craft very seriously and excel at providing you with meals you'll truly enjoy in an atmosphere that makes you feel special and well taken care of.
5. The Adorable Animals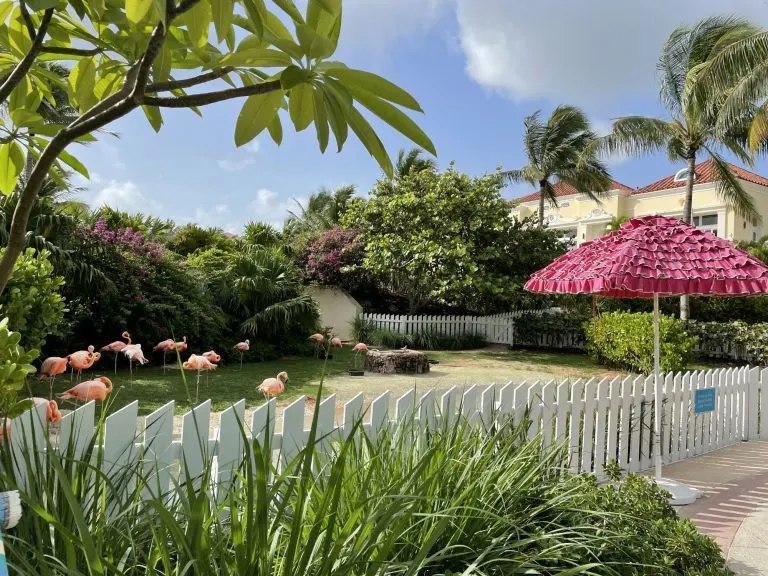 With spots like The Sanctuary, The Aviary, The Conservation Education Center, and Flamingo Cay it is obvious that animals are "the thing" here.
The resort has dedicated time and energy to the preservation of its natural surroundings, conservation and education.
If you have an animal lover in your group, they'll appreciate the opportunity to mingle with creatures large and small. Wildlife Sanctuary is home to nurse sharks, stingrays, green sea turtles, and Caribbean fish and offers guided tours. There is also an animal feeding experience.
When you're here, be sure to not miss the adorable flamingo parade. If you are a true flamingo lover you can sign up for an up-close flamingo experience and even flamingo yoga!
The Aviary is the place to go to learn about birds and even feed these tropical beauties.
6. Specialty Options For Kids
One of the best reasons to vacation at Baha Mar Bahamas is the fact that the resort doesn't neglect its kiddos. On property you'll find extras like the Kids Explorer Club where guests from ages 3-12 can have fun, meet friends, learn things, make things, create memories and even give mom and dad a break to have some time to themselves if they want it.
There's a Kitchen Culinary Experience at the resort that offers families a chance to explore cooking together, and you can also sign up to take art classes should you want to do that. These options are in addition to regular resort costs, but may add that little extra to your vacation to make it worthwhile.
Baha Mar offers families everything they need to create the perfect vacation experience for them. There's so much to see and do here, but there's also the freedom to make your experience what you want it to be.
Do more watersports if that's what you enjoy most, splash the day away at the waterpark, visit the animals, or spend most of your time on the beach. You can also mix it up each day, or split up so different family members can enjoy different things but still come together later in the day for special family time.
This resort offers everything you need to make your next family vacation the most incredible one ever!
Disclosure: The author visited Baha Mar Resort Bahamas as part of a media trip in order to research this article. No monetary compensation was received, and the opinions stated are her own.