Arenal Volcano is picture perfect. In 1968, after over 400 years of lying dormant, she exploded. This event introduced La Fortuna to the world. Since then, it has become one of Costa Rica's top destinations.
We were delighted when Costa Rica Tourism hosted us to experience the beauty of Arenal Volcano Costa Rica first hand.
La Fortuna initially became a hub for ecotourism because of Arenal's eruptions. However, since 2010, the volcano has been quiet. Despite that, visitors continue to flock to the area. They've discovered there's more to see besides the volcano's red hot lava. Guests enjoy experiencing the healing hot springs. They flock to the thundering waterfalls and rushing rivers. They hike through the lush rainforests. And, they observe the verdant wildlife.
Costa Rica is a small country, but it is also an ecologically diverse destination. If you're looking to explore beyond Arenal and La Fortuna, here are 20 Unforgettable Costa Rica Family Vacation Experiences.
The Details: Where is Arenal Volcano and How to Get There?
Traveling from Costa Rica's capital, San Jose, or Los Chiles on the Nicaraguan border has become quite easy thanks to new highways. It's a 3.5-hour drive from San Jose. The highway travels through small towns and scenic farmlands growing sugarcane, coffee, and other crops. Regardless of where you look, there's a volcano in the distance.
If you prefer to take an even more scenic route, mountain roads are available. However, those prone to motion sickness should use them sparingly.
If you'd prefer to have someone drive you around, our recommended Costa Rica family vacation expert is Costa Rica Family Holidays. They can help you with transportation and serve as your guide during your stay.
---

Get help with your Costa Rica Family Vacation!
Trekaroo partners with an exceptional local operator for Costa Rica family vacations. We've even negotiated Trekaroo Perks for our families.
---
Things to Do Around Arenal Volcano Costa Rica
1) Capture the Perfect Arenal Volcano Costa Rica Photo
In the morning, Arenal Volcano tends to be hidden behind a layer of fog. But as the sun rises, she she becomes more visible. And by the time the sun sets on a clear day, you'll see her full beauty. Families can catch views of Arenal Volcano from many places in town. However, my favorite viewpoints are at Mistico Hanging Bridges and the Los Miradores Trail in Arenal Volcano National Park.
2) Hike in Arenal Volcano National Park (Parque National Volcán Arenal)
Arenal Volcano National Park is made up of three different regions. The park is covered in secondary rainforest and lava fields. You'll likely encounter creatures like deer, tapir, howler monkeys, white-faced monkeys, and snakes. Plus, tropical birds like parrots, orioles, and brown magpies make their home in the park.
Our guide recommended the Los Miradores Trail (Sendero Los Miradores) for families. Los Miradores is a 0.7 mile (1.3 km) wheelchair-accessible, paved trail along the shores of Lake Arenal. Those who are able can climb up to the top of the view tower to get a lay of the land and breathtaking views of Arenal Volcano Costa Rica.
There are a couple of trails in Arenal Volcano National Park where visitors can view old lava fields. The first is the Heliconias Trail (Sendero Los Heliconias). It wraps around the volcano for 2km and passes by a lava field from the 1968 lava flow. The second branches off this trail and is called Las Coladas Trail (Sendero Las Coladas). It passes by the 1993 lava flow.
3) Swimming at La Fortuna Waterfall
Mountains, rain, and gushing rivers are nature's ingredients for making magnificent waterfalls. The most famous in the area is La Fortuna Waterfall. It is located 6km out of town at the base of Cerro Chato Volcano. La Fortuna Waterfall is a 70+ foot gusher. It has a plunge pool at the bottom where visitors are able to swim. While guides are optional, know that the hike includes 500+ steps. If you'd rather not hike, you can take a guided horseback ride with Arenal Mundo Aventura to the La Fortuna Waterfall.
4) Canyoneering at La Fortuna Waterfall
For the thrill-seeking family, PureTrek Canyoning offers waterfall repelling experiences. These trips are for kids five and up, and are fully-guided four-hour tours. Guests repel down three waterfalls and a rock wall in a rain-forest slot canyon. Of course, you'll get very wet, but it will also be an experience you won't forget!
Looking to escape the crowds? Try the Waterfall Trail in Arenal Volcano National Park. Pick up the trail at Arenal Observatory Lodge. Then, walk 2kms to arrive at a thundering 12m Dunta Waterfall. If you are not staying at the Lodge, you may pay a day fee to enjoy the private trails.
5) Soaking in Healing Hot Springs around Arenal Volcano
The Arenal Volcano and La Fortuna area are dotted with numerous hot springs. The hot springs in the region contain 113 minerals. Some pools have clear water. Meanwhile, others have slightly murky water. Fortunately, they don't give off odorous smells.
Depending on the kind of experience you are looking for here are your options:
Looking for a quiet secluded retreat? Paradise Hot Springs is a low-key public hot spring. In addition, several properties like Arenal Paraiso Resort Spa also have their own hot spring pools that are exclusively reserved for hotel guests. Arenal Paraiso is quiet, private, and relaxing.
On the other hand, Kalambu Hotsprings is a traditional waterpark with slides and pools filled with hot spring water. If you're looking for an over-the-top Vegas-style experience, Baldi Hot Springs has 25 different pools with swim-up bars, many waterfalls, cave features, as well as water slides. We were warned that some of the fast-moving water slides have resulted in injuries. Our guide cautioned us to stay away (and we did for the most part).
Another popular experience is Tabácon Hot Springs which features cascading waterfalls and warm pools along a thermal riverbed. The natural landscaping provides privacy and each pool is at a different temperature. If a luxury hot spring is what you're looking for, head to Springs Resort & Spa or Eco Termales Fortuna.
6) Flying through a Rainforest Canopy on a Zipline
Flying through the rainforest canopy is a thrilling experience. However, it's important to make sure that the zip line operator has a well-trained team and their equipment is well maintained. There are several zipline operators in the Arenal Volcano Costa Rica/La Fortuna area.
Ecoglide Arenal Park welcomes kids ages five and up. The series of 13 double cable zip lines at Ecoglide are professionally run. The guides take great care in making sure you're safe. In addition, they help move you through the course quickly. If you're up for even more of an extra adrenaline rush, try the Tarzan swing.
This zip line operator is currently the only operator certified by the Costa Rican Accessible Tourism Network. They are able to get those with mobility issues on the zip lines. Plus, their guides are trained to help adventurers with different special needs to navigated the course.
7) Getting a birds-eye view from the Hanging Bridges at Mistico Park
At the hanging bridges at Mistico Park, families with kids of all ages can enjoy a self-guided hike through the forest canopy. A series of 13 bridges of various lengths and heights allow you to take in the forest sounds, smells, and sights all in at your own pace. The trails are well paved, and one section is entirely wheelchair accessible. The bridges do sway, but they are good condition. Those who are afraid of heights will find these hanging bridges a challenge, but will be rewarded with beautiful views. The beginning part of the trail has a bit of climb. After the first stretch, it's not too hard to of a hike. Mistico Park also offers a guided birding and natural history tour.
Looking for more excitement? Mistico's Spider Monkey Canyon tour will have you repelling down magnificent canyon walls next to waterfalls, jumping into clear pools of water, and across naturally formed rock walkways. Kids have to be eight and up and a minimum of 1.2m tall (4 feet).
8) Take a Cooking Class at an Organic Farm
There are several places you can take a cooking class in the area, but we thoroughly enjoyed our experience at Vida Campesina, an organic farm with an educational mission. A visit begins with a tour of the small farm where a guide introduces the large variety of local plants that local farmers use for food, medicinal purposes, and even as a pesticide. It was fascinating!
The local alcoholic beverage of choice is called Cacique Guaro which is produced from sugarcane. A few shots and an intro to local slang kicks off a great evening of good food and laughter. Kids can enjoy fresh sugarcane juice instead.
Our favorite meal of the trip was at Vida Campesina. We learned to make tortillas from scratch. Then, we cooked them over a wood fire stove. We also were taught how to make a favorite Tico side dish called Picadillo de Chayote (sauteed diced chayote).
9) Kayak/Boating on Lake Arenal
Lake Arenal is a picturesque lake. It feeds one of Costa Rica's largest hydroelectric power plants. Lake Arenal produces 12% of Costa Rica's energy. Here's a remarkable fact – since Jan 2017, Costa Rica's electrical grid runs 100% off renewable energy sources. While you can't tour Sangregado Dam, you can enjoy the lake. Rent a kayak, take a boat tour, or try windsurfing.
Bonus: Travel time to the Monte Verde cloud forest region can be cut in half by taking a taxi boat to the Rio Chiquito dock. Travelers then catch ground transportation to the Monte Verde Reserve.
10) Horseback Riding at Arenal Wilberth Stable
For a change in pace, take a horseback ride. Arenal Wilberth Stable provides tours featuring volcano views, bird-watching, and wildlife encounters. The horseback rides begin and end at their private organic farm. As an added bonus, kids can interact with the farm animals.
11) Mountain Biking around Lake Arenal
Active families with older kids will enjoy riding around Lake Arenal on a popular mountain bike trail. It begins at Lake Arenal and ends in El Castillo. The 13km ride (26km round trip) travels a mostly flat, gravel road. It's perfect for beginner and intermediate riders. Follow the trail as it travels through dense forest and cattle farms. While on the path, it's common to meet howler monkeys, tropical birds, and coatis. Be sure to stop for a picnic and swim in Lake Arenal. For those who prefer to ride with a guide, Bike Arenal offers half day tours.
12) Take a Night Hike at Danaus Eco-Center
Danaus Eco-Center is a biological reserve with an environmental conservation center. During the day, little ones enjoy the beautiful gardens and butterfly breeding center. After the sun starts to set, families can go with a naturalist on a night hike. Be sure to search for nocturnal animals like sloths, frogs, and bats.
Day Trip Excursions from La Fortuna
River Rafting
La Fortuna serves as a tourist hub. As such, there are many tour operators offering day trips to the extended area. One popular day trip is whitewater rafting. There are three local rivers for rafting: the Rio Frio, Rio Sarapiqui, and Rio Balsa. Because of the area's plentiful rainfall, the rafting is great year-round. These rivers offer everything from Class I-V rapids. So no matter how adventurous you like your rivers, there's a trip for you.
While a little further away, Rio Pacuare is a destination in its own right. If you go, you might want to spend a few nights at a Costa Rica Ecolodge.
River Float Wildlife Safari
There are some families who prefer floating at a slower pace. Wildlife float trips are like river safaris. Animals abound. Families searching for large creatures may enjoy the Peñas Blancas River. While on the water, look for sloths, monkeys, and toucans. Bird watchers, on the other hand, prefer to float the Rio Caño Negro.
In addition, families who prefer to have adventures on (and under) land, visit Venado Caves for spelunking fun and excitement.
Rio Celeste Waterfall
It's easy to be lured by a brilliant blue waterfall. To see one in person, take a day trip to Rio Celeste Waterfall in Tenorio National Park. The drive is about 2.5 hrs from La Fortuna. The easiest way to get there is by car or booking a tour. While it can be irresistible to swim in the waterfall, it is prohibited. Fortunately, there is public access to the river just outside the park. Dip into the crystal blue waters at Piruri Cabinas.
Where to Stay in La Fortuna, Costa Rica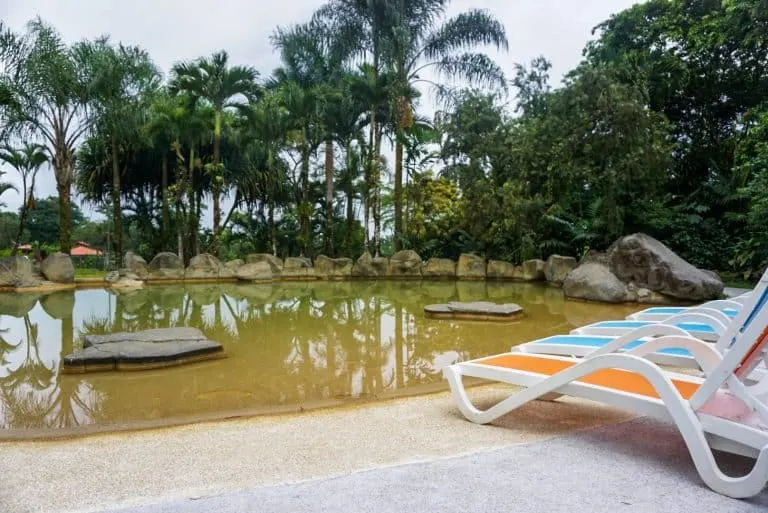 Visitors to the Arenal Volcano Costa Rica region usually stay in the town of La Fortuna. You'll find lodging of all sorts from renting a hammock to luxury resorts.
One perfect family-friendly property is Arenal Paraiso Resort and Spa. The spacious air-conditioned chalet-style rooms have two queen beds. They sleep four comfortably. Larger families prefer two-bedroom villas that sleep up to eight. After a day of exploring, enjoy the property's serene private hot springs and pool. A full-service spa offers lots of pampering including chocolate and mud massages. In addition, a very generous breakfast buffet is included in your stay. Families interested in off-setting their carbon footprint from travel can participate in the hotel's plant a tree program.

We are an affiliate of Booking.com. Which means you get the same great prices, but we get a few dollars when you click through and book. Thanks for keeping Trekaroo free.
More on Costa Rica Travel
Feature Image by Bigstock/juanjocrj