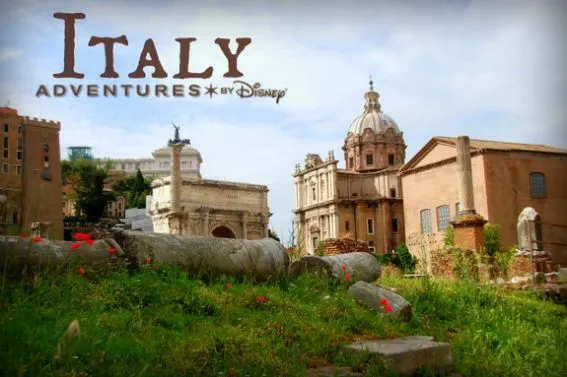 Are you dreaming of a Roman holiday? Perhaps your mind drifts to a vision of your kids rolling down vibrant green hills under a Tuscan sun. Maybe it is a gondola ride through the romantic canals of Venice that is calling your name. Without a doubt, Italy has certainly taken center stage in many of my own wandering thoughts. Recently, my daydreams finally became a reality as my family joined Adventures by Disney on the Italian tour of a lifetime, their nine day Viva Italia experience.
Being Adventures by Disney veterans (read all about our Adventure by Disney trip to Peru), we set the bar high. They had spoiled us rotten in Peru with fantastic guides, delicious local cuisine, and one-in-a-lifetime experiences. We expected to be taken care from the time we exited baggage claim until the moment we headed backed through those airport security gates. No itineraries to plan, no queuing up in ticket lines, no headache-inducing hassle of trying to figure out how to get my family around a foreign land. I wanted authentic experiences with the best experts, a comfortable place to rest our heads at night, and for every single member of my family to walk away saying our trip to Italy was one of the best vacations we had ever taken. No surprise here, Disney delivered.
---
[cta id="67804″ align="none"]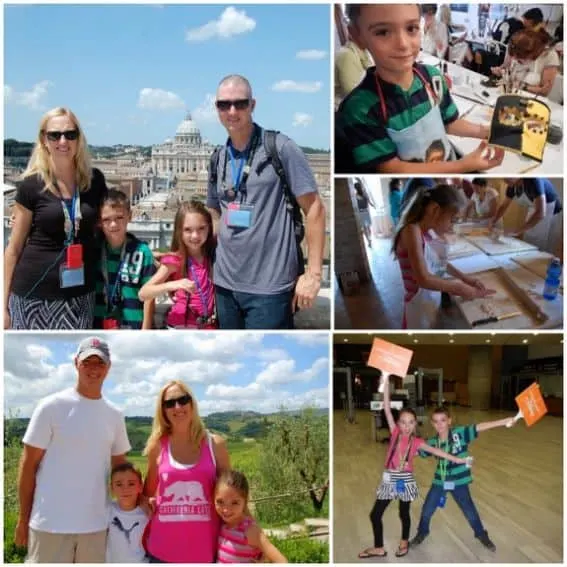 The price tag for an Adventures by Disney experience is considerable but, I believe it is also a great value. If you are looking to do a "budget backpacker" family hostel trip through Italy, this is not the vacation for you. Anyone familiar with the Disney Parks knows that the emphasis is on quality, depth of experience, and a commitment to storytelling. On their Viva Italia tour, Disney brings the stories of Rome, Tuscany, Florence, and Venice to life with historical integrity, rich detail, and multitudes of fun. They begin with a team of superb Adventure Guides who manage to make the difficult task of keeping everyone happy and everything running smoothly look fun and easy. As someone who is normally tasked with the role of tour guide for our family of four I can attest that at times it is can be neither fun nor easy. If we could have convinced our guides Marco and Landon to come home with us, we would have. During that week they were my children's most favorite new playmates, the source of constant knowledge and entertainment for our entire tour group, our personal concierge service, and two people I felt completely comfortable entrusting with my family's precious vacation time.
The same emphasis on quality that is placed on experiences and lodging at the Disney resorts is placed on into the details of their tours. We stayed at three properties while in Italy- Gran Melia Rome Hotel, Hotel Borgo di Cortefreda in Tuscany, and Hotel Luna Baglioni in Venice- and each property was beautiful, comfortable, and enhancing to our enjoyment of the region. We toured all of the classic sights that most first timers to Rome, Florence, and Venice tour, but the knowledgeable local tour guides filled in all those precious details we would have likely missed by experiencing places like St. Peter's Basilica or the historical pathways through Venice on our own. Our journey was further enhanced with immersive experiences such as private tours of the Vatican Museum, pasta making on a Tuscan farm, and my family's favorite experience, mask making with traditional Venetian mask makers. These types of experiences ended up being the true highlight of our time in Italy. And let's not forget the food! Disney made sure we were always well fed with Italian food that would put anything I have ever had in the States to shame. The mere whiff of a slice of American pizza makes my stomach turn. There is just no comparison.
The Disney Difference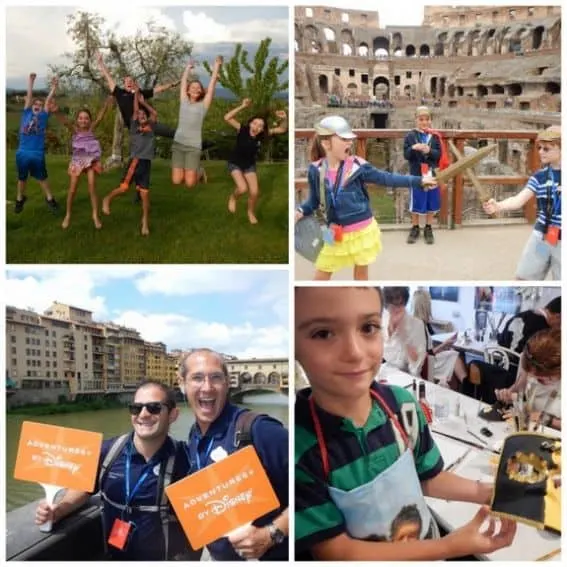 On their website, Disney emphasizes that their tours feature the "Disney difference" which essentially equates to a level of quality and access that most other tour operators simply can't offer. Here are some of the ways my family felt the Disney difference.
Touring with Adventures by Disney took the stress out of our vacation. We didn't have to worry about transportation (you definitely don't want to drive in Rome. Romans are great drivers but play by an entirely different set of rules), lodging (Adventures by Disney only books rooms at the best properties around), planning activities, or any of the other details that seem to send me into stress mode.
You never have to reserve tickets or wait in lines. Think about that for a moment. How much of your precious Italian vacation time would be wasted on waited for entry to museums, castles, cathedrals, and yes, even the Coliseum? I have seen those lines. They aren't pretty. Imagine your children withering under the Roman sun, losing interest in anything but an ice cold gelato, whining in that way that grates at your inner core like nails on a chalk board. Now imagine walking up to the Coliseum with excited kiddos, being handed a ticket by your Adventure Guide, and cheerfully embarking on a VIP tour of one of the world's most famous landmarks with access to levels that most people never have the chance to see.
Touring Italy with Adventures by Disney allowed us to learn far more about the culture, history, and individual destinations than we ever would have if we had visited the country on our own. The value of the local expert guides and behind-the-scenes access was tremendous, turning our vacation into a once in a lifetime experience. Disney took us to places we simply could not have gone on our own.
Your guides are also your photographers. While local experts masterfully guided us through Italy's history, our Adventure guides were busy snapping pictures of our experience. They took hundreds of pictures of our trip, include plenty of shots with our entire family together. All photos are uploaded by Disney to a site after the trip and can be downloaded for free. We found this to be a wonderful way to snag shots of the ENTIRE family as well as pictures of all our new tour group friends. Adventure Guides also offer some fun surprises (that I won't spoil) throughout the trip.
When the historical material was above my children's heads, the Adventure Guides stepped up to entertain them for a few minutes so that my husband and I could still fully absorb all that was around us. They aren't babysitters, but they are lifesavers.
Okay. I take that back. The Adventure Guides were the world's best babysitters on Junior Adventurer Movie Night. They played games with the kids, conducted Italian soda tastings, and then quieted all the kiddos with a Disney movie while the parents enjoyed an evening of Italian wine tasting and dining in Tuscany. I love vacationing with my kids but we all agree that the time apart was wonderful.
Our Adventure Guides were also our personal concierges. On our free nights, our guide made themselves available with great restaurant recommendations, always insisting on making the reservations for us and never letting us leave without a clearly marked map of exactly how to get there.
We got snacks and water in between meals. A big plus if you have kids who are always hungry. I can still hear Marco wandering through the bus cheerfully asking if we would like any "candy, candy." You will never go hungry on an Adventures by Disney trip. Trust me.
You never have to haul your luggage around. We stayed in three hotels during our Italian adventure. The furthest we ever had to lug our bags just outside our door for pickup. Tinkerbell made sure all of our things made it to our next destination.
We got special little collectible pins to commemorate each day of our trip. And we especially coveted the pins which commemorated our second trip with ABD. There is no way I am trading those with folks at Disneyland!
Mickey Mouse was not center stage. Disney knows that when a family visits Italy, they want to see Italy, not a bunch of theme park characters riding in a Venetian gondola. Beyond the trading pins, the pointing out of the occasional Disney Store, and the mention of pixie dust, the Mouse was left back home at Disneyland. If you love all things Disney, you will love this trip. If you don't love all things Disney, you will still love this trip.
Marco and Landon. I know I have mentioned our Disney Adventure Guides a few times already but they will forever hold a special place in our hearts just as Ernesto and Corey do from our Adventures by Disney trip to Peru. They were just such an integral part of our experience. Disney receives well over 1,000 applications per year for Adventure Guide positions with only about a dozen new guides being selected for hire each year. They only pick the best of the best and it shows. Our kids loved Marco and Landon, and Marco and Landon loved our kids.
---
[cta id="67804″ align="none"]
Want to learn more about the Adventures by Disney Viva Italia experience? Read more in our series:
Want even more Adventures by Disney? Check out the trip my family took with Adventures by Disney to Peru.
Disclosure: I received a complimentary tour for myself and guest as well as discounted rate for two additional family members so that I could cover Adventures by Disney's Via Italia trip. Disney requested nothing more than an unbiased account of my experience. All opinions are my own.