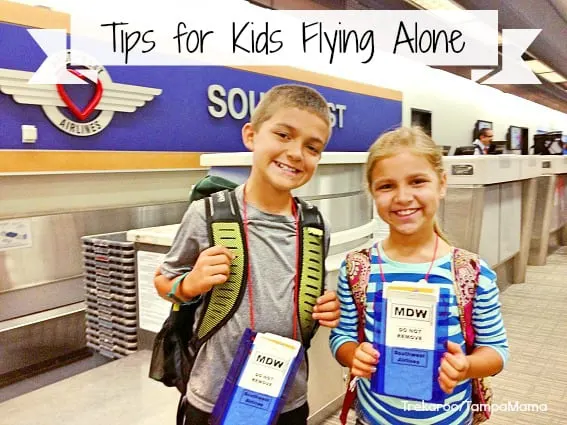 Many children board planes without adults each year. These children are called "unaccompanied minors" and are also known in aviation lingo as UMs. In thinking through sending my kids as unaccompanied minors, my first question was to see if my kids really were responsible and mature enough to fly alone. As I began the task of researching this subject, I learned that the rules and regulations for kids flying alone follow government protocol making it a very safe and responsible way to send my kids to see their grandparents in Chicago. The process seemed very buttoned-up, even with federal transportation officials penning a When Kids Fly Alone guide for parents. As parents, we determined our oldest children, ages eight and nine were ready for this experience. Here are some tips about what to expect when your kids fly alone (and yes, have the tissues ready as soon as they turn their backs and board the plane).
Are they Ready for a Solo Flight?
Most airlines have a minimum age policy (usually over five years old) that is enforced. But just because a child meets the age limit does not necessarily mean they are mature enough to fly alone. Each child is different and as a parent, you must decide if your child is responsible and mature enough for a solo flight. Each airline has different policies for unaccompanied-minors flying aboard their aircraft. A few policies are standard across the board, but definitely visit, call, or e-mail airline representatives and ask questions prior to booking. Here are some things to remember:
Most airlines require children to fly non-stop routes if they are under a certain age.
Some carriers will not allow children on a red-eye flight or the last flight of the day.
Children may not fly unaccompanied until their fifth birthday.
Proof of age is required, so be prepared with a copy of your child's birth certificate.
Many airlines charge a $50-$100 fee each way per child in addition to the airline ticket price. This fee will vary and typically covers the services that the airline will provide your child in ensuring that they arrive to their destination safely.

What Documents Do I Need to Pack for the Trip?
After booking the airline tickets, I immediately started gathering documents that would be needed for my kids' trip. These documents included:
Birth Certificates (copies are fine)
Flight Itineraries – A smartphone app such as TripIt is a wonderful tool to store all digital documents so they are readily available upon request.
Healthy Care Proxy – The original document should stay with your child and be given to the adult taking responsibility for the child at the destination (see description below in the Medical Condition section).
Copy of your child's health insurance card
Picture Identification Sheet
These documents should be in your child's carry-on bag so they won't get lost in case the luggage turns up missing. I also made digital copies of these documents and uploaded them via a secure private folder that I shared with my parents in order for them to have access to this information while they had the kids.
What to Pack in the Carry-On Bag
Children must adhere to the same carry-on bag restrictions as adults, soo I already knew what not to pack. But I did try to consider everything that my kids might need for the flight from start to finish. Here is what I recommended packing in your child's carry-on bag:
A book or notebook to color or write in. Kids won't be able to play their digital device until the captain approves of electronic devices once in the air, so having non-digital entertainment is a must.
A Kindle, iPad, or tablet. Remember to charge it and download a movie in case they have no access to WiFi on the plane. Headphones are also required if listening to music or a movie.
A healthy snack that is easy to open and not messy. We opted for GoGo squeeZ Applesauce and a KIND Bar.
Sanitized hand wipes – Remember liquids more than 3 oz. are not allowed on flights and keeping germs away is important.
Money – We tucked away $20 with instructions to give to Grandma upon arrival, but just in case they needed it on the plane, they would have it.
A small blanket or pillow in case they would like to sleep or if they get too cold.
Water – Typically, attendants will serve drinks, however, it might be a while before in-flight service, so consider purchasing a bottle of water, post security screen, to pack in their bags.
A medical or first aid bag should your child have a medical condition or medicine to take. It is easiest if all medical documents and medication are kept in one spot in case someone needs to assist them or has questions about the contents.
A luggage tag on each bag in case it accidentally gets lost or left behind. Putting both arrival and departure parties on the contact form is also important.
Gum or life savers candy to chew in order to alleviate cabin pressure.

What your Kids should Know Before they Board the Flight
Familiarize your child with how things will happen. If this is their first time on an airplane, notify the attendants so they can understand that this is a new experience for your child. If your children have flown, remind them of the processes and procedures to anticipate. Here are a few things to remind or inform your children before boarding the plane:
Remind them that their backpacks and personal items can be stored below the seat in front of them.
Electronic devices are not allowed to be turned on until the captain turns on the signal that they may be used. Prepping them to understand that there are times they can and cannot use their devices is a good idea.
Your child will be assigned a flight attendant for the flight. Should they need anything, this is the person they should ask. Introductions are important!
Tell your kids that if they need something and cannot find the flight attendant, there is typically a red button above them that they can press for help. Also let the kids know that this button is not a game and should only be used if it is something important such as needing a restroom or letting the attendant know that they do not feel well.
Remind kids about the pressure changes in the airplane during take off and landing.
Let kids know that the take off and landing might be noisy. Make them aware that they will hear new sounds, but not to be alarmed. They will be very safe on the plane.
Remind kids that sometimes airplanes go through rough patches of bumpy air. They will be told by the captain to sit down and fasten their seat belt when these bumpy air patches occur.
Once seated, they are required to wear a seat belt at all times.
Does Your Child Have a Medical Condition?
If your child has a medical condition, you must first analyze your personal situation to confirm that it is safe for your child to be left somewhat unattended for the duration of the flight. Flight attendants are not babysitters. Their job is to make sure your child arrives at the specified destination to the correct people. I am sure they will help in a distress situation, however, their jobs do not include administering medicine or hand-holding. In fact, many airlines do not permit their employees to administer medication to passengers. If it is necessary that your child has medicine during the scheduled flight time, you should consult with your doctor to learn about a possible alternative. My son's medical condition did not require medication during the flight, however I used the following guidelines to help me prepare for sending my child alone on a flight:
Send a clearly labeled medical bag with all prescriptions and important documents. This bag helped me to keep everything in one place. The bag was red and clearly labeled and I told the flight attendant that it should be opened and used in case of an emergency.
My child wore a medical ID bracelet while traveling alone.
Send a heath proxy with your child. This document is a legal document that will allow another person (as stated on the document) to make medical decisions for the child should the parents not be present. Your local hospital or an attorney can customize one and it will need to be notarized to be considered legal.
All prescriptions should be clearly labeled with the child's name as the recipient of the medicine.
Needles and liquid medicines are allowed, but an accompanied prescription is required for each medication.
Pack a doctor's note that explains your child's medical condition.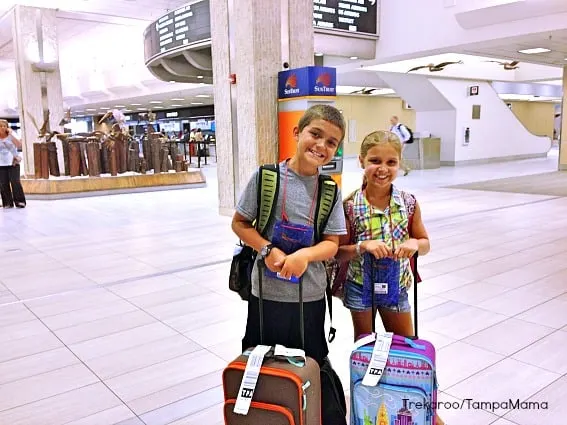 The Day Your Kids Fly Alone
Even though your kids are flying alone, the standard security and boarding processes will apply to your children, with a few minor adjustments and allowances. Here are my recommendations for a smooth departure when your kids depart alone:
Arrive at the airport 2 hours before the flight is scheduled to depart. You will not be able to check-in online for the flight. The children flying alone will pre-board and seats will be either assigned as they enter the plane or will be chosen when booking the flight to ensure they sit where a flight attendant can assist them while also performing her job.
Check-in at the airline ticket counter with a customer service representative who can answer any of your questions immediately. Each airline has a process for identifying unaccompanied-minors, typically with a badge or lanyard to hold all boarding passes, information cards, and baggage tickets. Birth certificates will need to be present in order to check-in the children traveling.
A parent will be given a gate pass to allow them access through security only, not on board the plane. Typically, only one parent is allowed with the child, however you can request that both parents be listed in the system and the airlines might allow both parents through security. A government-issued photo ID will be required to obtain the gate pass.
Once through security, head to the gate and confirm with airline staff that you have arrived and ask if there is anything that needs to be addressed. Check flight times and boarding times. Since unaccompanied-minors are the first to board you do not want to be late to the gate!
While waiting, do a last-minute check of carry-on items, go over your what to do if list and assure the kids that they will meet their flight attendant before they board the plane. This is a great time to use the restrooms too!
Once pre-boarding is called, walk the kids over, give hugs and kisses, and wish them the best trip! We did not want to make the kids anxious, so we saved our tears until after they turned their backs. Parents are not allowed on the plane.
You are required to wait at the gate until the plane leaves the gate and is cleared for take-off. We watched everyone else get on the plane and saw them pull away. We even had the airline inform us when they were safely in the air.
Now comes the hardest part – waiting until the plane arrives at its destination.
What Happens Upon Arrival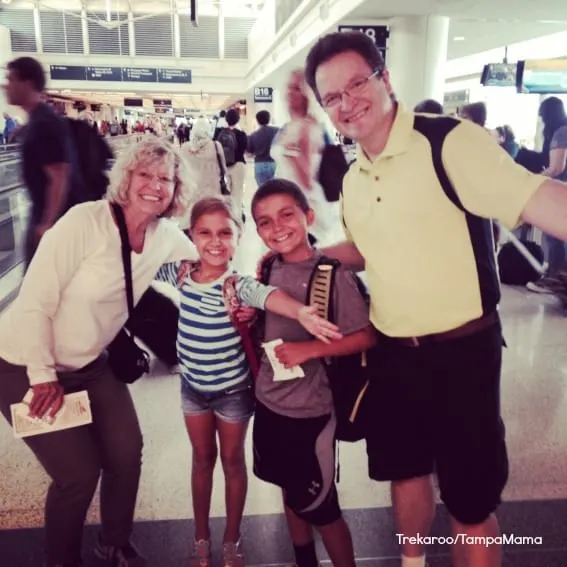 Here are a few tips for picking up the kids upon arrival:
The person booking the flight must provide the names, addresses, and phone numbers of individuals that will be picking up the kids. Changes to this information must be made online, so make sure you know who will be picking up the kids when you book your flights.
Those who will pick up the kids should arrive at least one hour prior to the flights scheduled arrival time and already have a copy of the itinerary which will assist the airline staff in locating the information to verify that they are indeed the ones specified to pick up the kids. The procedure for obtaining a gate pass is the same for those picking up the children as it was for those dropping them off. A government-issued photo ID must be shown. Once through security, head to the specified gate pick for the arrival of the plane. Typically only one person is allowed an arrival gate pass, but a request can be made to have two people approved for these passes.
Once the flight arrives, a flight attendant will escort the children out to the designated pick up party. Government-issued IDs will be checked again and verified with the information in the airline's system.
Documents will be given to the kids for baggage pick up and then you are on your way!
Overall, the process of sending your child on an airplane alone is very common and many procedure have been put in place to make it the best experience for everyone. Our kids came home and said they loved the plane ride and they met some wonderful people on the flight too. So remember this the next time you see youngsters on the plane traveling alone, and then you might consider asking if they need help with anything. Flying alone to visit their grandparents was an adventure for my kids, and they made memories to last a lifetime!