From the interstate, either I-79 or I-68, it's easy to see that north central West Virginia is a beautiful area with heavily forested mountains along the Monongahela River. Living in the Mid-Atlantic, many of my road trips westward have taken me through Morgantown and past Cooper's Rock, WV. However, until recently, I've never bothered to get off the highway to see what lay beyond the mountains and the greenery. That's quite regrettable because there are so many things to do in Morgantown, WV with the family! Read on for tips on visiting Morgantown,WV with kids including Morgantown, WV hotels and restaurants.
Recently a group of locals from the Greater Morgantown CVB, lifetime West Virginians, showed me around their hometown. Despite their best efforts, I have not quite become a committed West Virginia University (WVU) Mountaineer for life — though they're still holding out hope for my children. However, I have decided that I will never again drive through Morgantown without stopping either to take a hike at Cooper's Rock, WV or enjoy a meal downtown along the Monongahela River.
Look for current hotel deals in Morgantown, West Virginia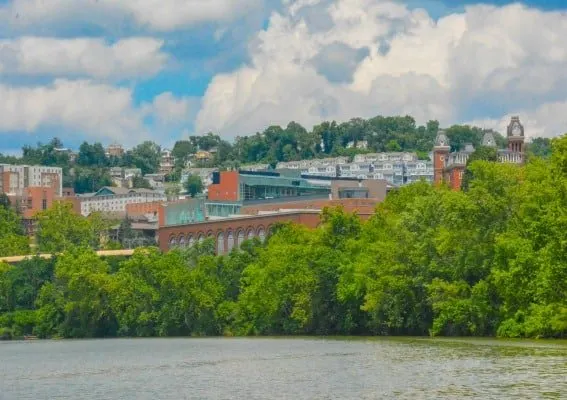 I encourage families to get out of their cars and enjoy a bit of West Virginia scenery up close while making the drive along I-68 or I-79. Pause and enjoy the view from an overlook at Coopers Rock, WV. Or, go to a game and cheer for the home team. Maybe even raft the Cheat River — if you're feeling adventurous. Once you've worked up an appetite on your adventures, find a restaurant downtown or along the Monongahela River and enjoy some of the best pizza West Virginia has to offer or a fresh farm to table meal.
Overlooking the Cheat River Gorge at Coopers Rock, WV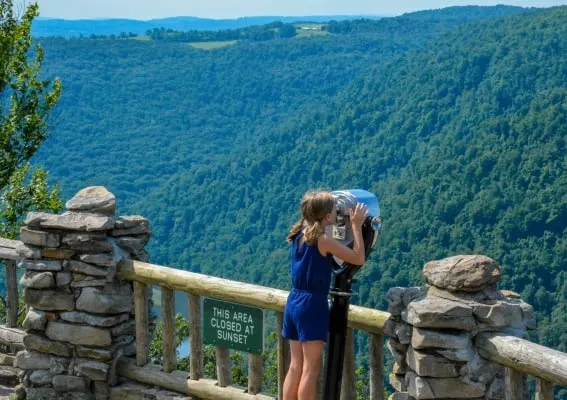 Families traveling through the Morgantown, WV area on US-68 should make sure to spend a few hours admiring the views at Coopers Rock State Forest. Legend has it that a fugitive, cooper by trade, hid under the rocks at what is now the park's Main Overlook at Coopers Rock,WV. Down below the Main Overlook is a network of trails winding through the rocks. It's truly a hiker's playground of rocks, boulders, and even caves to explore. We think that we may have discovered the cave that this industrious fugitive called home, but who can be sure?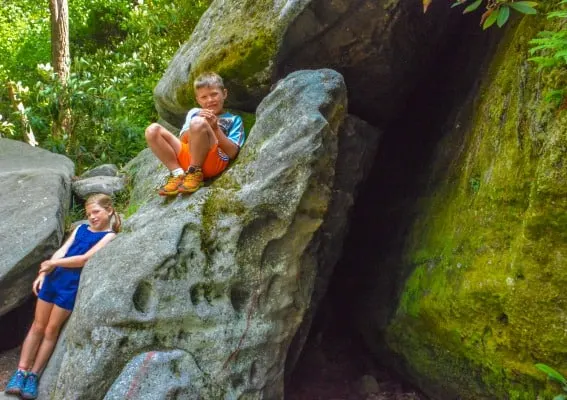 For families who have enough time to walk a couple of miles there are more viewpoints and historic sites to discover. Coopers Rock State Forest has a network of over 40 miles of trails. Two of the most popular trails are the 1.2 mile (one way) out and back Raven's Rock Trail that provides access to one of the park's most rewarding viewpoints at Raven's Rock Overlook and the .7 mile (one way) out and back Clay Furnace Trail that takes hikers to the remains of Henry Clay's Iron Furnace, the state's first steam-powered blast furnace. Traveling with little ones? There's a playground at Cooper's Rock, WV near the main parking lot and concession area perfect for a memorable, outdoor picnic.
Looking for more fun things to do in West Virginia? Check out Trekaroo's Top 10 Things to Do in West Virginia.
Morgantown Outdoor Adventures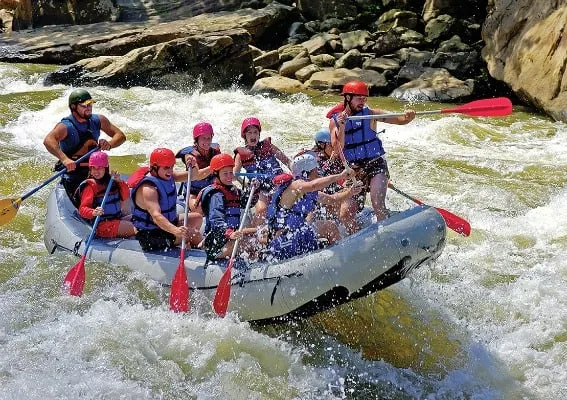 Photo Courtesy of the Greater Morgantown CVB
The Cheat River itself offers thrilling whitewater opportunities for families with tweens and teens near Morgantown, WV. It has over thirty class III, IV, and V rapids that adventurous families can raft. Cheat River Outfitters takes families with children as young as 7-10 years old out on the Cheat Narrows depending on conditions. Less adventurous families can rent kayaks or canoes at Big Sandy River with Padlz Canoes and leisurely paddle the river's flat water at their own pace.
Another outdoor adventure opportunity for families with older children and teens is the Adventure WV Canopy Tour which is affiliated with WVU and located in the University Research Forest not far from Coopers Rock State Forest and the Cheat River. In addition to flying through the air on four zip lines, adventurers also learn about the forest and what types of animals call it home. As a former biology teacher, I can't wait until my kids are big enough to join me on this educational zip line tour!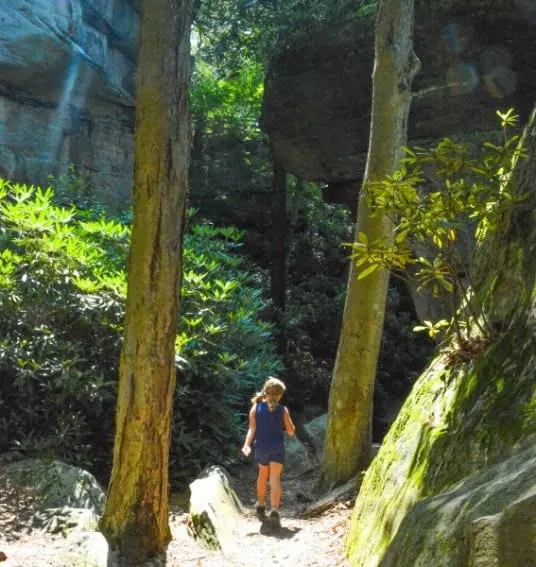 Cheer for the Home Team at a WVU Game – Things to Do in Morgantown, WV
Locals assured me that I could not fully appreciate Morgantown,WV without attending a WVU sporting event. So, our well-connected local tour guides took us out to Mountaineer Field to let us soak up some of that Mountaineer pride, and briefly watch the football players in a June practice. We even saw their Orange Bowl trophy and Hall of Fame. What an experience!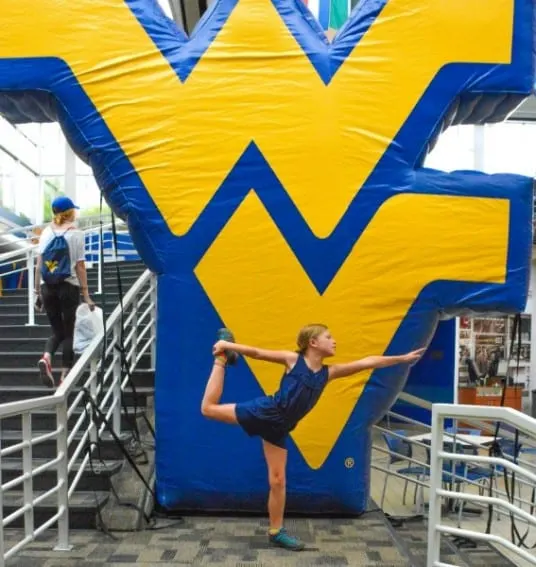 As legendary as WVU football is, tickets to WVU home football games are not so easy to come by – especially for families on a budget or those traveling last minute. But, remember that football is not the only game in town. Basketball games at WVU's Coliseum are also quite popular. In fact, WVU has over a dozen sports teams including: swimming and diving, gymnastics, tennis, and soccer. If you're stopping by Morgantown when the university is in session, there are certainly plenty of options for watching the Mountaineers in action.
Check for hotel availability in Morgantown, West Virginia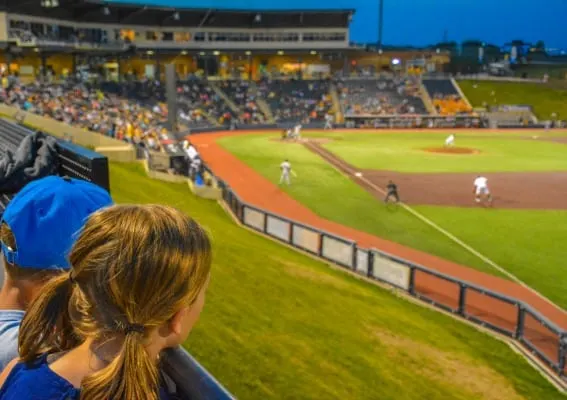 In the summertime, you're not likely to see the Mountaineers playing (or even practicing for that matter.) However, the Monongalia County Ballpark, built in 2014, is home to the WV Black Bears and it only took one game for my kids to become devoted fans proudly wearing their ball caps at all times. If you've never been to a minor league game before, join the sports fans in Morgantown and enjoy; you're in for a treat!
Tradition and History of a University Town – Things to Do in Morgantown, WV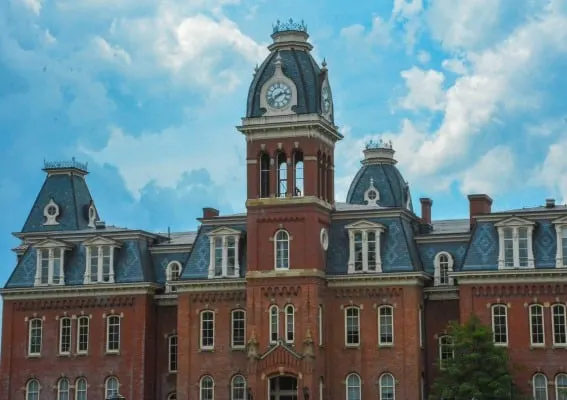 Being a university town, tradition runs deep in Morgantown. There are dozens of statues and memorials around town, not to mention several iconic buildings on the WVU campus. From a viewpoint beside the Monongahela River along the Rail Trail, the prominent Woodburn Hall, at the heart of the WVU Main Campus, rises above the city skyline.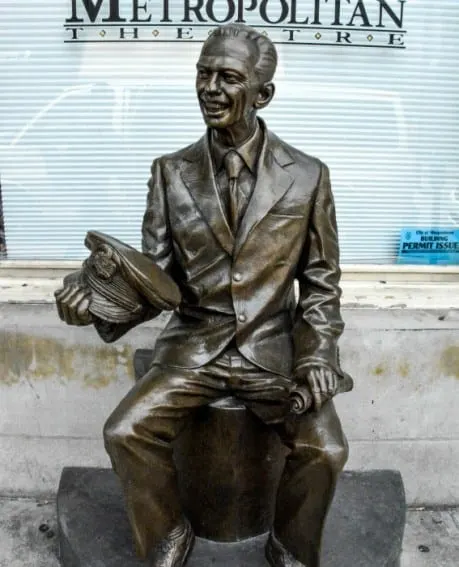 Around town, amid the coffee shops, families can find the newly dedicated Don Knotts Statue in front of the city's Metropolitan Theater on High Street. Fans of classic television will surely remember Morgantown native, Don Knotts, from The Andy Griffith Show. You can stop to pay your respects at this life-size, bronze statue.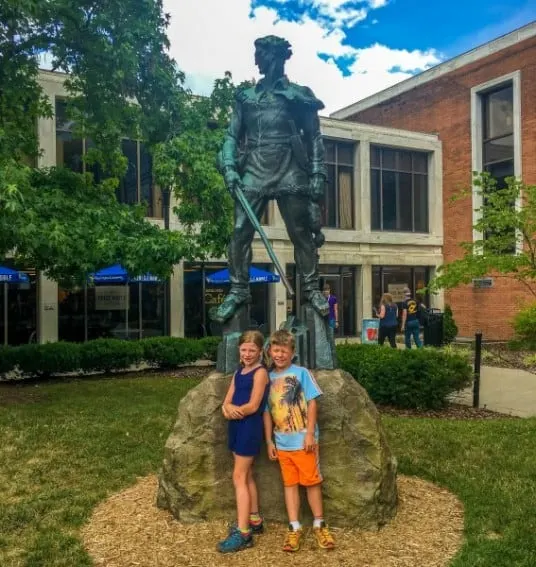 On the WVU Main Campus, families can walk or drive University Ave past Woodburn Hall and many other campus highlights. At the USS WV Mast Memorial, families can pause to remember the casualties of Pearl Harbor. Outside of the Mountainlair Student Union, families can pose for a selfie by the Mountaineer Statue. Just a few steps away they can spot the historic library, Stewart Hall. It looks as if it came straight out of a Harry Potter movie. When on campus, you'll be sure to want to catch a glimpse of the PRT, Morgantown's Personal Rapid Transit. The PRT is a unique computer-driven public transportation system that connects three of WVU's campuses.
Along the Beautiful Monongahela River – Morgantown, WV Restaurants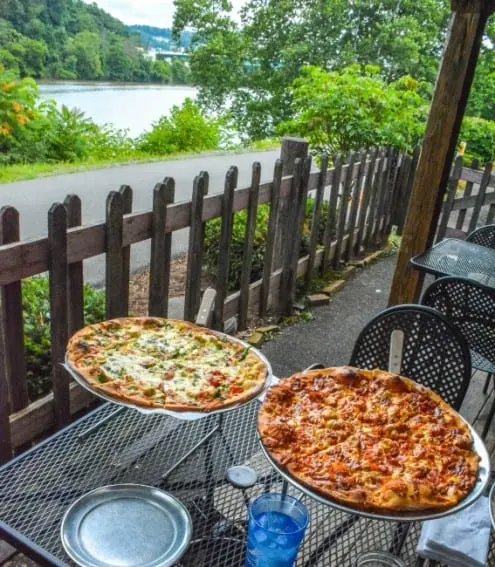 University towns are often known for their bike paths and Morgantown is no exception. I wish that we had brought our bicycles along on our West Virginia road trip! While munching on an amazing piece of meat-lovers pizza at Mountain State Brewing Co, I noticed a flat, paved bike path right along the Monongahela River. The path is part of the 48 miles of Mon River/Caperton/ Deckers Creek Rail-Trail Network.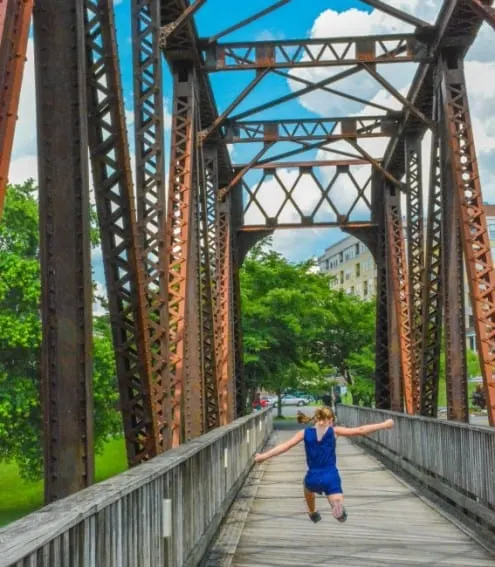 After indulging in just a bit too much pizza (the Great Escape with veggies and pesto-alfredo sauce might be even tastier than the meat-lovers), my kids and I enjoyed a short walk along the Caperton portion of this 48 mile Rail-Trail over the Decker's Creek Bridge towards downtown. If, like us, you forget your bicycles at home, you can walk, jog, or even roller blade the length of the trail along the Monongahela River. Alternatively, Wamsley Cycles at the Seneca Center has bicycles for rent; from the Seneca Center shopping area, it is only a short ride north to the Core Arboretum or south to the Hazel Ruby McQuain Riverfront Park.
Looking for Morgantown, WV hotels? Here's the best hotel prices in Morgantown, West Virginia
Where to Stay – Morgantown, WV Hotels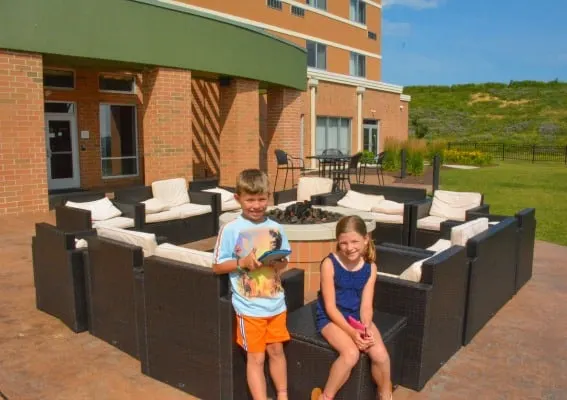 The Courtyard by Marriott at Morgantown is one of my favorite hotel stays with my kids in recent months. And, to be honest, I had written Courtyard off years ago as a business travelers' brand that had small rooms and little to offer families. My kids and I loved the view from our room over the city of Morgantown and Monongahela River both night and day. Even the pool and fitness center on the first floor had windows to enjoy this amazing city view. It's one of the best Morgantown, WV hotels for families.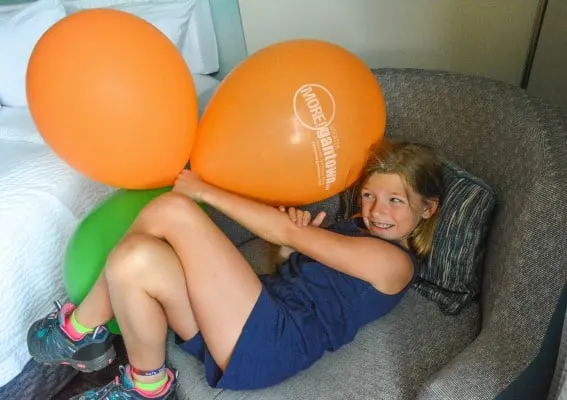 This particular Courtyard opened recently – and it shows. The rooms and the lobby have been cleverly designed to be both esthetically pleasing and to maximize space. The lobby and the rooms also feature plentiful electric outlets and USB charging ports. To the delight of my children, the television in our room even had Netflix capabilities! I hope that this is what the future holds for the Courtyard brand. We really enjoyed our stay at the Courtyard in Morgantown. It's a great choice when looking for family-friendly Morgantown, WV hotels.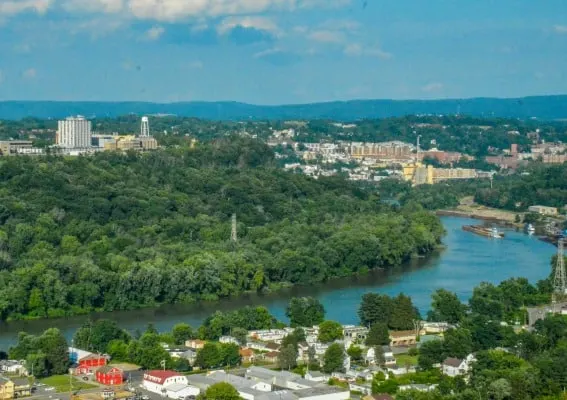 All photos are by Melissa Moore unless otherwise credited.
Disclosure: The author's family visited Morgantown as guests of the Greater Morgantown Area CVB. They were also invited guests of the Courtyard Marriott. All opinion are her own.