Southeast Asia is home to a wealth of unique animals that can only maybe be seen in zoos back in the United States. Giving your kids the chance to see Asian elephants in their natural habitat, spot wild silver langur monkeys in the treetops, or frolic with free-flying butterflies is a great reason to plan a family trip around the wildlife of Southeast Asia. Here are a few unique ways to experience the exotic animals in Southeast Asia.
Elephants – Patara Elephant Farm
Chiang Mai, Thailand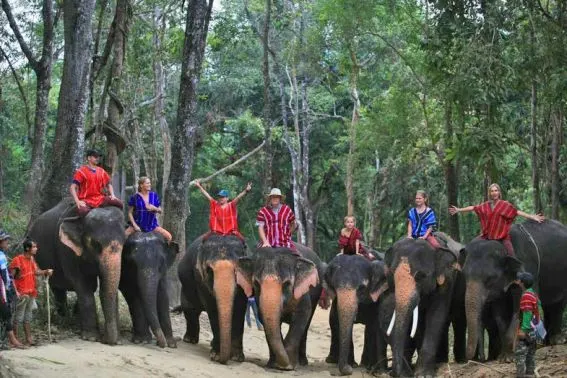 Photo Courtesy of Alice Horton
Located in the northwestern city of Chiang Mai, Thailand, the Patara Elephant Farm offers its signature "Elephant Owner for a Day" experience, which includes a full day of up-close-and-personal activities with your very own elephant. Start the day learning how to approach and interact with your elephant, under the guidance of a professional mahout (elephant handler), then feed and walk your elephant to the river. Next up: Bathing your elephant – my kids' favorite activity of the day. Everyone – humans and elephants – gets soaking wet and enjoys the experience. Finally, everybody will learn how to mount and ride bare-back on their elephant's neck before setting off on a jungle trek to a local temple and on to a waterfall a picnic lunch, before returning back to camp for the elephants' evening feed, a final photo opportunity and an often-emotional goodbye. After spending a day with one of Patara's elephants, you will definitely feel closer to this amazing species.
Beyond the standard tour: While the "Elephant Owner for a Day" experience is very popular, it is also possible to add a visit to the farm's nursery, where kids can see any baby elephants that have recently been born, and speak to the veterinarian about what it's like caring for these unique creatures.
Silver Langur Monkeys & more – Kulen Mountain Discovery Hike
Siem Reap, Cambodia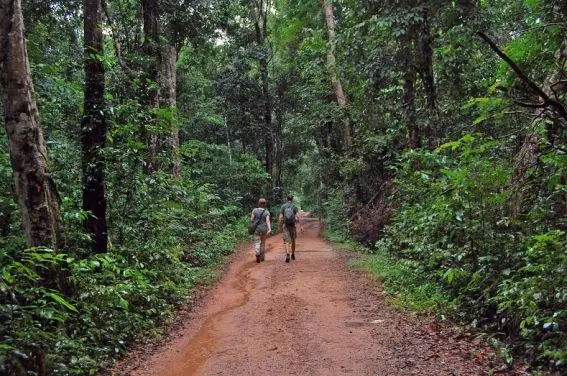 Photo Courtesy of Journeys Within
Siem Reap, Cambodia is internationally renowned for Angkor Wat and the many other nearby historic temples – sights that attract millions of visitors each year and are often crowded and difficult to navigate with young children. But few visitors to Siem Reap realize the amazing biodiversity and natural beauty that can be found be venturing into the nearby Phnom Kulen national park.
A jungle trek with Indochine Exploration offers families the chance to spot a number of different species of wildlife in this ecosystem, from birds to squirrels and bats in the canopy, to incredible insects and silver langur monkeys. Options include a guided five kilometer trek with mostly flat, easy-going terrain that takes about two hours to complete, or a shorter three kilometer walk that's appropriate for younger kids with shorter attention spans or limited energy levels. Either walk ends with a delicious picnic lunch on a beautiful riverside spot, and part of the proceeds of each trip will be dedicated to protecting the forest from illegal logging and encouraging forest conservation amongst the local population.
Butterflies – Banteay Srey Butterfly Centre
Siem Reap, Cambodia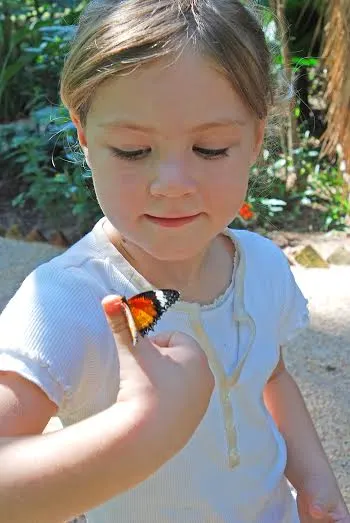 Photo Courtesy of Journeys Within
The BB Butterfly Centre is an interactive butterfly exhibit located just outside of Siem Reap and the famous Angkor Wat temple complex. Kids will love walking around the netted tropical garden amongst thousands of free-flying butterflies of many different species – many of them native to Cambodia. Everyone in the family will get to learn about the different life stages a butterfly goes through, from egg to larvae to pupae to butterfly, and you're destined to snap some amazing photos of your kids with butterflies in their hair.
Moon Bears – Free the Bears
Tat Kuang Si Park, Laos
A sanctuary established to provide a home for rescued Asiatic Black Bears (Moon Bears), the Tat Kuang Si Bear Rescue Center was set up by the non-profit organization Free The Bears in 2003 and continues to provide a home for bears that have been illegally captured from the wild as young cubs. Families can visit the rescue center – located 30 kilometers from the UNESCO World Heritage site of Luang Prabang – and learn about these incredible animals and what the organization is doing to combat the illegal poaching of bears throughout Southeast Asia.
Tropical Reef Life – Cham Island Diving
Hoi An, Vietnam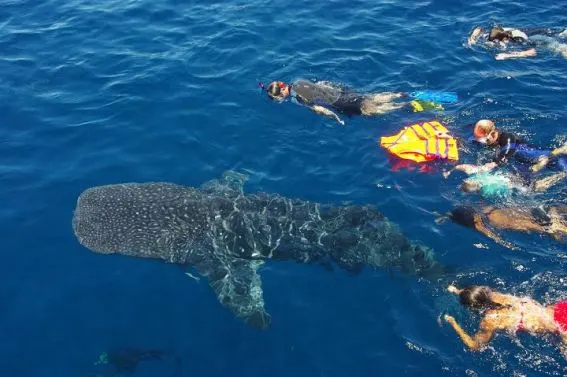 Photo Courtesy of Cham Island Diving
While you might not be ready to sign your kids up for SCUBA diving classes just yet, there is no reason that they can't enjoy an amazing undersea adventure with just a mask, snorkel, and fins. The Cham islands feature a huge array of tropical reef life in clear, warm waters just a short speed boat ride away from Hoi An. There are plenty of tropical beaches to relax on if the children get tired, and the English-speaking snorkeling guides at Cham Island Diving will help ensure that everyone has an enjoyable experience in the water – from first-timers to experienced snorkelers.
Snakes – Dong Tam Snake Farm
My Tho City, Vietnam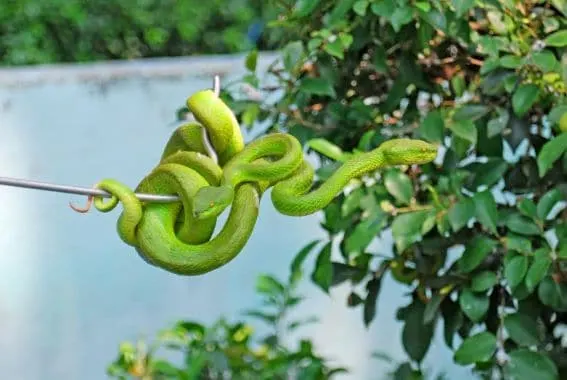 Photo Courtesy of Journeys Within
If snakes are a fascination for your family, the Dong Tam Snake Farm is a great stop for those traveling between Saigon and the Mekong Delta in Vietnam. Featuring many different varieties of snakes – both venomous and non-venomous – the Dong Tam farm produces anti-venom remedies that are made available to the local population while also educating tourists on the types of snakes found in the region. Expect to see cobras, pythons, copperheads, and many other colorful and interesting species.
What not to visit
While Southeast Asia is home to many other exotic species of wild animals, unfortunately conservation and the humane treatment of captive animals are not up to the standards found in the United States. Therefore, when working with our clients at Journeys Within, we will not book tours of certain animal exhibits, zoos, and theme parks because of the poor treatment wild animals receive at these facilities. Some of the more popular facilities we avoid include:
The Tiger Temple (Wat Pha Luang Ta Bua) in Kanchanaburi province, Thailand. Unfortunately, allegations of tiger mistreatment and illegal trade have plagued this facility for many years.
Most elephant parks EXCEPT FOR: Patara Elephant Farm (see above), the Elephant Nature Park, and the Four Seasons Tented Camp Golden Triangle. We know these three facilities have a great track record of humane treatment and conservation; however, there are plenty of others "elephant centers" throughout Southeast Asia that are more interested in tourist dollars than in taking care of their elephants.
Most animal shows or circuses. It is not uncommon to see chimpanzees perform in a "boxing match" or jungle wildlife brought out for tourists to hold and take photos with in many places throughout Southeast Asia. Patronizing these kinds of exploitative activities will only perpetuate the abuse and potentially lead to more wild creatures being captured from their homes and sold into the tourist trade. Please do your research before visiting a zoo or animal center and make sure the organization behind it shares your values.