Christmas in Seattle means lots of lights up everywhere, shopping in the city, and drinking lots of Starbucks holiday beverages in festive red cups. The dreariness of November's rain turns into festivity.
Christmas in Seattle is special. Suddenly there is so much to do that you barely even notice the rain anymore. Hurray for Seattle Christmas events!
To keep you and your family entertained this holiday season, here are some of our favorite ways to enjoy Christmas in Seattle. Updated for the 2021.
The Best Seattle Christmas Events
Teddy Bear Suite and Festival of Trees at the Fairmont Olympic Hotel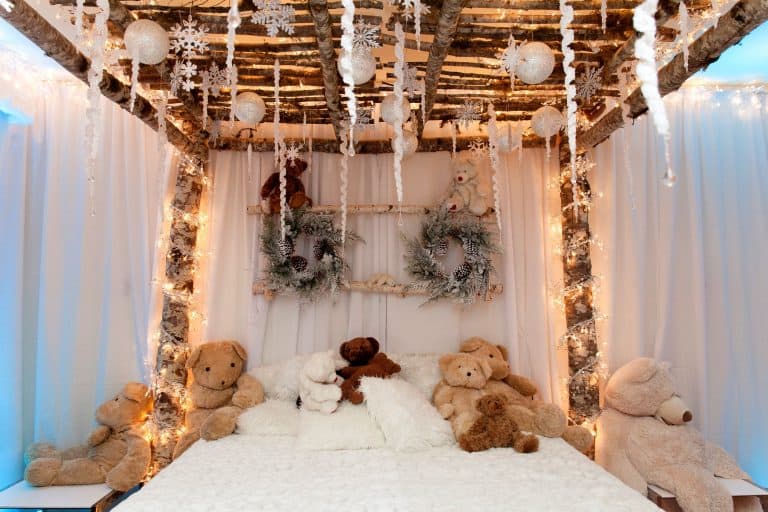 While at the Fairmont Olympic Hotel, stop by the Festival of Trees display in the lobby. Over 23 festively decorated Christmas trees honor heroic young patients from Seattle Children's Hospital. The trees will be on display November 20- December 1, 2021.
The trees will be displayed for guests of the hotel to enjoy as well as visitors who can enjoy them from the hotel windows along 4th Avenue.
Note: The Fairmont Olympic will not be hosting the Teddy Bear Suite or the gingerbread house this season due to Covid-19. We are keeping details about this special and wonderful event in this article for informational puposes and future planning, in hopes that it will return in 2022.
Visit the Teddy Bear Suite in the Fairmont Olympic Hotel in downtown Seattle. Your kids will be in awe from the moment you walk into the Fairmont lobby, as it's decorated with gorgeous trees, wreaths, and gingerbread.
After a short ride up the elevator, you'll be ushered into a suite of rooms with teddy bears of every shape and size. Your kids will love hugging lots of new friends and parents will have a great time snapping lots of pictures of the kids in this beautiful setting.
On your way out, grab a candy cane. Also, consider making a donation–the Teddy Bear Suite raises money for Seattle Children's Hospital. The Teddy Bear Suite is open daily (including Christmas!) during the holiday season. This is one of the must see Christmas activities in Seattle.
Then head to the lower lobby to visit the life-sized gingerbread house. Just make sure your sweet tooth doesn't get the best of you so others can enjoy the candy creation as well! Donations to benefit the Seattle Children's Hospital are accepted for these attractions as well.
Book your stay at the family-friendly Fairmont Olympic Hotel.
Gingerbread Village at the Sheraton Grand Seattle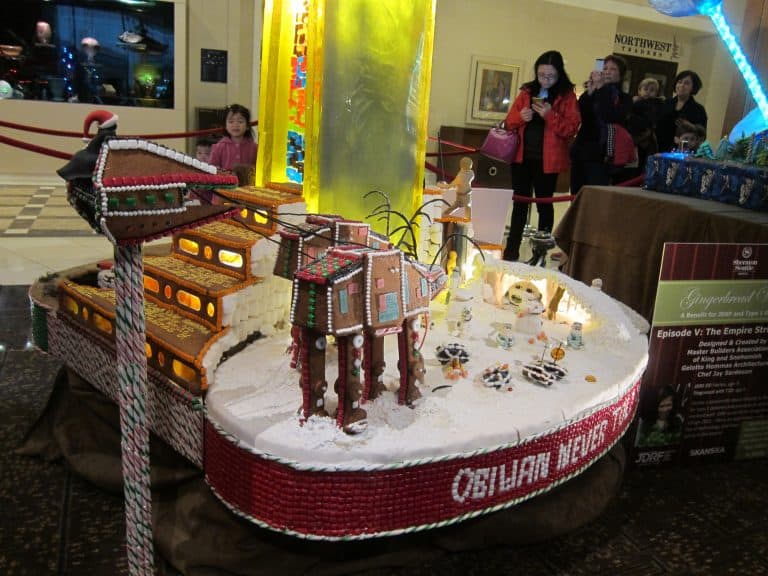 Another must-do of the Seattle Christmas events is at the downtown City Centre building. Visitors are wowed by an amazing Gingerbread Village. The theme varies every year. Past themes have included "25 years of Cheer: A Celebration of Seattle" and "May the Holidays be With You: Star Wars."
Each year local architects and the culinary staff at the Sheraton Grand Seattle try to out-do each other with wondrous creations. You'll mostly wonder how on earth they made such amazing things out of gingerbread and candy!
If you're moved to make a donation, money raised goes to the Juvenile Diabetes Research Fund. The Gingerbread Village is open 24 hours per day during the holiday season.
Look for deals on hotels in downtown Seattle.
Ride the Holiday Carousel and go Holiday Shopping at Westlake Park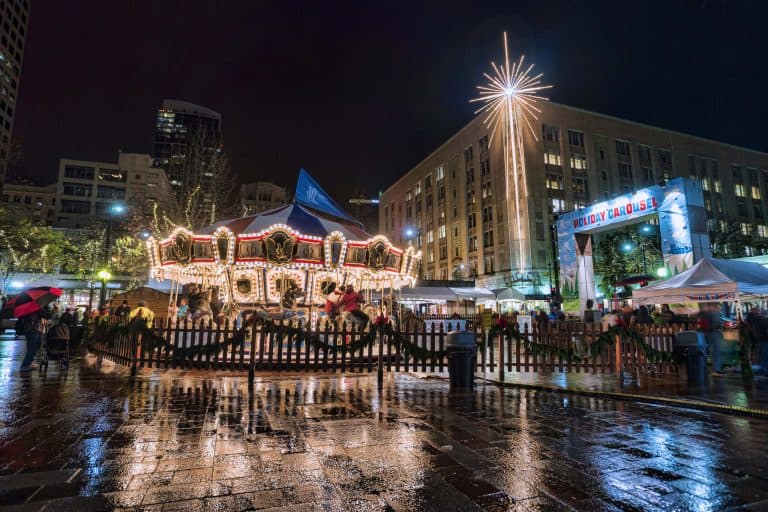 While you're in downtown, check off another one of the amazing Seattle Christmas activities. Swing by Westlake Park for a ride on the Holiday Carousel. This wooden carousel offers lots of beautiful animals for your kids to ride. It lights up so beautifully.
As a bonus, in between carousel rides, you can get a start on that holiday shopping list. Check the schedule of events as Westlake Park is the home of one of Seattle's holiday markets. Check out the home-made gifts.
Just like the Teddy Bear Suite and the Gingerbread Village, proceeds from the Holiday Carousel go to charity. And, don't miss the chance to look at the tree lights adorning the huge Christmas tree in front of Westlake Center!
A plus for visitors, Westlake Park is less than a mile from Pike Place Market.
Celebrate Christmas in Seattle at the Zoo
If you're not interested in coming into the city, how about celebrating the holidays at the zoo? Both Woodland Park Zoo and Tacoma's Point Defiance Zoo offer Christmas lights programs.
The Woodland Park Zoo is hosting the WildLanterns, an event filled with large and beautiful glowing animal lanterns along paths throughout the zoo. There will be Living Northwest, Jungle Lights, African Savanna, and SeaMazium- themed sections of the experience.
WildLanterns will take place November 12, 2021 – January 30, 2022 from 4-8:30pm. It is closed some Mondays, Thanksgiving, Christmas Eve, and Christmas.

WildLanterns is a ticketed event. You can reserve your tickets here. Vaccine verification is required for those who are 12+.
ZooLights will take place at Point Defiance Zoo November 26, 2021 through January 2, 2022. It is also a ticketed event. Expect to see 3-D animal light displays and over 700,00 holiday lights total.
The zoos open to guests during the evening hours. Bundle up the kids with their hats and gloves for an awe-inspiring time. After dark, thousands of lights make the grounds glow with Christmas spirit.
Check out these family-friendly hotels in Seattle.
Go Ice Skating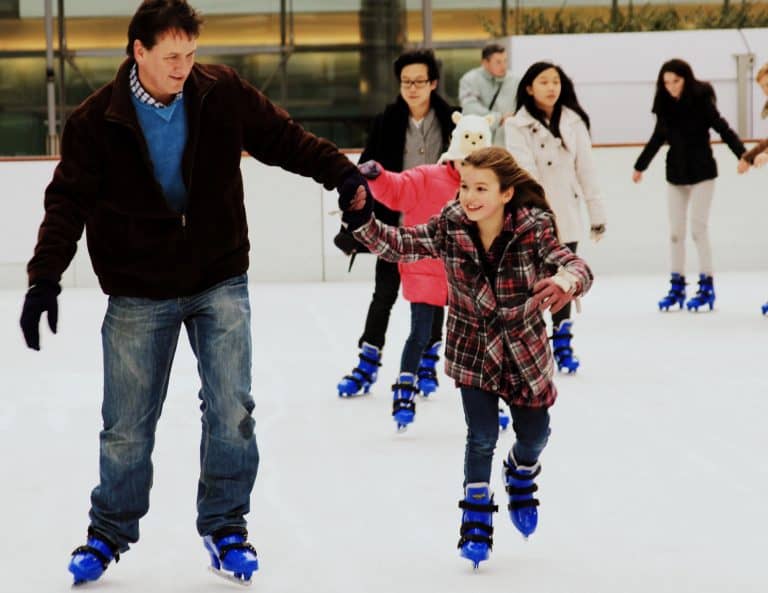 How about some ice skating to celebrate the holiday season? In Seattle, head over to the ice rink at Seattle Center, located on the ground floor of Fisher Pavilion.
Skating fun is open throughout the holiday season (Closed Christmas Day, hours vary by day). Skate rentals are available and the entrance fee includes the rentals.
Enjoy slipping and sliding during this chilly and heart-warming Seattle Christmas event. Bring the camera to catch the little ones as they figure out how to stay upright and the twirls of the more experienced kids.
Attend Winterfest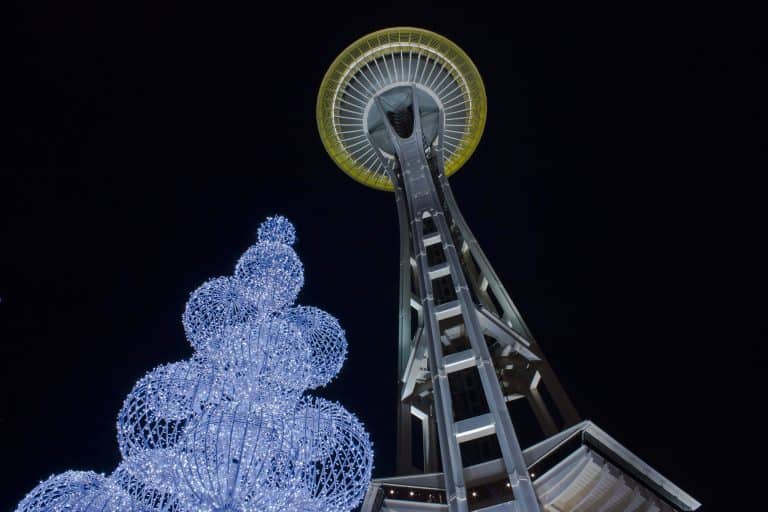 Seattle Center has a whole host of other great Christmas activities as well. Winterfest is a month-long party right under the Space Needle. It runs from the day after Thanksgiving through to New Year's Eve.
Your child (and you too, honestly) will love checking out the huge Winter Train and Village. You may even want to stick around to take a turn at the controls!
On Saturdays (November 27, December 4, 11 & 18, 2021) there will be an ice sculptor creating beautiful art out of ice.
While enjoying Winterfest, enjoy the amazing music performed by local schools and other groups. You can find them on the stage in the Seattle Center Armory (formerly called the Center House) throughout the season.
See a Holiday Performance
The production of The Nutcracker is one of the popular Seattle Christmas events which takes place in McCaw Hall November 26- December 28, 2021.
We'd also recommend Seattle Children's Theatre's acclaimed theater adaptions. There is always a quality show running during the Christmas season for families.
Book a Festive Cruise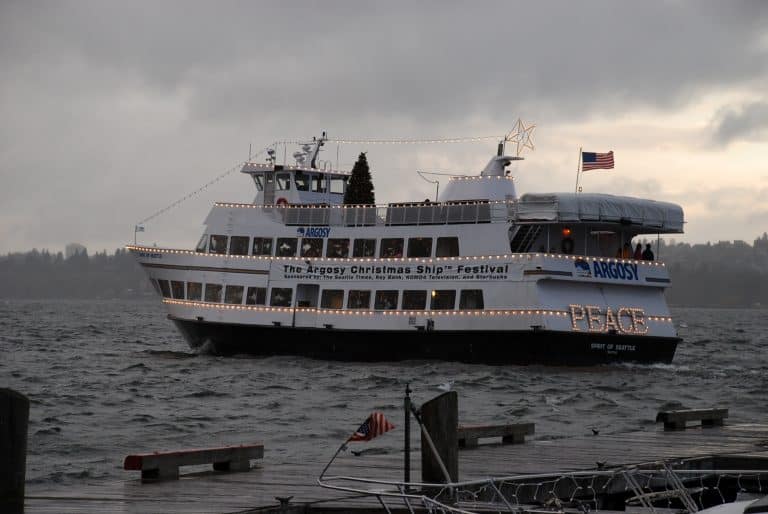 Want to celebrate the holidays while on the move? Argosy Cruises celebrates with the Christmas Ship Festival, with lots of lights and caroling, in 45 communities around the Puget Sound during the Christmas season.
Book either a ticket on one of the boats in the festival or watch from shore! There's not anything like watching as lights seem to float all by themselves on the water.
Ride a Santa Train
If a train is more your speed, head up to North Bend and take a ride on the Santa Train weekends from Thanksgiving to Christmas.
For 2021 there are two holiday train options. The Yuletide Express is a 25-minute train ride to Snoqualmie Falls. Ticketholders will receive two cookies and each child will get a small gift from Santa. Advance tickets are required.
There is also the two hour Santa Limited excursion departing from the North Bend Depot. Sanat will great each child with a small gift and there will be crafts to enjoy. Kids get a cookie to take home.
Also popular is the Mt. Rainier Scenic Railroad's Polar Express Train. Both Christmas activities are complete with hot chocolate and visits from Santa Claus himself! Watch as the kids eyes light up with the magical sparkle of the season. Cancelled for 2021 due to Covid-19.

Lumaze Indoor Winter Light Festival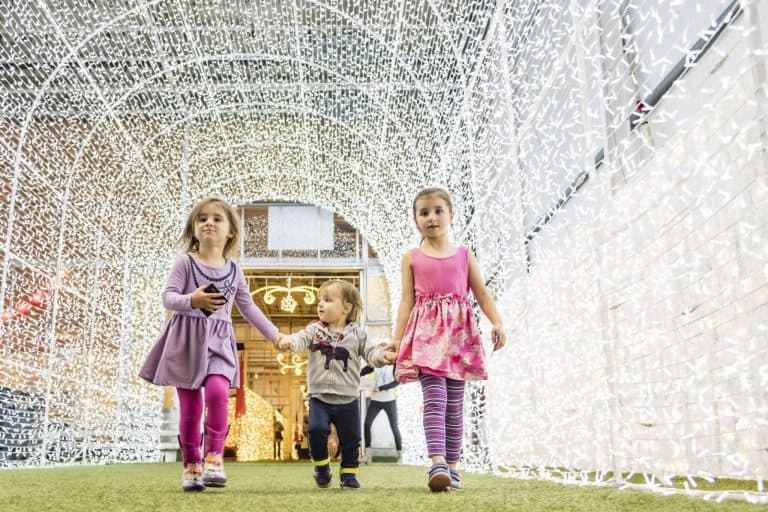 One of the newest Seattle Christmas events is Lumaze: Lost in Lights, an indoor winter light experience which is basically and interactive light maze filled with a million lights designed for families. It is located at Pier 91 and open November 30 through December 31, 2022.
The goal is to search for Santa's lost presents and there are plenty of attractions along the way to excite the kids. Highlights include the gingerbread house playground, LED hopscotch and swings, Louis the locamotive, face painting, encounters with princesses from popular movies, LED performers, and bouncy animals for the littles to ride on.
There is also plenty of food and seasonal beverages as well as live music. And, of course, Santa.
Lumaze Seattle is cancelled for 2021.
Warm Beach Camp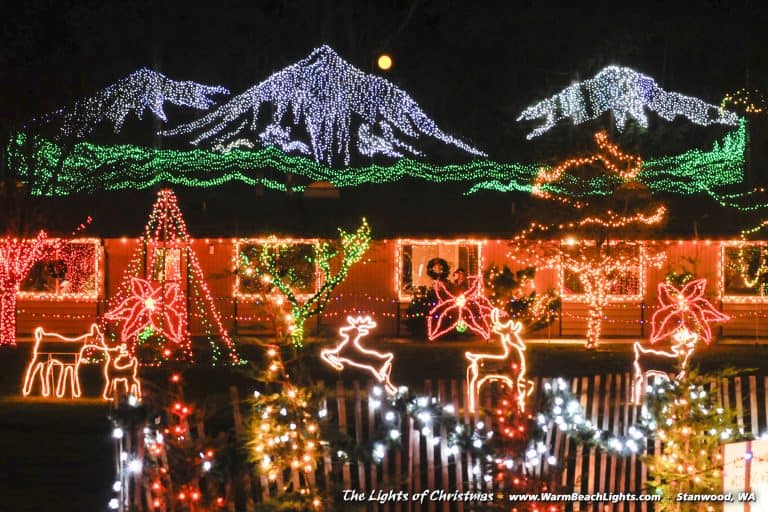 Another local favorite is The Lights of Christmas at Warm Beach Camp. With over 1 million Christmas lights spread out over 15 acres, it's the biggest light display in the area.
As if the lights weren't enough, the event offers pony rides and train rides, too! Don't forget to see Santa.
Families enjoy the entertainment, petting the animals, trying tasty snacks like donuts, and generally having a great time. Plus, grown-ups can get a little holiday shopping done.
For 2021, The Lights of Christmas will be a drive-thru event. It will take place on select dates November 22, 2021- January 8, 2022. Advance tickets are required.
Leavenworth is a charming Bavarian town east of Seattle and a wonderful place to enjoy the Christmas season. Here is your Ultimate Leavenworth Christmas Guide.
Find the best hotel deals in Seattle.
Is there a Seattle Christmas event we missed? Does your business have updated information to share? Email [email protected] and tell us about it!
Find more Christmas events near you! Trekaroo has guides for dozens of cities across the country.
Pin this to bookmark all the holiday fun; we update it yearly:

Special thanks to Tiffany Vaughn for updating this article for 2018 and Heather Erquiaga who updated it for 2019.
Lead Photo by: Bigstock/f11photo