The snow is melting off the mountains, and the brooks are starting to babble, which means it's time for some Breckenridge, Colorado summer activities filled with fun!
While most people think of Breckenridge as a winter ski resort, it's also a top destination for families looking for outdoor adventure during the summer months. Here are 10 great things to do in Breckenridge, CO in the summer that will have the entire family begging for more time to explore.
Explore more of the state! Here are the 10 best things to do in Colorado with kids.
Breckenridge Summer Activities- 10 FUN Things to do in Breckenridge
1. Take a FREE Gondola Ride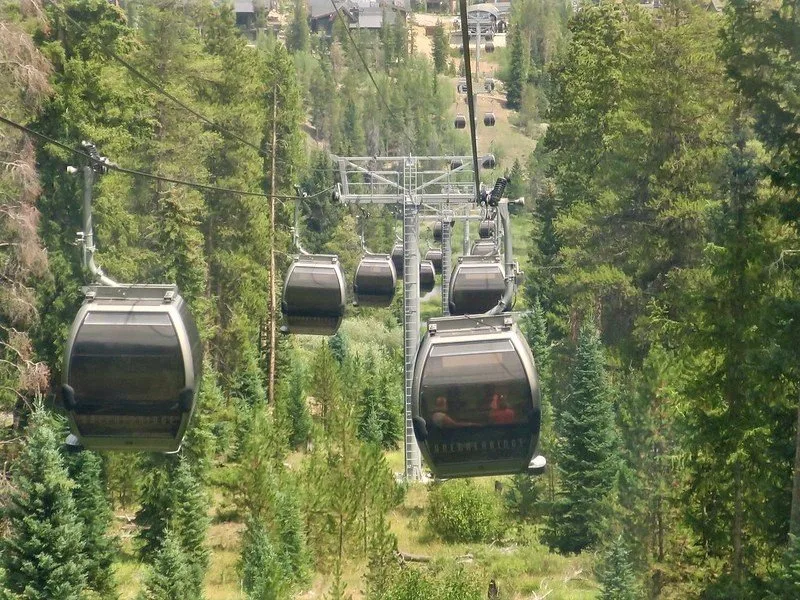 The Breckenridge Gondola is free and goes from downtown to the top of Peak 8. It's almost like taking the monorail at Disney World, and best of all it's free!
The entire ride to the top takes 13 minutes and offers amazing views of the Tenmile Range, the town of Breckenridge, and Cucumber Gulch Wildlife Preserve down below. Keep your eyes out for wildlife, especially moose and bald eagles.
Once at the top, you can enjoy the views, enjoy a meal at a Peak 8 restaurant, go for a hike, go mountain biking, or play on the attractions at Peak 8 Base Camp.
Vail is just down the road. Here are 17 fun things to do in Vail in the summer.
2. Have a Blast at Epic Discovery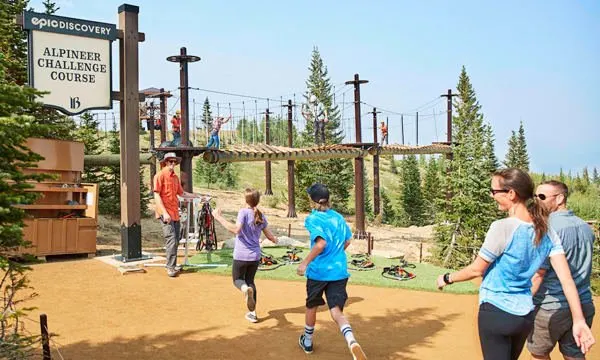 At the top of Peak 8 is Epic Discovery, an alpine outdoors play wonderland.
One of the most popular rides is the Alpine Slide. This is basically where you drive up a sled with wheels down a long concrete slide. There is a brake so you can control your speed. Children 35″ and above can ride with an adult and children 48″ and taller can steer their own sled.
Equally popular is the Gold Runner Coaster. It is similar to the Alpine Slide but it is on an elevated coaster track as it races down the mountain and through the forest. Once again, you can control the speed and children 38″ and taller can ride.
If you want to check out even more views, ride the Colorado Super Chair. It is a ski lift that gives you great views of the surrounding 14ers, mountains in Colorado that soar about 14,000 feet in elevation.
Families with kids ages 12 and up will want to check out the Alpineer Challenge Course. This ropes course has 15 different features to tackle including and a log walk, rope swings, and several other balance-testing obstacles. There is also a Lil' Climber Ropes Course for kids too young to participate in the big course.
But wait, there's more! There are bounces house, a bungee trampoline, a climbing wall, a mineshaft maze, mini golf, tubing, and gemstone panning.
3. Go Zip Lining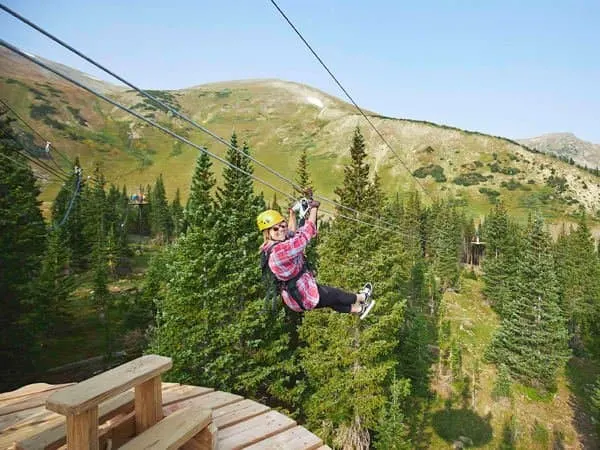 Zip lining has quickly become one of the most popular offerings at mountain resorts during the summer month, so of course Breckenridge has its own course! The Expedition Zip Line course is open to those 10 and up who are ready to have an adventurous zip across some wonderful alpine scenery.
Tours meet at the Vista Haus, located at the top of the Colorado Super Chair. The tour includes eight ziplines between 10 towers and a 200ft long aerial bridge walk.
Younger kids between 30 and 100lbs can still participate in the zip line fun via the Little Flyer Zip Line at Epic Discovery.
4. Enjoy the Fun at the Breckenridge Rec Center
The Breck Rec Center is outside of downtown, along the Blue River Trail bike route. It is a great places to spend the afternoon.
They have an indoor pool with a zero entry for little ones (great for rainy days) and a lap pool for swimmers. In addition there is a water slide, lazy river, rope swing, basketball nets and a climbing wall, all in the pool. To ease the aches from being active, there are two hot tubs.
The Rec Center also has tennis courts complete workout facilities and a free outdoor skate park. Kids love the indoor climbing wall. Older children can get belay certified and go on the climbing wall without supervision.
The Breckenridge Rec Center offers daily passes and multi-visit punch cards.
5. Embrace Breckenridge's Gold Rush Roots and Visit the Country Boy Mine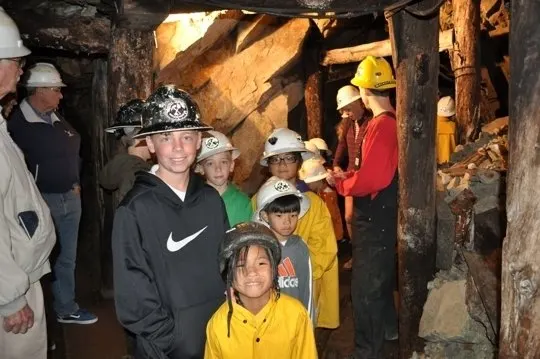 Breckenridge started as a gold mining town. Everywhere you see remnants of the mining era.
The Country Boy Mine allows guests down into the mine to learn what it was like working underground each day. Bring a sweater, even in summer, as the mine is a constant 45 degrees. Tours are every hour on the hour and the underground portion lasts about 45 minutes.
After the tour, you can stay as long as you like and pan for gold in the pools and nearby area on the property. And of course, anything that you find is yours to keep! There is also a chute slide that is popular with the little ones and adults alike.
Book your tour of Country Boy Mine on TripAdvisor.
6. Attend Mountain Bike School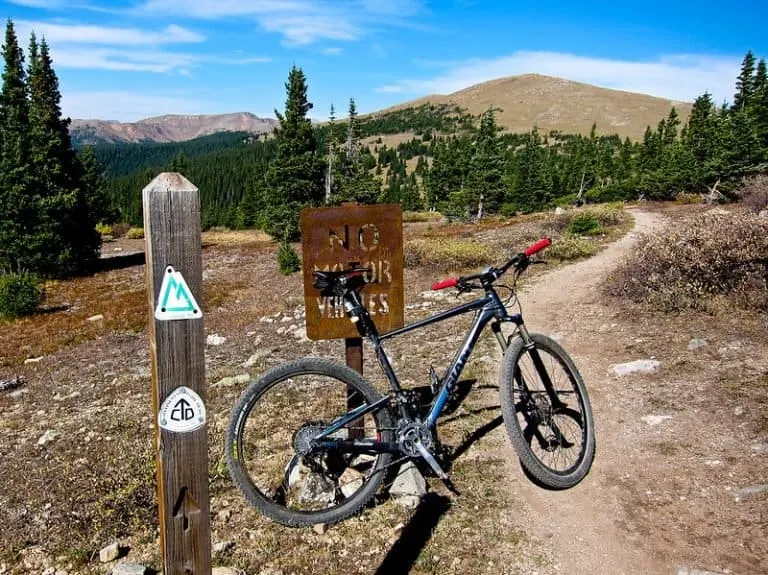 Breckenridge Ski Resort offers a mountain bike school that is a must for anyone looking to hit the trails in Breckenridge, especially if you aren't used to Colorado mountain biking.
Similar to ski school, these classes are taught by ability level and include a guided run down the mountain. Learn how to ride over terrain you will encounter on Breckenridge trails like rocks, bridges, and loose dirt. It is also helpful to learn how to do switchbacks going up and down that can have sharp drop offs.
The practice area is located on top of Peak 8 open to anyone and includes a pump track as well. The town of Breckenridge also maintains a pump track at the ice arena.
Seasoned bikers can hire the instructors as a trail guide. Not a bad idea, especially if you want to send your adventurous teens without having to brave the more advanced trails yourself.
Check out our guide to mountain biking in Breckenridge.
7. Visit a Ghost Town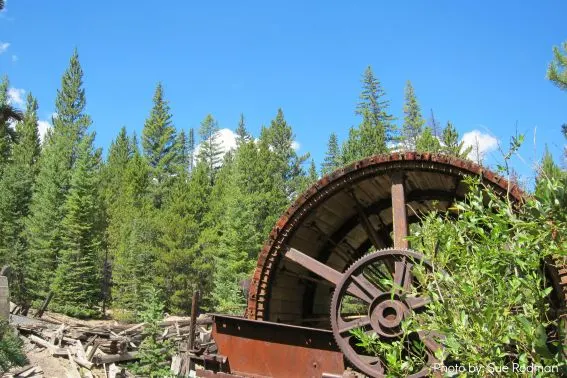 The Breckenridge Heritage Alliance offers guided history hikes to Preston Mill Ghost Town, a once prosperous mining town. Along the way are abandon mines and of course the town of Preston Mill.
Most of the buildings in the town have fallen down, but you can still see the remains and get a feel for the heyday. If you'd rather ghost stories, the Alliance also offers a ghost tour of downtown Breckenridge called the Breckenridge Haunted Tour.
Be sure to check out all of Breckenridge Heritage Allaince's tours and find one that fit with your family's interests. There are cemetery tours, mine tours, and more!
8. Go River Rafting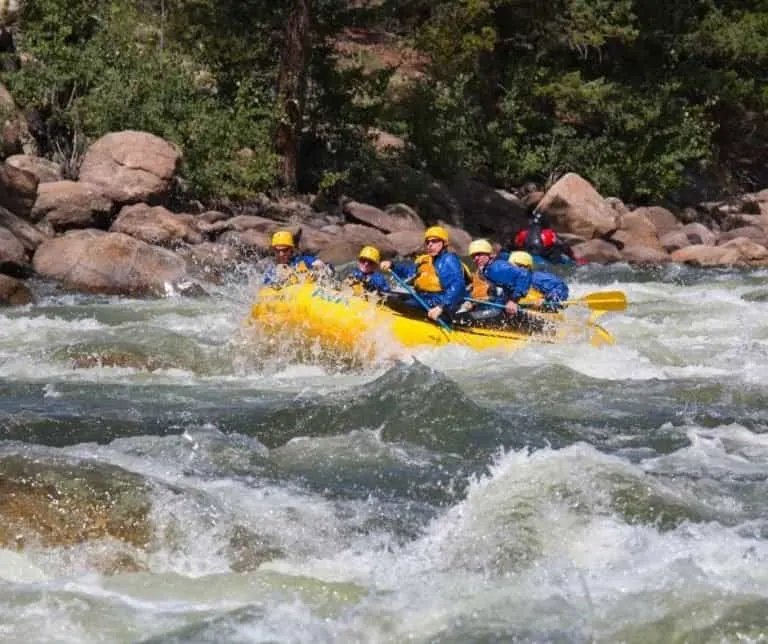 Did you know that some of the best whitewater rafting in the West is in Colorado, not far from Breckenridge? As a matter of fact, there are five rivers within a one hour drive of Breckenridge that are great for river rafting. There are several outfitters in the area offering a wide variety of trips.
Clear Creek has beginner whitewater that is good for kids six and up. Breckenridge Whitewater offers a 1/3- day beginner whitewater trip that is says perfect for families.
The Arkansas River is definitely the most popular river for rafting in the state, and there are options for everyone. The route through Browns Canyon National Monument is popular with families. Rapids have fun names such as Pinball, Zoom Flume, Widowmaker, and Seidel's Suck Hole.
The season for the Blue River is short but it is actually in Breckenridge so if you time it right, you will enjoy three miles of whitewater punctuated and great views of the Gore Range.
The famed Colorado River winds through the area, and the upper portion of the river is perfect for those looking to enjoy float trips. You can even experience this calm portion of the river in an inflatable kayak or on a stand-up paddleboard.
Book your inflatable kayak trip on the Colorado River on TripAdvisor.
The Eagle River near Vail is a great option May through July. The Lower Eagle River has class II and III rapids that are great for families. This 17-mile day trip goes through several rapids and a couple different ecological zones.
9. Go For a Hike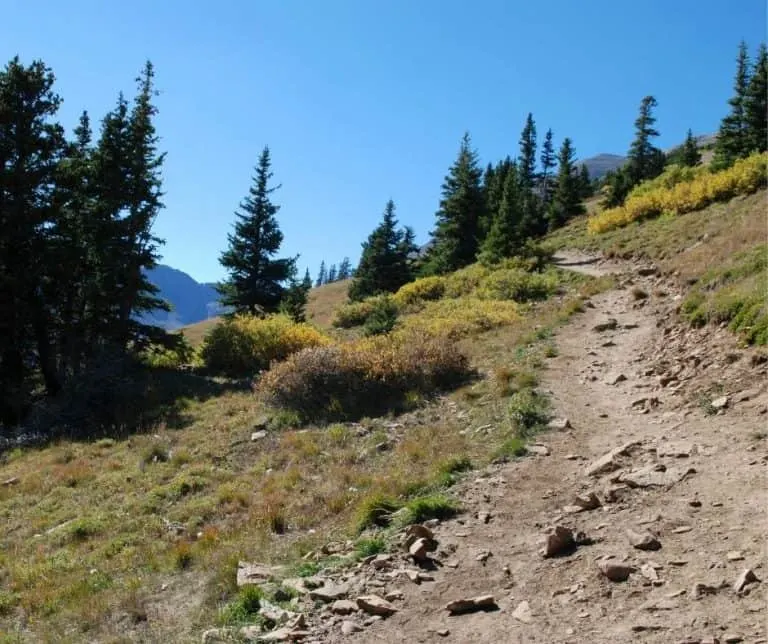 There are so many great hikes in Breckenridge, and getting out on the trails is one of our favorite ways to enjoy a Breckenridge, Colorado summer day.
The Iowa Hill Mine Trail is an easy 1.2 mile loop that features remnants of different types of mining equipment. Signage along the route tells the story of the mines and miners who worked there.
The Sawmill Creek Trail is an easy 1.5-mile hike ending at a mountain top reservoir where people fish and stand-up paddle board.
The McCullough Gulch Trail is a bit longer (2.8 miles) and more strenuous, however, it's worth it. The path leads past sculpted mountains to a glacier lake and waterfall. Marmots and picas are common sites along the rocks.
Read about five family-friendly hikes in Breckenridge.
10. Ride into the Sunset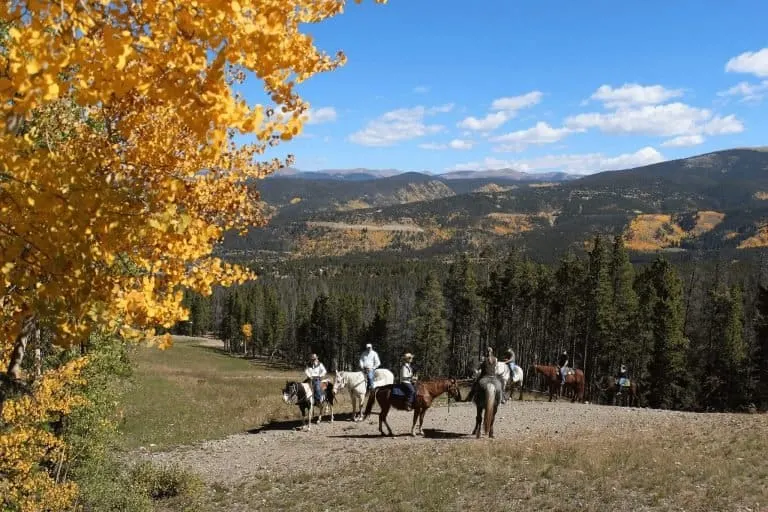 Visit Breckenridge Stables and pick your steed to ride into the sunset. Trail rides go out several times a day and are great for families because unlike many other stables, this one has options for the whole family.
Trail rides are 90 minutes long and take place between Peaks 9 and 10 above Breckenridge. Children ages three and below can ride double with the parents. Four and five-year-olds can ride their own horse which will be lead by a rope by a staff member. If you are six and up, you can ride your own gentle horse on the trail.
If you'd rather not ride, purchase a horse treat at check in and feed the horses that are taking a break.
Thank you to Sue Rodman who wrote the first version of this article. For more fun things to do in Colorado with Kids , visit Field Trips with Sue and read the Colorado series.