While Vancouver is one of the mildest cities in Canada, one doesn't have to look far to experience the 'Great White North.' Here are five wonderful ways to embrace winter in Vancouver with toddlers and kids of all ages.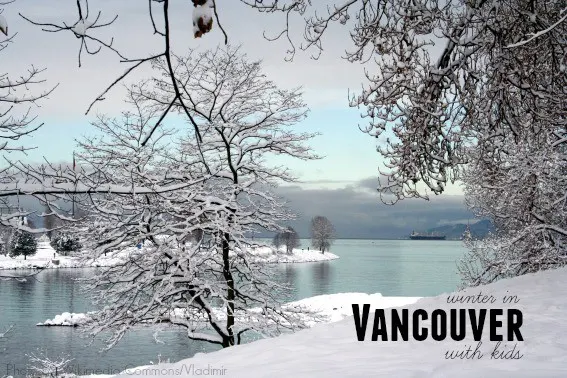 Skiing
Vancouver has three ski mountains within an easy 40 minute drive of the city: Grouse, Cypress and Seymour. All of them offer extensive downhill ski lesson programs for children starting as young as 3 years old. Cypress Mountain also offers nordic ski lessons (classic) for kids 6-12 years and skate skiing lessons for kids 9-12 years.
Snowshoeing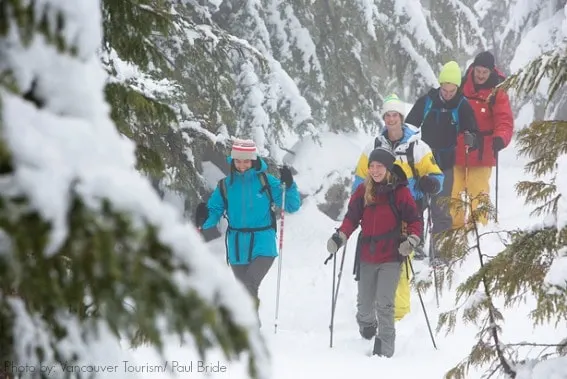 Snowshoeing is a fantastic winter sport to experience as a family, since even some toddlers can manage the minimal equipment, and babies can be bundled up in carriers. Cypress, Grouse, and Seymour mountains all have well maintained trails that can be accessed by purchasing a day pass. BC Parks also services several free snowshoeing trails in the winter months on Mount Seymour and in Cypress Provincial Park.
Money Saving Tip: Rent snowshoes and baby carriers from Mountain Equipment Co-op in Vancouver, where rates are lower than mountain top rentals.
Tubing and Tobogganing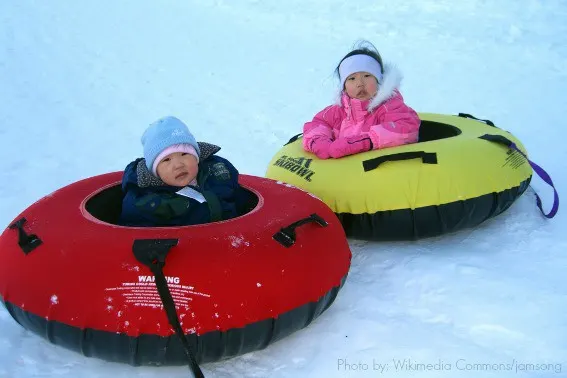 If you are lucky enough to be in Vancouver on a rare 'snow day,' pop by the hardware store Canadian Tire (various locations) to find just the right toboggan or crazy carpet, and then head to a local park. Popular tobogganing spots include: The Vancouver Aquatic Centre, Queen Elizabeth Park, and West Point Grey Academy.
If the city itself is not covered in a dusting of snow, then try Cypress Mountain's Snow Tube and Slide Park, or the Snow Tube and Tobogganing Park on Mount Seymour. A sliding or tubing pass is required and sleds and tubes are available on site.
Ice Skating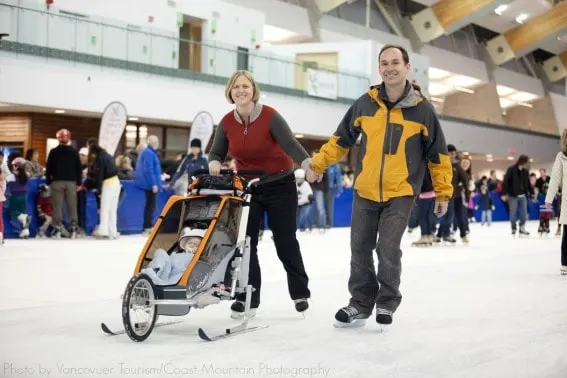 Outdoor Skating Rinks:
Although rather small, the downtown Robson Square Ice Rink is one of the most festive, surrounded by pretty illuminated trees. It is also a very economical option since skating is free and skate rentals (including helmet) are only $4.
Grouse Mountain also has a very picturesque 8,000 square foot outdoor skating pond. This is one of several on-mountain winter activities that is included when you purchase an Alpine Experience Day Pass (skate rentals are an additional $8).
Indoor Skating Rinks:
While there are a number of indoor skating rinks around Vancouver, the latest and greatest are the Trout Lake Community Centre which was built to impress for the 2010 Olympics, and the Riley Park Hillcrest Community Centre.
Vancouver Hot Chocolate Festival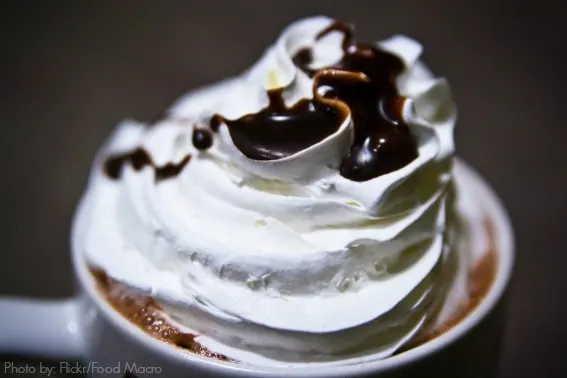 This annual festival is a great way to warm up on a chilly winter's day. From mid-January to mid-February, some of Vancouver's top cafes and bakeries challenge themselves to create deliciously unique hot chocolate masterpieces. Try one…or try them all, although that would be difficult as there are more than 60 variations around town. For more information on this event, see the City Food Magazine Hot Chocolate Festival webpage.
Editor's Note: Exact dates for the 2015 festival are Jan. 17th – Feb. 14th, 2015