San Francisco's got it all for the holidays: ice skating, candy decorations, Victorian era villages, Nutcracker teas, and even light peeping aboard a trolley car! Check out our favorite holiday attractions in the City.
Check the best deals on Family Friendly Hotels in San Francisco
Union Square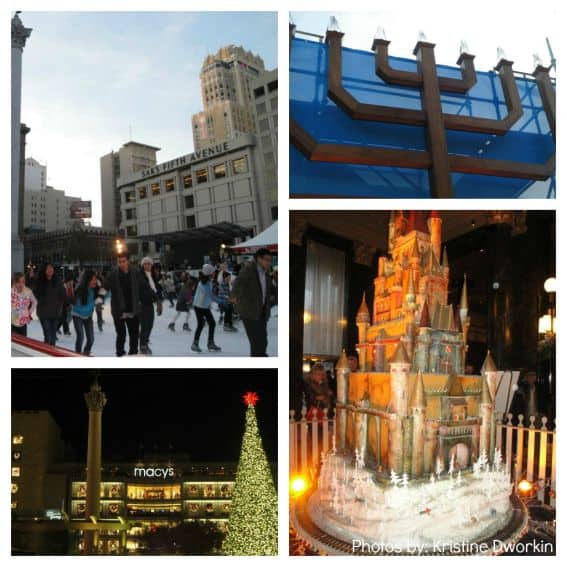 Union Square is the center of San Francisco's classic holiday scene. An elegant outdoor plaza with upscale stores like Macy's, Saks Fifth Avenue, and Neiman Marcus around its perimeter, Union Square is transformed into a holiday wonderland this time of year. Never fear, there's more than retail therapy to enjoy! Here's a rundown of sights and experiences that are not to be missed!
Light the Menorah
If your visit coincides with Hanukkah, you are in for a treat! Leaders, community members, and others take time away from the Union Square holiday hustle and bustle to gather around the stunning 25-foot tall mahogany Menorah built by the late Bill Graham, a well-known Bay Area concert promoter. A candle is lit for each day of the eight-day Jewish festival of light. Readings, songs, activities, and quite often children's arts and crafts are also a part of this hopeful occasion.
The Macy's Christmas tree and the Safeway Holiday Ice Rink
Situated right in the center of the square, the Safeway Holiday Ice Rink is a perfect blend of winter fun and holiday magic. Located at the base of the 83-foot tall Macy's Christmas tree, there's nothing like the sight of 1,500 ornaments and 33,000 LED lights twinkling nearby as you take a spin with your brood on those blades. The ice rink is open daily until January 16, 2017. Ticket prices are $18 for adults and $13 for children 8 and under. Prices include skate rentals.
Check out a Christmas Kingdom of Sugar
Two spectacular castles will delight visitors in the historic Landmark Lobby at the Westin St. Francis . The stunning Sugar Castleis back by popular demand! It's a magical castle with grand circular towers, individual rooms, colorful illuminated windows, and is surrounded by holiday sugar cakes. It will be display along with the St. Francis Enchanted Castle, a rotating winter wonderland of elaborate gift boxes, gingerbread trees and brilliantly colored candies from November 22 – January 2.
Because sugary sights can tickle the sweet tooth, the hotel will open the St. Francis Sweet Boutique in the Landmark Lobby from 11AM-4:30PM during weekends. A variety of freshly-baked decorative cookies, orange-scented shortbread, gingerbread men, holiday Parisian macarons, and rice crispy treats will be available for purchase.
Adopt a Pet from the Macy's Windows
Macy's has made a holiday tradition out of turning its store windows in an adoption center for dogs and cats in need of loving families. This effort has helped find homes for over 8,800 animals and raise nearly $400,000 for the San Francisco SPCA. You'll be hard pressed to walk by these colorful windows and resist the temptation to take one of these sweet animals home with you! Kittens are playing amid specially constructed sets and puppies are looking in bewilderment at all of the human faces pressed up against the exterior of the store windows. They are just too cute to walk away from.
Look for the best prices on Family Friendly Hotels in San Francisco
The Great Dickens Christmas Fair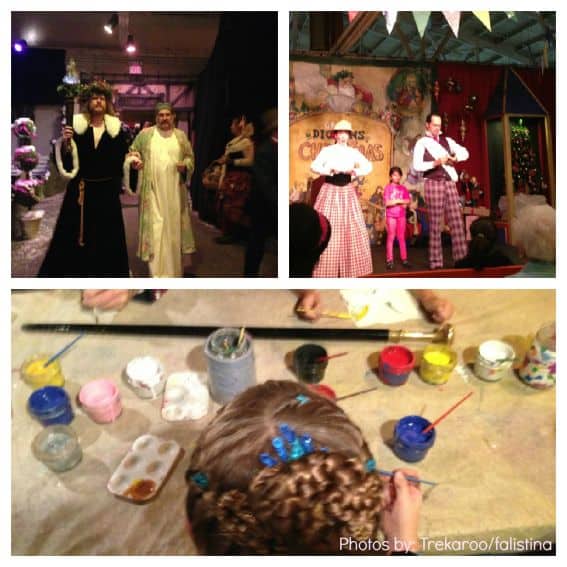 The San Francisco Cow Palace becomes an exercise in time travel when the Great Dickens Christmas Fair comes to town. You will swear you've been transported to Victorian London complete with period holiday decorations and costumed actors. Enjoy food, shopping, and entertainment that are all in keeping with the spirit of the Victorian Era.

The Nutcracker Ballet & Tea, Fairmont Style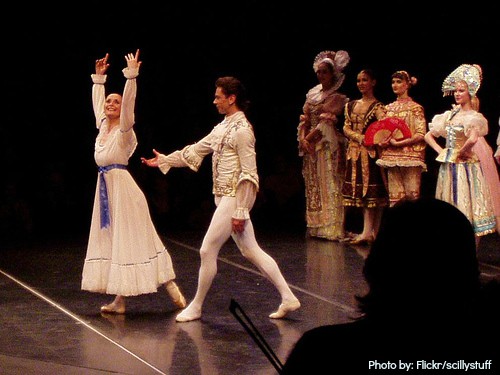 Another opportunity to revisit Victorian Christmas traditions arrives at San Francisco's War Memorial Opera House in the form of the Nutcracker. Audiences have made the San Francisco Ballet's sparkling production featuring young Clara and a cast of characters from the Kingdom of Sweets a holiday tradition dating back to 1944. There are also opportunities afterwards to capture Kodak moments with the cast and enjoy gingerbread and hot cocoa.
Afternoon tea has been a tradition at the Fairmont Hotel since the establishment opened its doors in 1907. The hotel not only proudly offers afternoon tea service in the same style it was served 100 years ago, it also presents a seasonal twist on this timeless tradition with its Gingerbread Holiday Tea. A great complement to catching the ballet performance or capping off a day of shopping, the children's package includes a nutcracker trinket and gingerbread cookie to decorate.
Christmas Lights- Classic Cable Cars & The San Francisco Zoo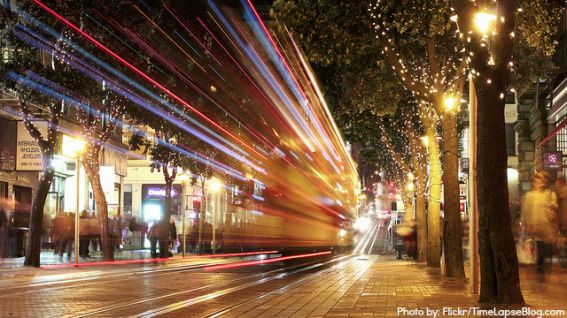 Experience the holiday lights and magic of San Francisco aboard a classic Cable Car. Dress warmly for this 70-minute ride traversing the city's famous hilly landscape. The experience includes seasonal music and a complimentary Santa hat. Book your tickets.
The San Francisco Zoo is putting on some special holiday events that will delight the elementary school set. Among them:
Reindeer Romp: Santa's reindeer friends, Belle, Holly, and Peppermint return for a visit through New Year's Day.
Zoo Lights: The zoo will be lit up with magical holiday lights during selected dates with seasonal entertainment and hot beverages to enjoy.
Check for availabilities on Family Friendly Hotels in San Francisco
Pin this to bookmark all the holiday fun; we update it yearly: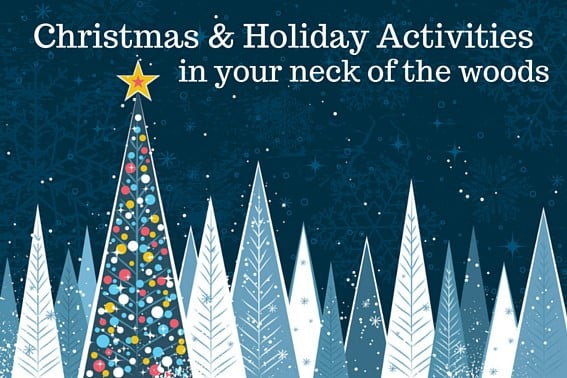 Find holiday activities and events in your neck of the woods. We've got the inside scoop on cities across North America.
Featured photo by: Shutterstock