Jackson, Wyoming is one of those rare vacation destinations that just seems to have it all: small town charm, breathtaking scenery, fine dining, and family-friendly activities around every corner, ski corral, or hitching post.
Usually lauded as a premiere ski town, Jackson is not to be outdone (even by itself) in the summer months. We spent a memorable 4th of July exploring the area this past month, and were never wanting for something to do.
Jackson's city center is located along three to four main blocks on and around Cache Street, known for its bleached-by-the-sun elk antler archways, high-end shops, and fun eateries. The town is very pedestrian-friendly, so to save on those precious parking meter quarters, I suggest driving down Cache Street to Snow King Drive and parking in the large, free lot belonging to the Snow King Ski Resort. From there, you'll have both the mountains (behind you) and the town (before you) at your disposal.
What to do: If you're like us, you'll spend your first five minutes arguing about whether the official city name is Jackson or Jackson Hole, and for good reason: locals seem to use the two interchangeably (To save you some time, here's the scoop: the city is called Jackson, whereas the valley in which it resides is generally referred to as Jackson Hole.).
After parking at the Snow King, a great first stop is the Snow King Resort's Alpine Slide. Located just at the base of the ski resort, this 2500 foot slide can be a fast-paced thrill ride or a more peaceful jaunt down the hill…due to the braking mechanism. The speed is up to the rider, which makes it a great activity for families with kids of differing ages. The Snow King also offers mini-golf and a scenic lift ride so if you think you'll want to do all three, buy a 'Fun Pass' instead of individual tickets.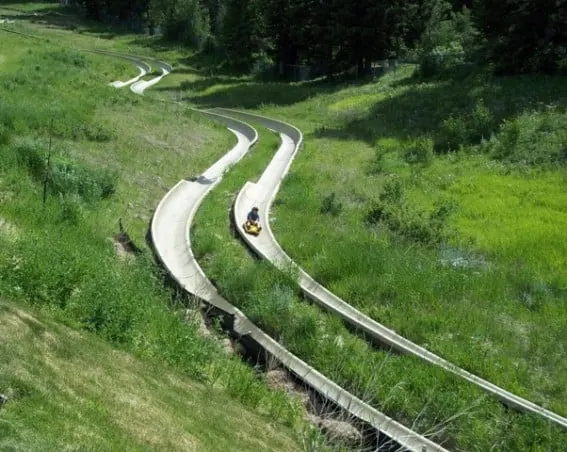 From the base of the Snow King, you're only half a block from one of Jackson's favorite local landmarks, The Amaze'n Jackson Hole Maze. Take a post in the 'observation deck' while your kids run through the intricate wooden maze, blasting each other with super soaker water guns.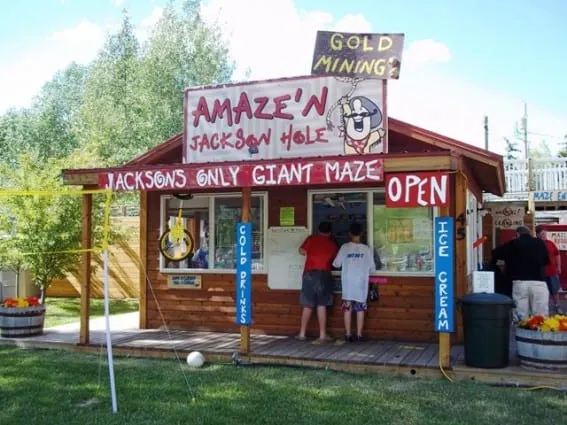 Once the sun begins its slow descent behind the mountains (and you've hopefully dried off!), take a seat for the famed Jackson Hole Rodeo. Make no mistake- this is the real deal, complete with rodeo queens, clowns, bucking broncos, and cowboys in Stetsons. You can purchase tickets in advance online, but we were told it's not usually necessary (the rodeo is in town twice a week all summer season). Each show lasts two hours (starting at 8 pm), and it does get chilly once it gets dark, so pack sweatshirts! A concession stand with typical snack food fare is open starting at 7 pm. We recommend the nachos.
Where to eat: There's no shortage of dining in Jackson, but for a quick, no fuss meal with kids, we recommend Mountain High Pizza Pie at 120 West Broadway (one block off Cache downtown). Don't be put off by the crowds of diners often vying for tables…the service is fast and the pizza is delicious! On a crowded summer day (4th of July, no less) we had our order placed in front of us in under 15 minutes (which didn't give me nearly enough time to peruse the Life is Good store next door!).
Where to lay your weary head: We did not stay in Jackson, although there are many wonderful accommodations in the city limits. Instead, we opted to reserve a cabin at nearby Colter Bay Village in Grand Teton National Park (40 minutes away on Hwy 26/89). Located directly on Jackson Lake, Colter Bay offers a marina, canoe rentals, horseback riding, two restaurants, a store, and miles of wonderful hiking trails. Colter Bay is also a logical choice if you plan to book any river rafting or mountain biking tours as both depart with several adventure companies just outside the national park boundary between Jackson and Grand Teton.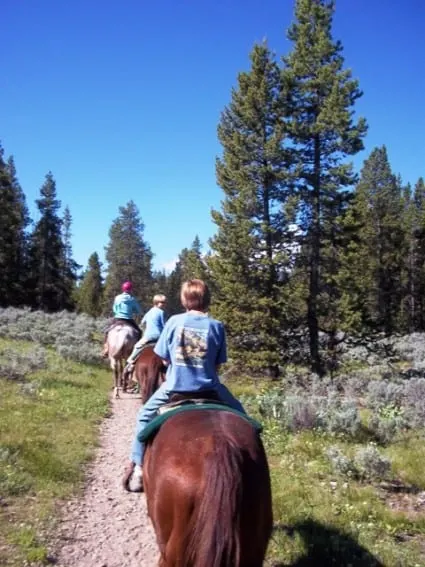 Amy Whitley is a writer, mom of three, and creator/administrator of Pit Stops for Kids, a family travel review site dedicated to both the destination and the journey. A contributor to many travel sites, you can regularly find Amy's writing at Best Family Travel Advice in addition to at Pit Stops for Kids. We also love all of Amy's regular contributions to Trekaroo. Making her home in rural Oregon, Amy is a lifetime lover of the outdoors, and devotes much time and blog space to exploring the back-road destinations, national parks, and off-the-beaten-path locales she and her family loves.