Wondering whether a small ship cruise experience is right for your family? Until last year, whenever I was asked whether I recommended cruising as a family, I'd always reply, "It's fun, but…" Why the but? Because while many families enjoy cruises every year (and yes, they are a great time and can be hassle-free), I came away from mega-ship cruising feeling as though something was missing. Perhaps it was the absence of control over my itinerary or the lack of in-depth exploration of my ports of call. My definition of cruising tended to be: 'Enjoy the cruise as you'd enjoy a floating resort.' And hey, floating resorts are fun!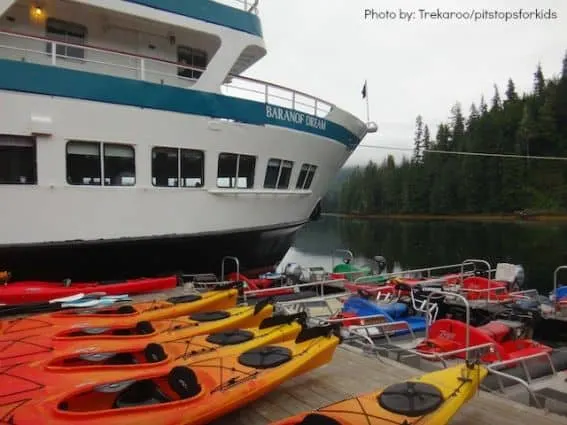 My definition of cruising changed last year, when my family and I experienced a small ship cruise with Alaskan Dream Cruises. Our 10-day cruise through SE Alaska lacked a deck-top swimming pool, multiple restaurant options, and evening entertainment venues, but offered instead the most cultural, beautiful, and exciting vacation my kids and I have ever had. Instead of a floating resort, we had a floating classroom with ever-changing views.
What is a 'Small Ship Cruise,' Exactly?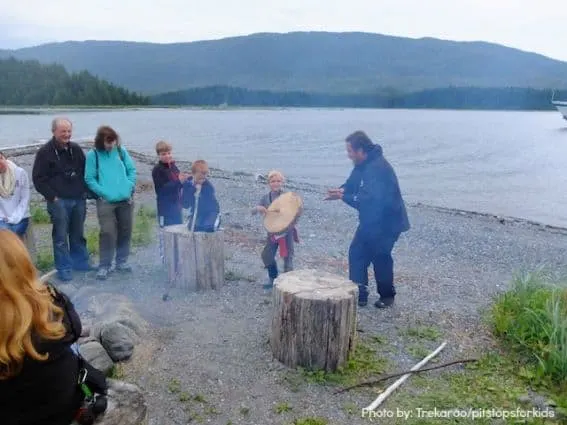 Small ship cruising is usually defined as any overnight cruise ship sleeping 150 passengers or fewer. Until recently, the vast majority of small ship cruises were not patronized by families. Now, cruise lines such as Alaskan Dream Cruises have family friendly itineraries. Small cruise lines are almost always significantly more expensive than large ship cruises. Most small ship cruises focus on harder-to-reach or lesser traveled itineraries in regions known for wildlife and scenery, such as Alaska, Antarctica, South America, Fiji and Hawaii, or Australia and New Zealand.
The Small-Ship Difference: Why the Higher Cost May Be Beneficial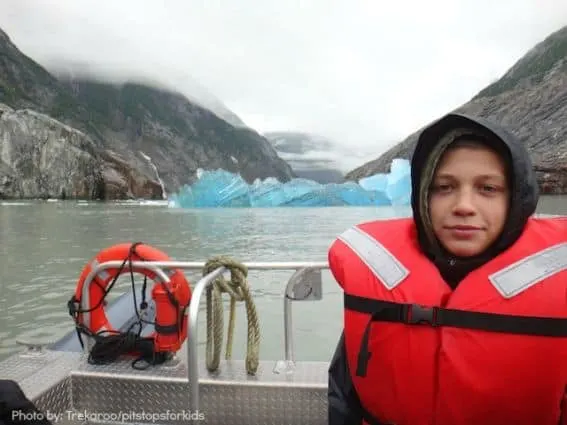 1. A unique itinerary, with an educational emphasis. During our Alaskan Dream cruise, our family learned about Alaskan culture, wildlife, and ecosystems organically, as we enjoyed our cruise. With no fewer than four expedition leaders on-board (for a total of 28 passengers on our trip), we always had someone to turn to for information, and nightly debriefings and programs to teach us about what came next. Because our Alaskan Dream Cruise was a family cruise (three were offered last summer), the 10 kids on-board were constantly engaged with their youth expedition leaders, who always had a craft, art project, or game at the ready that mirrored our itinerary.
Our route through southeast Alaska looked nothing like the itineraries of the large cruise ships we saw from time to time. Of our seven ports of call, only two could be accessed by large ships. The rest were small docks in quiet fishing villages and Alaskan Native communities that only native-owned Alaskan Dream could access. Instead of disembarking at busy cruise ship terminals lined with souvenir shops, we disembarked to find local kids swimming in the cold Alaskan waters or fishing off a pier, totem poles keeping watch, and even bears catching salmon.
2. Personalized service with a memorable 'on-ship life.' Before our small ship cruise, we worried there wouldn't be enough to do on-board while traveling between ports of call. We needn't have given it a thought, however. The kids were welcomed by all crew members, allowed to move at will between the open bridge (for a stint of steering the ship), to the sun deck (perhaps to ask a deckhand for help tying nautical knots), to the lounge (maybe for a game of rummy with other kids), to the 'kids' corner' (a dedicated space for children during family cruise itineraries). Our eight-year-old loved helping the crew of our small ship, so he spent his time carrying appetizers to upper decks and sorting linens in the dining room!
On our ship, the Baranof Dream, high-quality binoculars were set by every window, and the lounge's shelves were lined with books, games, and puzzles. The crew always had an optional activity to offer, and there was always something to see outside.
On a small ship, the crew knows everyone's name, their cabin name or number, and even what pre-dinner cocktail they prefer. Our dining stewards became friends before the end of our trip, and the kids loved hanging out with our bartender (who doubled as a nature guide). We enjoyed luxury perks such as turn-down service, but with a twist; every night, our cultural expedition guide would tell us a native Alaska bedtime story over the on-board intercom.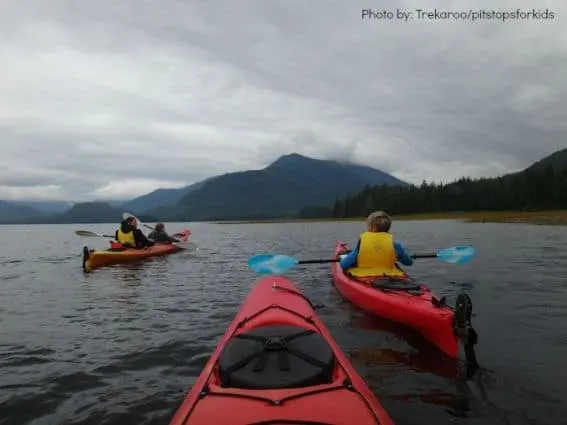 3. Incredible wildlife and scenery viewing. Small ships can go where large ships cannot, offering passengers breathtaking views and once-in-a-lifetime wildlife viewings. But wait, there's more: getting closer than most ships isn't enough. Cruise lines like Alaskan Dream carry zodiac (DIBS) boats on their vessels (inflatable rafts that carry approximately a dozen people) to get even closer. We spent time in our DIBS to float within feet of humpback whales and travel to the edge of the Sawyer Glacier. In our Alaskan Dream-exclusive port of Hobart Bay, we watched bears hunt the shores for salmon from kayaks and Zego boats (personalized watercraft), and picked berries along logging roads that are only accessible by RTV.
We traveled through Misty Fjords National Monument without another vessel in sight, and spent full days in ports without a single additional cruise ship. All cabins on our small ship had windows that offered views day and night, and the decks were all close enough to the water that when porpoises or whales were spotted, everyone could find a place to view them.
4.Gourmet food, made to order. We never got hungry on our small ship! In fact, we all gained a few pounds, thanks to the efforts of our chef and pastry chef (both of whom we met and talked with numerous times on our trip). Food can be cooked to order, and even if a dish is not on the menu, the crew will try their best to oblige. My son, to my dismay, ordered hot dogs every day!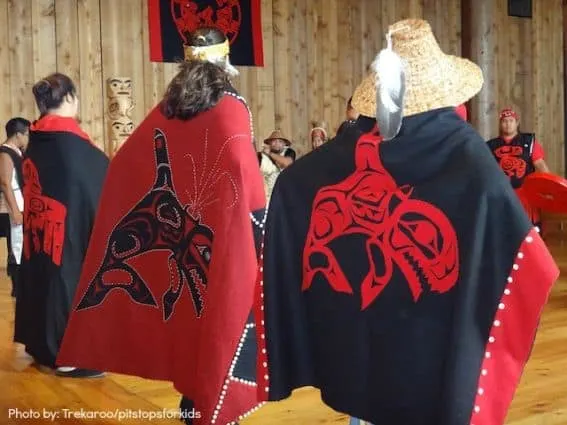 5.Cultural immersion in the destination you came to visit. No one goes on a cruise hoping to only experience the cruise ship. On a small ship cruise, cultural immersion is part of the experience. During our cruise, we met and talked with Alaskan Natives from three distinct SE Alaska native groups, toured with naturalists, and explored a Norwegian fishing village and other local communities while getting to know countless 'faces' of Alaska. We watched native dances, participated in canoe-building, learned about totem construction from a member of the tribe the totem depicted. When we finally disembarked, we felt we'd see an accurate depiction of SE Alaska.
Booking Advice: How to Secure a Small Ship Cruise
1. Find a family-friendly itinerary. At the time of this publication, to our knowledge, only Alaskan Dream Cruises offers family specific cruise itineraries, which are a great way to be sure your investment in a small ship cruise will enrich your entire family. However, other small ship cruise itineraries can be appropriate for kids as well. Parents are the best judge of their own children; kids need to be old enough to appreciate what the cruise has to offer, and well-behaved enough to not deter from the experience of any other passengers. Family specific cruises are great because other kids are sure to be on-board (as well as other parents for you!).
2. Ask questions of your cruise line before booking. Ask lots of questions of your cruise line office before making a final decision! The more information they have, the better they can steer you toward the best itinerary for your family. If you're considering a family cruise, ask whether other families are already booked, and the ages of any other kids. Try to find a cruise with at least a few kids in the same age range as yours. Small ship cruises are intimate, and it's nice to go into them with as much information as possible.
3. Pick a cruise line with local roots. Small ship cruises rely on unique ports of call. Companies with close ties to the local destinations will gain the access you desire. Local companies can also design itineraries based on years of experience: trust them!
4. Book early. The best deals come with an early booking, but the nice thing about booking with a small cruise line is the personal contact. Call periodically to check on your cruise; the itinerary may have changed (for the better!) or another date may have opened up that fits your family better. Stay in communication.
As we disclose whenever applicable, our family experienced a small ship cruise hosted by Alaskan Dream Cruises, for the purpose of review. While appreciated, this came with no expectation of a positive review.