Cancun's Hotel Zone has a seemingly unlimited number of accommodation opportunities. From all-inclusive high-rises to smaller, boutique hotels and luxury Cancun resorts, choosing one of the many hotel options can be a bit daunting. Add kids into the mix and the search is even more overwhelming.
Recently, we stayed at Seadust Cancun Family Resort, wrapping its major renovation to every nook and cranny of the property in 2018. The resort provided everything we needed for a Caribbean getaway: stunning beaches, delicious food, tasty drinks, plenty of activities for the whole family, and clean accommodations. With kids-stay-free specials and fun packages that include nearby excursions, Seadust is a best-bet for families looking at one of the many Cancun resorts for vacation. Multigenerational families looking to holiday together will especially love a stay at Seadust. Its "Cruise Ship" layout keeps every offering central; families can relax, play together, and enjoy the best of Cancun.
But perhaps the best thing about Seadust was that families aren't just tolerated here, they are welcomed. Over 90% of hotel guests are families traveling with children meaning yours won't be the only one crying poolside when you say it is time to go in for dinner. Parents here can relax, enjoy their time, and make some fabulous memories with their family. Let's explore Seadust Cancun Family Resort.
Look for current deals in Seadust Cancun Family Resort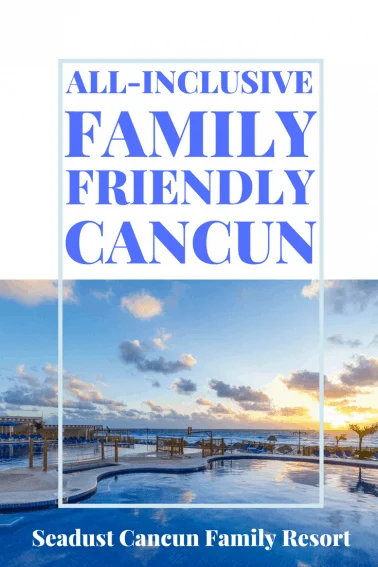 All-Inclusive Activities at Seadust Cancun Family Resort
Once you arrive at Seadust Cancun Family Resort, you don't really need to leave. The property boasts so many family-friendly features, you and your kids can stay as busy (or as lazy) as you want to.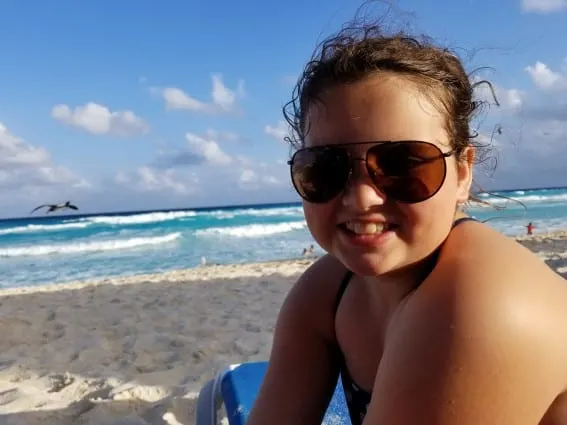 Hit the Beach
Likely the reason for your trip to the Caribbean, the oceanfront property at Seadust Cancun does not disappoint. Spend an afternoon sitting under the shade of a thatched umbrella while watching the turquoise blue waters splash repeatedly on the white sand; this is what the Caribbean is all about. A beach-side bar, servers who wander the sand, and use of non-motorized water toys make for the most epic beach day. Grab a book, get a drink in hand, and enjoy your luxurious getaway.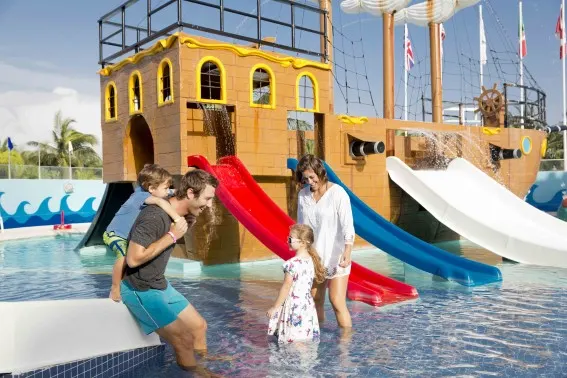 The pirate ship-themed water park for toddlers at Seadust Cancun Family Resort is a great place for littles. Photo by Seadust Cancun.
Take a Swim
Seadust Cancun Family Resort features a handful of pools and water-experiences for families to discover. Kids will love searching for "treasure" at the Treasure Island Water Park, with both an area for littles designed to look like a pirate ship and a "big kids" area with larger slides, spilling over water buckets and lots of splashing fun. These are definitely some of the most fun pools for kids at any of the Cancun resorts.
At the main pool, overlooking the Caribbean Sea, families can play in one of three levels of infinity pools, all with varying depths (including one with a large area perfectly sized for tots). A variety of games and activities take place daily at this pool including trivia games, water polo, water basketball, water volleyball tournaments, water balloons, face painting, crafts, dance lessons, and even cooking lessons.
Note: Getting beach and pool towels was a bit of a frustration during my visit. Although the "towel hut" is nicely located by the pool on the way to the beach, guests are pitched tour packages during each towel receipt. The packages seemed to be a good deal, but there were times when I just wanted my towel without the hassle. When I return, I plan on packing my own beach towel.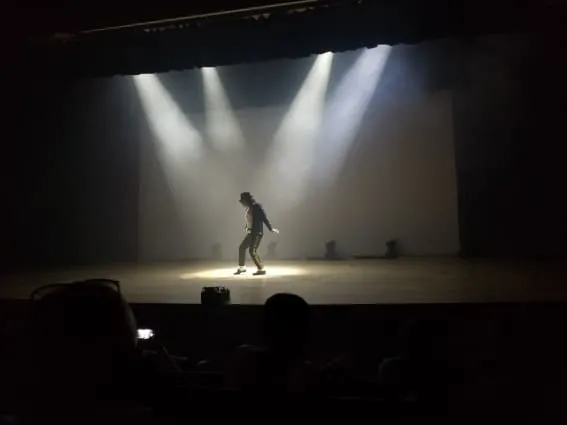 Theater
Live shows take place every night in the Theater. While we visited, we enjoyed a high-energy performance by a Michael Jackson cover, who danced and sang to Jackson's most famous hits while the music videos and live performances played on the big screen in the background. Offerings change nightly, so be sure to check out a few shows while visiting.
Kids Club & Baby Club
Parents can enjoy a kid-free break during their vacation with the included Kids Club and Baby Club. The programs are offered for kids 18 months to 12-years old and include a variety of activities including age-appropriate games, treasure hunts, pajama parties, Spanish lessons (my daughter left knowing all her colors in Spanish), finger painting, crafts, glow parties, Mexican games, and more.
Note: The kids club and water park, while still connected to the resort, are quite far from the hotel rooms and beach. I recommend families with little ones bring an umbrella stroller so little legs don't tire. However, the ramps to get to the kid's club lower levels are definitely not ADA accessible; take your kiddos out of the stroller at this point and walk the stairs to be safe.
Casino
The adults-only casino on property is really fun. Guests receive a nightly allotment of chips to play with, at no out-of-pocket cost. You can use your chips to play Blackjack, Craps, Slot machines, and more, and if you win big, you score yourself resort credit for spa services and off-property excursions! How cool is that?!
Check for availability in Seadust Cancun Family Resort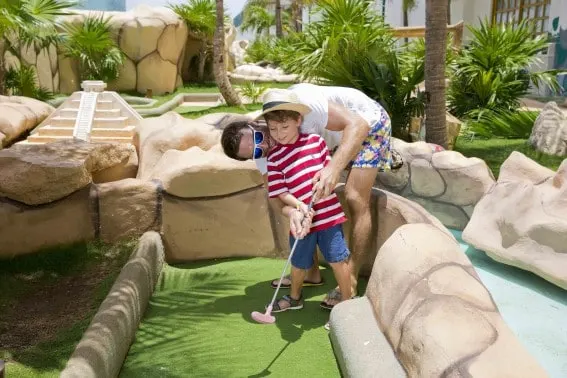 Mini golf is just one of the kid-friendly offerings at Seadust Cancun. Photo by Seadust Cancun
Other Fantastic (& Included) Activities Onsite:
Zipline (not long, but fun for littles or newbies to zip lines)
Climbing Wall
Mini golf
Tennis courts
Salsa and Merengue lessons!
Ping Pong, air hockey, billiards, and XBox stations throughout the property
Disco & Playroom Bar (designed for teens and their families, this "bar" is actually a great place for teens to hang out, play games (including billiards, foosball, and XBox). On select nights, the disco comes alive with teen-friendly dance parties.)
Gym, Sauna & Steam Room (including spin classes, live workout instruction & lots of machines for those hoping to burn off a few calories while on vacation. Poolside, you can also enjoy yoga, stretching, water fitness, and Pilates.)
All-Inclusive Dining Options at Seadust Cancun Family Resort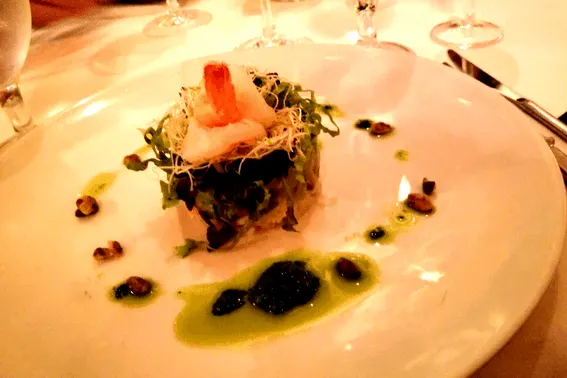 Families staying at Seadust Cancun Family Resort won't go hungry. The all-inclusive dining plan, standard with all room rates, includes meals and drinks at nearly a dozen restaurants onsite, conveniently located on the same resort level for easy access and meeting up. We had the chance to dine at quite a few of the restaurants during our stay and I was impressed with the quality. Seadust also recently hired a new executive chef, Chef Vladimir Cid, who aims to utilize his 10 years experience in the luxury food industry to bring the restaurants to an even more elite level.
All-inclusive dining options:
Magnus Food Court (a buffet with 11 stations) opens early and stays open late serving up a variety of options for everyone. This is your go-to restaurant if you want quick, easy, and accessible for all. In the coming years, the restaurant plans to remodel the design of the buffet to include an open-kitchen concept that allows guests to see their food being prepared.
Table-service restaurants feature a variety of themed fares including El Maguey serving up Mexican cuisine, Portofino featuring Italian favorites, Samurai Japanese cuisine, soon to be updated with the popular Teppanyaki tables that delight guests, Manhattan Deli with NY-style sandwiches and American favorites, Big Ben Steakhouse serving prime cuts of meat with all the traditional sides (the included Filet Mignon did not disappoint!), and La Maison de Michelle, an adults-only fine dining experience featuring gourmet French fare.
Guests looking for snacks can find them at Bora Bora snack bar by the pool (perfect for grab-and-go bites to eat poolside), La Creperie offering coffees, crepes, ice cream (soon to be a Starbucks the lobby's first Starbucks Coffee opened in March 2018!!), and snack carts and spreads that pop up at the resort handing out popcorn, frozen treats, and luxury cheese spreads.
Room service is available 24 hours/day with a limited, in-room menu (you cannot ask for any substitutions from this menu).
An additional twelve bars are on property giving you ample opportunities to enjoy the included alcoholic beverages. Many of the bars also offer evening appetizers, snacks, charcuterie trays, and cheese plates that kids and family can enjoy while waiting for dinner.
Note: Although food is all-inclusive, you can't take food to-go (ie. back to your room) or wander from restaurant to restaurant with other food in hand. This made a few late-night meals more of a challenge as we were limited to the room-service menu.
Traveling with food allergies? As a celiac, all-inclusives can be difficult. At Seadust, I received an allergy card at check-in that I showed to staff at restaurants. I didn't have any issues with food (or cross-contamination) during my visit. Read more about traveling with food allergies.
Look for the best prices at Seadust Cancun Family Resort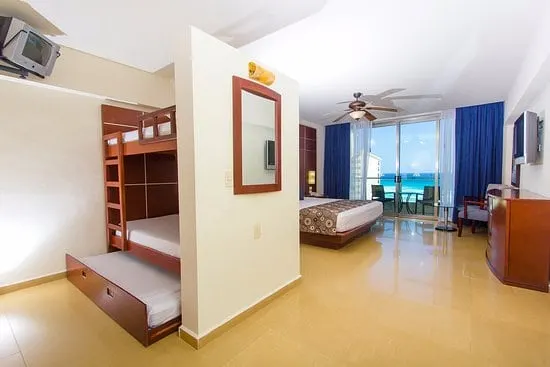 The family rooms at Seadust Cancun feature bunk beds with trundle and separate TV area. Photo by Seadust Cancun.
Family-Friendly Accommodations at Seadust Cancun Family Resort
The accommodations at Seadust Cancun Family Resort are all centralized in a single building, a huge perk for multigenerational families or those traveling in groups- you won't get lost trying to "turn left" at the 3rd coconut grove to find grandma's room.
Thanks to the property's location in the Hotel Zone, nearly every room boasts a view of either the Caribbean Sea or the also lovely Laguna Nichupté. Rooms higher up boast better views, although the Family Rooms, which feature bunk & trundle beds in a separate TV area for the littles (pictured above), are only featured on the lower floors, making for easy access on the elevators.
The accommodations at Seadust Cancun are clean and standard, although not luxe. The rooms feature standard, comfortable beds with clean linens, breezy balconies, and tile floors that make sand cleanup an easy job, but they lack a wow-factor that screams of an ultimate splurge. The bathroom fixtures have been updated but in places the work lacks consistency; some small details that would afford a luxury rating went overlooked. All-in-all, the accommodations were comfortable and clean. We slept well and felt very rested, ready for adventure on the property.
Cool perk: Smart TVs in-room make bed time a breeze. You can hook up to Netflix and stream your favorite show using the room's free, high-speed WiFi.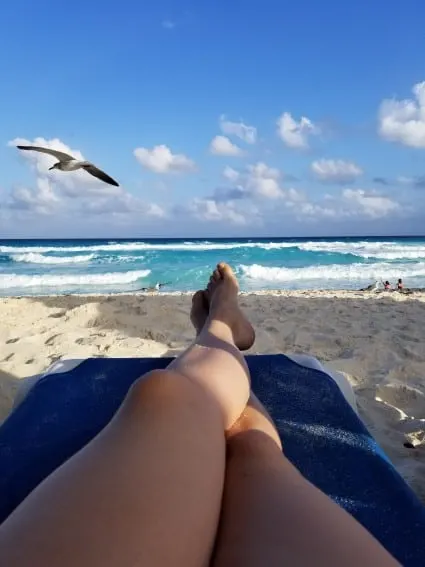 Upgrades Worth the Splurge
While staying at Seadust Cancun, there are only a few things that cost additional money, including shopping, spa treatments, and off-site excursions.
Shopping
From souvenirs to sundries, must-have essentials (like sunblock, bathing suits, and flip flops) and even medication, Seadust Cancun's stores offer everything you need. Families can't charge to their rooms, but you can use your credit cards on property instead of transferring cash to Mexican Pesos (use a card without foreign transaction fees for a simple, fee-free way to pay). When a headache came up, the pharmacy on property helped get my little one a safe dose. When our sunblock ran out, we found our favorite brands. And when souvenirs were needed for family back home, we didn't have to go off-property to get great prices.
Tip: Transferring MXN to USD is tricky to do in your head. I recommend keeping your cell-phone on hand for a quick Google search.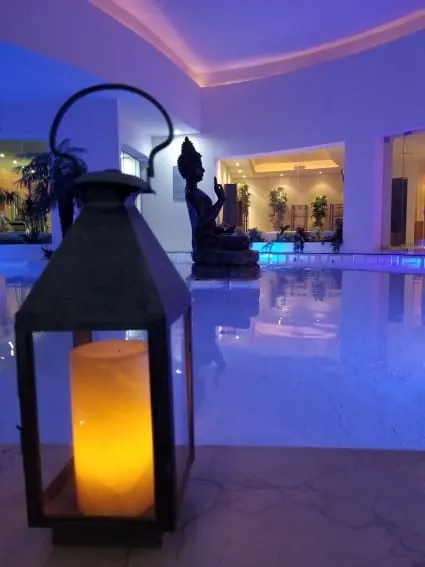 The entrance to Seadust Cancun's spa sets the stage for ultimate relaxation.
The Spa
For the ultimate splurge, visit the spa. My daughter and I both received full-body massages (in adjoining rooms with side-by-side tables for safety & security), hers for 30 minutes, mine for 50. Both of our massages lasted nearly 2-hours in total including a pre-massage foot rub, cleaning, and massage with aromatherapy. The spa is beautiful, with unique rooms and environments. Your body will thank you!
Off-Property Excursions From Cancun Resorts
If staying on property at the Cancun resorts isn't quite your thing, the adventure of Cancun and the Riveiera Maya is calling. The hotel can set up off-property excursions throughout the region, from historical visits that explore the pyramids to scuba diving, snorkel tours, and even trips to amazing theme parks (we visited Xcaret Eco-archaeological park and fell in love!). The resort partners with local tour operators, so leaving the property feels safe and secure.