Route 66, which began in the 1920s as a Congressional plan for national highway construction between Chicago and Los Angeles, is one of our nation's most romanticized roads. Throughout the nearly 100 years that have passed since its formation, hospitable towns were born, boomed with roadside business, and later died as the old "Mother Road" was replaced and bypassed in most areas with expansive smooth highways alienating the many small cities that once dotted the landscape. Although the original road has largely been replaced by sleek pavement and wide interstate highways, families can still trace its steps from Chicago to Los Angeles while visiting some of our nation's most iconic cities and the lesser known roadside attractions, pit stops, and oddities along the way.
We'll get our family-friendly road trip itinerary started as it was intended on Route 66 Illinois.
The mostly rural expanse of road between Chicago and the Missouri border in St. Louis, now dubbed I-55, begins this old-fashioned road trip on Route 66. Fields of corn, soybeans, small towns, and water towers line the 300-mile stretch of land, and short detours off of the main highway take families through cities with small populations and plenty of local charm.
Route 66 Illinois
Beginning of the Road: Chicago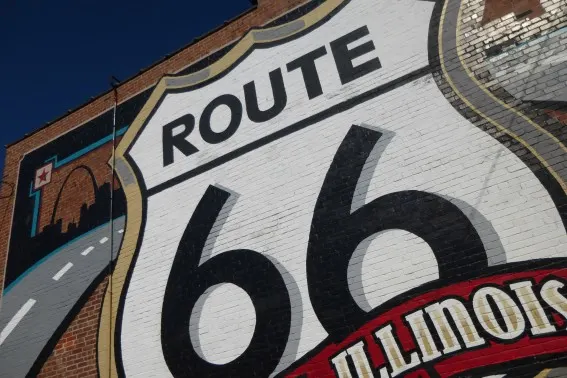 Photo by: Flickr/guachinpein
Start your iconic Route 66 tour with a photo opportunity at the "Beginning of the road" sign, located where East Adams and South Michigan Avenue come together in Chicago. But before you hit the open road, be sure to explore the rest of the Windy City with your family. Consider taking in a ball game at Wrigley Field, built well before Route 66, or explore the learning opportunities at some of the nation's best hands-on science centers and museums.
Explore our Top 10 Things for Families to do in Chicago for our best tips and recommendations before you leave town.
Route 66 Pit Stop: Springfield, Illinois
207 miles from Chicago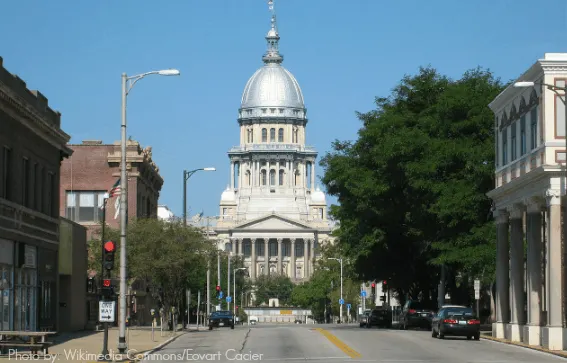 An afternoon stop in Springfield, Illinois is a great opportunity to stretch those legs while learning about a slice of American history. Springfield, the state's capitol, was also the hometown of our nation's 16th president, President Lincoln and the Abraham Lincoln Presidential Library and Museum, Lincoln Home National Historic Site, and Lincoln Tomb are three must-sees. The old and new state capitols, Henson Robinson Zoo, and Adventure Village allow families with many interests to get out of the car and explore.
Read parent-approved reviews of attractions in Springfield.
Must-See Roadside Attractions in Illinois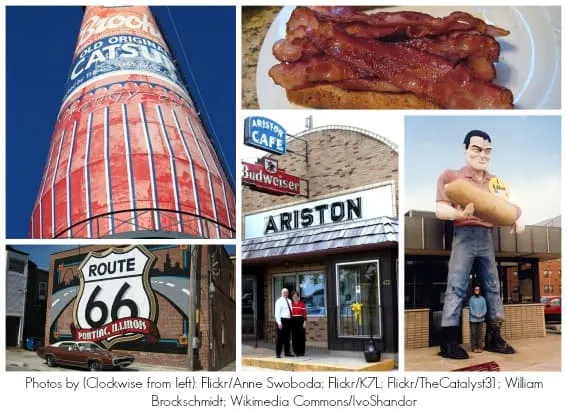 Dixie Truck Stop. About 50 miles before reaching Springfield, grab a bite to eat at the Dixie Truck Stop. Opened in 1928, it is one of America's oldest.
Cozy Drive In. Original home of the hot dog on a stick that made its debut at the 1946 Illinois State Fair.
Muffler Men. Holding up a hot dog at Cicero's in Athens, a 19-foot tall Bunyan-esque man is great for photo ops; a similar, but space-themed muffler man dubbed the Gemini Giant is located in Wilmington.
The Ariston Café. Located in Litchfield, this café is the longest-operating restaurant on US 66.
Route 66 Mural. One of the largest, this mural is located in Pontiac, Illinois.
World's Largest Catsup Bottle. Just before you hit the Missouri border, don't miss a quick stop in Collinsville, Illinois to see the world's largest castup bottle in the form of the town water tower. Built in 1949, this roadside attraction stands at 170 feet tall.
For a full list of fantastic roadside attractions and restaurants, explore IllinoisRoute66.org.
Route 66 Museums, Monuments & Events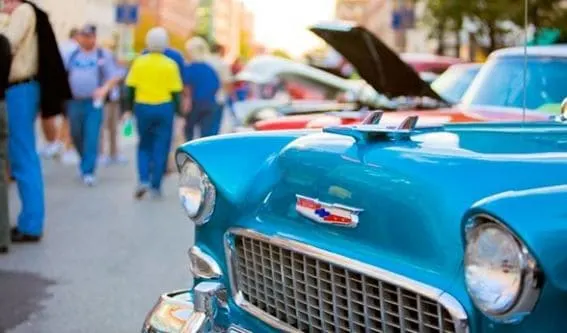 Photo Courtesy of the Springfield Convention and Visitor's Bureau
Illinois museums offer visitors the chance to explore the history of Route 66 in the state of Illinois. Our favorite is the Route 66 Hall of Fame and Museum, located in Pontiac. Your kids might prefer the Route 66 Arcade Museum, located in Atlanta, IL, where families can play vintage pinball and video games for just a quarter a try. The Illinois Office of Tourism operates a fantastic Illinois Route 66 series of interpretive exhibits along the route that help bring the history of the road to life for little ones; families can read stories, see photography, and listen to historians talk about US 66 in Illinois.
The yearly International Mother Road Festival is a must-see event for visitors of all ages. Over 1,000 vintage cars and 80,000 spectators roll into the capitol city each fall for the exciting festival which includes a massive car show, live music, food, and family entertainment.

It's Trekaroo's Road Trip Week. Here are more tips and inspiration:
Featured photo by: Shutterstock