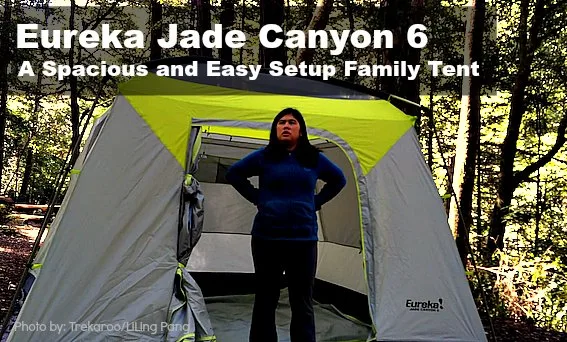 Our family of five has been making do with our four-man tent for years. When the kids were little, we squeezed all five of us into our simple, dome-shaped tent. Why squeeze? Well, we loved our tent for one reason – it was so simple to set up. So, when we started our search for a new tent that would sleep all of us comfortably, our top priority was to find a tent that was easy to set up and also provided enough headspace so we could all stand up inside of the tent. Maybe it's a sign of aging, but trying to put on a pair of jeans while couched over feels like acrobatics these days.
Unlike most families, we don't have a big car either, so having a tent that is fairly compact when packed away is also important to us. If your family is in search of a family tent, 12 years of camping with kids has proven that the three most important considerations are: ease of setup, height, and compactness (in that order). I also suggest testing that the doorway zipper works smoothly as there is nothing more frustrating than fumbling around with a stuck zipper in the dark and cold when you have a child yelling that they need to pee at 3am. I've been there and done that, and it's not fun.
Features of the Eureka Jade Canyon 6
The Eureka Jade Canyon 6 is a "one room" dome-shaped tent. Simply put, less is more. One year, in a stroke of insanity, I purchased a fifteen-man tent from Costco thinking it would be nice to have separate rooms between our kids and us. After it took one full hour to set up the tent (a true test of our marriage), that tent was promptly returned. The Eureka Jade Canyon tent comes in two sizes – one that sleeps four and another that sleeps six. If you are new to camping, keep in mind that when a manufacturer says that a tent sleeps four, that means you can sleep four people packed in like sardines and it's a myth that kids take up less space. If you don't want to be brutalized all night by a kicking child-sized sleeping bag, get a tent that sleeps at least one more person then you have in your family. The Eureka Jade Canyon 6 with 10×10 feet of floor space plus generous ceiling height was roomy for our family of five.
The frame of this tent consists of four sturdy steel bottom poles and two flexible aluminum poles. The steel poles were on the heavy side, but provided great stability. The aluminum poles slip into sleeves and connect to the steel poles via an idot-proof connector. A little setup tip – slip the aluminum poles into the sleeves first before attaching the steel poles so you don't feel like you are wrestling with a spineless elephant.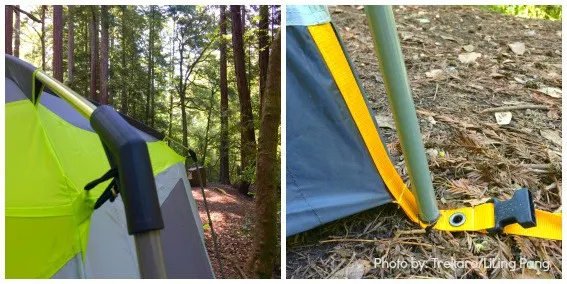 All four sides and the entire ceiling of the tent have mesh windows and vents. The windows can be zipped up for privacy and warmth while the roof vents allow you to gaze at trees by day and stars at night. I'm happy to report that all zippers worked smoothly. These vents are particularly nice when you are camping in a hot place as tents have the tendency to retain heat like a brick oven. In colder temperatures or rainy conditions, the Eureka Jade Canyon 6 comes with a separate waterproof rainfly to keep you dry and to increase warmth. The Eureka Jade Canyon's simple, no nonsense rain fly is super easy to get on – a huge benefit if you need to scramble to get it on in a hurry. However, it does not include a vestibule like some other tents on the market that help keep your shoes from getting damp from the morning dew or in the rain.
An unusual feature introduced specifically in this line of Eureka tents is the Illuminate! roof panels. As the name suggests, two extra reflective panels that attach to the roof of the tent in the evening magnifies the light from a camping lantern hung from the ceiling of the tent. The Illuminate! panels worked beautifully and get our two thumbs up especially since our lantern is quite old and sadly dim.
The interior of the tent also has a few bells and whistles if you decide to hang up all the additional panels that provide a variety of pockets for storing valuables that you want easy access to – like keys, cell phones and flash lights. In addition, there is a clear pocket that serves as a media center that can be strung up at the perfect height and angle if you wish to watch a movie on a tablet while snuggling up in your sleeping bag. A sneaky opening, allows you to thread a power cord through the wall of the tent should you be camping in a location where you have access to power. Personally, while I liked the extra pockets, but didn't care too much for the media center. The last thing I want my kids to be doing when we are camping is watching a movie. On the other hand, if we were camping in our backyard for a birthday party, that might be a nice feature. I didn't like that each panel has to be attached separately. As a family who can barely keep track of both sides of a pair of shoes, having lots of separate items that belong together is a sure way for something to go missing.
Packed away, this baby is no bigger than a typical portable crib and about the same weight. 15 minutes to setup and 15 minutes to pack up. That exceeds our stringent easy setup benchmark with flying colors. It's both a spacious and an easy to set up family tent.
Pros:
Quick and easy set for the basic tent and rainfly (first time it took us 15 min)
Spacious standing height and floor space
Compact when packed up
Very sturdy – the heavier steel poles are definitely worth the extra weight.
Cons:
Instructions for set up were nowhere to be found – fortunately, the tent was easy enough to set up if you've had experience setting up tents before.
Too many separate parts – we would have loved for all the pockets to be sewn directly into the walls of the tent to make setup and take down that much easier.
Bottom-line:
We highly recommend the Eureka Jade Canyon 6 because it's sturdy, spacious, and easy to setup. In all the ways that it truly matters, this tent exceeds our expectations. At $299 for a four-man tent and $359 for a six-man tent, the price is reasonable for a well-made product.
Disclosure: I received a complimentary product to facilitate this article. No other compensation was received and I was not asked to express a certain point of view. All opinions are my own.