Meet Sharon Rowley, a rockstar mom who embarked on an 8000-mile 4-week road trip with her six kids!
How to Plan a Road Trip Itinerary – Daily Distance to Travel and Places to Stay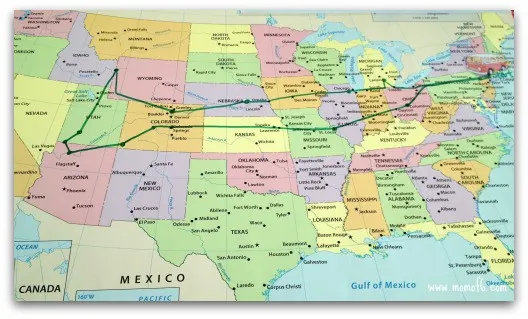 Talk about your interests. Ask your family where they want to go (and get some input on the types of things they wanted to see.) This can be a formal or informal conversation with everyone. Are you hoping to see national parks? Urban adventures? Where do you want to go?
Map it out. Plot everyone's input out on a U.S. map so that you can visually see how far apart destinations are and what routes you might want to take. You can do this the old fashioned way on a paper map, or input the destinations on Google Maps so you can accurately see distances and drive times. Here is a great guide to adding multiple destinations in Google maps.
Make decisions. Based on your available time and interests, some points of interest will likely have to be saved until a future road trip. Try to group your trip into a region if short on time.
Check mileage. Start researching distances between destinations to make sure that you don't travel any more than 500 miles in any one day. This standard distance is about all most kids (and parents) can travel without losing it. Also, make sure you don't plan on driving long distances (350 miles and up) more than two days in a row. Make sure to plan the itinerary so that kids have time to enjoy activities every single day and not feel that their entire summer vacation was spent sitting in the car! (This is especially important for long, extended road trips.)
Book hotels. Using Trekaroo, begin researching accommodations which will comfortably fit your family and style (for our large family, we look for places that allow us to cook at least some meals on the road and do laundry every so often). Look for a hotel pool every so often on your trip; your kids will always love that opportunity while on the road. If you book your hotel through Trekaroo, most reservations are completely refundable if your plans change, plus the best rate is guaranteed.
With your itinerary set, you can begin packing and planning details of your trip. We've got a ton more recommendations on Trekaroo. Check them out below.
Avoiding the "Are we there yet???!!"