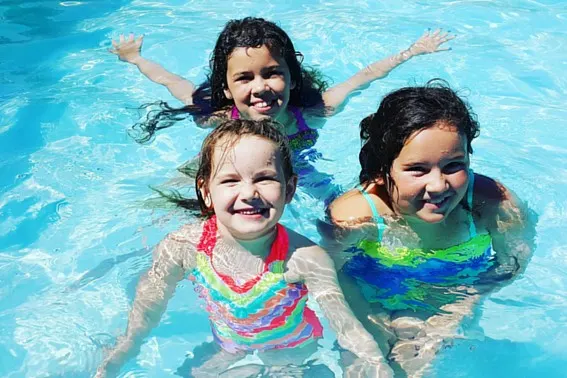 My three beautiful girls, following hotel pool safety tips that now keep us safe.
---
October, 2014. La Quinta, CA.
"This will be the last sound I hear before I die,
I said to myself as I struggled to hold on to the last bits of oxygen in my lungs under the weight of the water and my three daughters.
Just minutes before, we were laughing and splashing around in our hotel pool. We were thankful for the fact that we had the pool to ourselves so we could be as silly as we wanted without receiving too many looks from other families. My girls asked me to give them a "ride" around the pool and with little thought to the depth of the pool (I believed I had checked all the signs and they were 3 feet), I had the three of them, none of whom were very good swimmers, hop on my back.
One misstep into the eight-foot deep-end that I didn't realize existed, and I was pushed underwater by the hands, arms, and feet of my three girls, struggling themselves to keep their heads afloat and out of the water. They started to laugh because they thought I was playing a silly game with them. They giggled and squealed with delight as I struggled to push myself up off of the bottom of the pool again and again.
Time moved in slow motion.
I thought of letting them go so that I could get myself up and to the side, but then imagined my two youngest dropping to the bottom of the pool in different parts, with myself tired and unable to help them.
I continued to try to get to the surface to get a bit of air, but every time was thwarted by their hands, feet, and the weight of their bodies. Their giggles and silly laughs were muffled through the water, but I was certain. This would be the last sound I heard before I died.
Slow motion continued and I realized that my demise meant theirs as well. With no one bigger and stronger to get them out of the pool, or even their attempts to save me if they noticed my fall, this would likely kill all of us.
I had to do something else. And fast.
With a surge of strength that was beyond me and my exhaustion, I grabbed a hold of one body and shoved her as far to the edge of the pool as possible, hoping she could grab on to the side, momentarily dropping the other two from my grasp. I then grabbed back on to the other two, and managed to throw my youngest to the side of the pool, and took my first breath as I followed her to push her completely to the side. I summoned up every ounce of strength remaining and got my middle daughter out of the center of the pool; she was (thankfully) my best swimmer and was mostly staying afloat in the middle of the pool.
I pulled her to the side where the four of us hung, all four of us sputtering up water, all four of us gasping for the air that we needed to fill our lungs. Only the first child (my oldest) to be thrown to the side actually observed what happened and was filled with fear. But I knew the most horrible and certain truth: I had nearly died and had nearly lost all three of my girls in a hotel swimming pool.
One stupid mistake, my assumption that the pool was shallow, almost cost us all our lives. I still shudder at the thought of this, and still have nightmares where I am trapped, without strength, underwater, without the ability to save my own children.
But I am thankful. I am so very thankful that we are alive today. I know that many are not so fortunate."
A startling number of children die each year from drowning and many of these drowning events happen in pools. As families head out to hotel and resort destinations this summer, now is time to review some hotel pool safety tips to keep our families safe in the water.

Hotel Pool Safety Tips: Staying Safe in the Water
Many organizations, including the National Drowning Prevention Alliance, recommend adding "Layers of Protection" to your water play experience, noting that no single protective device or method can save your child from drowning. It is also important to note that although pools, lakes, and oceans are common places to put these tips into use, drowning can occur in any amount of water, including hotel bathtubs, toilets, and even buckets.
Parent Supervision is Vital
A parent should directly supervise all swimming activities. Even when lifeguards are on duty (and especially when they are not), parents should watch their children in the water at all times. Yes, this means you might miss out on a summertime read, a must-see Facebook thread, or otherwise, but your child's life is more important. Here are a few tips as recommended by the National Drowning Prevention Alliance:
Designate a Water Watcher. It is recommended that parents rotate roles as "Water Watcher," who should not be allowed to socialize, read, check phone, etc… If parents rotate through in 15 minute intervals, it is easier to keep fresh and focused.
Don't rely on floaties as a replacement for supervision. Floaties are often meant to assist your learning-to-swim kiddos, and not meant to keep them afloat with their heads up and out of the water. The US Coast Guard approves Life Jackets for this purpose, but store bought floaties are not a substitute.
Infants & toddlers should always be kept within an arm's reach of a parent/adult. Yup, you need to be in the pool with them.
Know the signs of drowning; they are often different than you expect and it is often quiet. Keep communication up with swimmers and if they are still or quiet for more than a few seconds, ask them a question to keep them engaged. These 8 Quiet Signs of Drowning go into more detail.
Investigate Your Surroundings Upon Arrival
Families on vacation have little control over the inherent safety mechanisms of pools and water features at hotels and resorts. Upon arrival, parents should investigate the pool areas to see what type of threats they pose or do not pose for their children. If a pool/water feature is not closed with a locking gate, ask the front desk if any safety measures have been recommended.
At hotels in the United States, most pools are fenced with non-climbable structures and have gates that latch. This doesn't mean it is necessary safe to let kids wander hotel grounds as doors can be held open for small children or accidentally left (or propped) open by other guests. Teach older kids to stay out of the pool area if they can access the gates/latches.
We have stayed at quite a few hotels in the United States that still have pool areas with direct access from patios or courtyards or the hotel lobby. Be sure to keep your hotel room door locked and latched with the safety lock or ask the front desk for baby-proofing door kits to ensure your child doesn't exit the hotel room and head to the pool on their own.
Most hotel pools throughout the world are not gated or locked, so be sure to check out the pool area of your hotel on arrival so you know what to expect.
Don't forget to talk to kids about water features on property including fountains. These can pose a threat for small children.
Don't allow small children to splash/play in hotel bathtubs without supervision. Tub surfaces vary and can be significantly more slippery than your tub at home.
Always check the depth of a pool (the entire pool) before entry; this one tip has become my standard since our near-drowning incident. Don't allow children to dive into shallow depths.
Teach Your Child to Swim and Swim Smart
After my hotel pool experience, I enrolled all three of my children in swimming lessons and made sure that they were able to successfully float, tread water, and independently swim to the side of a pool before finishing their lessons. And it wasn't that I hadn't tried swim lessons before this, my girls just hated it, disliked being in the water, and fought me at every turn so I allowed them to drop out of classes. This was my biggest mistake. Even if they hated water their whole lives and never purposefully jumped into a pool again, you never know when you might need to save someone (even yourself) from an accident.
Hiring a one-on-one or small group instructor gives your child the most advanced level of instruction. This type of instruction can be a bit costly, but gives your student the most time in the water with a certified swimming instructor.
If cost is an issue, most cities offer summer (and some winter) swim lessons through the park and recreation departments. For a nominal fee, your child can learn to swim in a group setting, with kids at their same ability. The downside to this level of instruction is that one-on-one time is very limited and your student will need extra hours in the water to perfect the skills they have learned.
Be sure that instruction includes pool and water safety (many park & rec programs do) that teach kids how to safely enter and exit pools, how to help someone who is drowning, and how to float as a lifesaving measure.
To go one step further, take your older child with you as enroll in a CPR class. You'll both learn lifesaving methods to help someone who has nearly drowned.
Other Water Safety Tips While on Vacation
There is something magical and exciting about being by a pool. Teach kids not to run so they don't slip and fall into the pool (likely while hitting their head).
Be very cautious of little children in and around hot tubs, spas, and Jacuzzi's. Most health and wellness groups do not recommend children under the age of 5 enter hot tubs at all, and it is often encouraged that kids under 12 mostly stay away. If you do allow your kids this opportunity, limit the time in the hot water to 5-10 minutes at the most, and don't let their heads go under the water.
Stay out of the water if lightning is present. No exceptions. Stay away from water during a thunderstorm and wait 30 minutes until after the sound of thunder rumbling to return to the water. Remember both water and metal are excellent conductors of electricity.
While swimming at the beach, if caught in a rip current, be sure that children know not to fight it by swimming against it. Teach them to swim parallel to the shore until the current subsides.
Don't forget the sunscreen. This obvious tip is often overlooked (and under-applied) by busy parents.
Featured photo by: Bigstock/famveldman