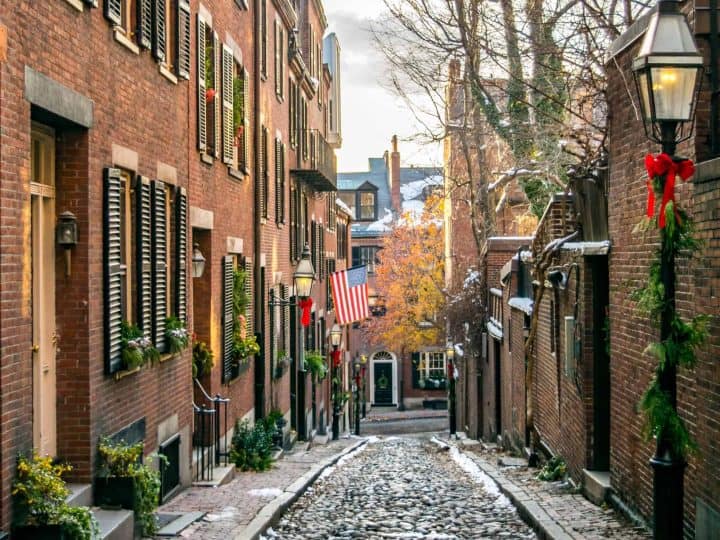 Christmas in Boston conjures up traditional images of twinkling holiday lights white with snow, door to door caroling, and a winter wonderland primed with shoppers looking for the perfect gift.
All of this and more can be experienced in the city of Boston. Here is our guide to the best Boston Christmas events. These events are sure to get you in the holiday spirit. Updated for 2020!
Boston Christmas Events
Christmas in Boston: The Arts and Culture Scene
Boston offers many kid-friendly cultural experiences and holiday shows during the Christmas season.
Boston Ballet performs the holiday classic, The Nutcracker at the Boston Opera House. Note: There will no live audience in 2020 due to Covid-19 but the performances will be broadcast on local television.
During the month of December, the Boston Pops become the Holiday Pops. Head to the Symphony Hall to enjoy experiences like a sing-along and an appearance by Santa.
They also offer a kids matinée which is a shorter show with more kid-friendly carols and a post-performance visit with Santa. Note: This performance will be virtual for 2020.
Families can enjoy music, dancing, and fun with an Irish flair at the Christmas Celtic Sojourn show. This event appears to be cancelled for 2020.
Maybe your clan will enjoy the annual version of ChristmasTime in Waltham at the Reagle Music Theater of greater Boston. Showcasing the Teddy Bear Nutcracker, musical performances by a hand bell choir, a Wooden Soldier parade, and more, this show has become a tradition for many families. Cancelled for 2020
For a different type of holiday performance with a dose of history, try the annual Boston Tea Party Reenactment at the Old South Meeting House on December 16, 2020.
The Old South Tea Party Players bring to life heroic patriots such as Samuel Adams and Paul Revere. They recount the events of December 16, 1773, when 5,000 colonists braved the December night to protest by dumping tea into Boston Harbor.
Boston Christmas Lights and Festivals
Tree Lightings
The famed Christmas Tree at Faneuil Hall Marketplace boasts thousands of twinkling lights. There is a tree lighting ceremony and the tree stays lit throughout the season to enhance your holiday shopping in town.
While at the Faneuil Hall Marketplace, families will also enjoy Blink!, beginning on December 4, 2020 and running through January 1. This annual light show synchronizes lights decorating surrounding buildings and trees to favorite holiday songs. Don't forget to visit Santa and take a selfie.
There is also a lovely tree lighting in Boston Common, in Copley Square (with a candy cane tea before at the Boston Public Library). and in the Massachusetts State House. Note: Formal ceremonies may be cancelled in 2020.
More Holiday Lights
Just across the street from Boston Common is Boston's Public Garden. Many of the evergreens in the garden are covered in beautiful white lights during the holiday season.
Good to know: USA Today voted Boston Common Frog Pond the best outdoor ice skating rink in the US. Try it out during the holidays and see if you agree! It opens for the season on November 21, 2020.
The annual lighting of the Columbus Park trellis takes place on November 23, 2020. There are over 50,000 lights on this 260-foot trellis. There will be music and food to enjoy during this celebration which is a Christmas holiday tradition.
Everyone in your family is likely to enjoy Holiday ZooLights at the Stone Zoo. Thousands of twinkling lights will shine the way through the zoo exhibits during the holiday season. Santa will be on site at his magical castle waiting to spread holiday cheer. November 27, 2020 through January 3, 2021.
Winter Wonderland takes place at the Boston Convention Center. The proceeds from this event benefit Christmas in the City, an organization that provides gifts to 16,000 kids in need during the holiday season. All who attend are encouraged to bring a new toy to donate. For $20 visitors can enjoy unlimited rides and pictures with Santa. Cancelled for 2020.
Love to shop? Here is a great resource highlighting various Boston holiday markets, including the one downtown.
Find deals on amazing family-friendly hotels in Boston.
Rides with Santa
Kids just love a good festive train or boat ride with Santa to bring on the holiday cheer. At Edaville Festival of Lights, the park is decked out in millions of beautiful Christmas lights. Cancelled for 2020.
The train ride with Santa takes guests on an adventure through the sparkling wonderland. Tickets include unlimited Christmas train rides and unlimited use of all 90 plus rides and attractions including access to Thomas Land & Cran Central.
If a boat cruise might be a better option for your brood, you are in luck. The Spirit of Boston offers a Lunch with Santa Cruise. Prices include a lunch buffet, cookie decorating, goodie bags, and more. This event appears to be cancelled 2020.
Check out our Top 10 Things to Do in Boston with kids for fun any time of the year.
Holiday Strolls and Music
Nothing provides more of a holiday feeling than a good old fashion New England holiday stroll. Boston offers the Beacon Hill Christmas Stroll early in December. Charles Street is closed to allow safe exploration of the area. Horse-drawn buggy rides, carolers, and photos with Santa are available. This event appears to be cancelled for 2020.
In nearby Portsmouth, New Hampshire at Strawberry Banke, your family can experience the Annual Candlelight Stroll. During weekends in December, the museum grounds glow with hundreds of candle lanterns.
Purchase tickets to enjoy crafts, instruction, house tours, music, a bonfire, and more. This event takes place on select dates December 10- 20, 2020.
A quick winter ferry ride will bring you to the beautifully cobblestone lined streets of Nantucket. Christmas Stroll on Nantucket is led by the town crier the first weekend in December. Santa and the missus arrive by boat, followed by a lively party with carols and demonstrations. Cancelled for 2020.
Be on the lookout for the magical talking tree or visit the Festival of Trees at the Nantucket Whaling Museum. This event will take place November 27, 2020 through December 31.
For more Christmas cheer and music, celebrate at the Trinity Church with one of the most beloved Christmas events in Boston.
Candlelight Carols at Trinity Church celebrates the birth of Christ through Christmas carols and scripture readings performed by the Trinity choirs and instrumentalists. You can choose to attend one of the two shows on their free night or purchase tickets to the Candlelight Carols Benefit.
Meals with Santa
The Boston area has no shortage of festive Santa or Christmas-themed dining options. At the Royal Sonesta enjoy breakfast or lunch with Santa. Meet with Santa and his helpers to eat and take home a special gift. Revelers are encouraged to bring an unwrapped toy for Toys for Tots. This event appears to be cancelled for 2020.
At Gore Place in Waltham make your reservation for a Santa Tea. High tea will be served on December 19, 2020 in the Carriage House on the property. You may also expect kids activities, stories, and Santa himself.
Lastly, the Wenham Museum will host a variety of holiday-themed functions just right for the family on select December weekends.
End the year with First Night: Boston on New Years Eve. Over 1 million revelers come out to enjoy the day-long child-friendly event. It includes ice sculptures, entertainers, crafts, and more.
Check out our Top 10 Things to Do in Boston any time of the year.
Find an amazing deal on a family-friendly Boston hotel for the holiday season.
Lead image by: Shutterstock . Special thanks to Michelle Brennan who wrote the original version of this article.
Pin this to bookmark all the holiday fun; we update it yearly: