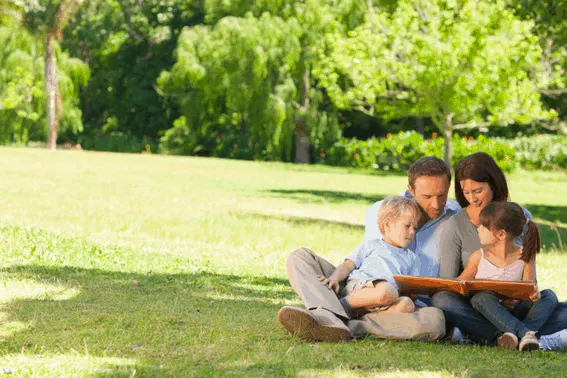 Photo Courtesy of BigStock/Wavebreak Media Ltd
My kids have a hodgepodge of ethnic backgrounds. Take one Russian grandfather and one Polish grandmother, add two Anglo-Irish-Welsh grandparents and three religions, and they are the cultural equivalent of mixed nuts. I would love to take them on a whirlwind tour of their roots from Dublin to Vladivostok, but that isn't going to happen. Luckily, there are easier, less expensive-but no less creative-ways to explore family history with your kids.
Tell Family Stories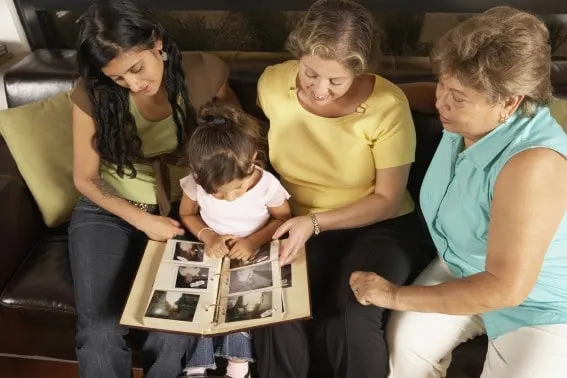 Photo Courtesy of BigStock/Blend Images
Although special celebration days like Chinese New Year and St. Patrick's Day lend themselves to lore and legends, many everyday happenings can prompt stories about your family's heritage, such as a TV news item, a movie filmed in the homeland, or even a cookbook with international recipes. My kids never tired of Bubbe's story of how her husband (their grandfather) escaped from Russia as a 14-year-old, traveled alone from Siberia to New York, and sold vegetables from a cart in the East Village to pay his way to Canada.
If memories have faded, photo albums can inspire stories. "Most of our parents and grandparents have photographs in boxes," says mom Lily Levitt Kesler. "Grandchildren can become archivists by sorting through these old photographs with their grandparents and producing albums." Nowadays, it's even easier as you can scan photos and create slide shows on your computer.
Levitt Kesler's kids are even recording their grandparents' stories. "Before my husband's father died, my two school-age children, Maya and Zev 'interviewed' him with a tape recorder. He talked about his childhood in Russia, his immigration to Canada and his farm life," she adds. "They are planning to record their bubbe's stories too."
Create a Family Museum Display
When ten-year-old Dustin Sacks requested items for his family museum at school, his parents and grandparents unearthed some unique items: his great grandfather's helmet from the First World War, his grandmother's knitting books from the 1940s, and his mom's Beatles scrapbook from her screaming teenage days.
Any family can set up a similar "museum" at home with objects as familiar as Mom's favorite cooking utensils for making Austrian spaetzle and the book Dad loved as a boy, or as unique as an old phonograph (which still miraculously plays) for dancing the night away. Kids can also dredge up old hippie clothes or photos of Chinatown way back when or even make a video of family members talking about each object. Younger kids, can help photocopy old photos and make a collage or album for the museum.
Make a Family Tree
Get the family together to work on a road map of who begat whom. Even kids can log on to simple family tree websites like www.geni.com, where they can create family profiles and upload photos (registration required, but it's free). Twenty-something Emily Hoefler created a wall chart with photos of dozens of her cousins, aged eight months to early 20s, who were spread out across North America and Europe. A program at www.familytreemaker.com let her piece together her aboriginal, Scottish, and Irish ancestry. Many libraries also have archivists who help kids search out their family tree.
Plot the Geography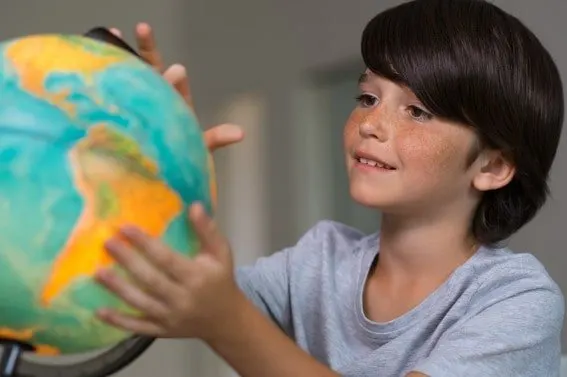 Photo Courtesy of BigStock/Rido81
Your kids may know tales of the old country, but where exactly is this mythical place? And what sort of people live there? Get a child-friendly atlas, such as the National Geographic World Atlas for Young Explorers, borrow a globe, or put up a map and help kids plot where relatives originated, and how they made their journey to America. If your children show a real interest, add animals, architectural landmarks, or cool cultural facts.
Tap into Community
Check out your local community centers, libraries, school boards, or colleges to see if they offer lessons and classes that fit your traditions. Kids can find their roots through step or folk dancing, accordion or drums, batik or origami. Classes are often free, and kids can often invite friends to come along too.
Churches and synagogues offer ways to explore religious heritage. When one young girl sat listening to the Bible stories during Hebrew family day at her synagogue, she leaned over to her mother and declared, "This is so much better than Sesame Street."
Attend a Festival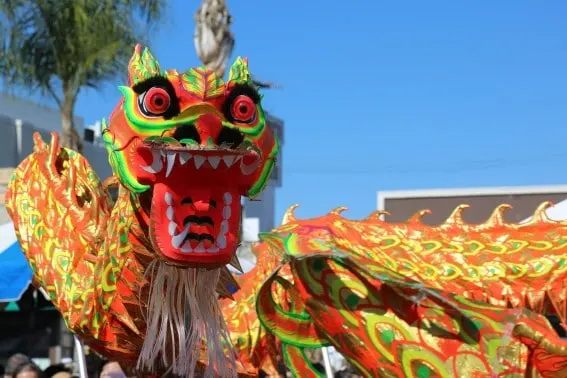 Photo Courtesy of BigStock/Mikeledray
"My mom clung to our Ukrainian heritage, but my kids didn't have any sense of it," says Julie Ovenell-Carter, a mom of two. So a few summers ago she took Adam, 11, and Kathryn, 14, to the National Ukrainian Festival in Dauphin, Manitoba. "My favorite moment was when someone yelled 'Baba!' and all the grandmas in the crowd turned around. My kids laughed because they thought they were the only ones who called their grandma 'Baba.' " It was a loud, noisy, colorful event with Ukrainian music and dancing. And though the kids were initially apprehensive about the trip, they later thanked their mom.
In addition to Dauphin's Ukrainian Festival ( www.cnuf.ca), you'll find dozens of family-friendly cultural festivals across the continent throughout the calendar year:
Chinese New Year Festival & Parade in San Francisco. Started in the 1860's, this parade with dancing lions, exploding firecrackers, and a spectacular Golden Dragon, is now one of the biggest parades in the world, and one of the few remaining night illuminated parades in America.
Japan Festival in Houston's beautiful Japanese Garden with music, dance and martial arts, Ikebana flower arrangement, tea ceremony, origami, and bonsai.
African-American Heritage Festival (Afr'Am FEST) in Norfolk, Virginia, the largest African-American cultural festival on the East coast. This three-day festival, held over Memorial Day weekend in May, features a childrenís village, arts and crafts, live entertainment, and foodie delights from soul food to Caribbean cuisine.
Midsommar at The American Swedish Institute in Minneapolis for music, folk dancing, colorful Swedish folk costumes, arts and crafts, food and the raising of the Swedish Midsummer pole (www.americanswedishinst.org).
The Magic of Lanterns Festival featuring hundreds of small handmade silk lanterns strung across the Chinese Garden of the Montreal Botanical Gardens www2.ville.montreal.qc.ca/jardin/en/propos/propos.htm) or The Rogers Chinese Lantern Festival at Toronto's Ontario Place with large dragon lanterns illuminating the night sky (www.rogerslantern.ca).
Plan a Family Roots Vacation to Explore your Family History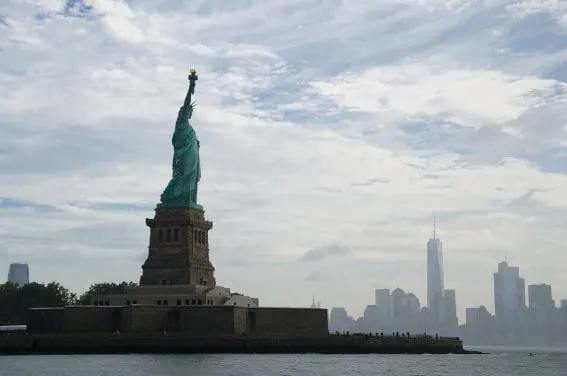 Photo Courtesy of BigStock/softdelusion
In addition to the specific festivals mentioned above, you might want to plan an entire vacation to a "roots" destination somewhere in North America:
Americans who arrived between 1892 and 1924 probably entered via Ellis Island, the small island in New York Harbor within the shadow of the Statue of Liberty. In the Ellis Island Immigration Museum, check out the American Family Immigration History Center with an extraordinary collection of immigrant arrival records. Open your own Ellis Island File online or purchase images of the ship that carried your ancestors to the New World.
Jewish families can head to the Lower East Side Tenement Museum (www.tenement.org) in New York City, where families can sign up for an interactive visit of a turn-of-the-century apartment in this Jewish district. Your guide is a teen in 1916 dress, playing the role of the young girl who lived in the crowded apartment in this still-bustling neighborhood.
Anyone who came to Canada across the Atlantic between 1928 and 1971 probably passed through Pier 21 in Halifax, now the site of Canada's Immigration Museum (www.pier21.ca). The exhibits include photos, a model of the arrival hall, baggage area, infirmary and nursery, and child-oriented items like a teddy bear and small suitcase carried to Canada by a young immigrant. The moving 3D film, Oceans of Hope, depicts stories of children fleeing Europe, soldiers wounded in the Second World War, and some of the 50,000 war brides who settled in North America.
Chinese children will love Shirley Lum's "Taste of the World" tour of Toronto's Chinatown (www.torontowalksbikes.com). They'll taste coconut buns and black tea eggs at a Taiwanese bakery, view a Harry Potter-like potion at a Chinese herbalistís, see buckets of live snails at a bustling Asian supermarket, and learn chopstick etiquette over dim sum at a family-friendly restaurant. Or make plans to attend the Night Market in Richmond, British Columbia (richmondnightmarket.com), from May to October. It features nightly treasure hunts, street performances and more than 400 vendors selling everything from toys to aromatic foods.
Explore African-Canadian heritage with a visit to Uncle Tom's Cabin Historic Site in Dresden, Ontario, or by retracing the route of the Underground Railroad in southern Ontario, including the terminus at Buxton National Historic Site and Museum (www.buxtonmuseum.com).
Further afield, head to Martin Luther King, Jr. National Historic Site in Atlanta (www.nps.gov/malu), or the African-American Baseball Experience at the Baseball Hall of Fame in Cooperstown, New York.
Don't Sweat It
Finally, if you don't have access to family stories of the past, your heritage is too difficult to dwell on because of tragedy or pain, or the kids are simply not interested at this time, don't fret. As one mom explains, "I've tried to expose my kids to more than one culture so that they are citizens of the world. Rather than being restricted by the rules and traditions of one culture, they have the emotional and intellectual freedoms of many. And it seems to be working for our kids." It's important to grow wings as well as roots.
by: Kate Pocock