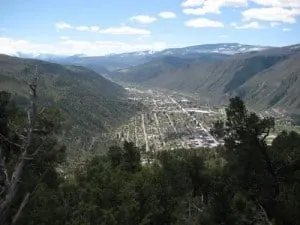 Two facts about Glenwood Springs, Colorado peaked my interest to visit. First, Glenwood Springs was originally known as Defiance, Colorado. Second, Doc Holliday died in Glenwood Springs Colorado. So why should these facts impact my desire to visit? I believe that towns thick with rich history offer some of the best tourist opportunities. My family, with road trip warrior children aged 10, 6, and 2, had a chance to prove my theory correct during our family adventure to Glenwood Springs (aka "Defiance"), Colorado. I prefer the name Defiance as it makes me think of gun slingers, brothels, and outlaws, but the town founder's wife had a hard time adjusting to frontier life so she had the town renamed Glenwood – after her beloved Iowa hometown. As for Doc Holliday, he died in Glenwood Springs after trying to cure tuberculosis in the healing waters of Glenwood's hot springs.
We arrived in Glenwood Springs with a couple of hours to spare before we could check in to our resort – just enough time to familiarize ourselves with the town. One of the first things we noticed was a little sign pointing east reading, "Doc Holliday burial site". We followed the sign which led to the Linwood Pioneer Cemetery trailhead where we hiked a ½ mile, stretching our road trip weary legs to find the Doc Holliday monument. A kind visitor left Doc a bottle of whiskey – it was empty, I hope Doc enjoyed it.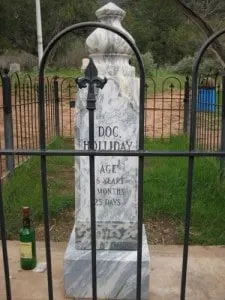 Glenwood Canyon Resort
Glenwood Springs has many lodging options, from campgrounds to chain hotels. Our family opted for off the beaten path type lodging, reserving a fully furnished cabin at the Glenwood Canyon Resort. After a long road trip it's good to arrive at your lodging destination and feel like you're right at home. That is exactly how the Glenwood Canyon Resort made my family feel – just like home. Except, of course our home doesn't have a zip-line across the Colorado River, private boat launch or a ropes course complete with climbing wall.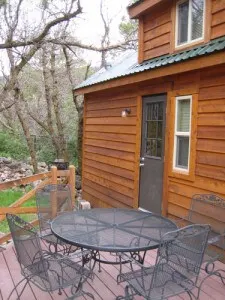 Two of the best features of our cabin were its kitchen and its large deck. The kitchen was stocked with dishes and new appliances, but no dishwasher – that's when 10 and 6 year old children really come in handy. We enjoyed eating meals outside while watching all of the birds hovering above just waiting for the crumbs that our 2 year old would surely leave behind.
Activities at Glenwood Canyon Resort cater to every family's activity level – from brave families inclined to raft the river's rapids to families who would enjoy exploring the 16 miles of paved river trails on their own. The resort is home to Glenwood Canyon Zipline Adventures and Rock Gardens Rafting, where you ca narrange high rope challenge, zip-line tours or rafting excursions.
Read my full review of Glenwood Canyon Resort.
Time for some geology and a few thrills
No trip to Glenwood Springs would be complete without a visit to the iconic Glenwood Hot Springs pool. The water in this pool is heated deep inside the Earth's crust and forced up through an underground aquifer – 3.5 million gallons each day! The result is the world's largest naturally heated mineral hot springs pool measuring over two blocks long with over one million gallons of water.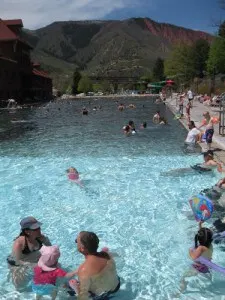 My family visited the Glenwood Hot Springs pool and enjoyed this unique experience. The water in the large pool is heated from 90-
93 degrees and is open year-round. Families will love that most of the pool is shallow, perfect for kids just learning to swim. My 2 year old, however, was too short to stand alone in the shallow water, so I suggest bringing float tubes if swimming with little ones. year-round. There is also a smaller therapy pool, heated to 104 degrees, perfect for soaking sore muscles after all of the rigorous activities available in Glenwood Springs.
Read more about this activity in my extensive review of Glenwood Hot Springs Pool.
Fun for everyone at Glenwood Caverns Adventure Park

It can often be difficult to find a family activity that interests every individual family member. This is especially true when your kids' ages range from 2 to 10– like my family. That is why I'm pleased that we had the opportunity to visit Glenwood Caverns Adventure Park. This park has something for everyone – from those who love to explore unique geology to others looking for thrills.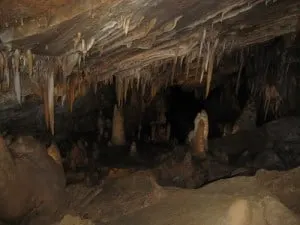 First the geology – The primary activity at Glenwood Caverns Adventure Park is a guided tour of the historic Fairy Caves. The cave tour has no age requirement and my 2 year old easily walked the trail unassisted. The tour lasts 70 minutes,
but it seems to move quickly as the guide stops along the way pointing out specific cave features and while sharing historical anecdotes. My family's favorite part of the tour was the room called "The Barn" – a 5 story room with every cave formation imaginable.
Now for the thrills – Just getting to Glenwood Adventure Park is a thrill. Visitors meet at Iron Mountain Station and ride a 4,300 foot long tram to the top of Iron Mountain. My 2 year old loved this part of our adventure – enjoying the views of Glenwood Springs and the Rocky Mountains in the enclosed tram car.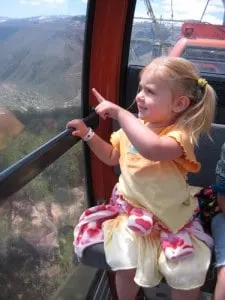 Thrill rides at Glenwood Caverns Adventure Park also include a Giant Canyon Swing, the Alpine Roller Coaster, the new Soaring Eagle Zip Ride, and Colorado's only bungee jump. The Alpine Coaster was my family's favorite thrill ride. The best part about this ride is you get to control your own speed. My 6 year old and I loved the challenge of trying to make it to the bottom without hitting the brakes.
My family also enjoyed several other park activities such as laser tag, climbing wall, fossil dig sandbox, 4D Motion Theater, shooting gallery, bungee trampoline and my children's favorite – the Fort WhereAmI Maze, where they raced through a maze, reaching 4 different log fort towers in order to win prizes. My 2 year old even got in to the action – running around trying to keep up with her siblings.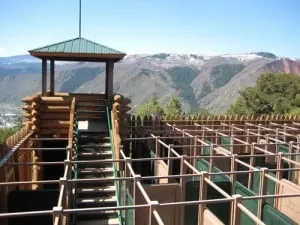 Read more about this activity in my extensive review of Glenwood Caverns Adventure Park.

We fit as much as we could in 2 days and left feeling like there was more to experience in Glenwood Springs, Colorado. This town has something for everyone, making it an outstanding spot for families to plan their own perfect vacation. If you do visit Defiance, be sure to tell Doc Holliday "howdy" from my family.
Disclosure: The author received a complimentary stay at the resort and complimentary passes to the Glenwood Hot Springs Pool and Glenwood Caverns Adventure Park in order to complete an unbiased review and this subsequent article. The resort, pool and park did not request that any specific opinions be expressed.