Boston is an enclave with a history of liberty and freedom. After all, this city helped spur our nation's autonomy from British rule via the Boston Tea Party and the ensuing American Revolution. This is a city loaded with culture, history, and educational opportunities. In addition, families can enjoy learning about its rich past and more, much of it in keeping with the idea of freedom: FREE. A trip here does not have to break the bank.
Welcome to Beantown, Olde Town, or the Cradle of Liberty. This is Boston; a very walk-able and family friendly city.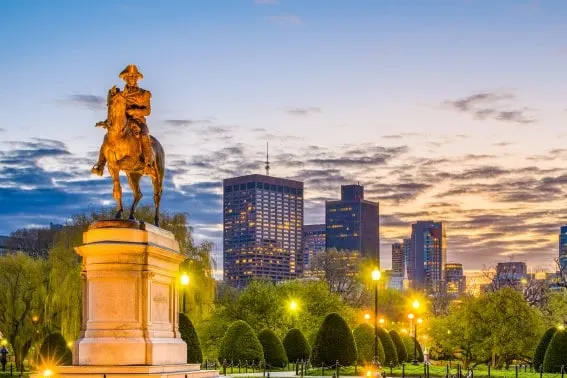 Photo by: Bigstock/SeanPavonePhoto
Free Things to do in Boston
The Declaration of Independence and More
Photo by: Shutterstock
Have a history buff in your family? Itching to teach your family more about American History? Boston is a great place to get an intimate look at the history of our great nation.
There is no better way to learn about the function of Boston and Massachusetts in our American history that to take part in the Freedom Trail. This 2.5 mile red brick paved walking trail brings your family to 16 historically significant sites in the city. Expect to see the Old North Church famous for Paul Revere's lantern signals and the Granary where a selection on Boston Patriots have been laid to rest. Faneuil Hall is one of the cradles of the Boston Tea Party. The Bunker Hill Monument commemorates a major battle between Patriot and British forces. Other free sites along the trail include the gold domes of the Massachusetts State House. A self –guided walking tour of the trail is free. You may also register in advance for a free ranger led program.
As all federally owned properties are free, your seafaring kids might enjoy a tour of the USS Constitution, also known as Old Ironsides, at the Navy Yard. She is also part of the Freedom Trail.
The Black Heritage Trail is similar to the Freedom trail in that the National Park Service provides free tours when scheduled in advance, and also offers self-guided tours. This 1.6 mile tour explains the life of free African Americans citizens in Boston prior to the Civil war. The trail itself is free however; a nominal fee is charges at some sites; such as the Abiel Smith School, the first publicly funded school for African Americans.
The Commonwealth Museum solemnly displays one of the 14 authentic copies of our famous Declaration of Independence; signed by Benjamin Franklin, John Adams, and John Hancock. Admission to this museum of Massachusetts state history is always free.
Look for current hotel deals in Boston
Our suggestion: If planning one of these tours, inform your kids about the history in advance through an age appropriate book or movie. These sites will be that much more meaningful and engaging
Celebrate Museums and Science from Firemen to the Red Sox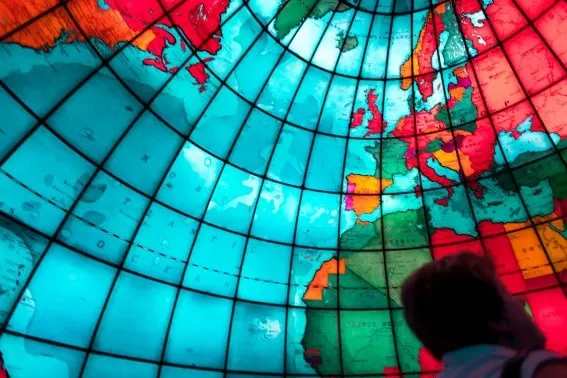 Photo by: Flickr/Chase Elliot Clark
Not to be outdone by the historical trail sites, the Boston area offers a collection of free entries for your family to check out a host of museums.
Your little firefighters will love the Boston Fire Museum where they can explore fire equipment and fire trucks in this landmark building. Admission is always free. The Mapparium; a walk through, 3 story stained glass globe, puts geography and our world into perspective. I visited as a 10 year old and still remember the beauty and grandeur of this exhibit. Children 6 and under are FREE, but adults pay a nominal fee. Your athletes, especially the New England grown ones, will love the Sports Museum of New England that hammers home the glory of the City of Champions and its terrific sports teams. The Bruins, Pats, Sox, and Patriots are all celebrated here! Kids under 10 are free and certain library passes are accepted.
Look for the stars at the Coit Observatory at Boston University. On Wednesday nights, the observatory offers free public viewings at 7:30pm in the fall and 8:30pm in the spring/summer.
Finally, and my favorite of all, scope out the Arnold Arboretum. The arboretum is part of Harvard University, and also part of the Emerald Necklace Conservancy, a park system in Boston with many free family activities. The grounds are beautiful, but the Arboretum also has terrific family activities including classes for the whole squad like "Tree of the Month" or "Lilac Sunday." Learn in depth about specific plant life for free in an outdoor setting. The staff will supply your little explorer with a Discovery Pack for a kid level look at the Arboretum. There are also Wildlife Bingo Cards available to engage your family in wild life spotting. In season, interpreters are available on the grounds to answer questions. All FOR FREE!
Check for hotel availabilities in Boston
City Arts and Culture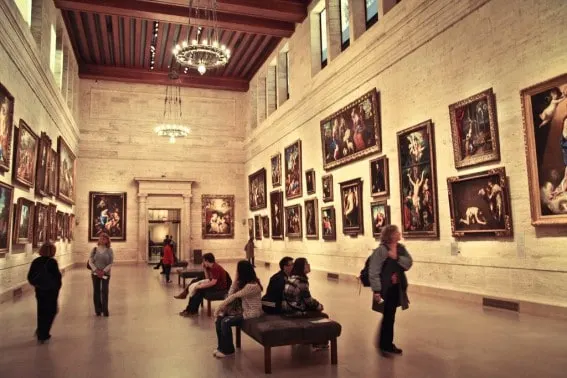 Photo by: Flickr/Kan Wu
Families craving culture can find that for free in Boston as well. The Museum of Fine Arts exhibits are home to almost 450,000 works of fantastic art. Wonder at works from historic and contemporary artists. Family activity totes with sketchpads and crayons are available as well as Art Cards, a kind of scavenger hunt for kids. Kids 6 and under are always free, but everyone is free on specific open house days and Wednesdays after 4pm.
The Institute of Contemporary Art houses modern art in a fantastically designed building hovering over Boston Harbor in South Boston. Families can visit for free every Thursday from 5-9pm.
Finally your music lovers will love the free summer concert series playing Thursdays at Copley Square. Nothing like a little summer heat, music and outdoors to wind down the night.
Metro Boston residents can reserve free passes to many area attractions such as Children's Museum and Zoo New England from the Boston Public Library, which in itself is a tourist destination. Free tours are offered daily.
Get Outside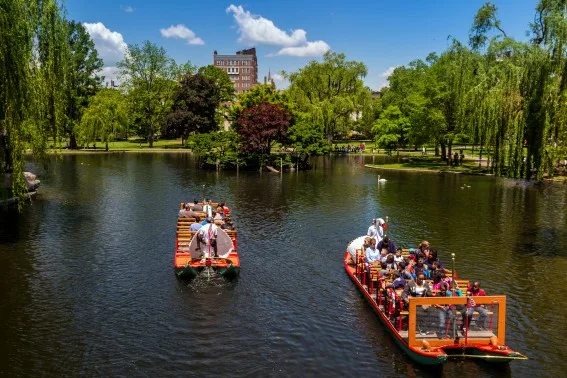 Photo by: Bigstock/f11photo
Spring time in New England is fabulous. The flowers are blooming, the birds are chirping, and there is crispness in the air. And, although Boston is a city, there are certainly more than enough places to get your dose of the outdoors.
Boston Common is famous as part of the Freedom Trail, but also famous for its family delights. Here you can see the "Make Way for Ducklings" sculpture from the famous book of the same name. The swan boats are fun to watch or ride and are close to shopping and people watching at Newbury Street, Boston's version of Rodeo Drive.
The Boston Harborwalk offers 47 miles of un-linked trail that is in the process of being connected. The perspective of the walk changes from neighborhood to neighborhood in terms of what is seen, but everything is on the water. The harborwalk stretches from East Boston to Dorchester where art, activity, the city of Boston, and its working harbor, and city awaits. As part of the walk in South Boston you can cross the water on a causeway to arrive at Castle Island. Here visit Fort Independence, a military structure built in the 1600's to protect Boston from potential invading forces. My kids LOVE exploring fort structures. I think it brings out their inner pirates. Swimming in the cove and picnicking are the activities of the day. The fort is open year round for free, and tours are given seasonally in the spring/summer.
Look for the best hotel prices in Boston
Even more free fun!

Photo by: Flickr/Angela N.
Boston certainly has its fair share of attractions and activities for families on a budget. For more family fun try "Free Friday Flicks" running June through August at the Hatch Shell at the Esplanade on the Charles River. Then again, just walking through Boston allows visitation of some pretty nifty sites. From the street at the famous New England Aquarium you can have fun watching the seals frolic. Faneuil Hall and Harvard Square offer street performers with magic shows, a capella singing and more. Take in some culture in Boston's Chinatown neighborhood, or meet the locals at the Haymarket Farmers Market.
Of course there are festivals throughout the year to bring families together. The May Fair and Duckling Day parade are coming up. Want to join us?
To see more of what Boston offers families, check out Kids learn about History in Boston.
Lead Image by: Shutterstock