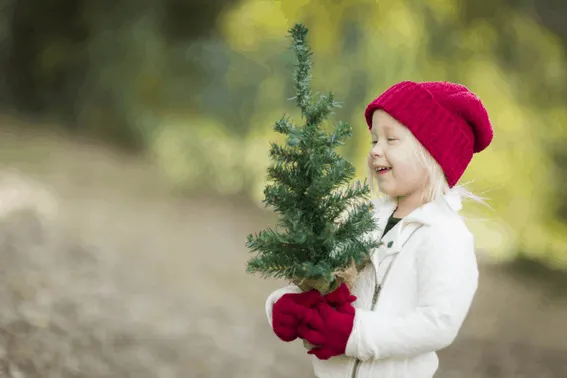 Photo Courtesy of BigStock/Andy Dean Photography
The holiday season is officially here and for many of us, the season's celebrations are not complete without a colorfully trimmed tree in our homes cut from the local Christmas Tree Farm. Artificial trees have become more and more popular in recent years, but Christmas tree purists like myself dismiss the idea of putting our presents under anything but the real thing.
Some of my greatest Christmas memories involve my family walking around the Christmas tree farm for hours, in search of the perfect tree to saw down, only to return to the very first tree that caught our eye. Yes, we could have just as easily gone to Home Depot and picked up a tree from the masses that were stacked inside the garden department, but there was just something about cutting down our own tree that added to the tradition. No, it isn't quite as authentic as tromping out into the woods, chopping down a tree, and carrying it back to our home through the snow, but for those us living in urban areas, a Christmas tree farm is as close to authenticity as we can get.
U-Cut Christmas Tree Farms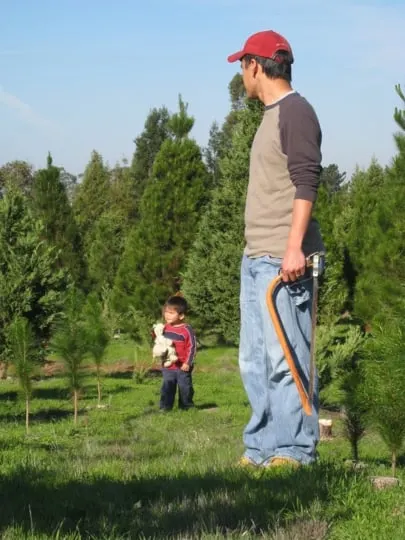 If your family is looking to cut down a tree for the first time this year, then I highly suggest you read our top ten tips for a successful trip to a Christmas tree farm. The list contains tips on everything from tree selection tips, to cutting advice, to tips on what to do once you get the tree home. It's a must-read for first timers or folks who have been out of the tree cutting game for a while.
For families living in the Bay Area, be sure to check out our list of cut your own (U-cut) Christmas tree farms near San Francisco and Trekaroo's CEO Liling's writeup of her family's experiences at Christmas tree farms in the Bay Area.
If you live in the Los Angeles metropolitan area, we have a list of Choose and Cut Christmas tree farms in Southern California. Even though we may not exactly live in a winter wonderland, it doesn't mean we can't have a good old-fashioned tree cutting experience!
For families living in the Pacific Northwest (aka Christmas tree central), be sure to view out list of U-cut Christmas tree farms in Oregon and Washington.
I was surprised to discover that even Florida has some Christmas tree farms! If you live in the Everglades State, be sure to check out our list Christmas tree farms in Florida.
Don't worry, we didn't forget about the Northeast. We have lists of Christmas tree farms in New York, U-cut spots in New Jersey, and choose and cut locations in Connecticut as well!
Still don't see your neck of the woods on our lists? Help out fellow locals and create a list of your favorite choose and cut spots!
– – – – – – – – – – – – – – –
Travel with kids to: CA | CO | DC | FL | HI | IL | MA | NC | NY | OR | PA | TN | TX | VA | WA
Featured photo by: Shutterstock